Do you have trouble getting your toddler to brush his teeth? My son loves to brush his teeth by himself. But, as you know, toddlers don't exactly do a stellar job on those hard-to-reach places in the mouth. My little guy focuses mostly on one side of his mouth and a little in the front.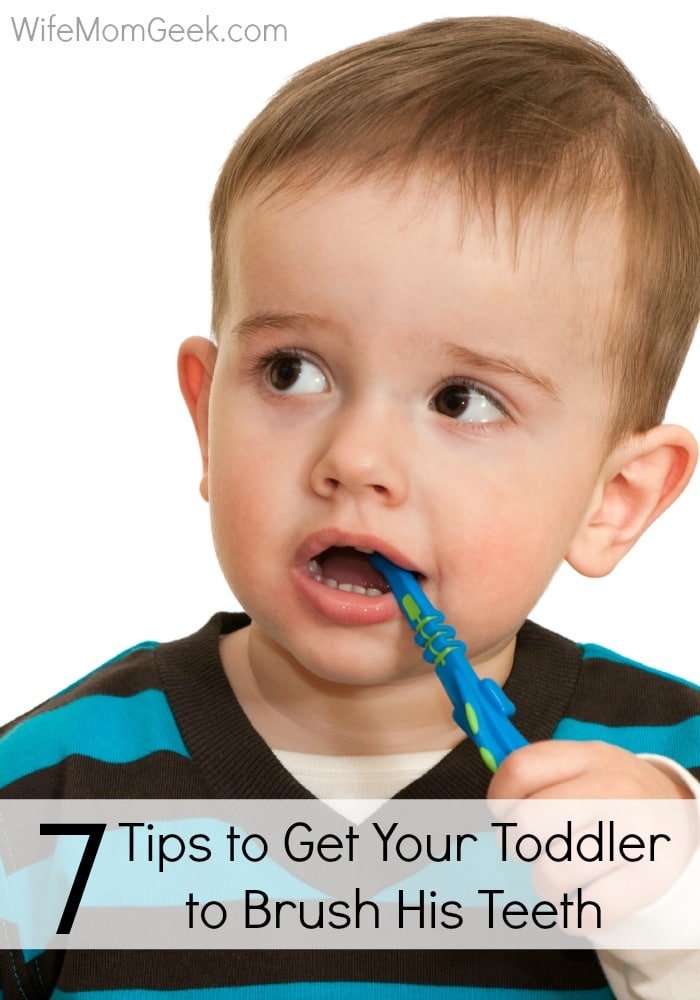 For a while, whenever it was time for me to help, we had a real struggle on our hands. He wanted to do it without any help, and I wanted to make sure his teeth were clean. Here are some of the tips and tricks we used to make the times I help him more tolerable for everyone.
1. Let your toddler brush your teeth.
One of the easiest ways to convince my toddler to let me help him was by offering to let him brush my teeth. He thought that it was a lot of fun to help Mommy. It also helped him realize that there's nothing wrong with getting a little help, even when you're a big boy.
2. Use a fun timer.
I'm not a big fan of Talking Tom or Talking Angela, but the Talking Ginger app is actually really cute and age appropriate. It also has a toothbrush timer that my son LOVES to use. It only runs for 1 minute and 30 seconds, but we do this twice–once for the top and once for the bottom. Three minutes brushing your teeth may seem like a long time, but it goes by quickly when you're brushing along with a cartoon cat!
We also like the Disney Magic Timer when it works properly. It even keeps track of stickers for good brushing habits.
3. Make a chart.
If your toddler is more hands-on, make a chart instead. Toddlers love putting stickers on things to track their accomplishments.
4. Soak the toothbrush a few minutes before brushing.
Our son does not like hard-bristled brushes–who does? When they're new, you may need to soak toothbrushes for a few minutes prior to brushing in order to soften up the bristles. This will make brushing more comfortable and enjoyable.
5. Play or sing a short song.
Another trick to make the tooth-brushing time go by faster is playing a song. Our kiddo loves all the songs on this (affiliate link) Phineas and Ferb album, but any song about 2-3 minutes long will do.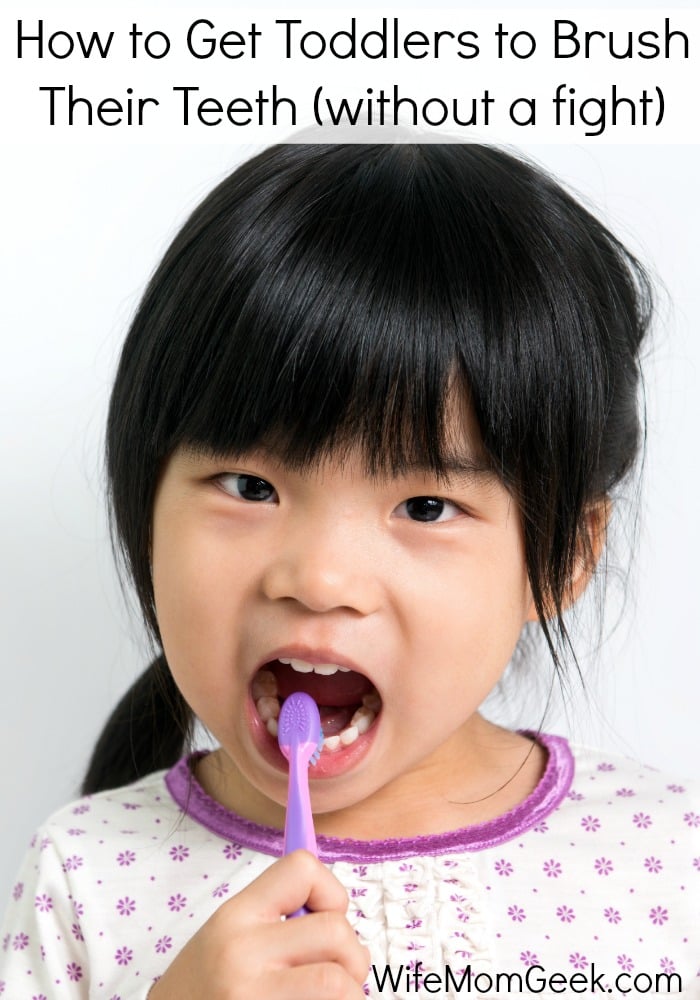 6. Let your toddler use the mirror.
Have you ever met a toddler that didn't like looking at himself? Our little guy loves to watch in the mirror as he brushes his teeth. He even enjoys it when I'm brushing them, too, because we make silly faces at each other.
7. Brush their teeth in the bathtub.
If you find that your kiddo is just too wiggly, wait until she's in the bathtub where it's more difficult to wiggle away. You can also keep a special toothbrush for bath time play. Let your toddler brush her toys' teeth as you brush hers. Just be careful that the play toothbrush doesn't make its way into her mouth!
What are some of your tricks for encouraging good tooth brushing habits?
Want more toddler tips?