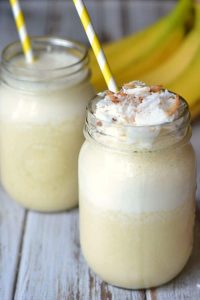 Banana Pineapple Coconut Smoothie
Yield 2 servings
This banana pineapple coconut smoothie is bursting with tropical flavors. Kids and adults will love it!
Ingredients
2 ripe bananas
1 c. pineapple juice
1/2 c. coconut water
1/4 c. coconut flesh (optional)
1/2 c. vanilla yogurt
1/2 tsp. vanilla extract
2 c. ice
Instructions
Add ingredients to blender.
Pulse for about two minutes, until ice is smooth and mixture is thick and creamy.
Pour into glasses, and top with whipped cream and toasted coconut.
Courses Drink
Recipe by Glue Sticks and Gumdrops at https://gluesticksgumdrops.com/banana-pineapple-coconut-smoothie/