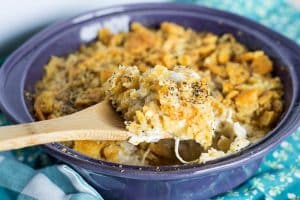 Chicken Ritz Casserole
Yield 4-6 servings
This classic Chicken Ritz Casserole is our favorite comfort food meal. With creamy chunks of chicken and a buttery Ritz topping, it'll soon be a family favorite for you, too.
Ingredients
3 cups cooked chicken, shredded or chopped
1 c. sour cream
1 can (10.75 oz) cream of chicken soup
1 sleeve Ritz crackers, crushed
1/2 stick butter
poppy seeds for garnish (about 1 Tbsp)
Instructions
Preheat the oven to 350 degrees.
Spray the inside of a 2-quart casserole dish with non-stick cooking spray.
In a large bowl, whisk together the sour cream and cream of chicken soup until combined.
Fold in the chicken until all ingredients are well mixed.
Pour chicken mixture into casserole dish and top with crushed Ritz crackers.
Pour melted butter over the crackers. Sprinkle poppy seeds on top.
Bake at 350 degrees for 25-30 minutes, until heated through and golden brown on top.
Courses Main Dish
Cuisine American
Recipe by Glue Sticks and Gumdrops at https://gluesticksgumdrops.com/chicken-ritz-casserole-a-family-favorite/