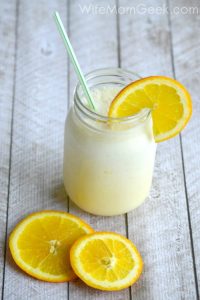 Creamsicle Slushie
Yield 2 slushies
This orange cream slushie really hits the spot on a hot summer day!
Ingredients
3/4 c. orange juice
1/2 c. milk
3-4 orange slices
2 tbsp. white sugar
1/4 tsp. vanilla extract
12-14 ice cubes
Instructions
Add all ingredients to the blender.
Pulse until ice is completely crushed and liquid is smooth (about 3-4 minutes).
Pour into chilled glasses, and garnish with an orange slice.
Enjoy!
Courses Drinks
Recipe by Glue Sticks and Gumdrops at https://gluesticksgumdrops.com/creamsicle-slushie/