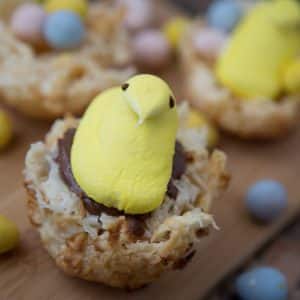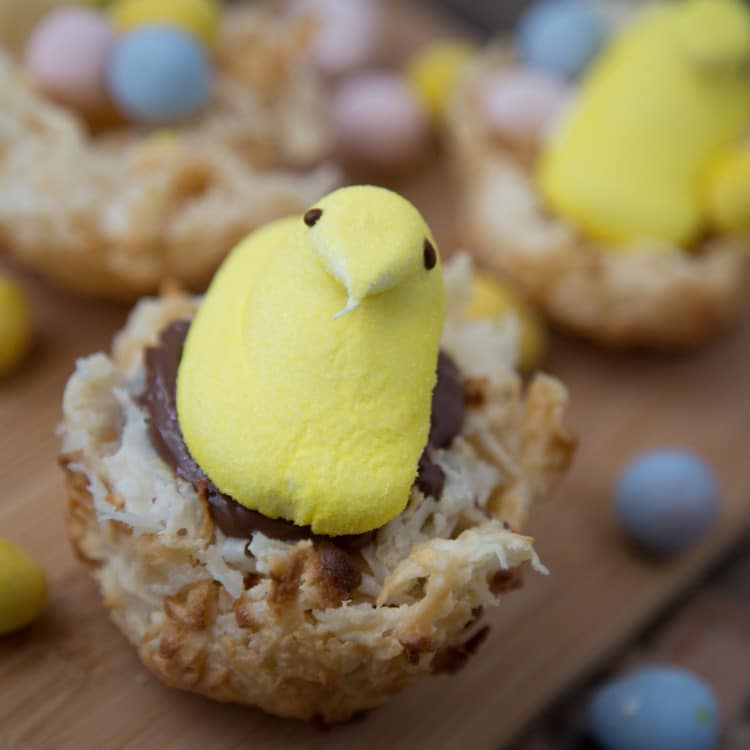 Easter Peeps Coconut Macaroons
These cute Easter peep macaroons are fun, kid-friendly treats for spring!
Ingredients
14 oz. sweetened condensed milk (1 can)
14 oz. shredded sweetened coconut flakes (5 1/2 cups)
2 tsp. vanilla extract
1 dash almond extract (optional)
Nutella (optional)
Instructions
Preheat oven to 325° F and line baking sheets with parchment paper.
Combine all ingredients in a bowl and mix well.
Shape the nests on the bottom of a greased muffin tin, and place on baking sheets.
Bake for 10 to 12 minutes or until lightly browned around the edges.
Move to a rack to cool. You may need to adjust the "nests" a bit by hand to make them look better. Some looked better than others for us!
Once cooled, add Peeps on top, or layer with Nutella and then a chick Peep. 
Enjoy!
Recipe by Glue Sticks and Gumdrops at https://gluesticksgumdrops.com/easter-peeps-coconut-macaroons/