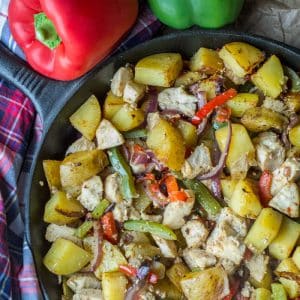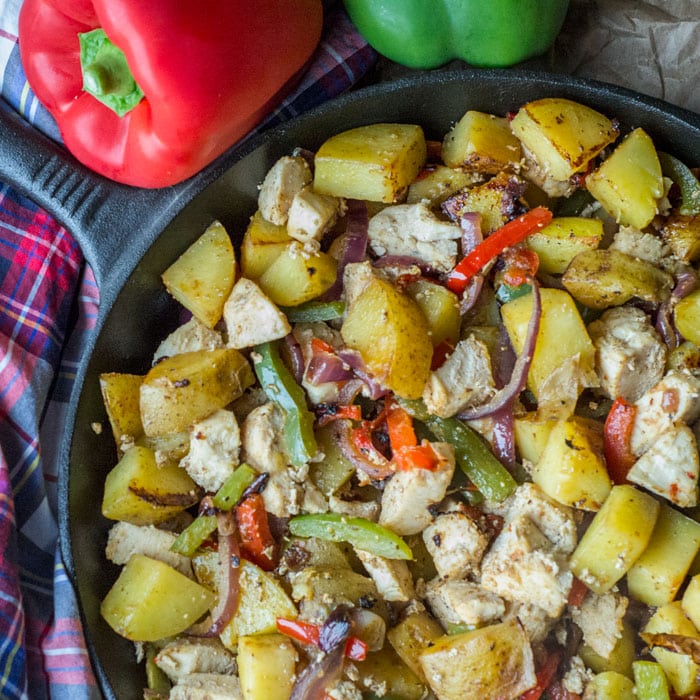 Chicken, Potatoes and Peppers Skillet
Yield 4 servings
This chicken, potatoes and peppers skillet is an easy one pan meal to feed your family in under 30 minutes.
Ingredients
1.5 lbs. potatoes, cubed
2 c. chicken, cubed
1/2 red bell pepper, sliced
1/2 green bell pepper, sliced
1 med. onion, sliced
2-3 tsp. homemade taco seasoning (or we like this one in stores)
2 Tbsp. olive oil, divided
Instructions
Heat 1 Tbsp. oil in skillet. Add chicken and heat about 5 minutes until the pieces are no longer pink. The chicken doesn't need to be completely done at this point.
Add remaining olive oil, potatoes, onions, peppers and taco seasoning.
Cover with a lid and cook on medium for 15-20 minutes, stirring occasionally, until veggies are tender. 
Recipe by Glue Sticks and Gumdrops at https://gluesticksgumdrops.com/easy-chicken-dinner-recipe/