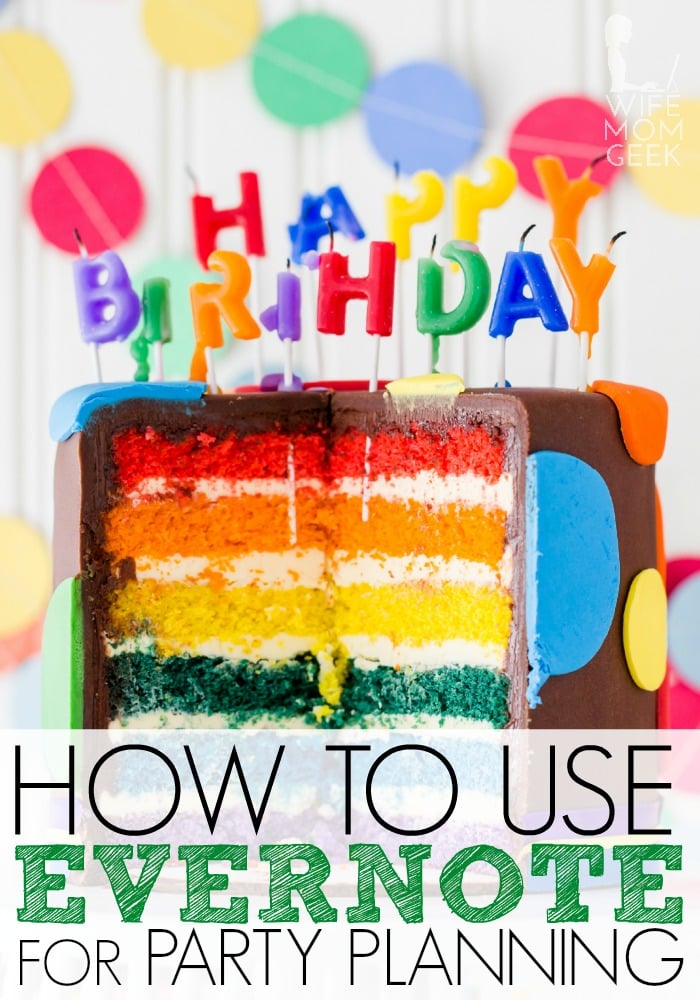 Anyone who knows me well knows that I am an Evernote fanatic. I use it for absolutely everything, from storing digital copies of my kiddo's scribbles to keeping important documents and information handy on my phone and computer. But one of my favorite uses for Evernote is using it for party planning. It makes the party planning process SO MUCH EASIER!
While Pinterest is great for pinning inspirational ideas for parties, it doesn't do much to help you take care of everything else. How will you keep track of your guest list? Where will you keep gift ideas handy for the grandparents but away from your child's prying eyes? Evernote.
I first used it for planning my son's 3rd birthday party. Because Daniel Tiger decorations and supplies were hard to come by, I had to buy a little here and a little there. I even had to make my own invitations and decorations. Evernote helped me keep track of what I had already ordered and purchased, and it was easy to see at a glance what still needed to be done.
I created a timeline (such as when the invitations needed to go out), a gift ideas list for the grandparents and a guest list all in a birthday party notebook. But Evernote is a wonderful resource for planning any party.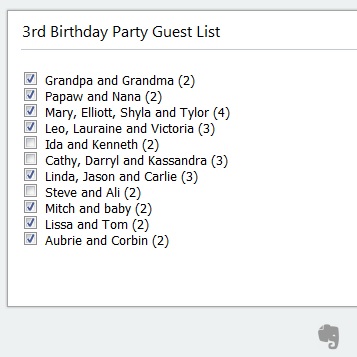 Here are just a few ways that you can use it when planning your next get-together:
Create a list of guests invited, checking each off as they R.S.V.P.
Store gift ideas
Track your spending on decorations and gifts
Save contact information and price lists for bakers, caterers, venues etc.
Store a digital copy of the invitation in case you need to print extras
Keep recipes for appetizers and snacks for the party
Log who sent/brought each gift to reference when sending thank-you notes
Save scanned copies of cards received for the occasion
One of the best features Evernote offers is the ability to share single notes or entire notebooks. I share a notebook with my husband, and dropping things like the party supplies list and our kiddo's clothing sizes helps him shop for things while he's out, too.
Do you love Evernote, too? Sign up for my newsletter to stay in the know about upcoming Evernote tips and tutorials.
For more party planning tips, check out this post on making valentines in Picmonkey. You can use it to create your own invitations, too!