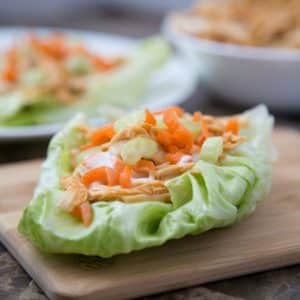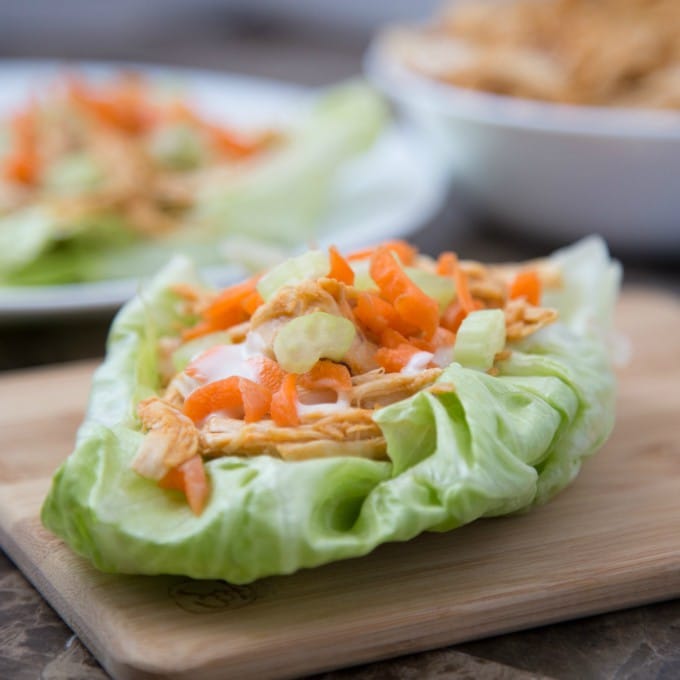 Instant Pot Buffalo Chicken Lettuce Wraps
Yield 4 servings
These Instant Pot Buffalo Chicken Lettuce Wraps are healthy, low carb and absolutely delicious! They make a wonderful light lunch or dinner, and kids love them, too.
Ingredients
1 large boneless skinless chicken breast (about 16-20 oz)
1 celery stalk (for cooking with the chicken)
1 medium onion, diced
1 clove garlic
16 oz low sodium chicken broth
1/2 cup buffalo wing sauce (about 6 oz)
large lettuce leaves (Romaine or Iceberg)
1/2 cup shredded carrots
1 large celery stalk, thinly sliced (for topping the lettuce wraps)
ranch dressing, for topping
Instructions
Add the chicken, onions, one celery stalk, garlic, buffalo wing sauce and broth to the Instant Pot. 
Lock the cover into place, and seal the steam nozzle.
Select the poultry or manual setting for 15 minutes. 
Naturally release pressure for 5 minutes then quick release remaining pressure.
Shred the chicken with two forks.
Serve in lettuce cups topped with buffalo chicken, chopped celery, shredded carrots, and ranch.
Recipe by Glue Sticks and Gumdrops at https://gluesticksgumdrops.com/instant-pot-buffalo-chicken-lettuce-wraps/