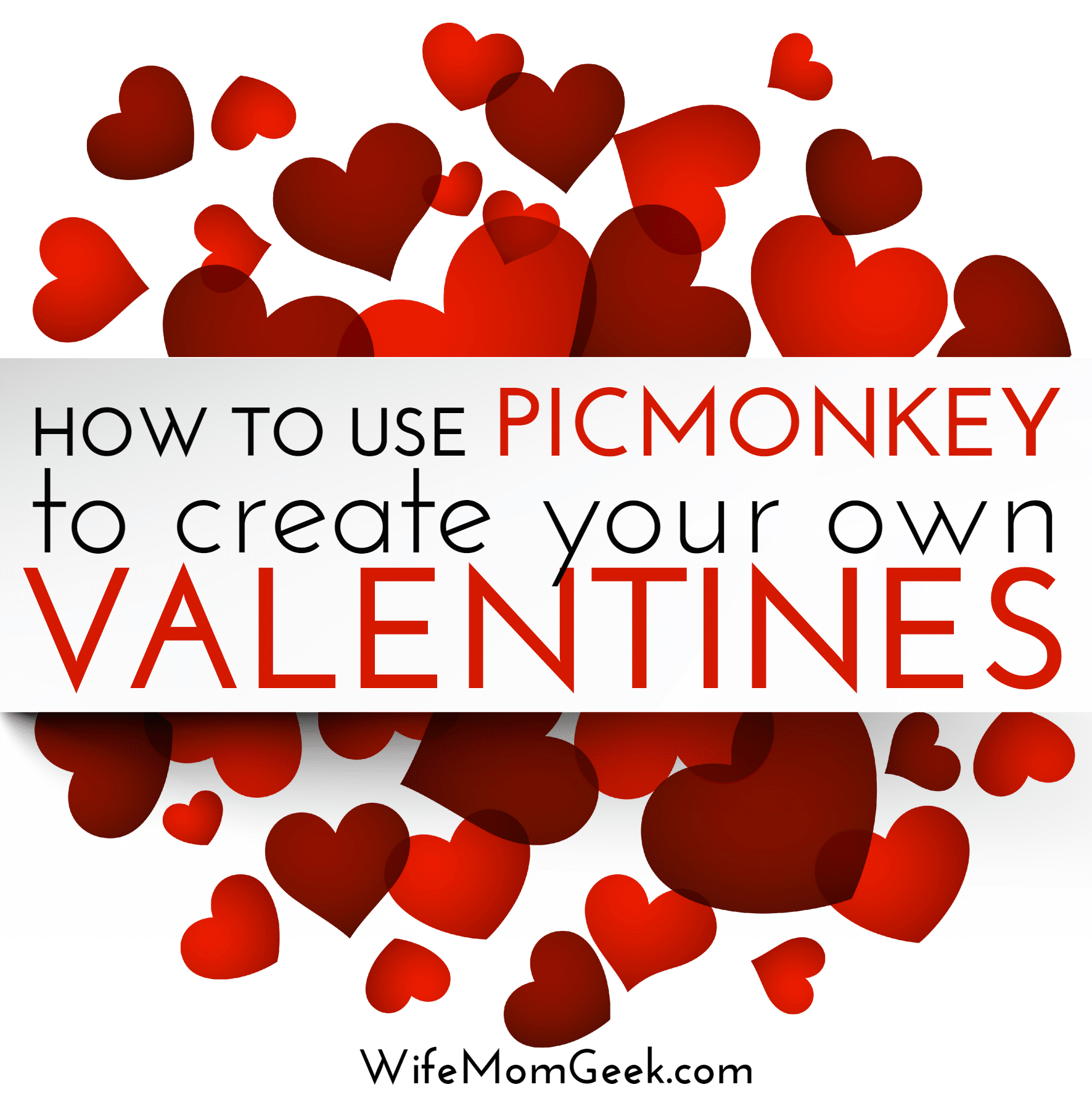 One thing I probably spend way too much time on is creating graphics, making collages and adding text to photos. It's honestly one of my favorite things to do, and considering that I take LOADS of pictures of my kiddo, you can imagine that it adds up to a lot of time. Lately, I've had a few friends ask me how I create cards, invitations and other printables, so I decided to show you how you can make your own valentines in Picmonkey.
This post contains affiliate links.
PicMonkey is my favorite photo editing tool because it's so easy to use. I pay for the Royale subscription ($5 a month), because the extra fonts, overlays and tools are worth it to me considering how much I use it. Seriously… I use it every single day. So, let's get started on that valentine!
First, start with a blank template. You can create one yourself by clicking "create" on the home page, and for the dimensions I've used here, enter 525 and 700 in the size boxes. Or, you can just upload this blank template if you prefer.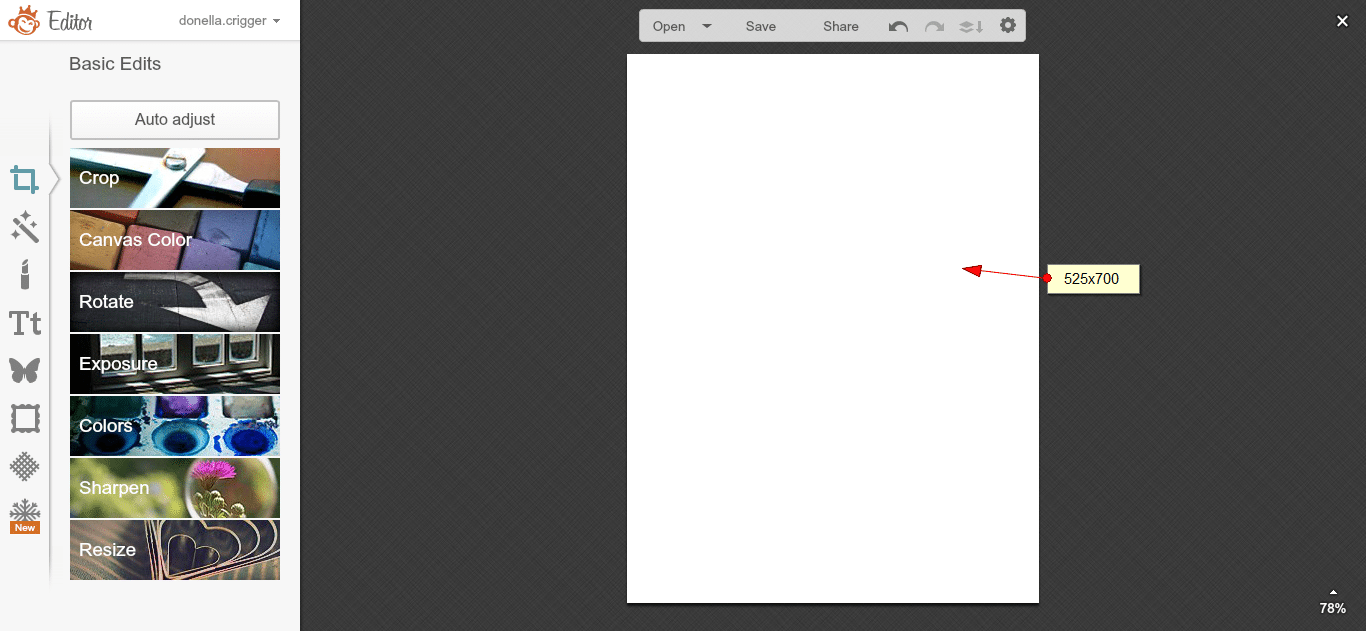 Next, click on the butterfly to use the overlay tool. You can use the Picmonkey overlays if you'd like, but I prefer to use the digital papers and clipart that I purchase. These particular graphics are from Prettygrafik design. They're awesome, and they're having a HUGE sale right now. Check them out. To use your own graphics, click the "Your Own" button in the overlays section.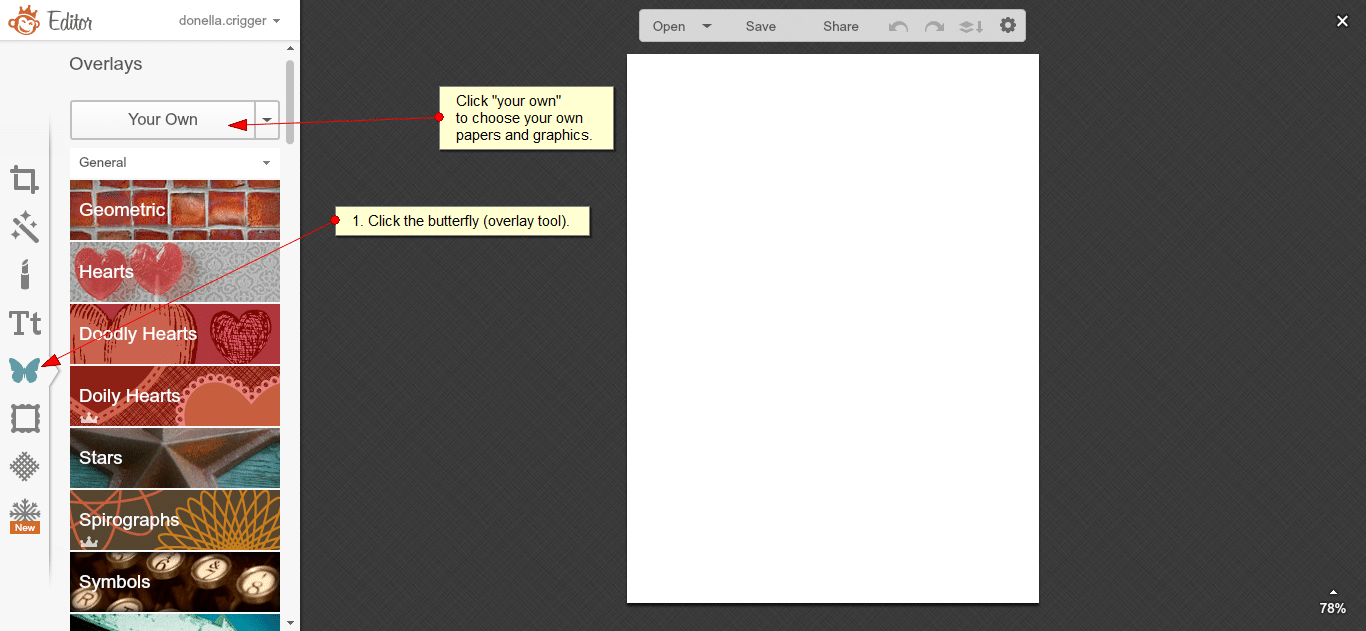 After you've opened your paper or graphic, it will appear really small on the blank template. You can make it bigger by dragging it at the corners. I want this striped paper to cover the entire rectangle, so I'll pull at the corners until it does.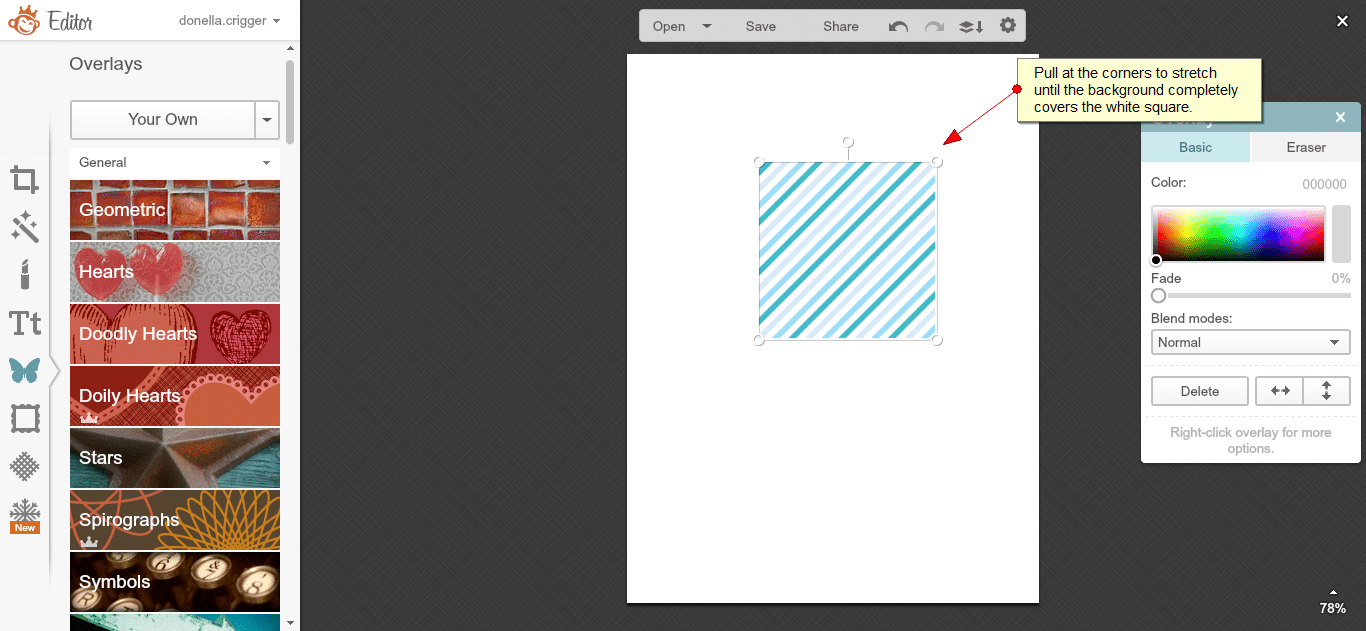 Now you can see that it covers the entire rectangle. You may have to extend the paper beyond the boundaries of the rectangle, but don't worry, you won't see the excess hanging over. Now, you can merge the layers at this point (click the stack icon above the picture), but I prefer to flatten everything at the end in case I need to fade out or change out a layer. Up to you.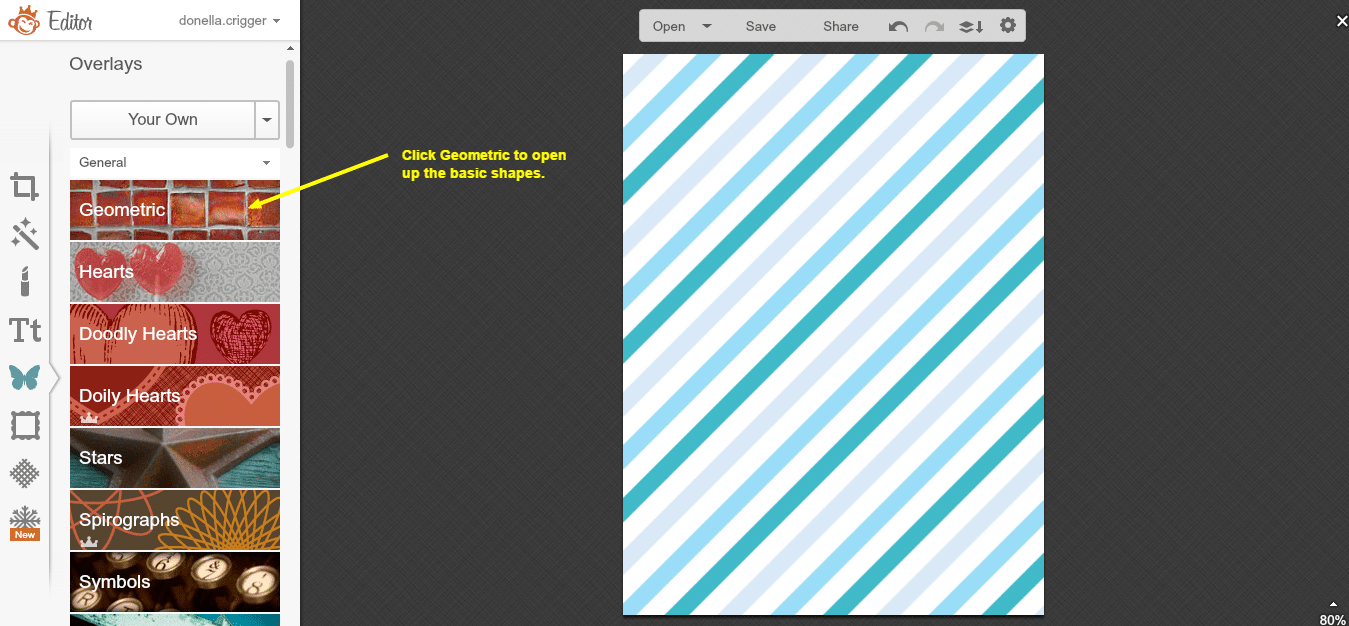 Next, we're going to add another overlay–a plain rectangle from the Picmonkey shapes. It will first appear as a black rectangle (again, very small) on the paper.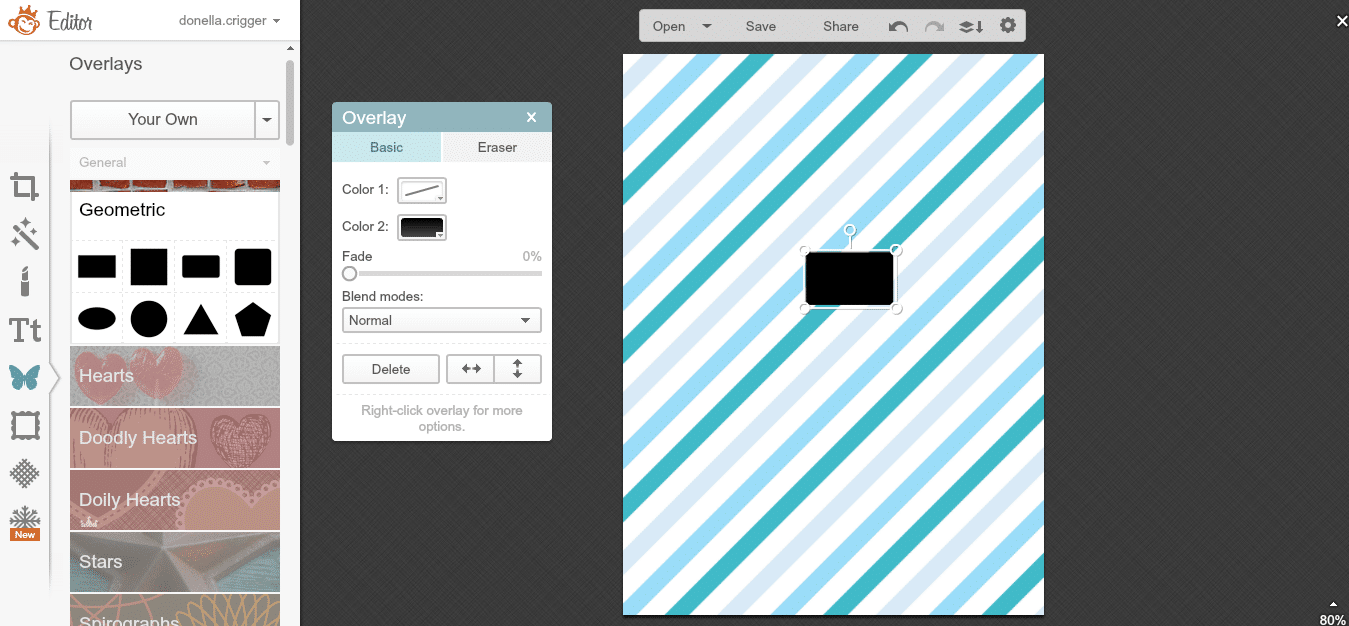 Stretch it until it covers most of the paper, leaving a little around the edges to create the look of a frame. To change the color of the rectangle, click on "color 2" and then select a color from one of the squares or click on the dropper tool and hover it over a color on the background paper to find a coordinating color.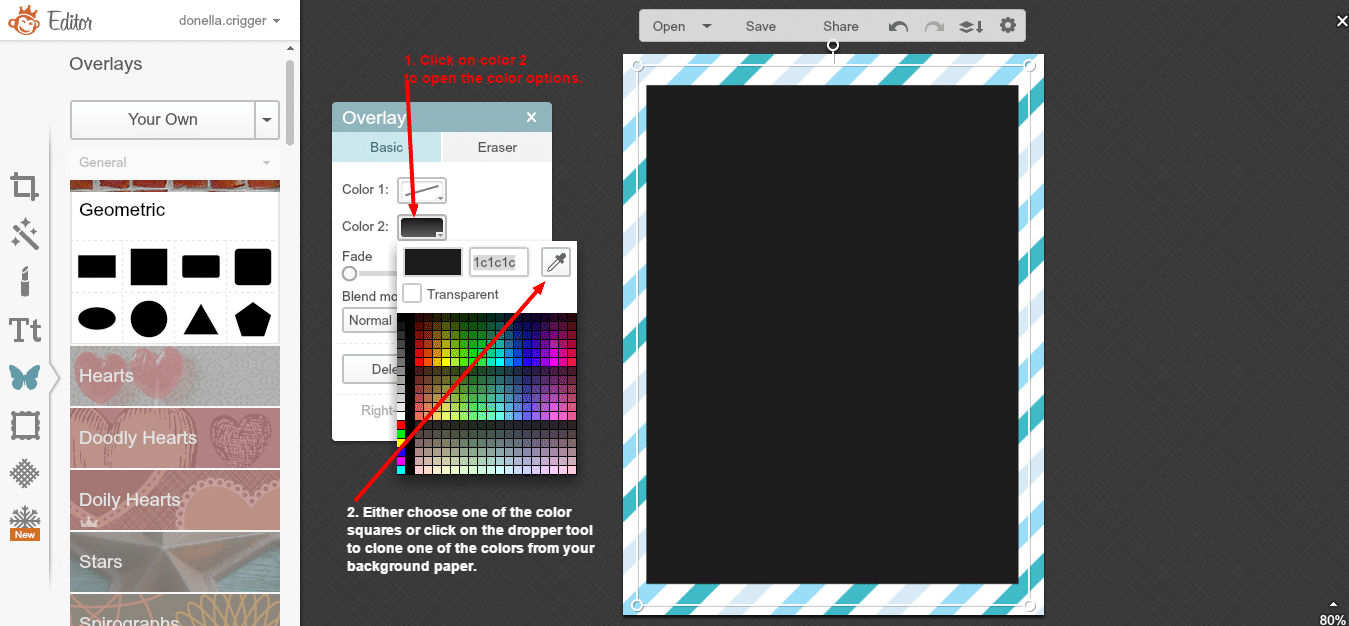 I chose that pretty blue that's on the digital paper. Then, I clicked on the geometric shapes, selected another rectangle, stretched it out until it almost covers the blue rectangle, and then turned that way. See? It looks like a multi-layered frame. At this point, you'll want to merge the layers (click the stack) to keep those elements from sliding and moving around when you're adding images and text.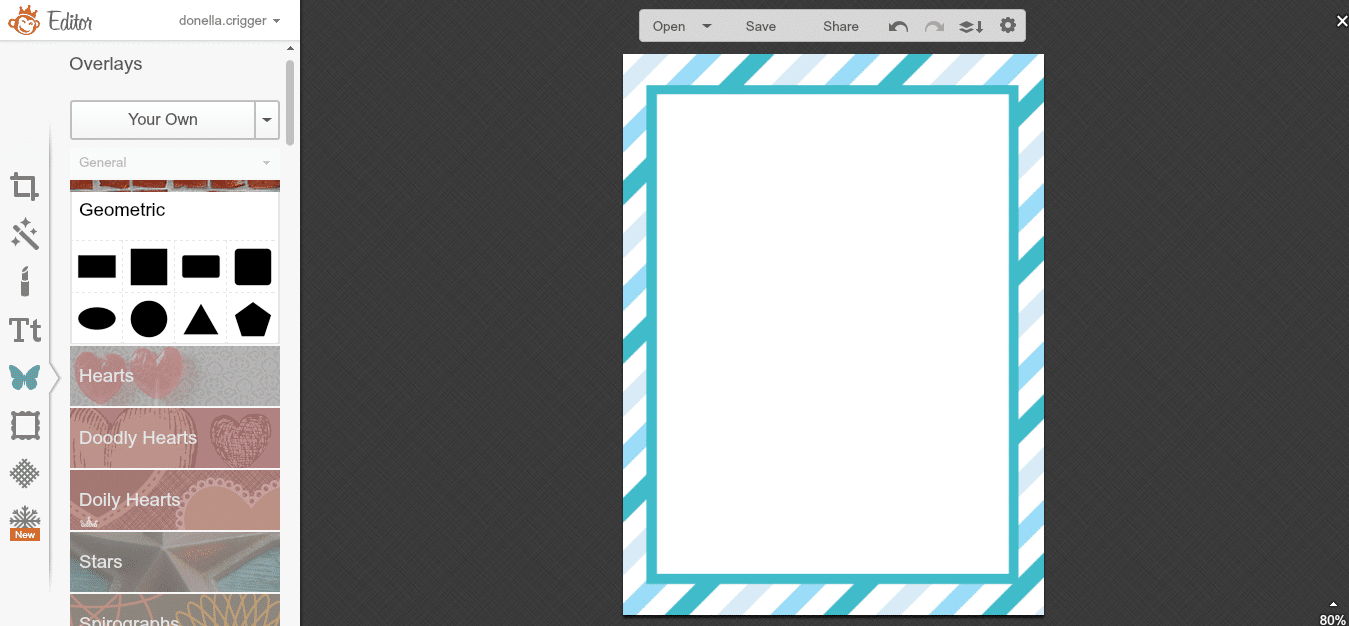 Click on "your own" again to upload an image that you want to use in the corner. I chose this lion. Isn't he cute? Again, you may have to stretch it a little to get it to the size you want. Then just click on the image to move it into the lower right or left corner. Next, we're going to add text, so click on the "Tt" icon on the left.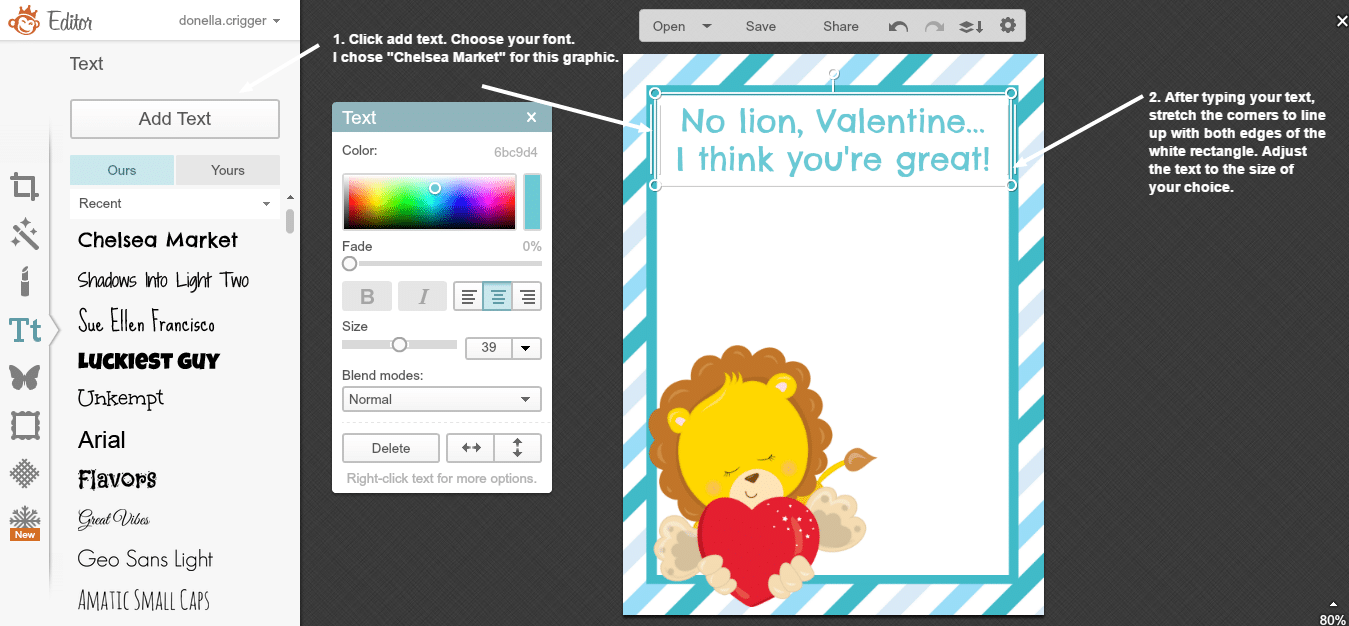 I chose the Chelsea Market font for the text. It reads "No lion, Valentine… I think you're great!" Get it? No lion… no lyin'. I'll be here all week, folks. Type your text first. To get your font perfectly in the center, stretch the text box to align with both edges of the white rectangle.
Then you can use the "size" function to make the text bigger or smaller. You can also click on the rectangle beside the color box to activate the dropper to select one of the coordinating colors from the background for your text.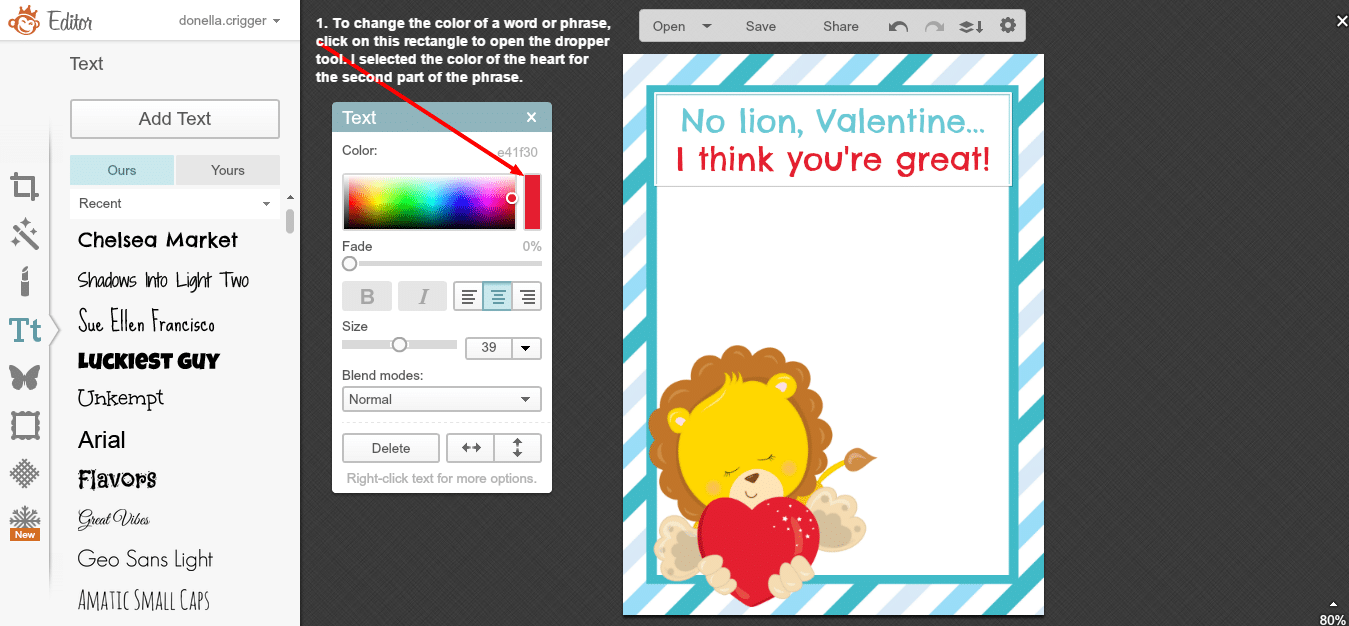 Add "to" and "from" fields at the bottom of your valentine using the text tool. You can either personalize these one by one in Picmonkey, or print them out as is and let your kiddo fill in the names. Personally, I like that option better because it's more personal (and cute). Next, click "Save" above the image to save the file to your computer.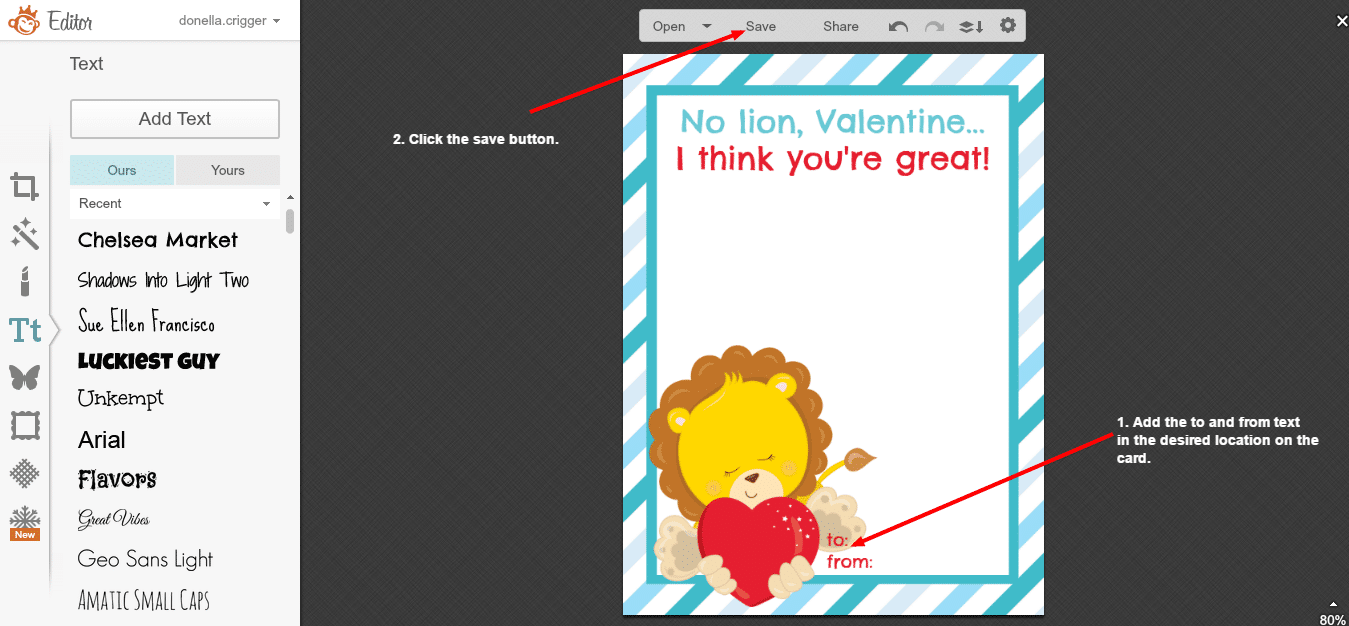 Write the file name of your choice in the file name box, then change the extension to .png rather than .jpeg. Or save both, if you want. I find that the .png files are much clearer. Then click "Save to my computer" to save it in your files.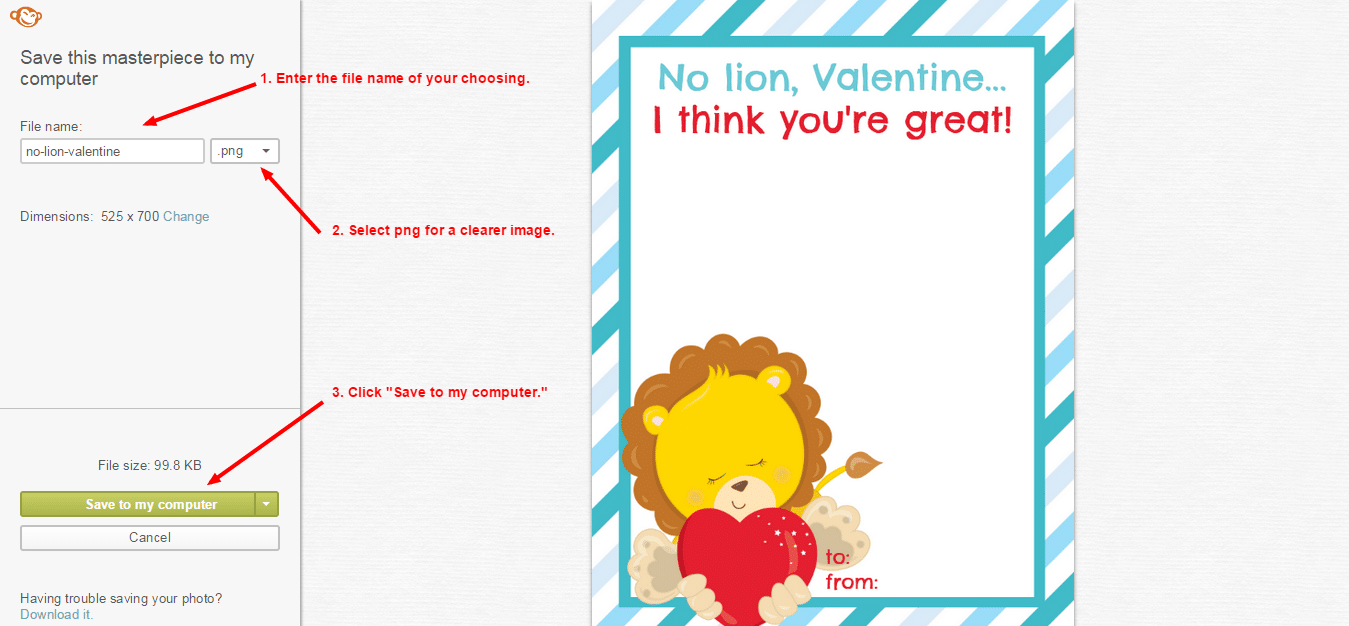 Bam! You're done! You can use these same techniques in Picmonkey to create really cool birthday party invitations, greeting cards and more. It's fun, right?
If you'd like to use the valentine I created, click the image below to save it to your computer. When you print them, select multiple prints per page in your printer's settings to get several on a page. You can easily fit 4 on a page in portrait orientation, or 6 in landscape.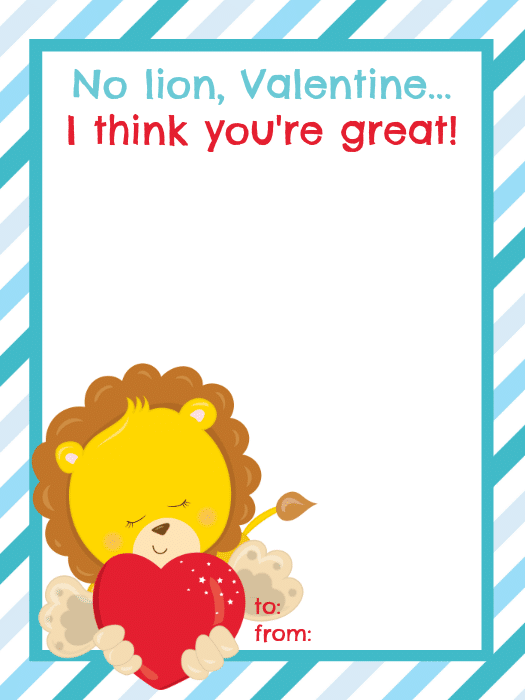 Enjoy!
For more cute valentines, check out the "Great Catch" printable bag topper below!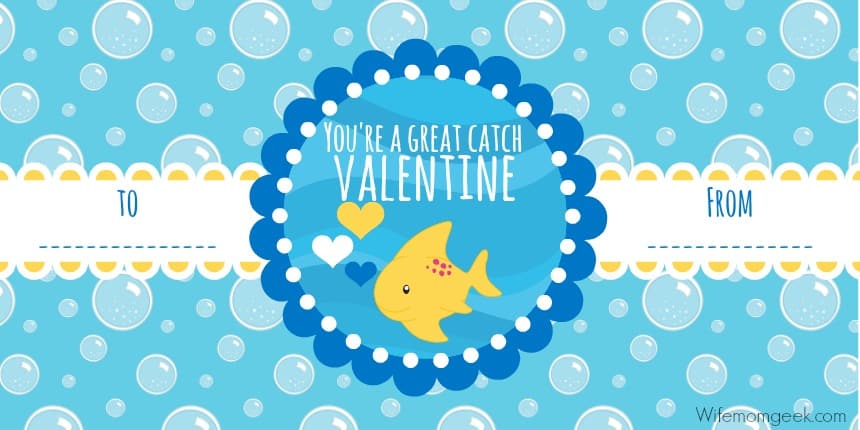 Disclosure: This post contains affiliate links, which means that I may get a commission at no additional cost to you if you sign up and/or make a purchase. I only recommend products that I use and love myself, so I know you'll be in good hands. For more details, read my full disclosure.