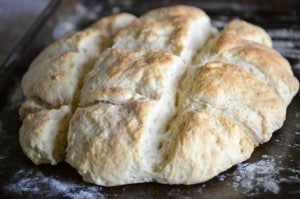 No Fuss Biscuits
Yield 12 servings
Whip up a batch of these no-fuss biscuits, and have them on the table in 30 minutes or less.
Ingredients
2 cups self-rising flour
2 tsps white sugar
1 stick butter (melted)
3/4 cup milk
Instructions
Preheat oven to 400 degrees.
Sift flour into a medium mixing bowl.
Add sugar, stir with a whisk to thoroughly mix the dry ingredients.
Add melted butter, and mix until the texture is crumbly. Stir in milk, and mix until combined.
Place dough on a lightly floured surface, turning 10-12 times
Place dough on baking sheet, cut into sections (without separating), and bake at 400 for 15-17 minutes. Place under the broiler for a minute or two for browner biscuit tops.
Courses Bread
Recipe by Glue Sticks and Gumdrops at https://gluesticksgumdrops.com/no-fuss-biscuits/