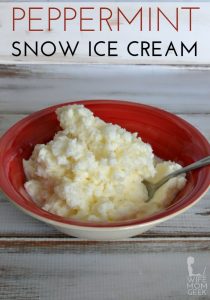 Peppermint Snow Ice Cream
This peppermint snow cream is a delicious and refreshing treat in winter. With only three ingredients, it's so easy that the kids can make it!
Ingredients
10 cups of snow
1 (14 oz.) can of sweetened condensed milk
1/2 tsp. peppermint extract
Instructions
Gather your snow in a large mixing bowl.
Pour the sweetened condensed milk over the snow, and add the peppermint extract.
Stir with a large spoon until everything is well combined. Be careful that you don't mix it too much--the snow will begin to melt.
Courses Dessert
Recipe by Glue Sticks and Gumdrops at https://gluesticksgumdrops.com/peppermint-snow-ice-cream/