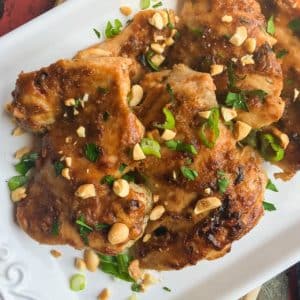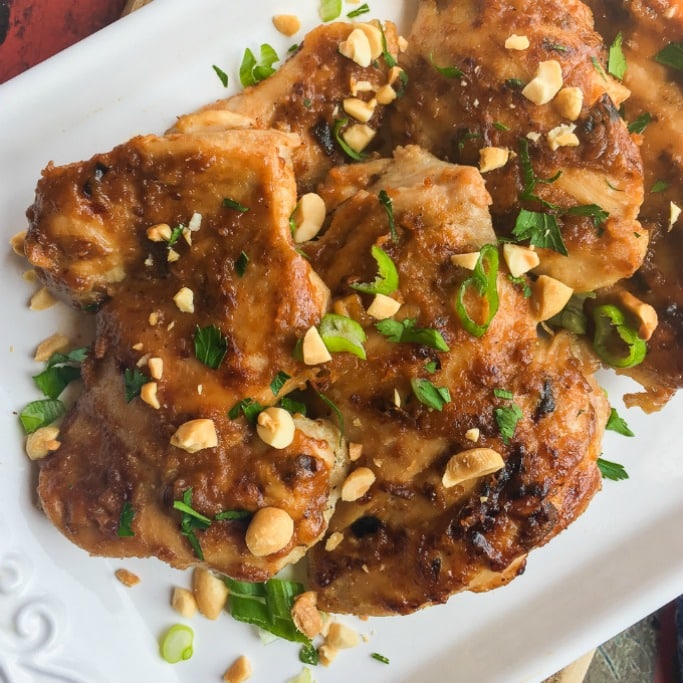 Instant Pot Thai Chicken Thighs
Yield 4-6 servings
These flavorful Thai Instant Pot chicken thighs are perfect for dinner, while leftovers can be shredded to make healthy and delicious wraps for lunch the next day. 
Ingredients
Thai Chicken Thighs Ingredients:
2 T. sesame oil
2 lbs. boneless, skinless chicken thighs
2/3 c. chicken broth
¼ c. sugar-free peanut butter
¼ c. gluten-free soy sauce 
2 T. fresh lime juice
2 T. honey, preferably local
1½ T. Sriracha sauce
2 t. fresh ginger
1 t. garlic powder
Sea salt and black pepper, to taste
Garnish:
Fresh cilantro, chopped
½ c. roasted peanuts, chopped
3-4 green onions, cut into thin slices
Instructions
Add sesame oil to Instant Pot and set the "Sauté" setting to high. Working in batches, if necessary, brown the chicken thighs, approximately 3-4 minutes per side. Repeat this process with remaining thighs. Remove and set aside on a platter.
Pour chicken broth into hot container and gently scrape up brown bits from bottom. Add peanut butter to the hot liquid and stir until completed melted. Add soy sauce, lime juice, honey, Sriracha sauce, ginger, and garlic powder. Season with salt and black pepper, to taste, and stir to combine.
Add metal rack to the Instant Pot and place the browned chicken thighs on top.
Add lid and lock into place. Switch vent to "Sealing" position and set the "Manual" setting on high before adjusting the cook time to 10 minutes. After a brief pause, the Instant Pot will automatically start building pressure.
When finished, do a quick release (QR) to allow the pressure to escape. Unlock and carefully remove lid when finished and transfer the chicken to a platter.
Optional: To thicken sauce, select the "Sauté" setting and heat, stirring continually, until the excess liquid is reduced and the sauce reaches the desired consistency.
Turn Instant Pot off and return the chicken thighs and the juices that accumulated on the platter to the sauce and turn to coat.
Courses Main Dish
Recipe by Glue Sticks and Gumdrops at https://gluesticksgumdrops.com/thai-instant-pot-chicken-thighs/