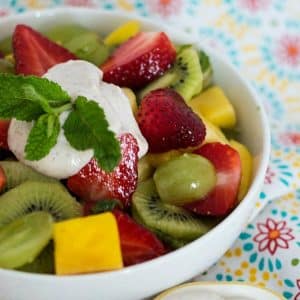 Tropical Fruit Salad
This tropical fruit salad is the perfect starter or side for your grilled dishes this spring and summer. With sweet strawberries, mango, kiwi, grapes, pineapple, and more, it's refreshing and good for you!
Ingredients
Fruit Salad:
1 c. seedless green grapes, halved
1 c. fresh pineapple chunks
1 large mango, peeled and chopped
¼ c. fresh pineapple juice
Zest of 1 lime
2 T. fresh lime juice
2 T. fresh mint, finely chopped
1 T. honey
1 c. fresh strawberries, sliced
2 large kiwi fruit, peeled and sliced
Yogurt Dip:
1 c. full-fat vanilla Greek yogurt
2 T. honey
1 t. ground cinnamon
Instructions
Combine ingredients for yogurt dip in a medium bowl. Cover and place in refrigerator until ready to use.
Combine grapes, pineapple and mango in a large salad bowl.
Add pineapple juice, lime zest, lime juice and mint to the fruit. Toss gently to combine.
Drizzle with honey (about 1 tablespoon), and gently stir to combine.
Chill in refrigerator for at least one hour to allow the flavors to come together. When ready to serve, add sliced strawberries and kiwi to the fruit salad. Gently stir to combine.
Serve immediately with honey cinnamon yogurt dip.
Recipe by Glue Sticks and Gumdrops at https://gluesticksgumdrops.com/tropical-fruit-salad/