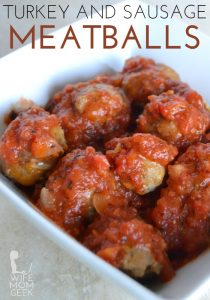 Turkey and Sausage Meatballs
Yield 50 -60 meatballs
These low carb turkey and sausage meatballs are a tasty appetizer whether you're on a low carb diet or not. They're savory, juicy and cheesy. What more could you want?
Ingredients
1 lb. ground turkey
1 lb. breakfast sausage
2 eggs
4 oz. cheddar
1/4 medium onion, finely diced
1/4 tsp. black pepper
2 tsp. Chili powder
1/2 tsp. dried parsley
1 tsp. dried oregano
1/2 tsp. dried basil
1/2 tsp. dried rosemary
Instructions
Preheat oven to 350 degrees.
Mix all ingredients in a large bowl.
Roll meat mixture into 1 1/2-inch balls and place on baking sheets lined with foil.
Bake in oven for 18-20 minutes, or until juices run clear.
Courses Appetizer
Cuisine Italian
Recipe by Glue Sticks and Gumdrops at https://gluesticksgumdrops.com/turkey-and-sausage-meatballs-low-carb-appetizer/