Low carb diets are more popular than ever. But after a while, eating chicken, pork, and beef gets boring real fast. If you'd like to switch things up at dinnertime, why not try fish instead? Although eating fish can be a challenge since it's so often served up bread and fried, it doesn't have to be. Fortunately, there are plenty of ways to bake fish and make it low carb.
Fish are an excellent source of omega-3 fatty acids, are packed with protein, and are quick and easy to bake. Here are some tips on our favorite fish choices as well as 10 no-fail baked fish recipes that are low carb and keto friendly.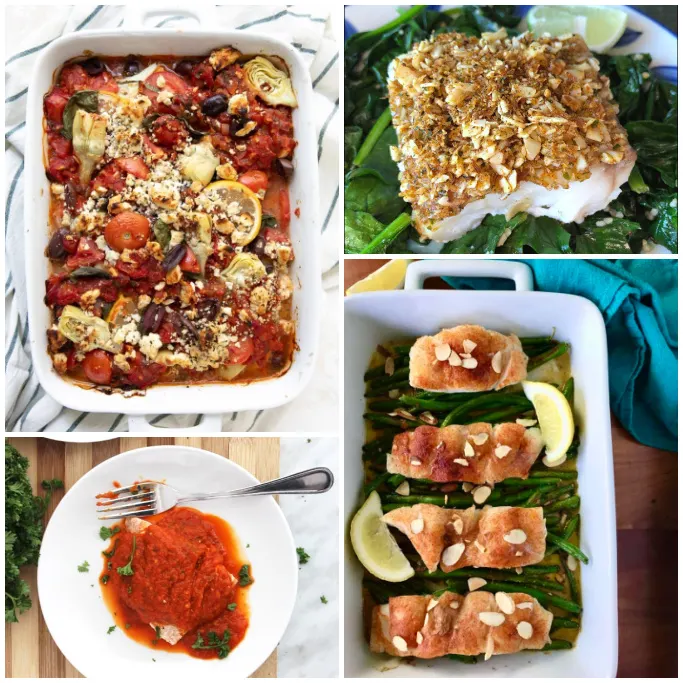 What Fish is Best for a Keto Diet?
Since keto focuses a lot on healthy fats, you'll find that the most recommended fish are ones that are high fat. Popular favorites include:
That said, many of us (myself included) have to watch our fat intake when low-carbing. For that reason, we should usually choose lean fish like tilapia, cod, haddock, tuna, mahi-mahi, and trout, among others.
We'll include recipes for both some fatty fish and lean fish in the list below to provide a few options for everyone.
Which Fish is Low Carb?
All fish have zero (or nearly zero) carbs, so any of them are suitable for a keto diet. If you love seafood, that's great news for you!
Just keep in mind any other dietary restrictions you may have. For example, if you're on a low fat, low carb diet, avoid fish that are higher in fats like salmon and sardines.
Is Oven-Baked Fish Healthy?
Oven-baked fish is as healthy as you want to make it. If you keep the oil to a minimum, avoid creamy sauces (unless it fits your macros) and avoid rolling it in breadcrumbs, then yes, it's usually healthy.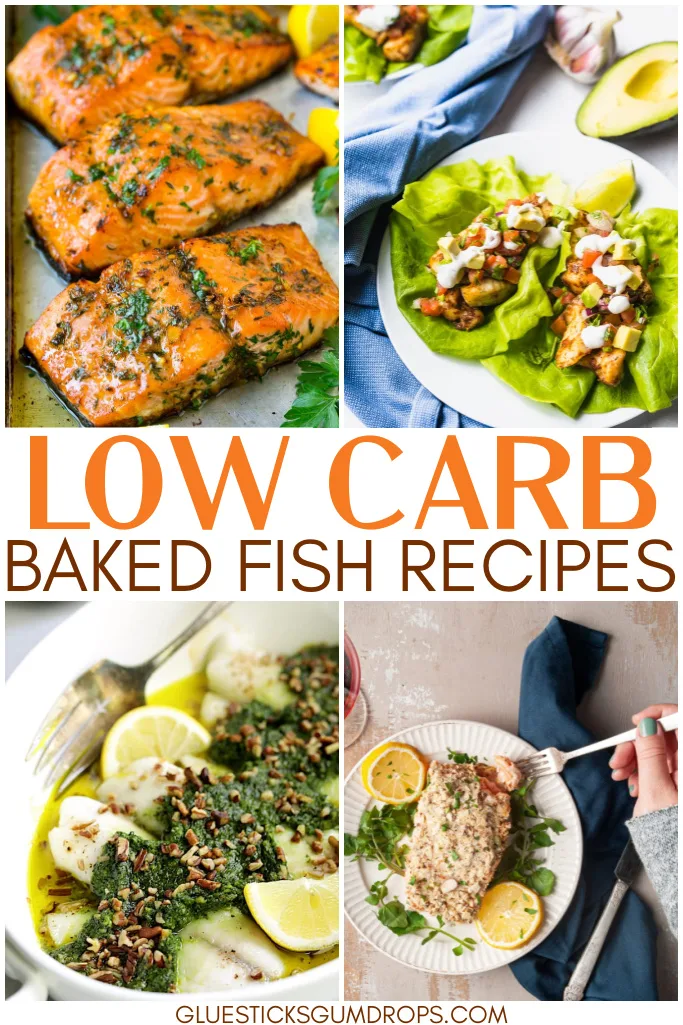 Tasty Baked Fish Recipes for a Low Carb Diet
Those new to seafood dishes will enjoy this baked cod recipe. Cod has a very mild flavor and is often called the chicken of the sea for that reason. The tender, flaky cod is marinated with olive oil, soy sauce, lemon zest, garlic, and fresh herbs for at least half an hour or up to 8 hours. Then, it's baked in the oven until it's perfectly cooked.
Serve this fish over cauliflower rice or zoodles to keep it low carb. A serving of green veggies like asparagus on the side will pair nicely, too.
The marinade works for other mild whitefish as well as salmon.
This healthy dinner will become a regular in your menu rotation. Baked cod fillets are smothered in a delicious tomato sauce, which is then topped with artichoke hearts, olives, lemon, capers, and tangy feta cheese. Don't worry; if you don't like some of those ingredients, you can leave them out. You'll love that it's a one pan dish that's ready in about 35 minutes.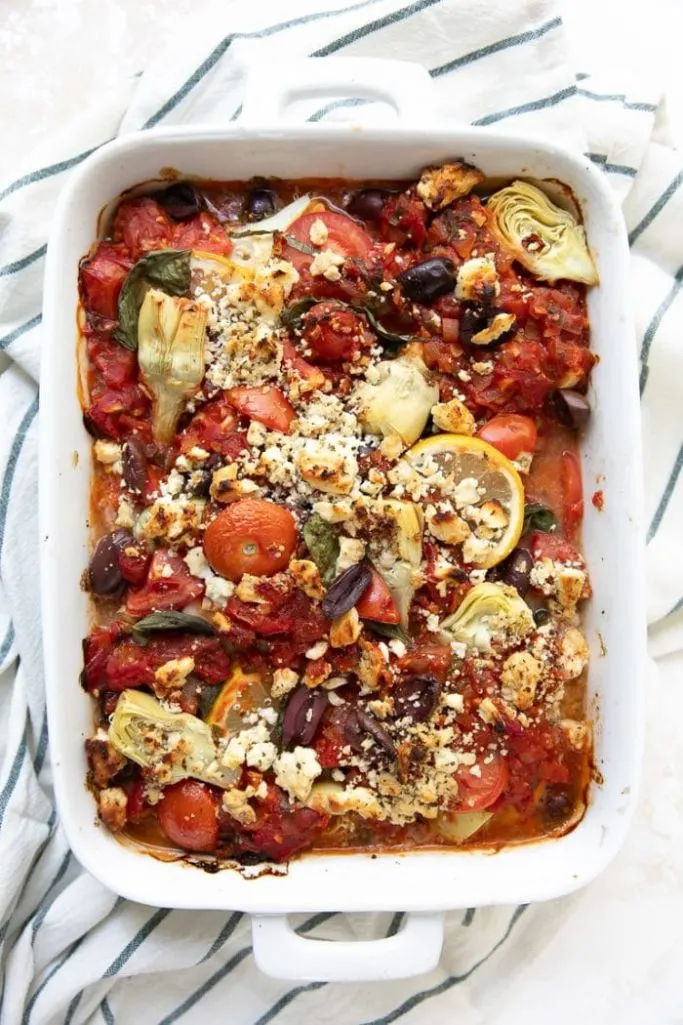 Turn salmon filets into a colorful and flavorful dish by adding a made-from-scratch roasted red pepper sauce. You can use skin-on or skinless salmon filets for this recipe. This recipe will be delicious with a side of roasted veggies on the side.
Need ideas for sides? Here are 28 salmon side dishes to inspire you with quite a few low-carb options.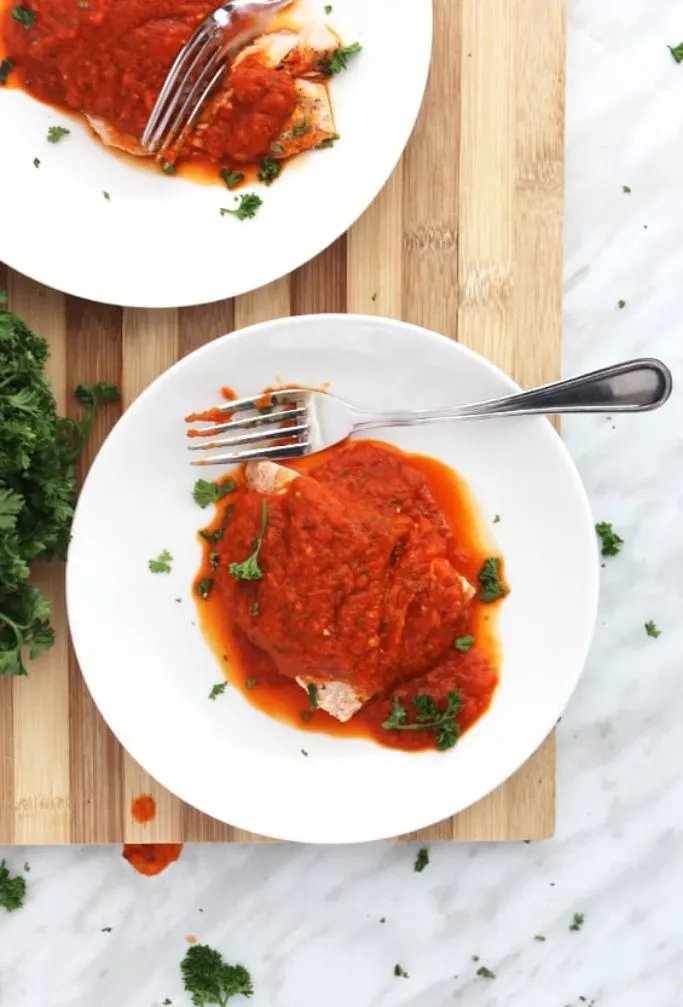 What could be better than cod with a deliciously crunchy almond parmesan crust on a bed of garlicky spinach? This meal is ready in just 25 minutes, and even the kids will love it. You can use frozen or fresh filets, but if you start from frozen, let the fish thaw first.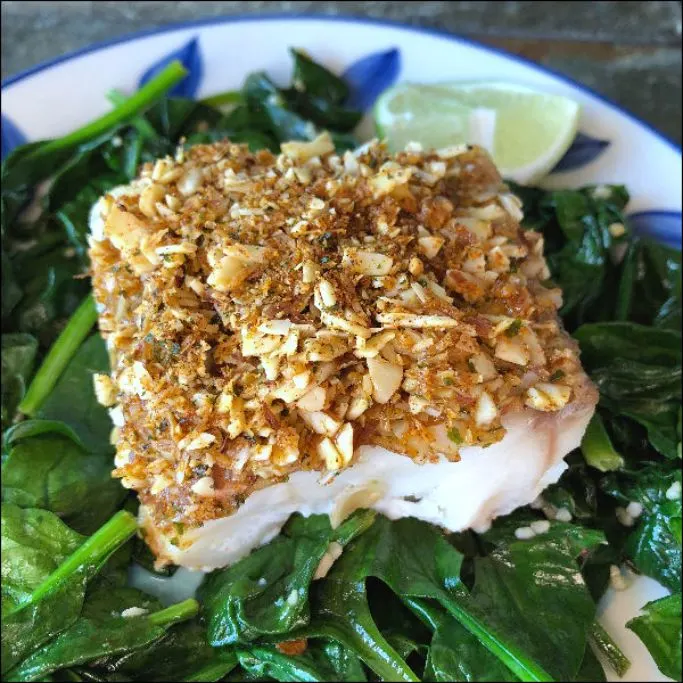 Use fresh, wild salmon for this dish, if possible. The fresh filets are topped with a mixture of garlic, soy sauce, butter, and herbs, and then is baked and ready for the table in about 20 minutes. It's packed with flavor and is so easy to make. Note that you'll need to use a brown sugar substitute to keep this completely low-carb.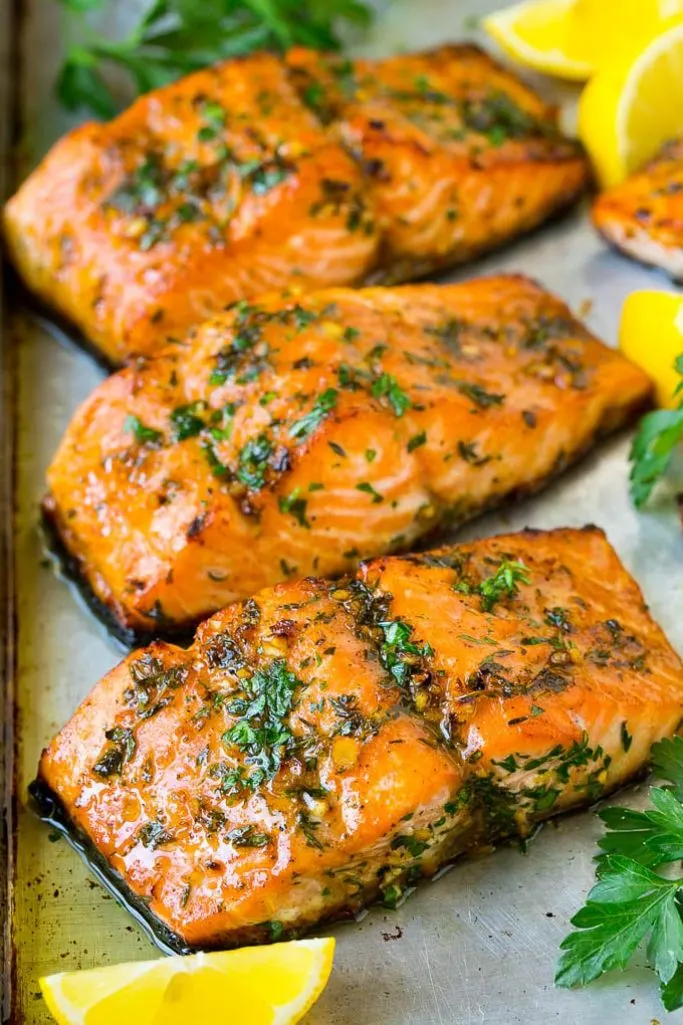 Get ready for a fresh salmon dinner that's ready in 30 minutes. The creamy dill sauce ensures that there's a delicious combination of flavors in every bite. Coming in at 1 carb per serving, you'll want to make this fast, fresh, restaurant-quality meal regularly.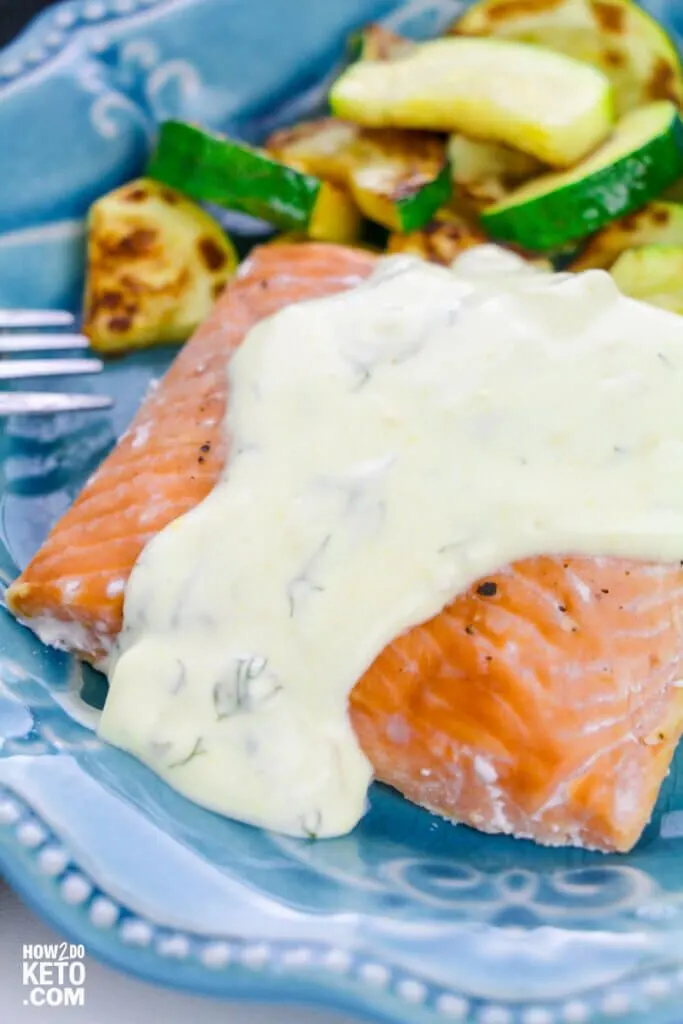 Flaky white fish is seasoned with Baja-inspired spices and topped with avocado, Pico de Gallo, and a yummy Mexican lime crema. Wrap the flaky fish in lettuce or serve it on low carb tortillas. This recipe works for tilapia, basa, haddock, or halibut. And if you've never given fish tacos a chance, here's the chance to do it. You'll be glad you did!
Pair these fish tacos with our Mexican cauliflower rice!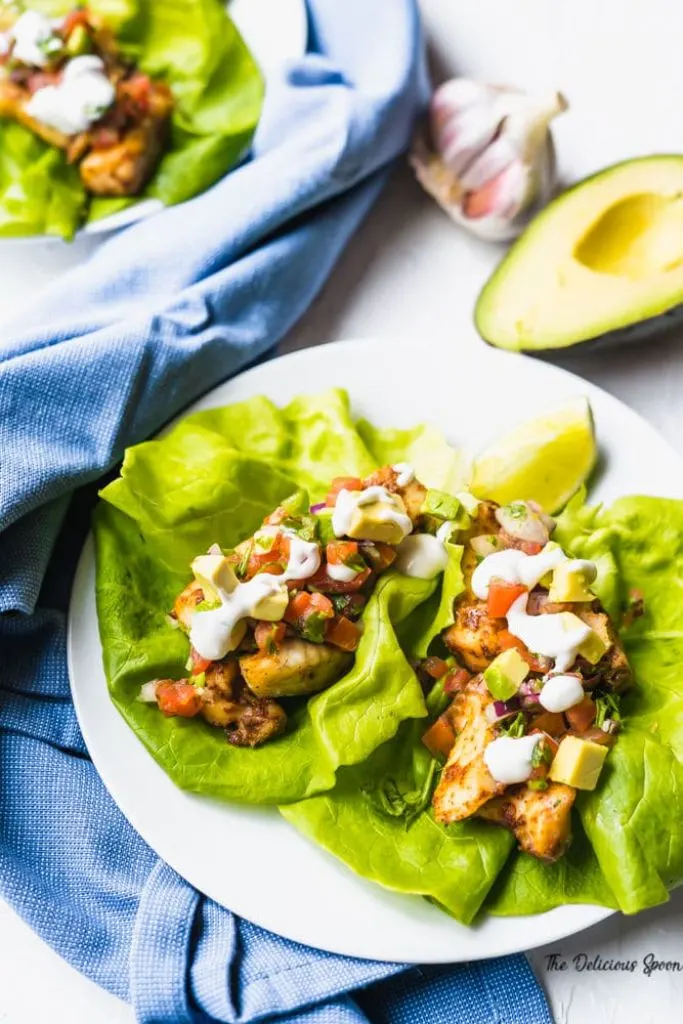 Are you a fan of one-pan recipes? If easy clean-up is on your list of requirements for dinner, try this tasty spiced butter baked cod baked with green beans. The good news is that frozen cod is okay, too, so even if you didn't prep for dinner, you can still have something on the table in under an hour.
Switch this versatile recipe up several different ways: swap out the fish, add broccoli instead of green beans, or change out the sliced almonds for another chopped nut of your choice.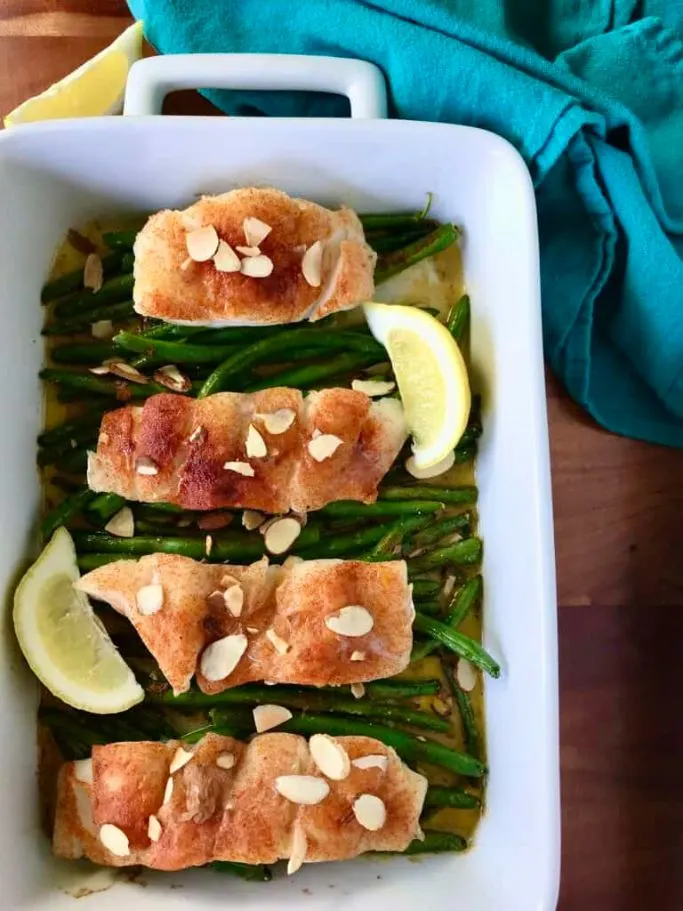 This almond crusted salmon is full of bold flavors thanks to the lemon juice and Dijon mustard marinade. It's tender on the inside and crunchy on the outside thanks to the almond and parmesan crust that gets nice and crispy in the oven. A side of asparagus will go nicely with his dish.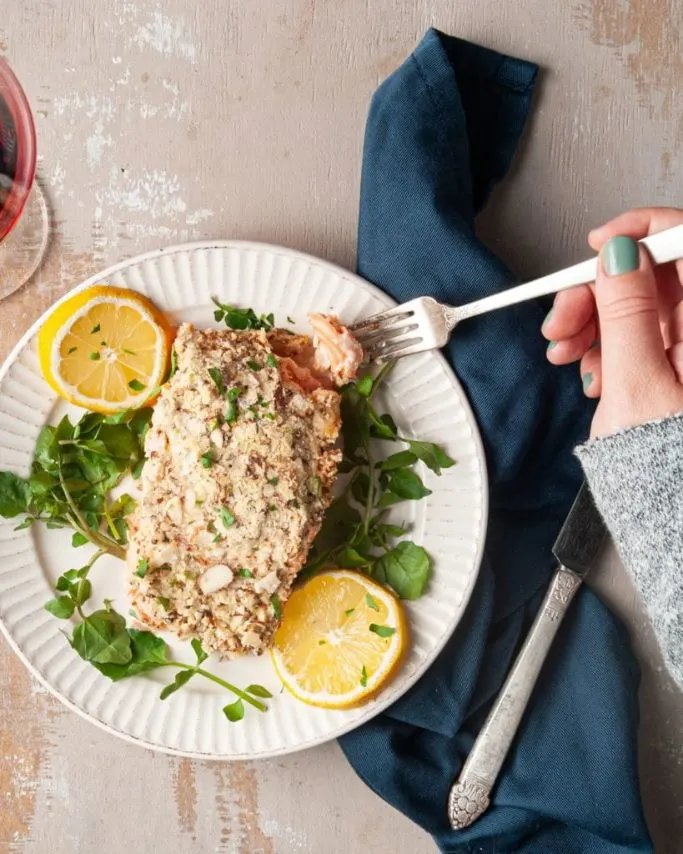 This healthy dinner is nice enough to serve to company, but you don't need a special occasion to make it. Tilapia is very budget friendly and works nicely with this recipe, as does halibut, sea bass, flounder, and grouper.
It's ready in just 20 minutes and goes beautifully with the parmesan roasted cabbage also found on From a Chef's Kitchen.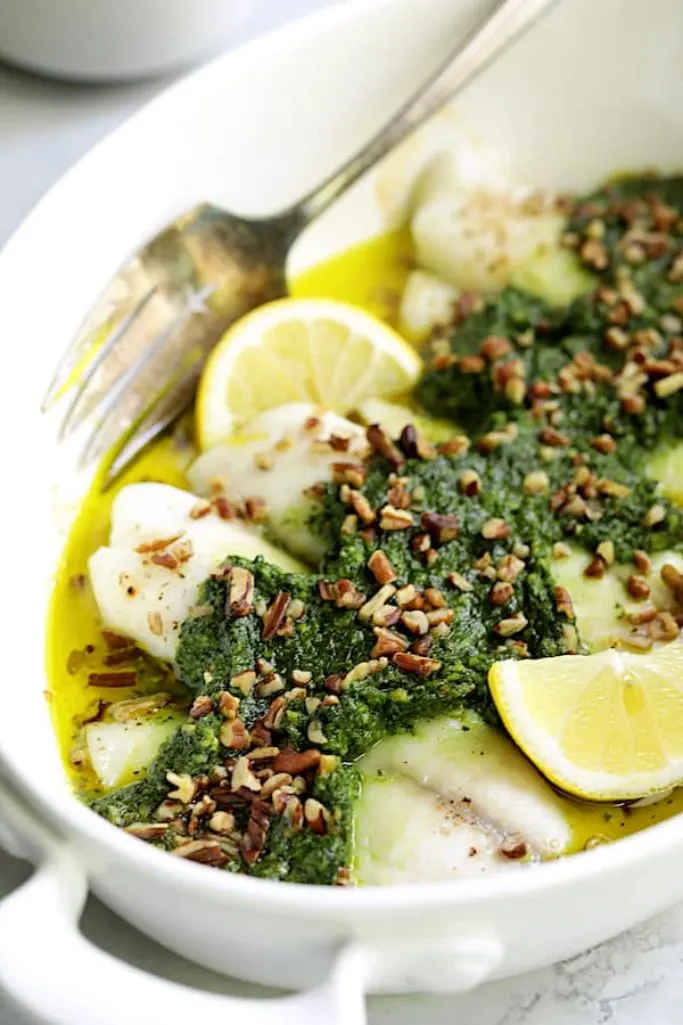 We hope you enjoyed this list of low carb baked fish recipes with everything from cod to salmon to tilapia. Adding fish is a great way to get healthy omega-3 fatty acids, plenty of protein, and a bigger variety in your diet.
More Low Carb Seafood Recipes