A tote bag is a must for a mom on the go. You need a place to put the snacks for the kids, toys for the kids, wipes, hand sanitizer, a change of clothes and… you may even have something of your own in your bag. But don't you wish tote bags were cuter? We've found 21 clever ways to dress up plain canvas tote bags that you're going to love! Whether you need a tote for library books or a day at the beach, you're going to find some easy tote bag design ideas to try here.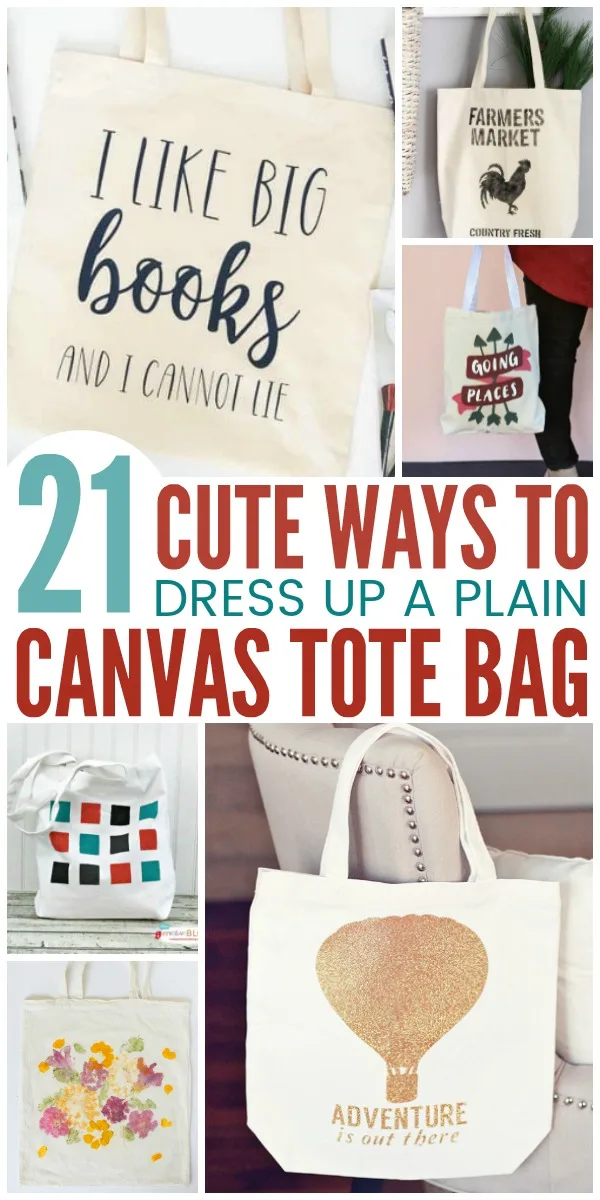 This post about tote bag design ideas contains affiliate links.
How to Dress Up Plain Canvas Tote Bags
There are lots of ways to jazz up blank canvas totes, and you don't need special skills to do it. I've seen beautifully embroidered bags before, but embroidery and sewing just aren't in my wheelhouse. If you're the same way, here are some easy ideas to dress up canvas totes:
Fabric Paint or Fabric Markers – Use them freestyle or with stencils.
Iron-on transfers (I've used THIS iron-on transfer paper before with great success.)
Vinyl transfers, such as those from a Silhouette or Cricut machine
Tie-Dye
Gluing or sewing on embellishments
And I'm sure there are others, but the point is, you definitely don't need to be the crafty type to make one of these plain canvas tote bags your own. Now, let's get to our list.
21 Cute Tote Bag Design Ideas You're Going to Love
1. Farmer's Market DIY Tote Bag and Makeup Bag – Lydi Out Loud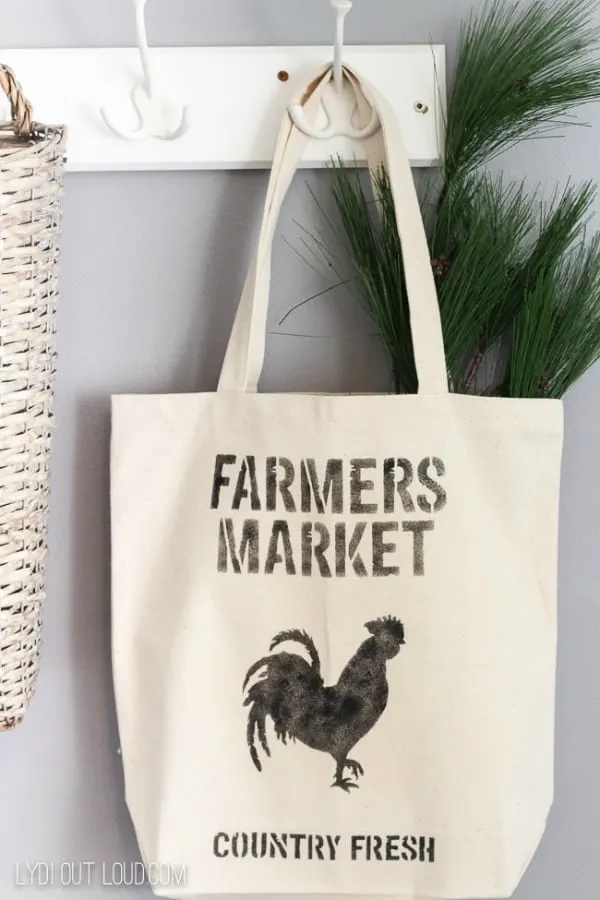 This bag is perfect for carrying around the Farmers Market to shop for fresh fruits and veggies or for those who just love the country chic look. You could glue on a paisley trim on the straps and around the top for added country flair.
2. Going Places DIY Tote Bag – Persia Lou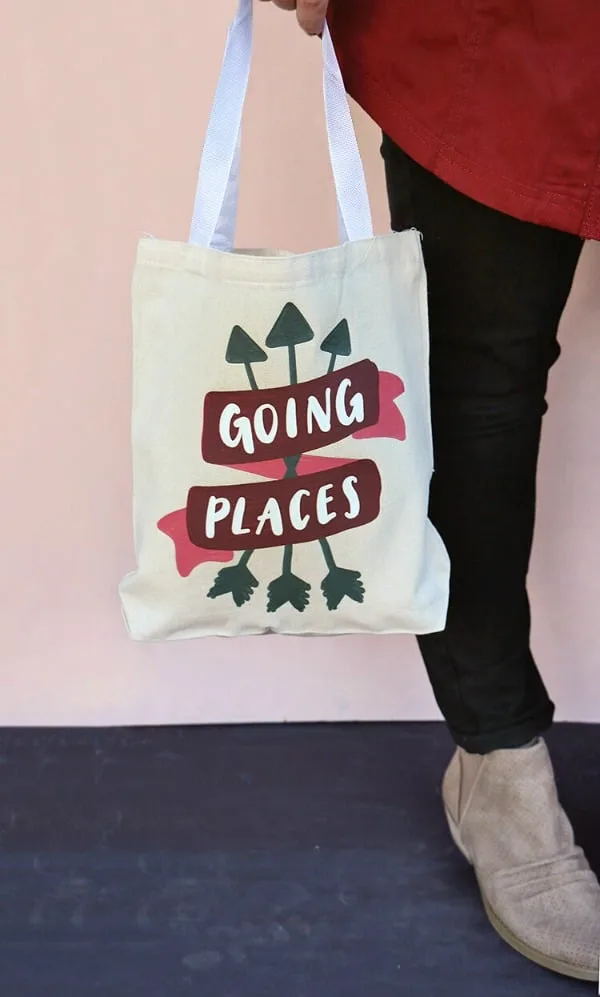 Always on the go? Traveling a lot? This tutorial is for you! It would also make a cute gift for a graduate, and it's inexpensive, too.
3. Libary Tote Bag – Simply Designing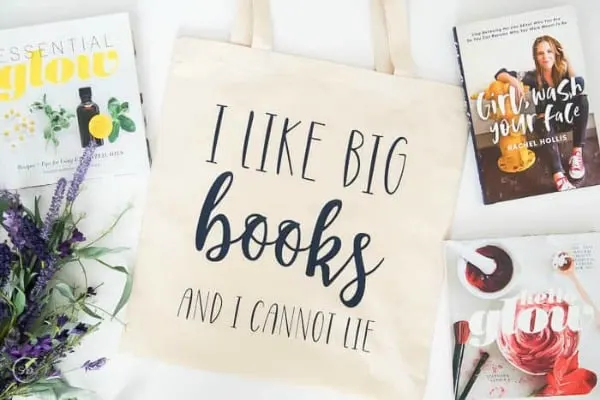 Learn how to add vinyl to a plain tote bag. This is quite possibly my favorite tote bag because I do like big books… and I cannot lie! I have a tote bag to haul kiddo's library books back and forth every week, but I have this on my to-do list because it's way cuter.
4. Cute Tote Bag DIY with Scrap Ribbon Heart – Atta Girl Says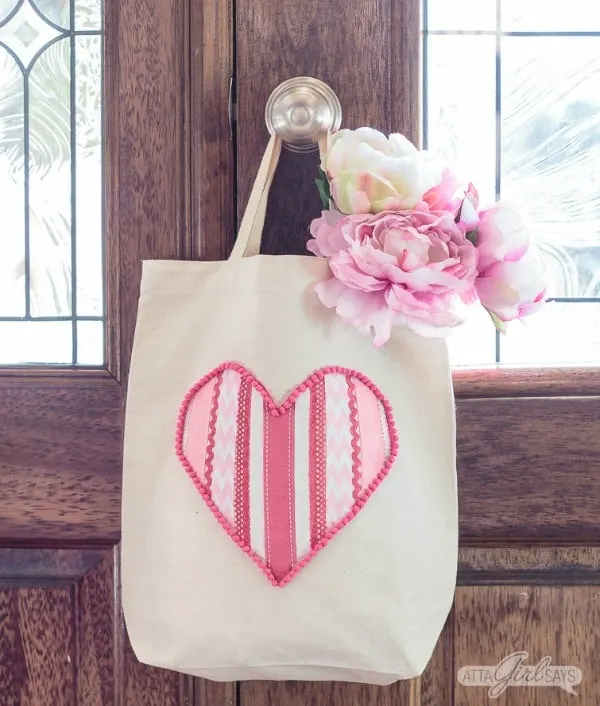 What a fun way to use up ribbon scraps! And it would be a fantastic bag for holding sewing or crafting supplies for the project you're currently working on.
5. Pounded Flower Tote – DIY Candy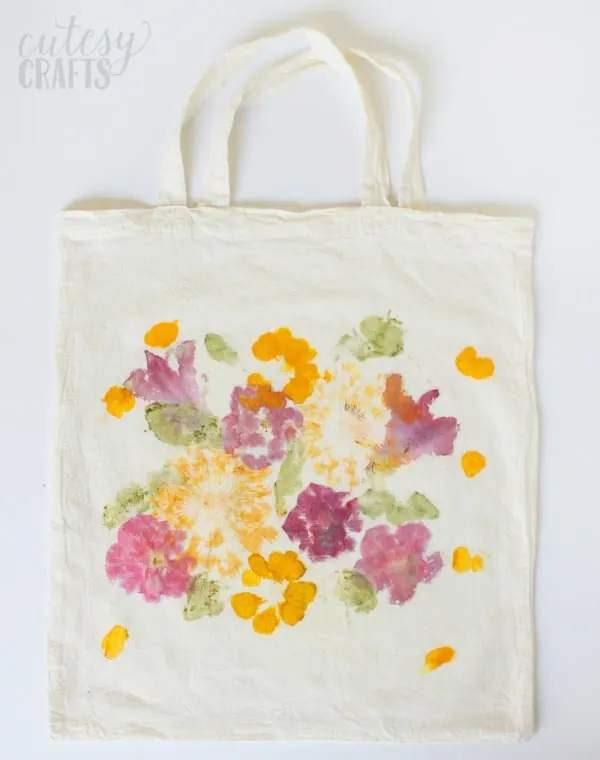 Pounded plant crafts are a current favorite for me. A few weeks ago, our son's kindergarten class visited a local pioneer museum where this technique was shown. He made a pretty leaf print card for his grandma for Mother's Day. Awww. What an easy DIY to dress up canvas bags!
6. Eat Local DIY Farmer's Market Tote Bag – Where the Smiles Have Been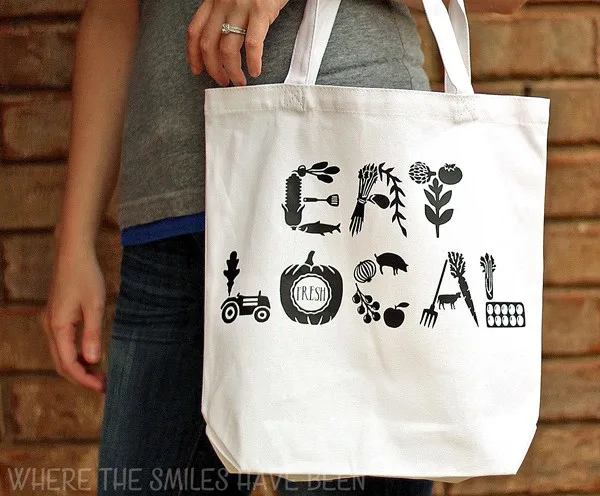 Here's another bag to show your support for local farmers – Eat Local! And there's nothing quite like filling your bag with fresh fruits and veggies to make a day of shopping even better. This tote bag is sure to make shopping for groceries locally a little more fun.
7. DIY Pool Totes – A Night Owl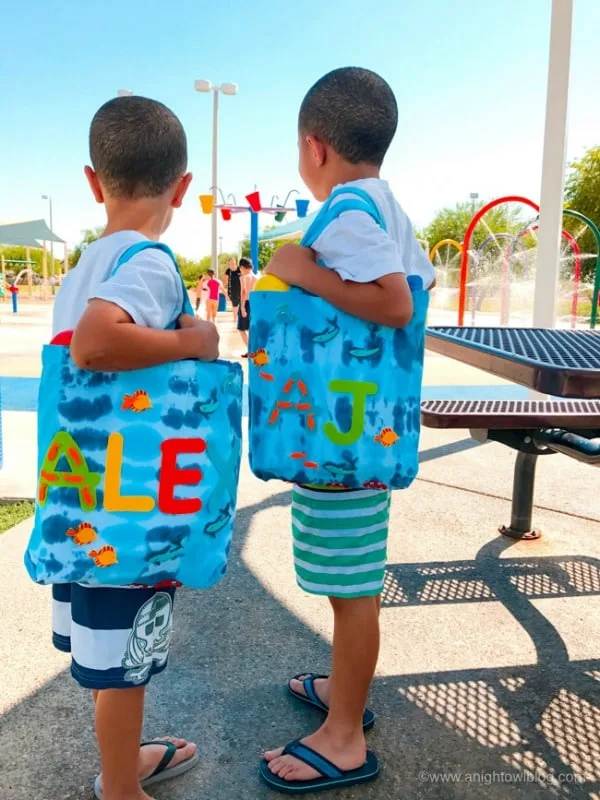 In the summer, kids want to live at the pool. Kick off swimming season by helping your kids make their own DIY pool tote bags. You can help with the dyeing process if the kids are small, or let the older kids do it themselves.
8. Color Blocked Triangle Tote Bag – White House Black Shutters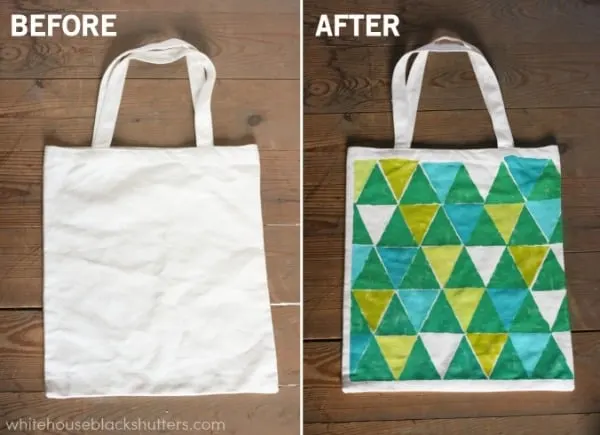 Geometric patterns are my jam. This triangle pattern is gorgeous. I'd also love one in reds, pinks, and oranges, too. See what a big difference a little bit of planning and paint can make?
9. No-Sew Mixed Prints Tote Bag Makeover – Hello Little Home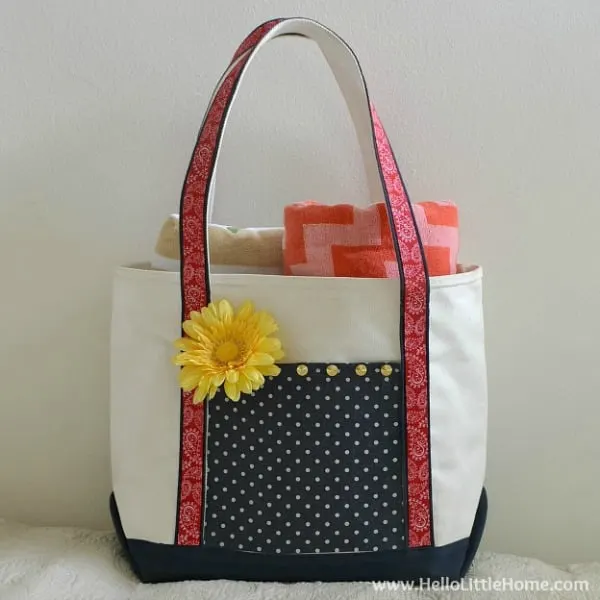 Love how she mixed the polka dot pattern with the paisley pattern to dress up this tote bag with a big ugly logo on it. The flower adds a pretty touch, too!
10. DIY Adventure Quote Tote – Crafting Chicks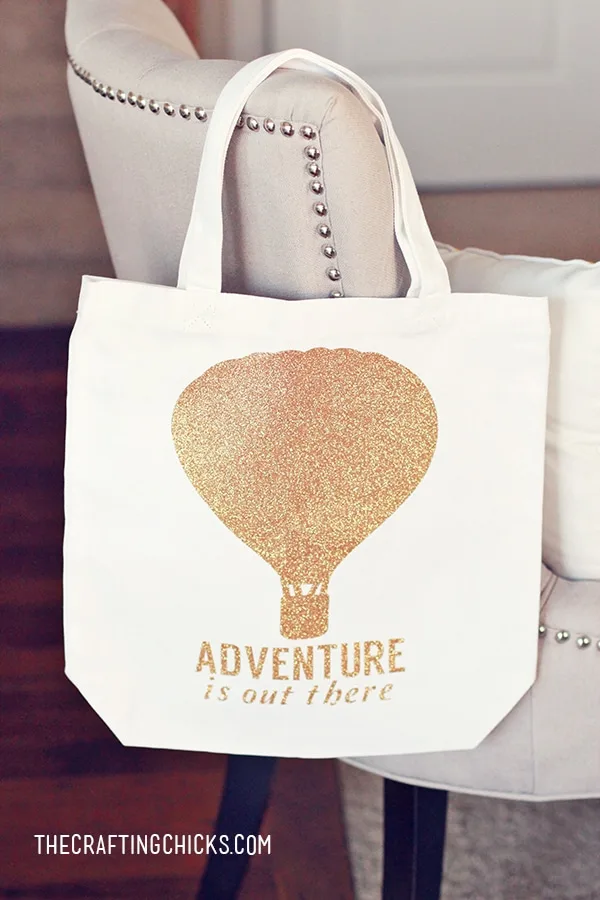 There's no better bag for taking out with you while you travel. Get out there and have an adventure!
11. DIY Color Block Geometric Tote – Today's Creative Life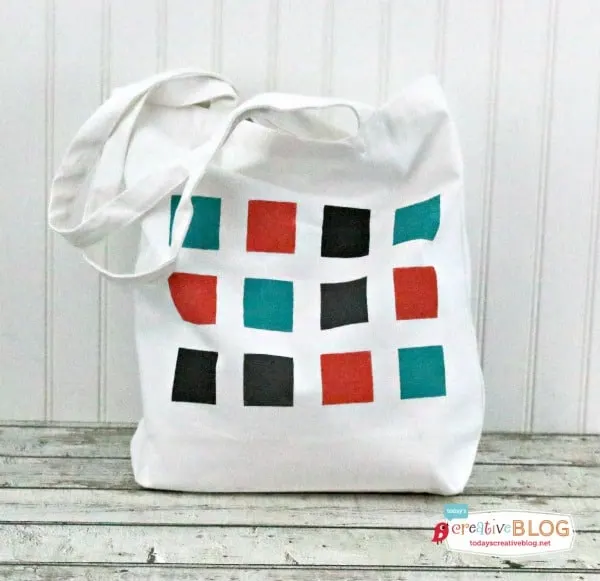 Here's another pretty option with shapes! I really dig the color palette on this one, too.
12. Creativity Quote Tote Bag – Hello Creative Family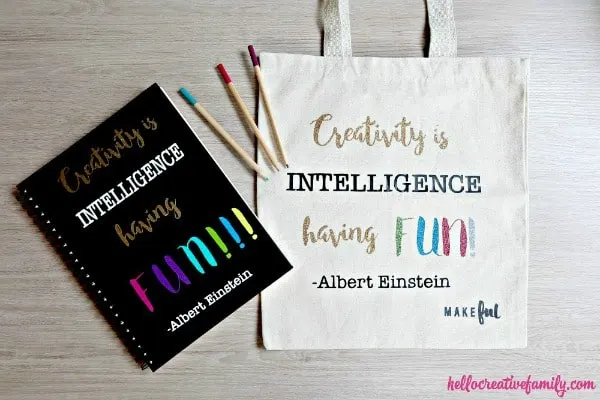 You'll need iron-on glitter and a Cricut Explore for this one. I totally agree with the message—creativity is intelligence having fun!
13. DIY Pineapple Bag – Hawthorne and Main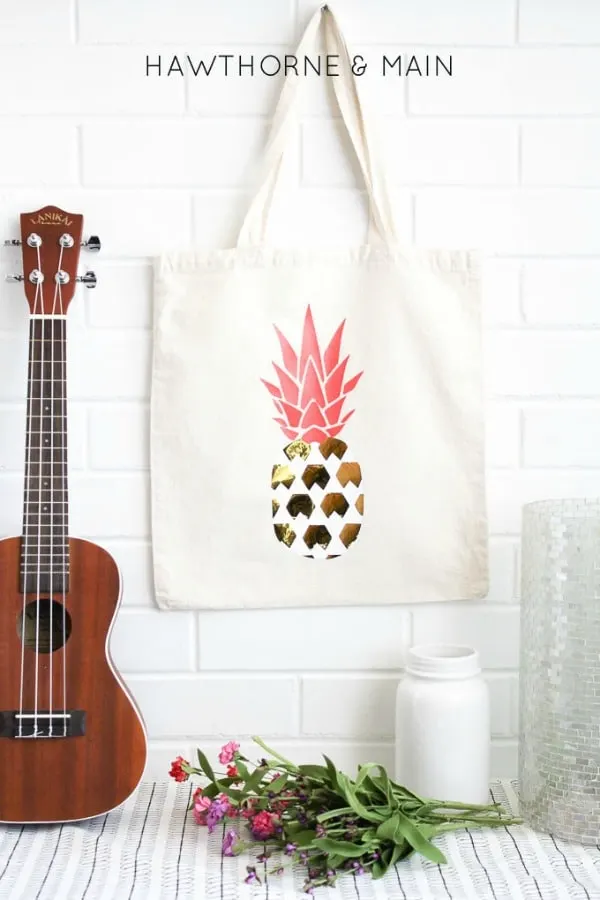 This bag is a good one to take to the beach. I'm not the only one who associates pineapples with yummy tropical drinks more so than food, right?
14. DIY Coloring Tote Bag – Dawn Nicole Designs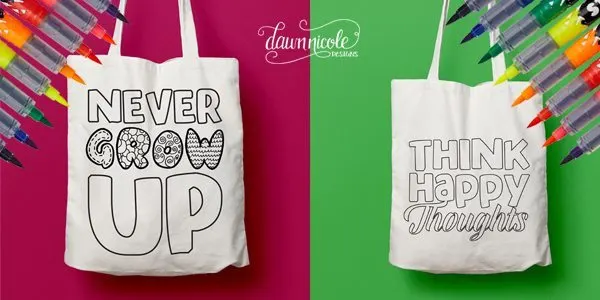 These would be perfect for a tween or teen birthday party. My nieces love bags, purses, pillows, and other things that they can put their own creative flair on.
15. Lovely Indeed Tote Bag – Lovely Indeed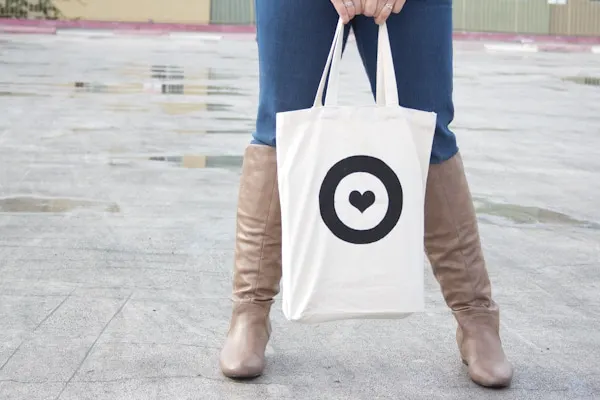 We love the simple design on this Lovely Indeed tote bag, and it'll look great in any color.
16. Beach Themed Decoupage Bag – Mod Podge Rocks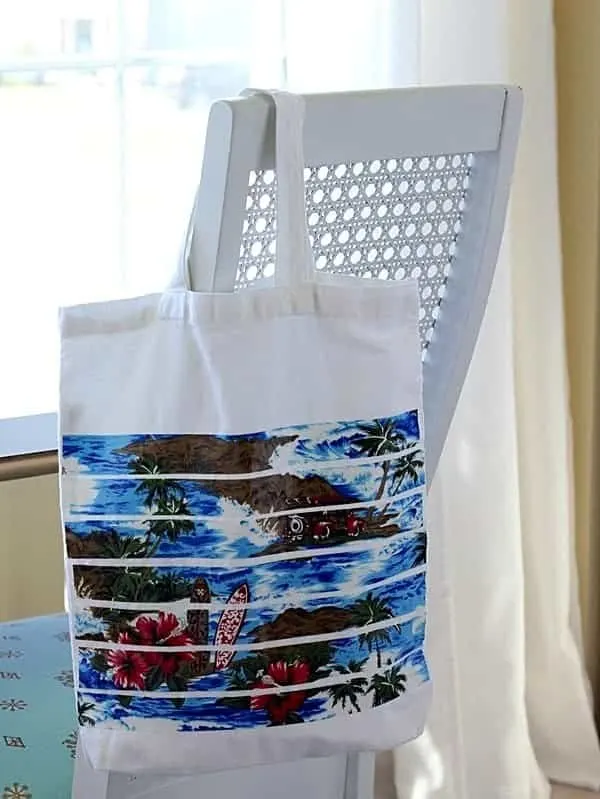 Stuff with some beach towels and a couple of good books, and go dig your toes in the sand somewhere.
17. Handprint Flower Tote – Creative Ramblings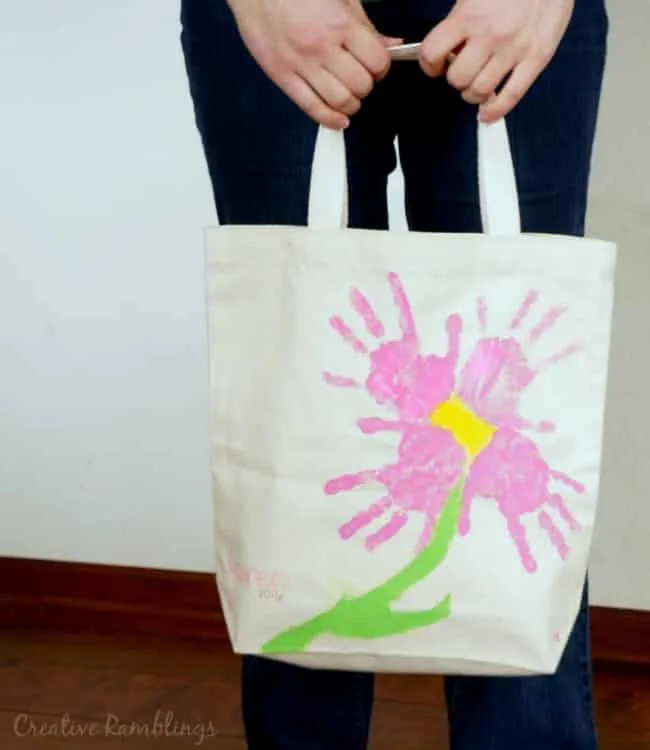 Any mom or grandma would love to receive one of these. While it's a great Mother's Day or Grandparent's Day gift, there's never an occasion when a mom doesn't enjoy receiving her little one's handprints.
18. Watercolor Tote Bag – Burlap & Blue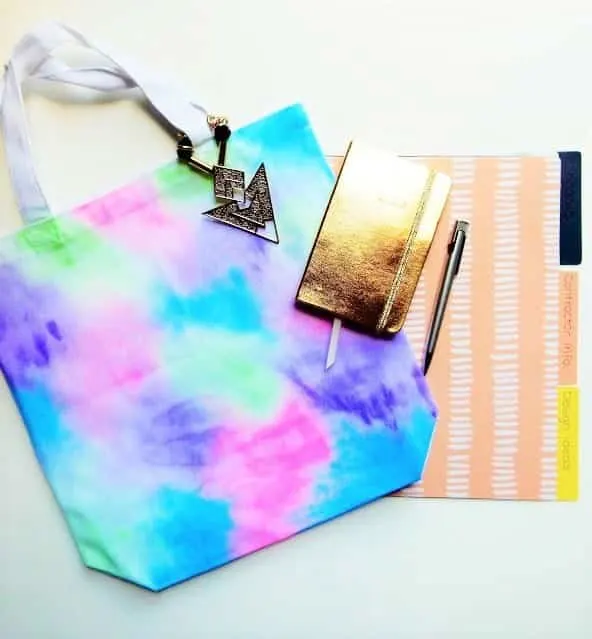 Artsy types don't want plain canvas tote bags. Carry your art supplies around in style with this gorgeous watercolor tote bag!
19. Vinyl Geometric Tote – Simply Designing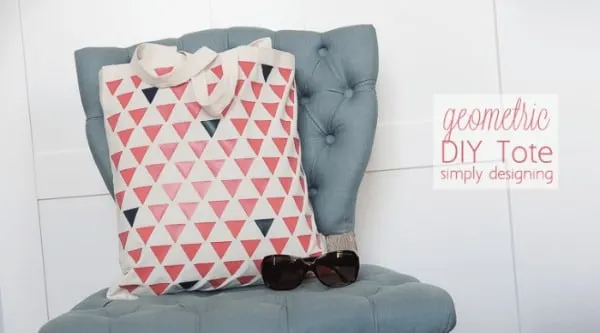 Here's another take on the geometric triangle tote, but this time they're upside down. Love the white space between these triangles.
20. Doily Heart DIY Tote Bag – Cutesy Crafts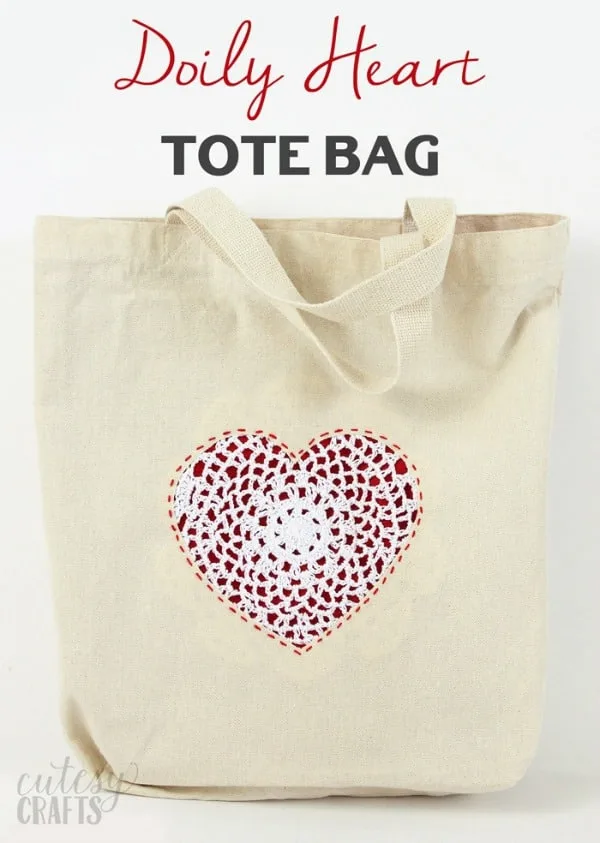 You'll need to master a bit of sewing for this craft, but it's easier than it looks. And if it ends up a little untidy, well, that just adds to the homemade charm, don't you think?
21. Plush Succulent Tote Bag – Mad in Crafts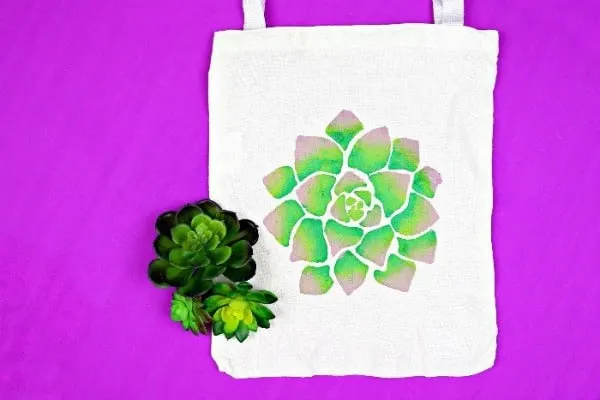 Gift this bag to a friend who's wild about succulents! I know I have quite a few among my group. Gardeners would like this, too… plain canvas tote bags are super handy for toting around some gardening tools while you work. This would also look great with a monogram on top.
Which of these tote bag design ideas do you plan to make? The "big books" bag is at the top of my list!