This is a sponsored post written by me on behalf of Cooked Perfect® Meatballs. All opinions are 100% mine.
If you're looking for an easy, carb-conscious dinner that the whole family will love, look no further than these Sweet and Spicy Meatballs with Riced Cauliflower. Not only are they lighter than traditional meatballs and rice, but you can have the entire meal ready in 20 minutes or less thanks to Fresh Cooked Perfect® Korean BBQ meatballs. For crazy busy families like ours, you can't beat that!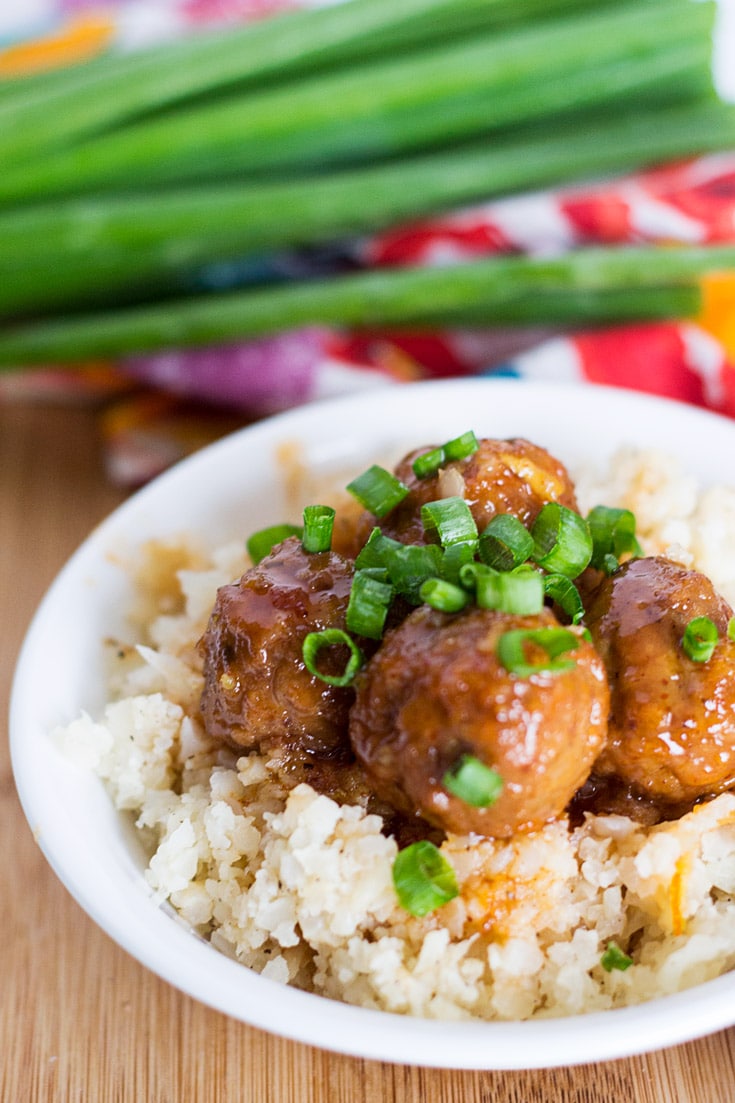 Dinnertime is so important to connecting with family, but it's often so easy to say that we don't have time to make dinner. And I get it, really I do. Now that our son is in school and sports and after-school extracurricular activities, it's becoming harder and harder to squeeze in cooking a meal after work, school and activities. But with some smart planning (and a little help from Cooked Perfect Fresh Meatballs), you can have dinner on the table in less time than it takes to place an order and get your take-out. Seriously!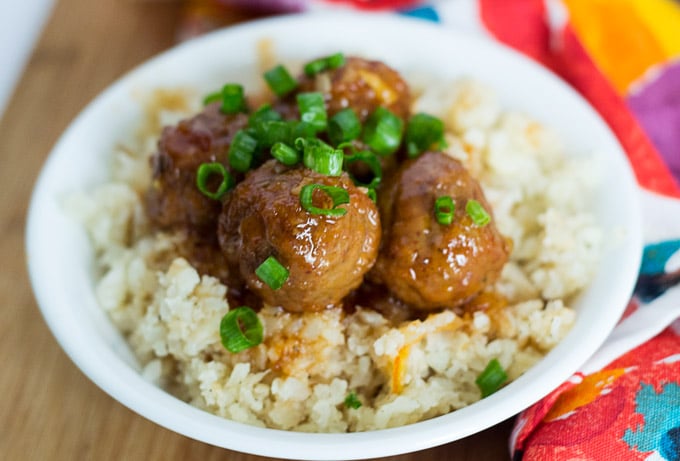 Cooked Fresh Meatballs come in six different flavors different flavors:
Italian Style Beef & Pork
Sundried Tomato & Roasted Garlic Chicken
Italian Style with Parmesan & Mozzarella Chicken
Spinach and Feta with Parmesan & Mozzarella Chicken Meatballs
Taco Seasoned Glazed Beef and Pork Meatballs
Korean BBQ Beef & Pork (the one we are using in the recipe below)
No matter what you're in the mood for, you'll find a flavor to suit you. All of the meatballs are fresh and fully cooked, and they come in a super handy Steam-In Pouch, so you don't even have to dirty another dish to heat them up. What mom doesn't love that?
And bonus… each pack of meatballs comes with two easy recipes already, so you'll never be stumped for a dinner recipe. Right now you can save $1.00 on Cooked Perfect Fresh Meatballs. Score!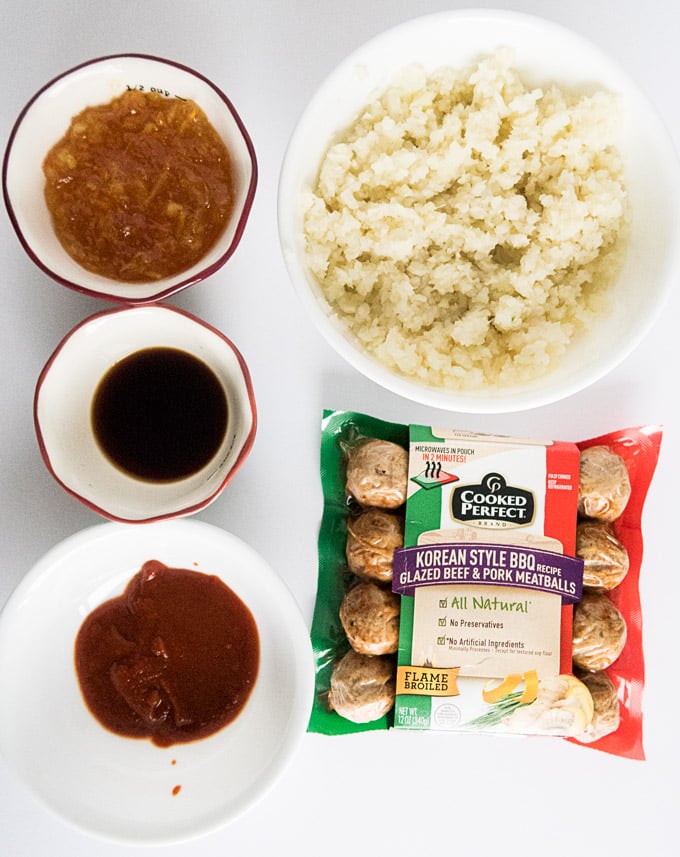 To make this recipe, you'll only need a few ingredients:
Cooked Perfect® Korean BBQ Beef and Pork Meatballs (found in the refrigerated meat and poultry section)
1/2 cup orange marmalade (use sugar-free if you're watching your carbs)
2 Tbsp. soy sauce
2 tsp. sriracha sauce
1 lb. cauliflower florets (fresh or frozen are fine)
1 Tbsp. peanut oil
4 Tbsp. green onions, chopped
salt and pepper to taste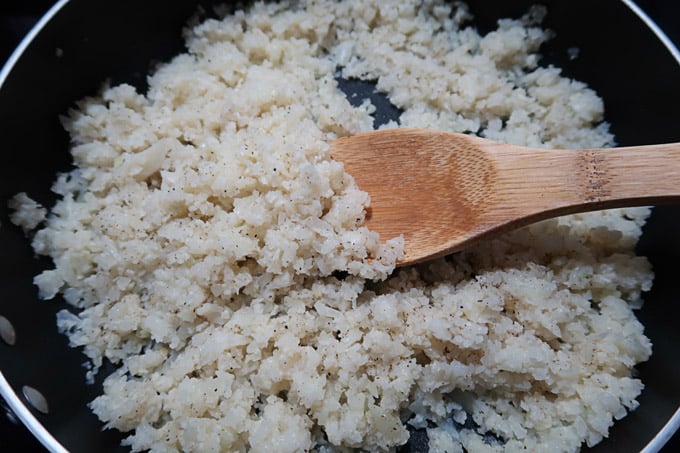 Step 1 – Steam the cauliflower florets according to package directions. Drain and pat dry. Place in food processor, pulsing until cauliflower has a rice texture. Alternatively, you can purchase riced cauliflower to save a little more time. Step 2 – Add oil to pan, and saute riced cauliflower with salt and black pepper to taste. Cook until heated through and slightly browned. Step 3 – Microwave the Cooked Perfect Korean BBQ Meatballs according to package directions. Step 4 – Meanwhile, whisk together the orange marmalade, soy sauce and sriracha in a medium bowl. Add sauce to a small pot and heat on medium until bubbly but not boiling. If you want to thicken this sauce, add a teaspoon or two of cornstarch. We skip this to eliminate unnecessary carbs. Step 5 – Add heated meatballs to the sauce, stirring to coat. Step 6 – Serve meatballs and a little of the sauce over the riced cauliflower. Garnish with green onions, if desired.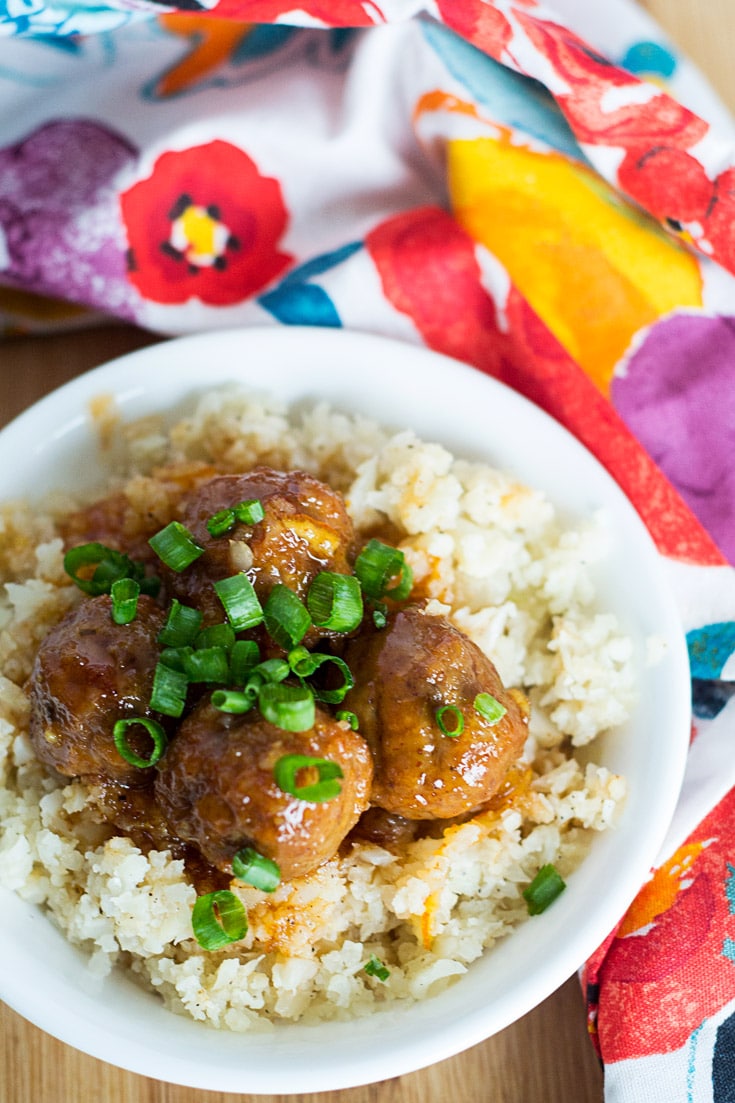 If your family likes things on the spicier side, increase the sriracha to 1-2 tablespoons. We keep things mild around here.
Find Cooked Perfect Fresh Meatballs at a store near you.