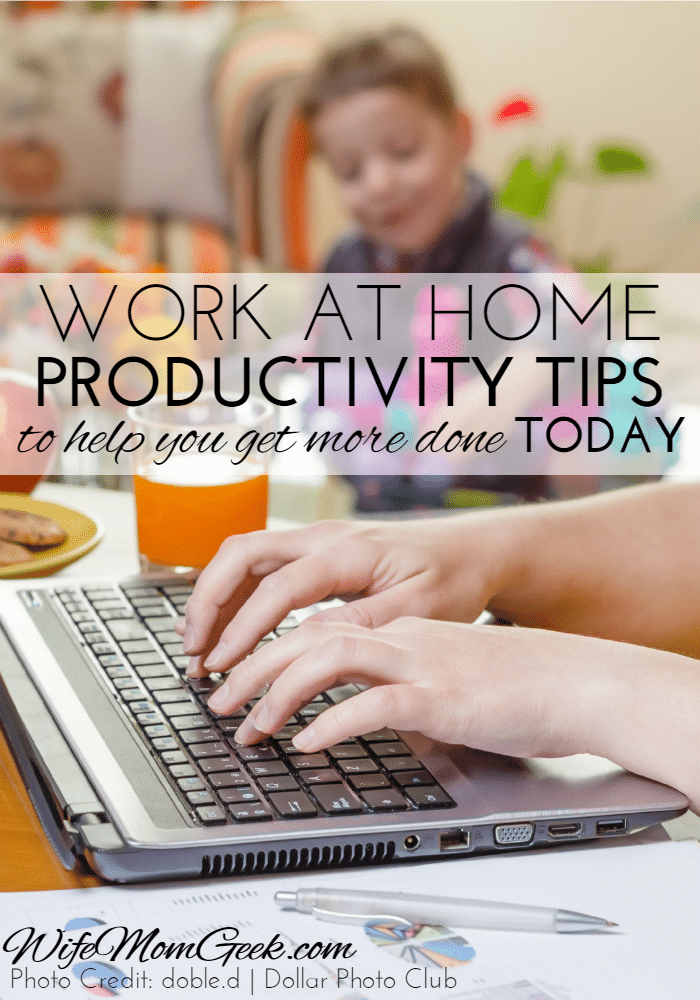 Welcome to Part 4 of the Work at Home Productivity Tips series. During the past 3 weeks, we've explored lots of different ways to make the most of your time at home. From setting boundaries on work and personal time to getting out of the house a little more, these tips are practical ways to get things done as a WAHM (or WAHD). Let's get to this week's tips.
Did you miss part of the series? Check out Part 1, Part 2 and Part 3!
Ignore Your Emails
Are you in the habit of checking your email several times a day? Most workers spend a quarter of the day checking emails, and when you work at home, it's easy to spend even more time responding to messages. After all, you probably get email on your phone and check it during dinner, while watching TV, or even in bed. Stop! Decide when you'll answer emails, and stick to it. Be sure to let your clients know this if they're used to getting immediate responses from you.
Action step: Determine how much time you need for responding to emails each day. Choose one time or several blocks of time throughout the day for checking and replying to messages. Ignore your email outside of those times, using blocking programs and turning off notifications if you have to.
Start Something
Sometimes when you work at home, it feels like you have all the time in the world. There's no boss to tell you what time to start, and it doesn't matter if you stay up late to finish it. This mindset can be detrimental in two ways. First, it can be a constant reason for procrastination because you think you can just get started later. Second, even if you do get started, you'll work slower if you think you have all day to finish. Work expands to fill the time you allot for it it. In other words, delaying starting your work is a bad habit that you need to nip in the bud right now.
Action step: Start something! Set a timer to keep yourself from turning small jobs into jobs that take several hours.
Plan Your Day
You'd be surprised at how many people fly by the seat of their pants when working from home. They tinker a little with their website here, answer emails there, work on something for a few minutes, watch television and stare aimlessly out the window. I've been guilty of it myself because I didn't have a plan of attack. Carve out time at night or first thing in the morning (or whenever you start your workday) to list the things you need to accomplish.
Action step: Plan the rest of the day right now. If you're feeling ambitious, start your plan for tomorrow, too.
Share one tip in the comments that helps you accomplish more during your work time!
Check out some of the previous posts in this series.