If you're craving a delicious, sweet treat this winter season, look no further than these 25 eggnog desserts. From cookies to cakes, pies to ice cream – there are plenty of options for every time of day!
Some recipes even include vegan or gluten-free substitutions so that everyone can enjoy the holiday flavor. And don't forget the whipped cream!
While you're here, you don't want to miss our Puerto Rican Eggnog by my friend Joyce or her recipe for Instant Pot eggnog!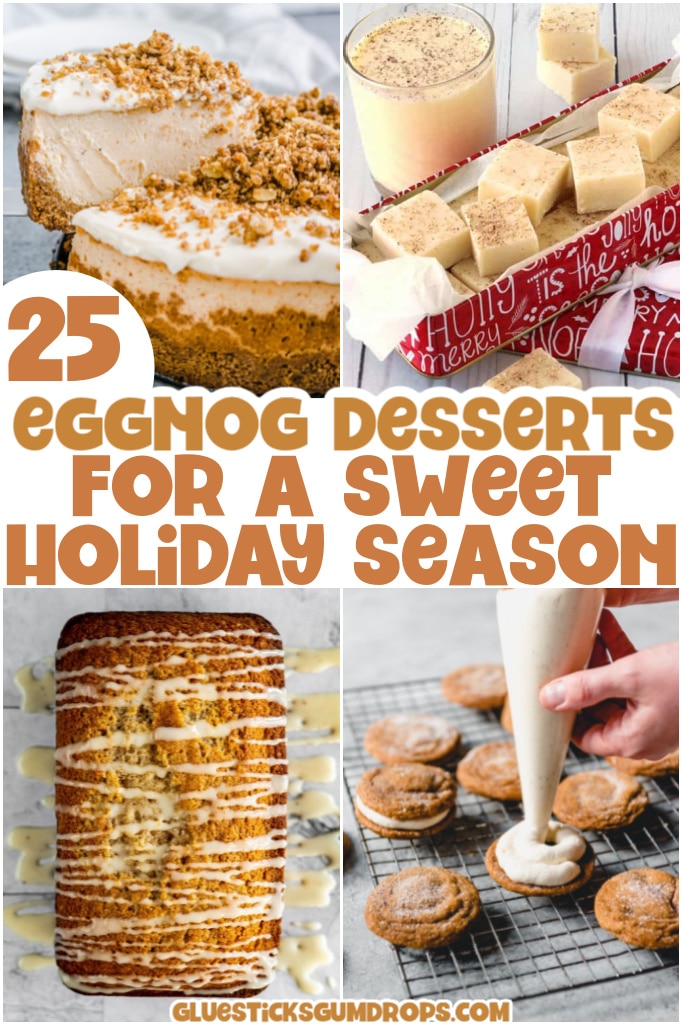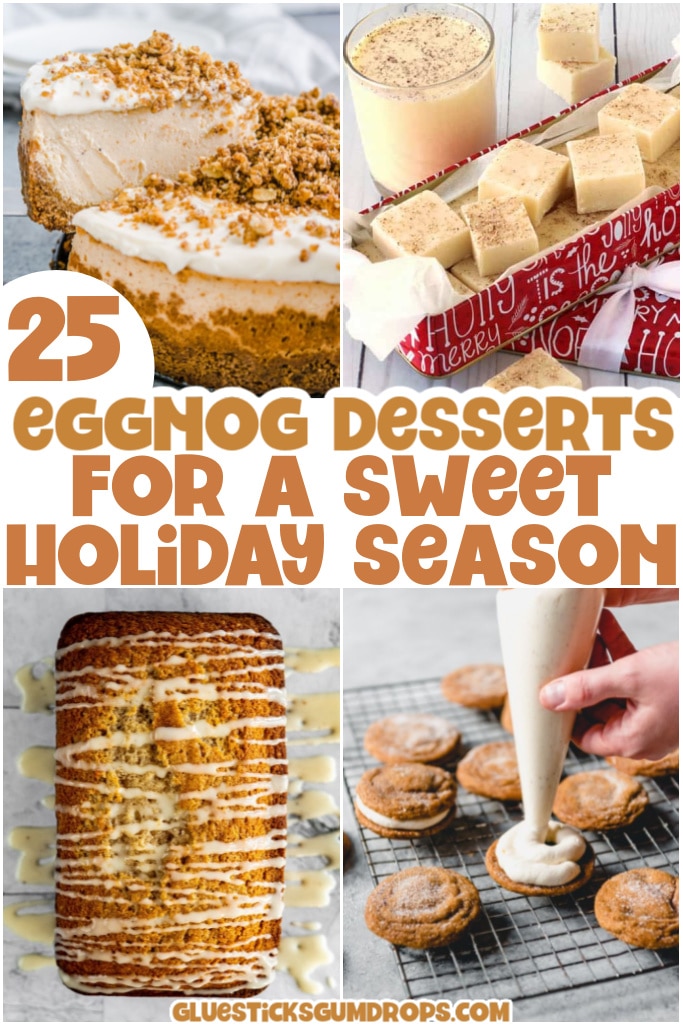 Eggnog Magic Cake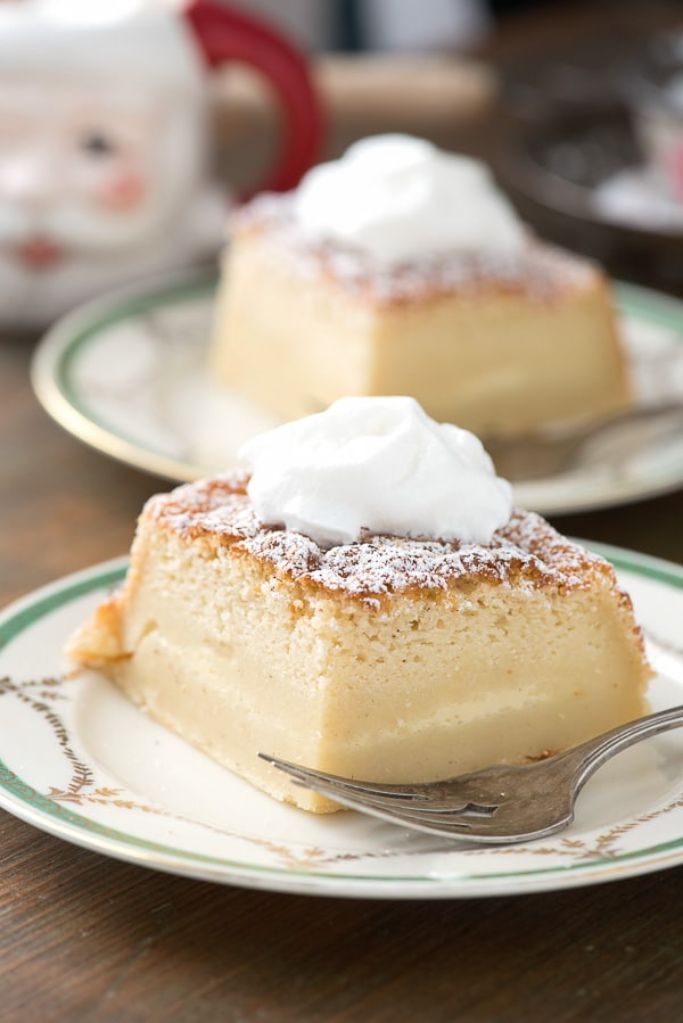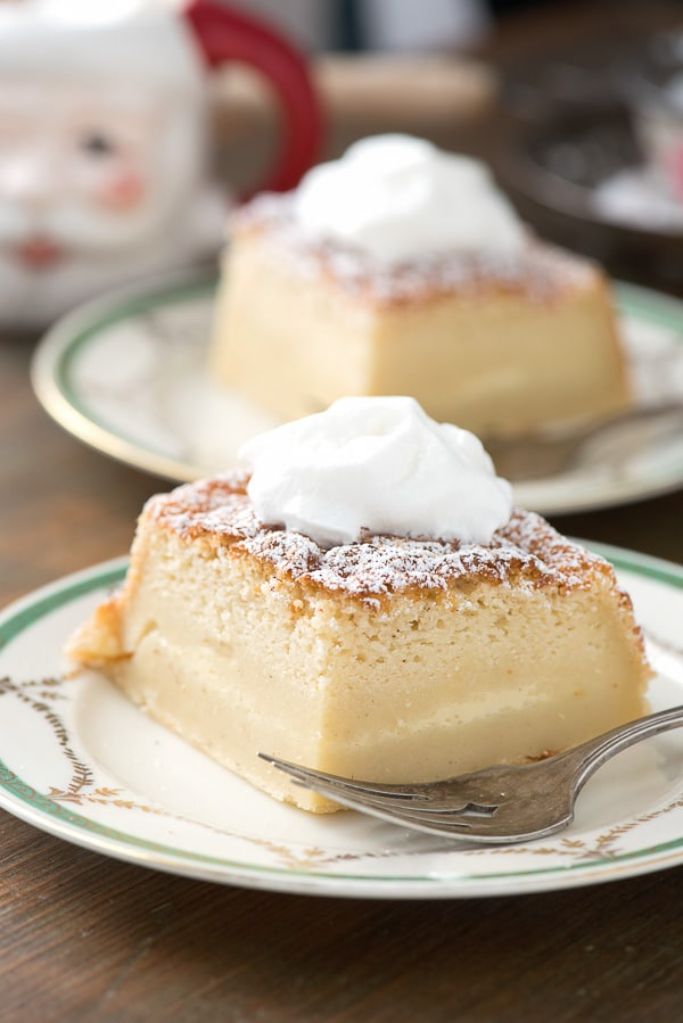 This delectable three-layered magic eggnog cake is lightly flavored with nutmeg and eggnog. What are the three layers, you ask? There's a thin crust, a custard layer, and a cakey layer on top. You get all three from one simple batter that bakes up into layers magically. Get it?
Eggnog Cheesecake in the Instant Pot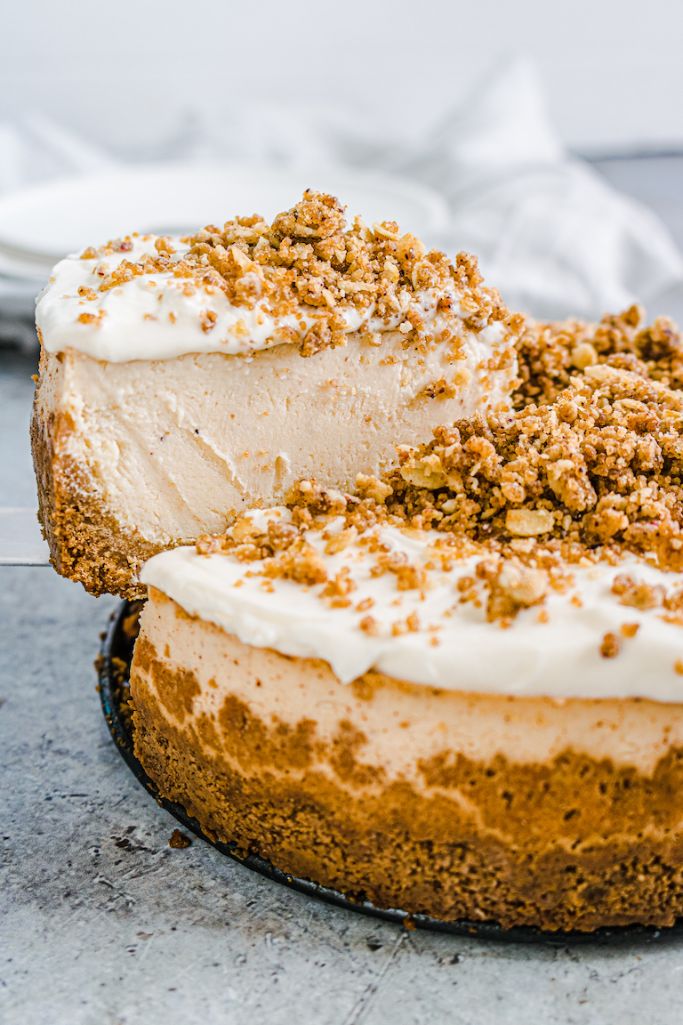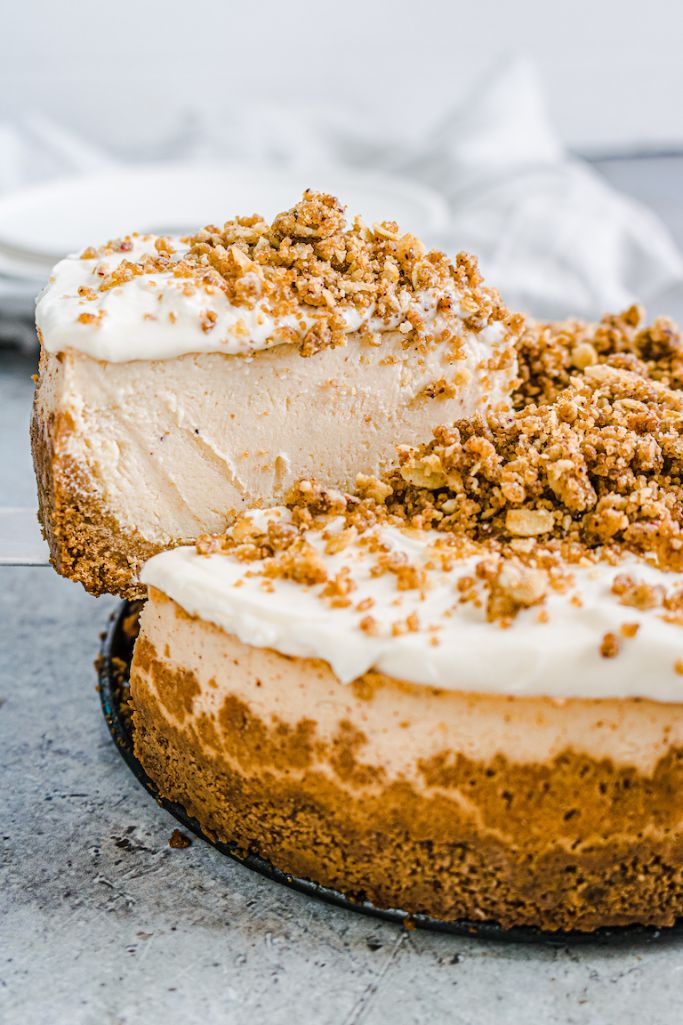 How decadent does this mile-high eggnog cheesecake look? It comes out perfectly in the Instant Pot and is sure to bring that "wow" factor to your dessert table this holiday season. The gingersnap crust and crumbly topping add to the festive flavor.
Sweet Eggnog Rolls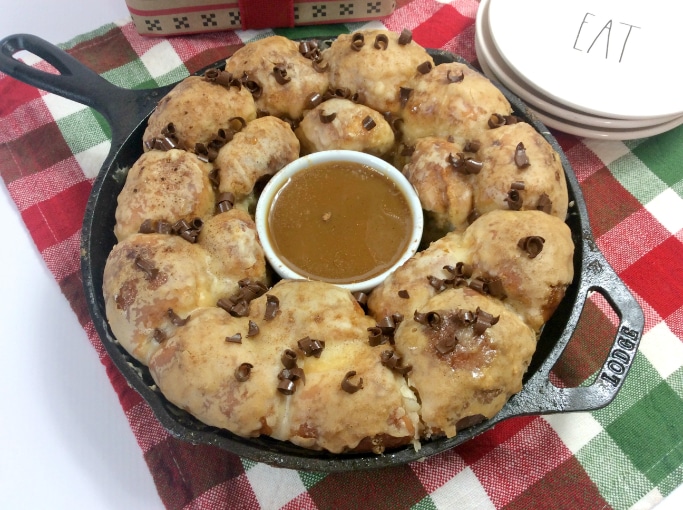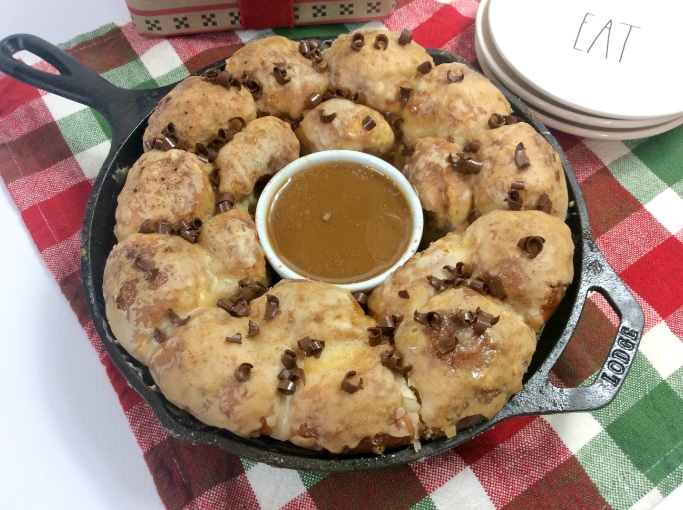 Our sweet eggnog rolls (or cinnamon rolls without the fuss) need to be on the top of your holiday baking list. They're super easy because they're made with frozen dinner rolls and store-bought eggnog. You're gonna love them!
Eggnog Pudding from Scratch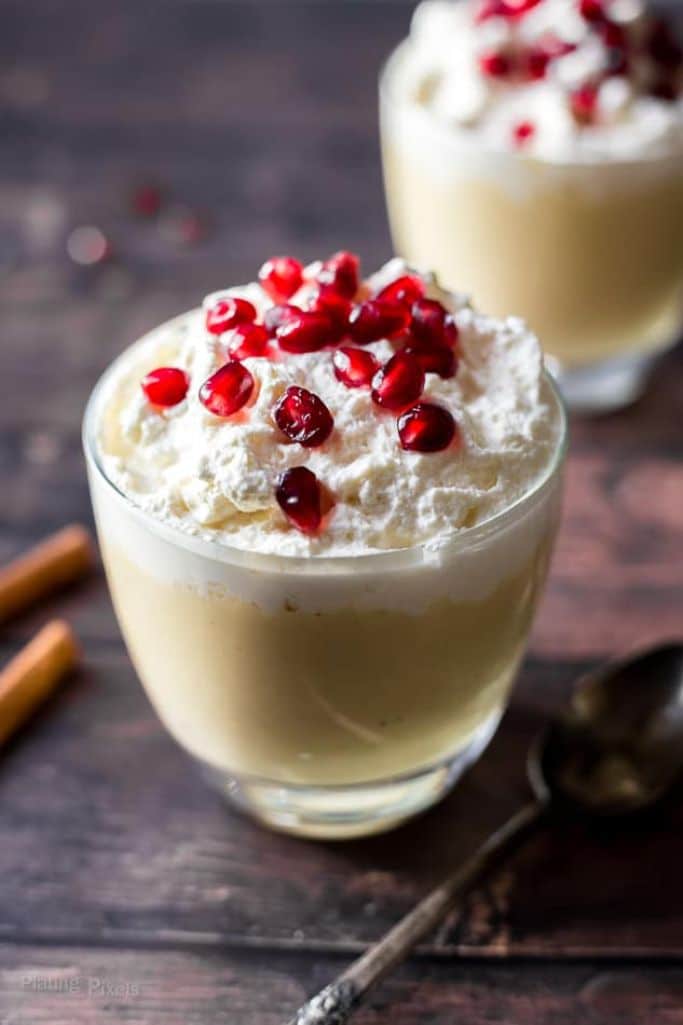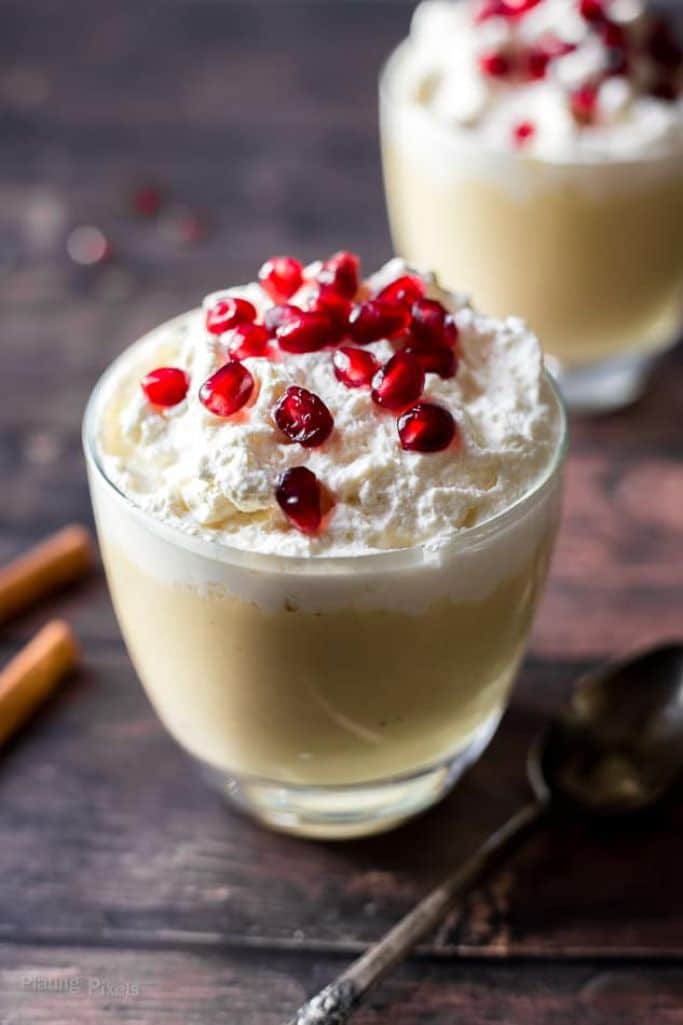 If you pride yourself on making desserts from scratch, you need to try this eggnog pudding for Christmas. It's creamy, silky, and delicious when topped with fresh whipped cream and pomegranate seeds. You'll want to make it a few times!
Eggnog Cheesecake Bars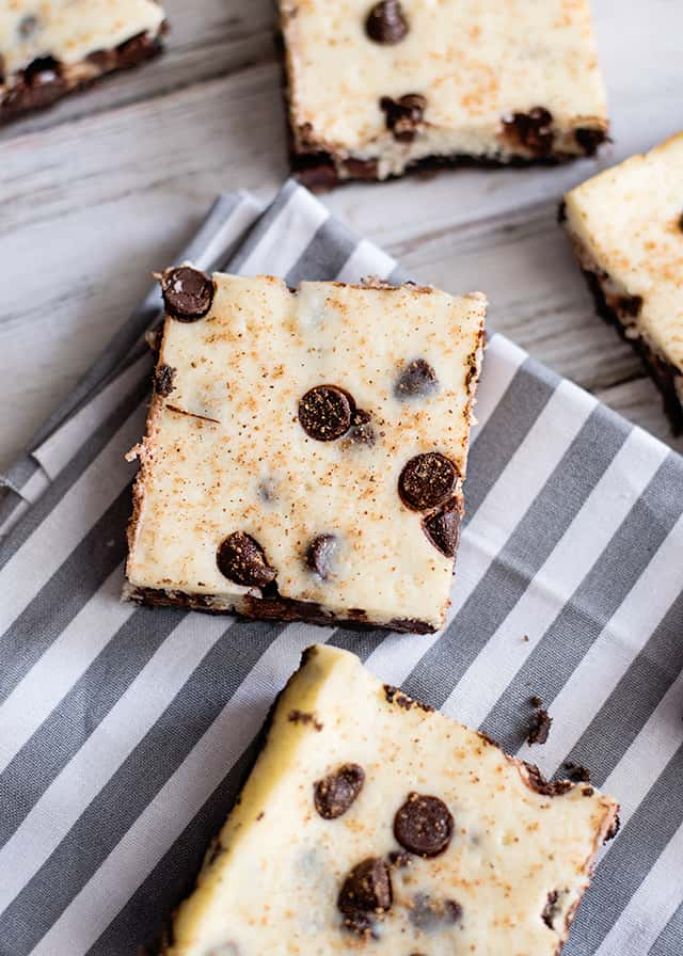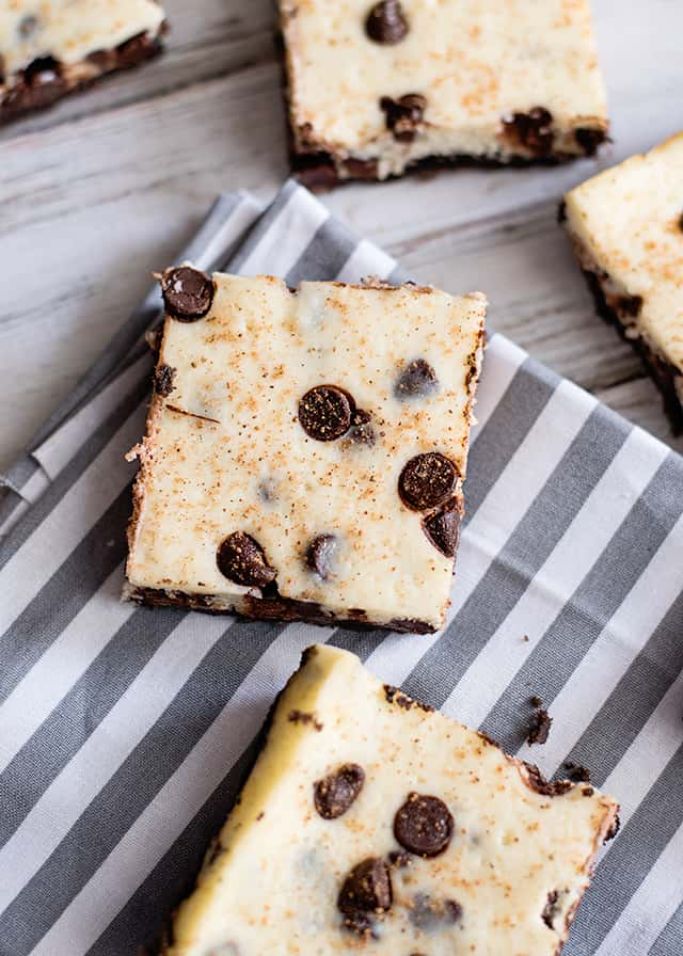 These eggnog bars have a delicious Oreo crust and cheesecake filling that comes together perfectly to make these holiday bars. This recipe is a great party dessert, and the bars also make great homemade food gifts for neighbors and friends.
Eggnog Cupcakes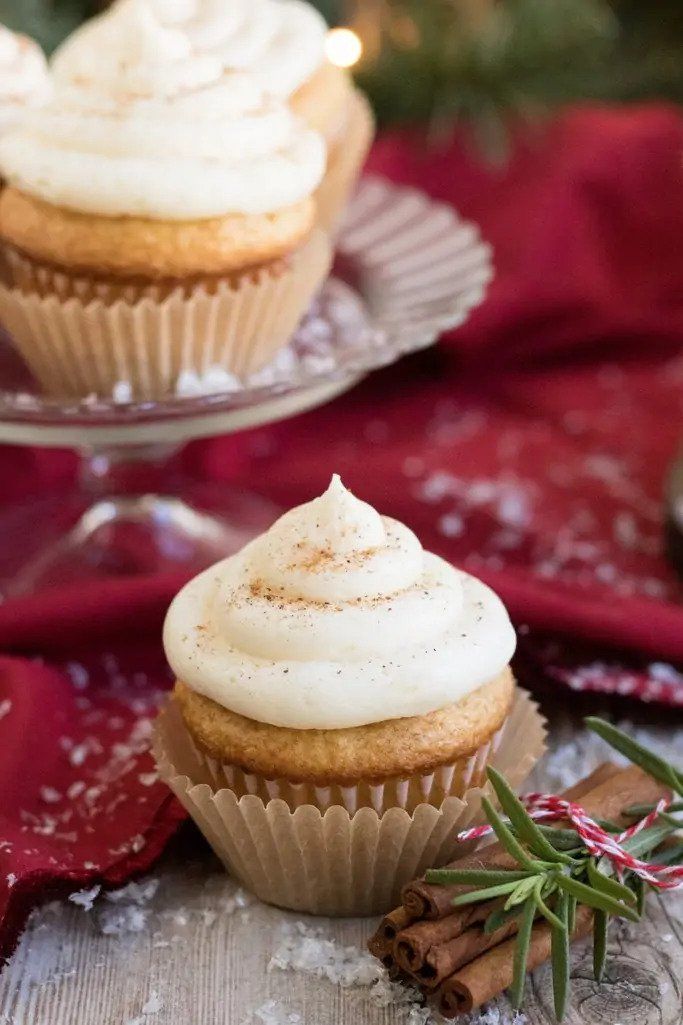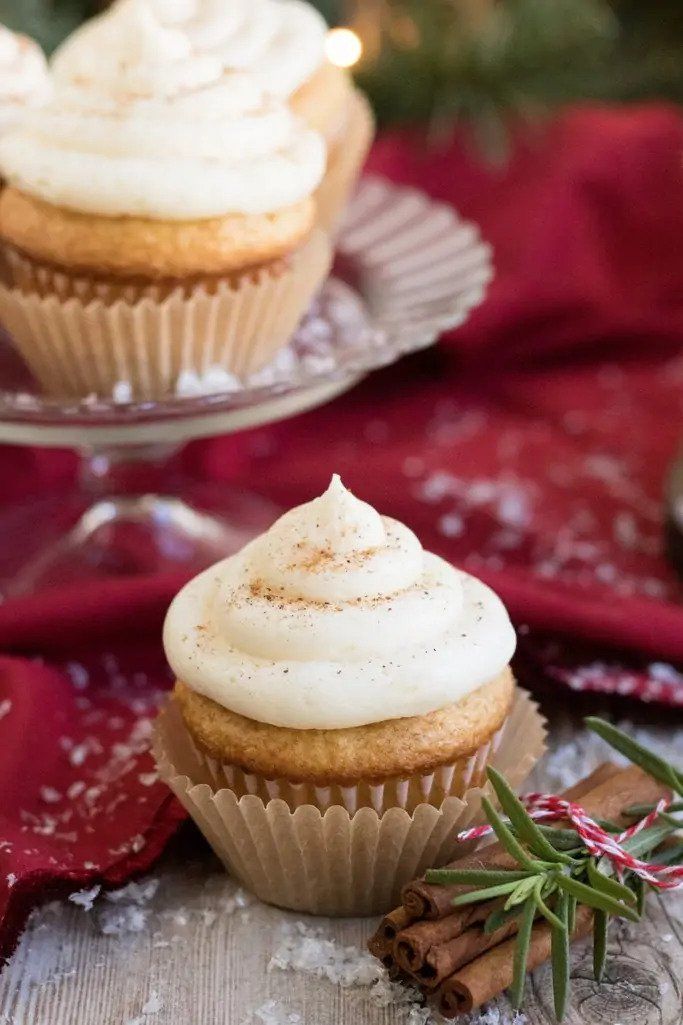 These moist eggnog cupcakes are topped with buttercream icing and are the perfect thing when you're craving something sweet during the holiday season. They don't take long to prep or make because you're starting with a boxed white cake mix.
Eggnog Bread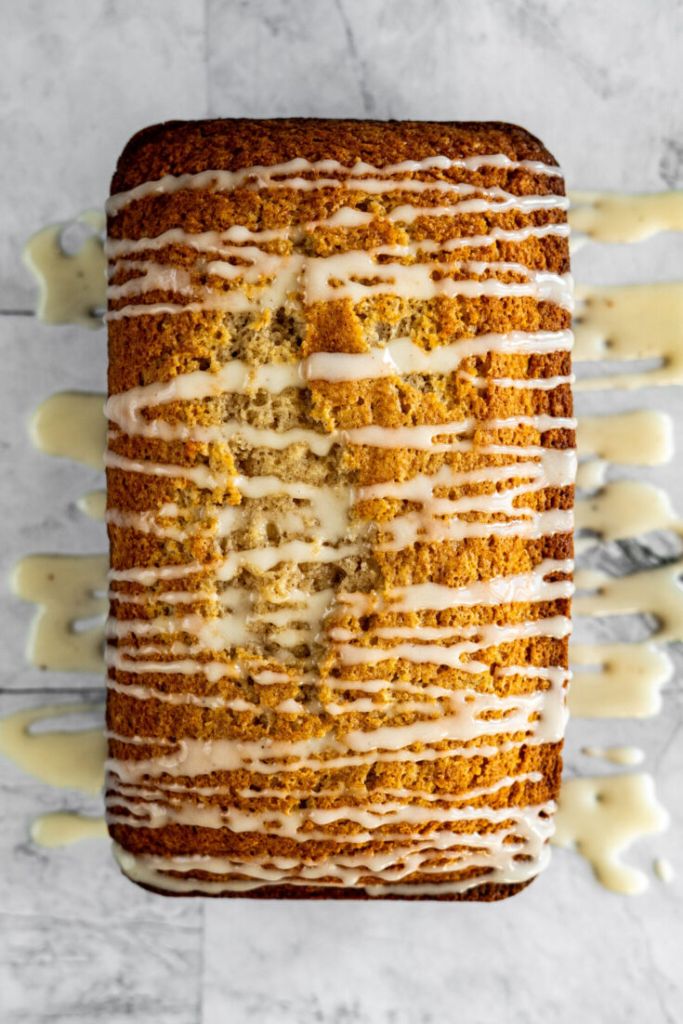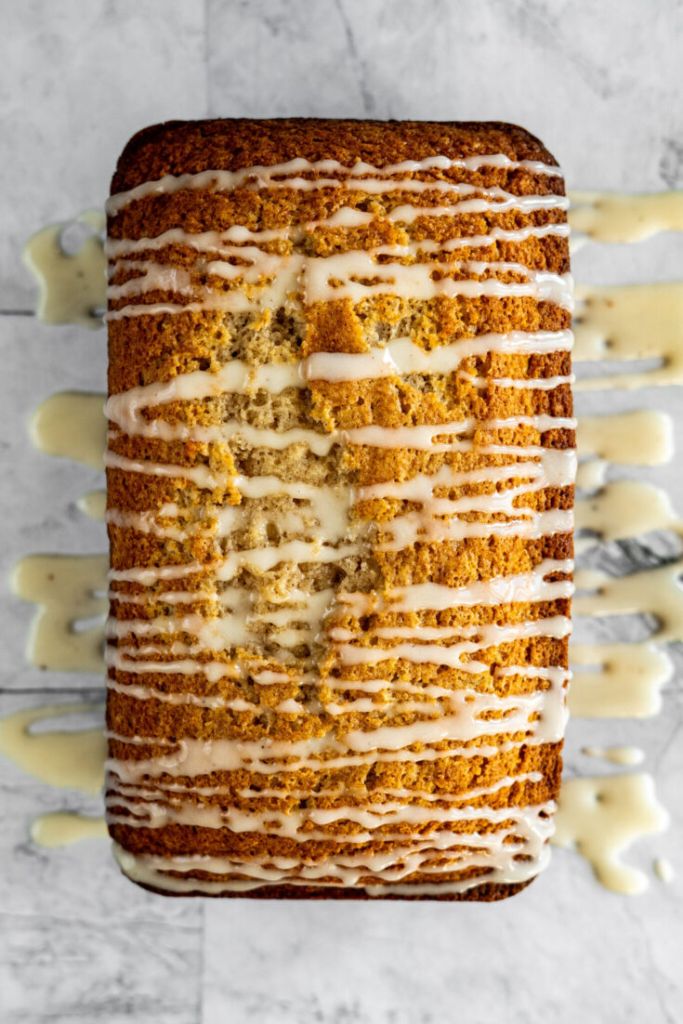 Can you think of a better sweet bread to make for your friends and neighbors than this gorgeous eggnog bread? Not only is the eggnog baked directly in the bread, but it's drizzled with a sweet, sugary eggnog glaze to boot. Yum! Our chocolate banana bread is another yummy idea.
Eggnog Crème Caramel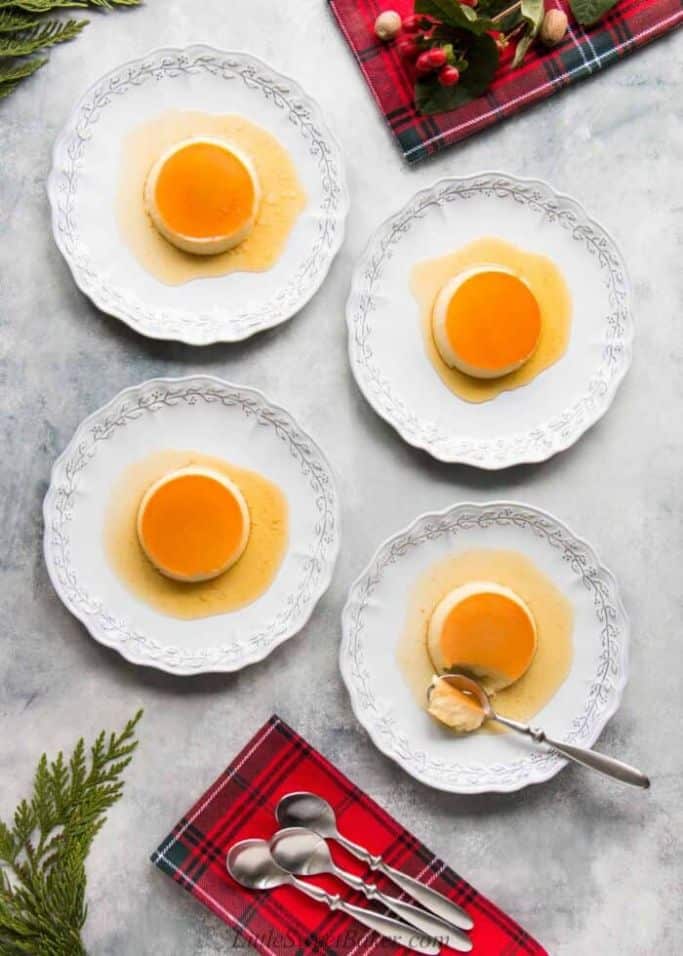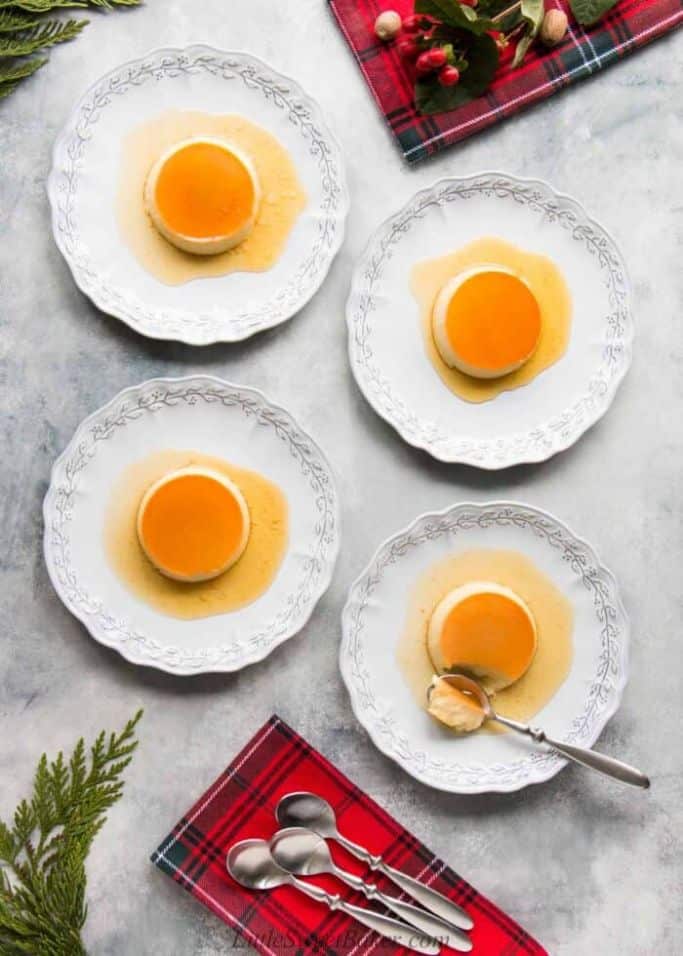 A smooth custard is flavored with eggnog, nutmeg, and rum for a decadent and elegant eggnog crème caramel that's easy to make for your holiday dinner. The rum perfectly balances the sweetness of the caramel, and the warm spices bring it all together.
Eggnog Cloud Pie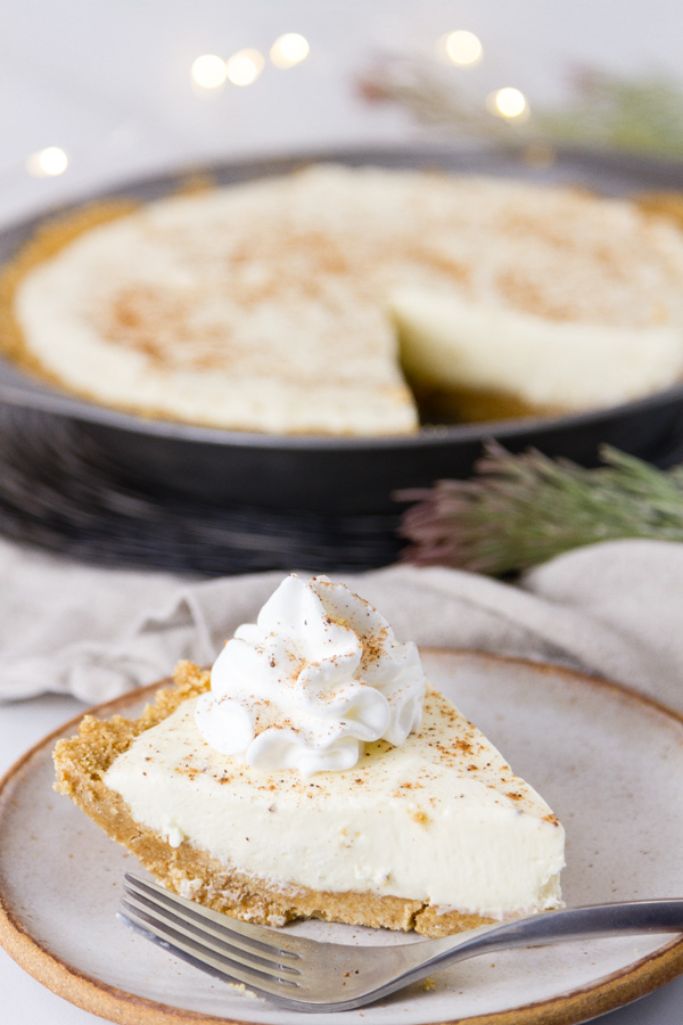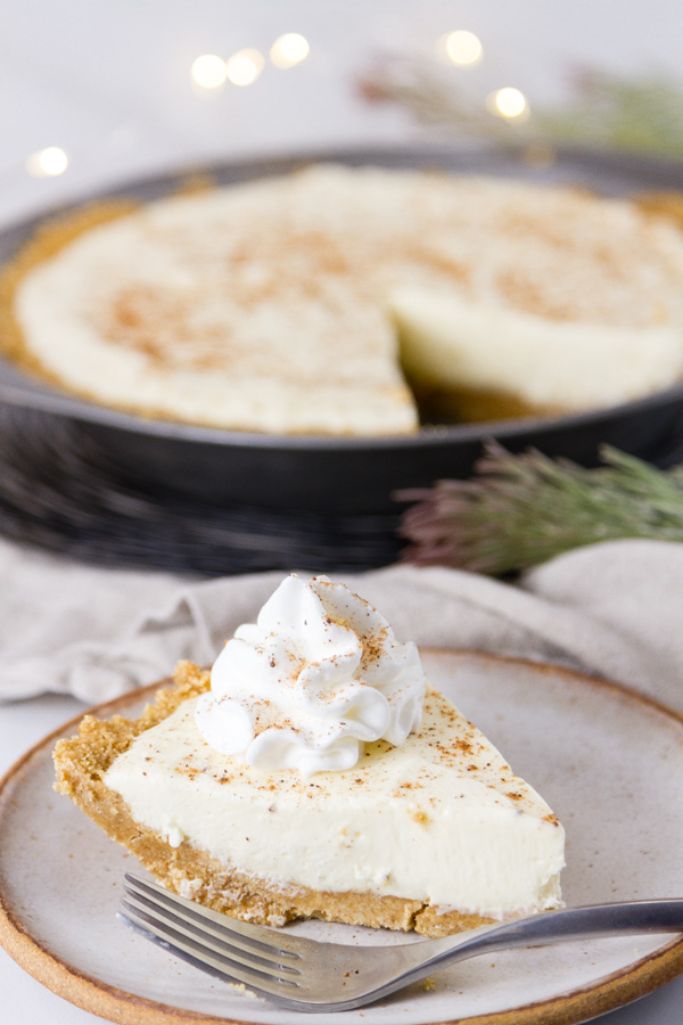 This no-bake pie will quickly become a favorite holiday dessert. It's super easy to make. If you can melt marshmallows and make a graham cracker crust, you're all set. You can even skip the homemade graham cracker crust for a store-bought version instead. Light, fluffy, and super sweet, this eggnog cloud pie will take you back to your childhood.
Eggnog Fudge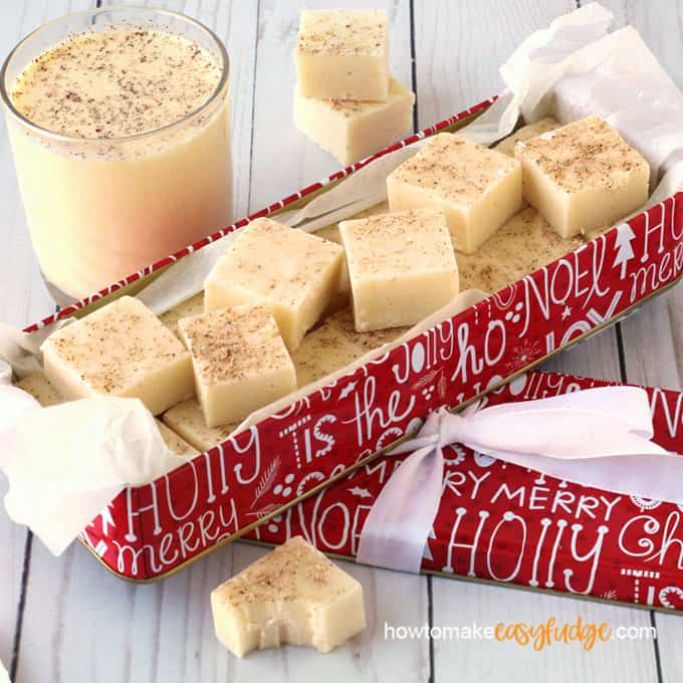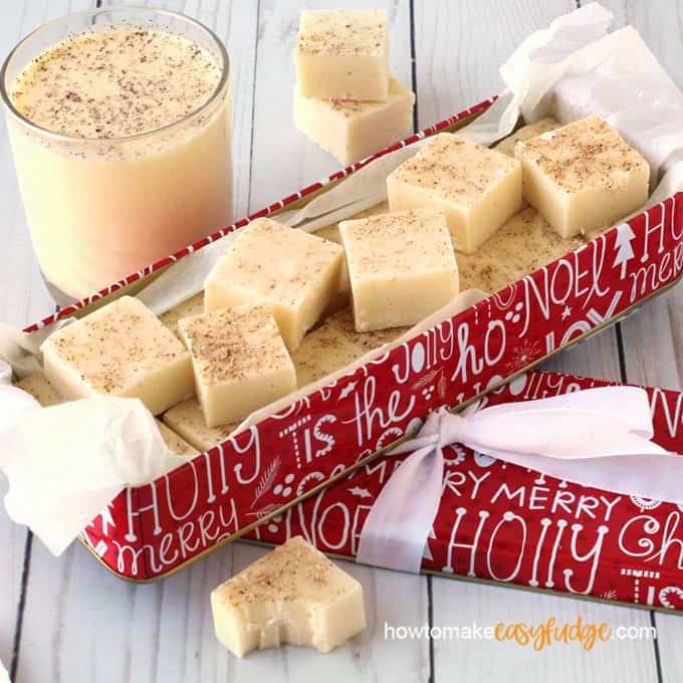 Make holiday fudge in the microwave and still look like the holiday VIP. You can make this eggnog fudge in just under 10 minutes. The creamy, dreamy fudge will make an excellent addition to your holiday desserts and homemade gifts.
Eggnog Monkey Bread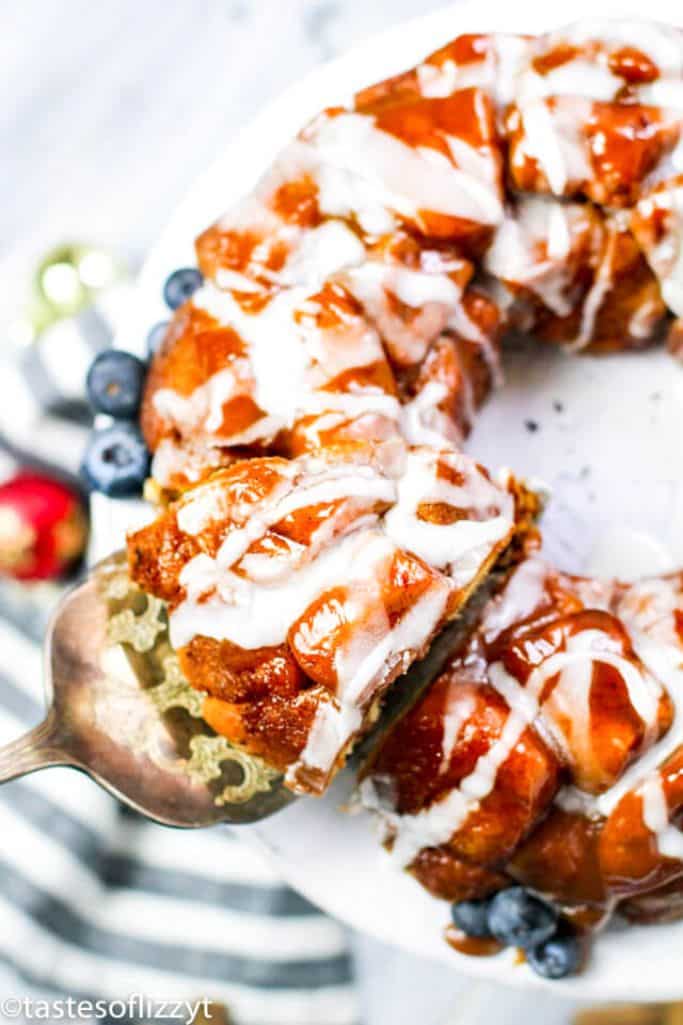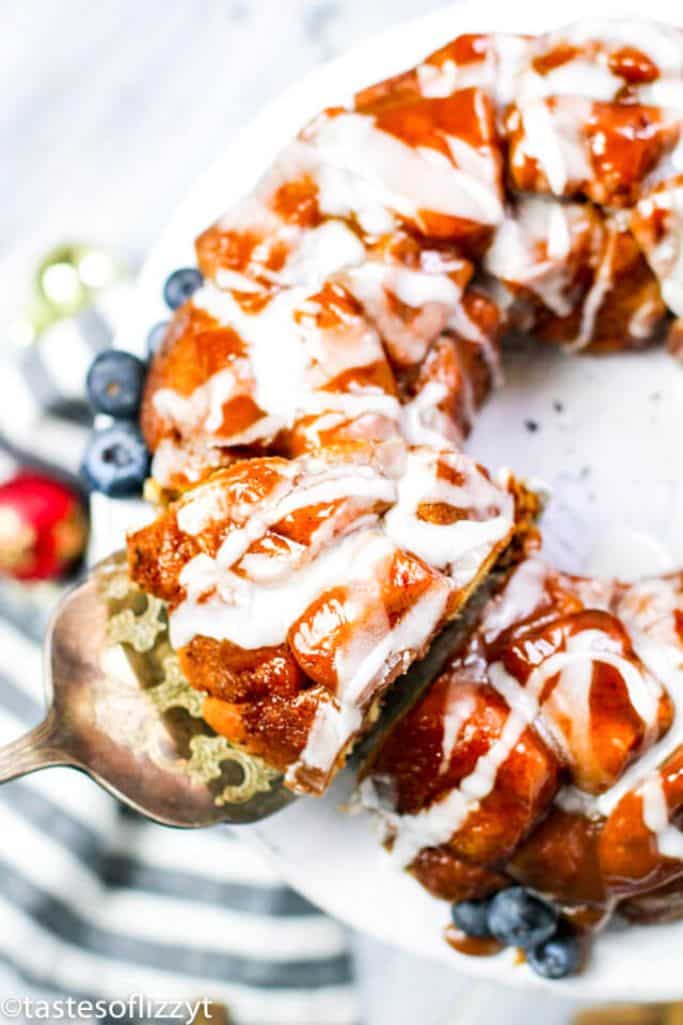 Warm, gooey eggnog monkey bread is a great choice for dessert, breakfast, or a holiday brunch. It's also called pull-apart bread because you pull it apart and eat it with your fingers—no utensils needed! The base of this monkey bread is Pillsbury cinnamon rolls, which are upgraded with a sugary eggnog sauce that holds the bread together.
Eggnog Pumpkin Pie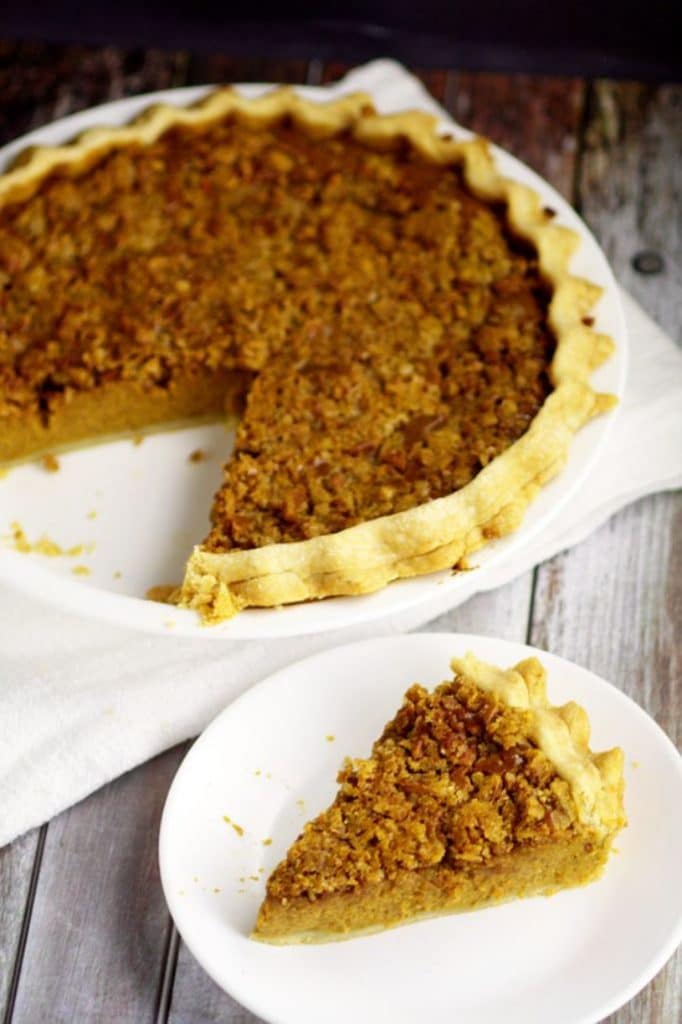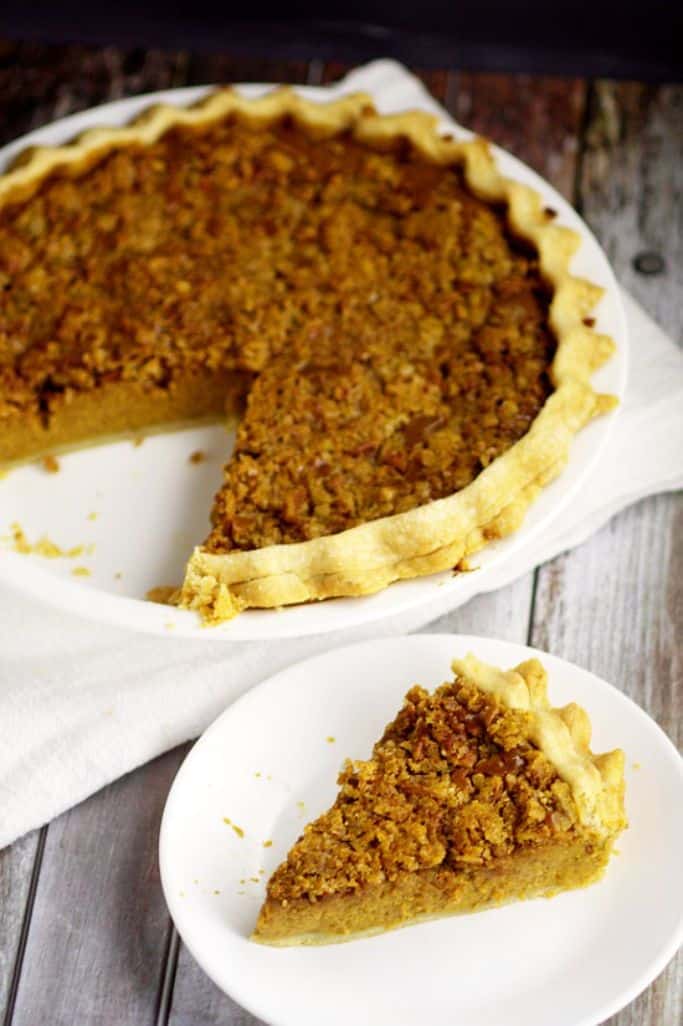 Combine two holiday classics in one yummy dessert recipe. This eggnog pumpkin pie is creamy and smooth, with just the right amount of spice and a crunchy brown sugar-pecan topping.
Eggnog White Chocolate Covered Pretzels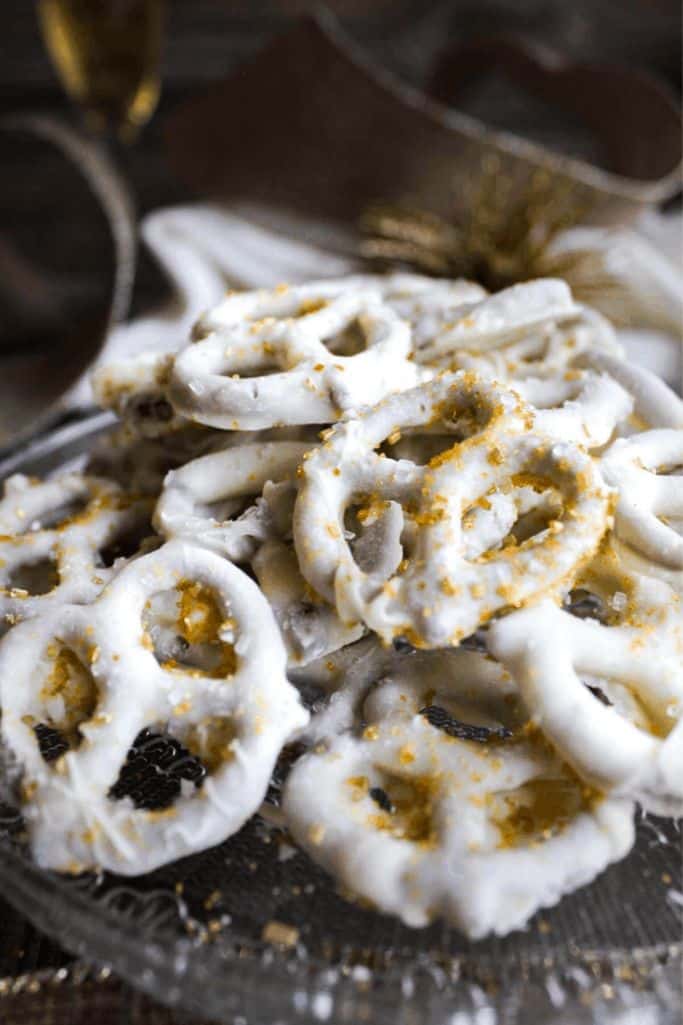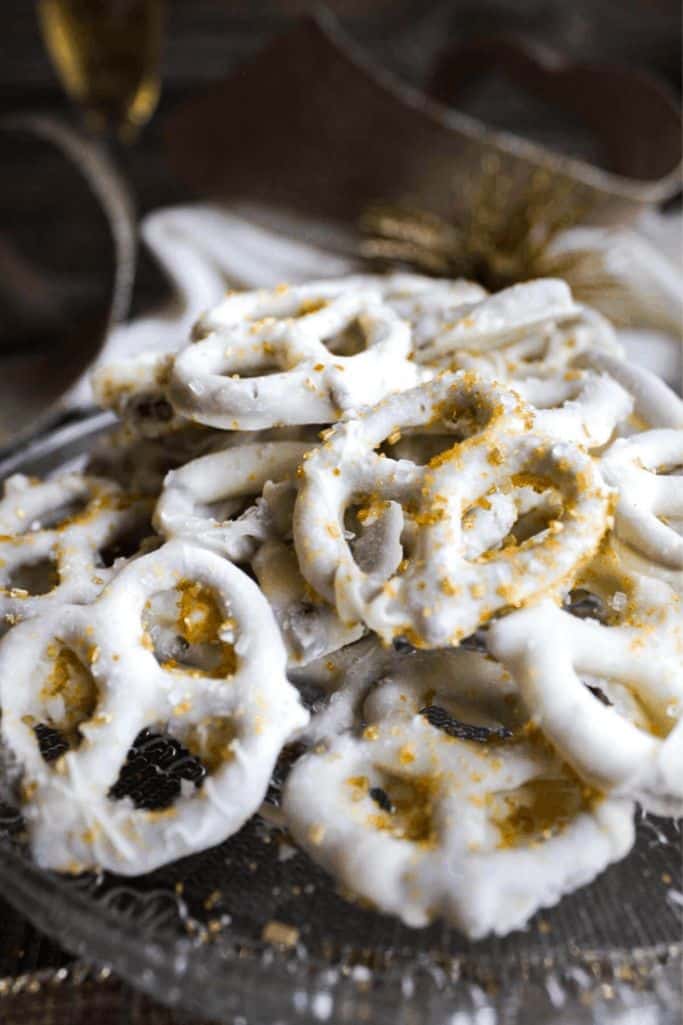 You won't be able to stop eating these eggnog white chocolate pretzels. The secret ingredient? Eggnog extract! This salty/sweet combo will be a welcome addition to your holiday tins or dessert table.
Frosted Eggnog Cookies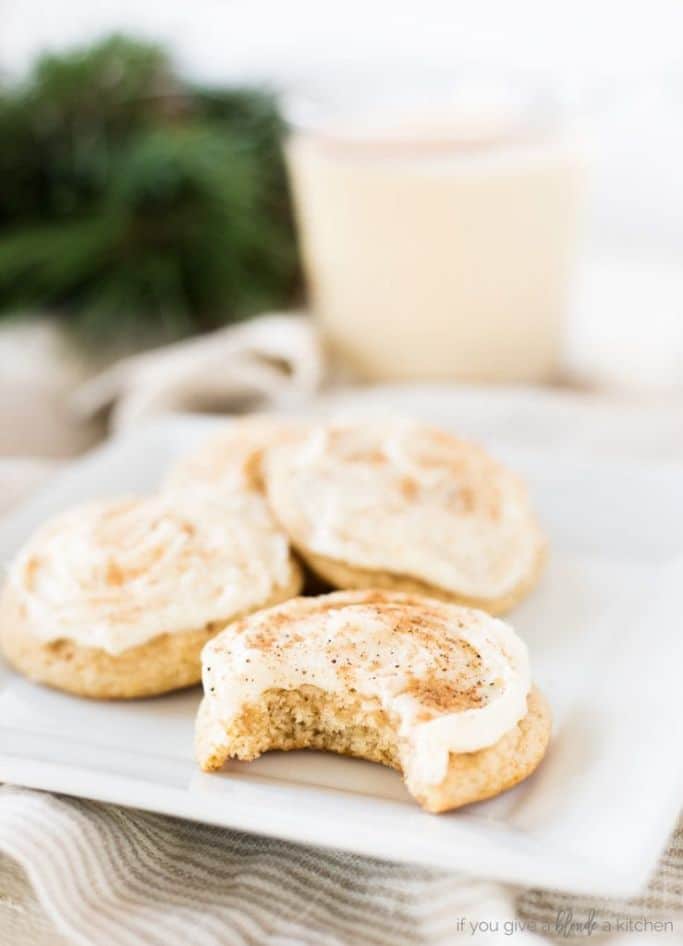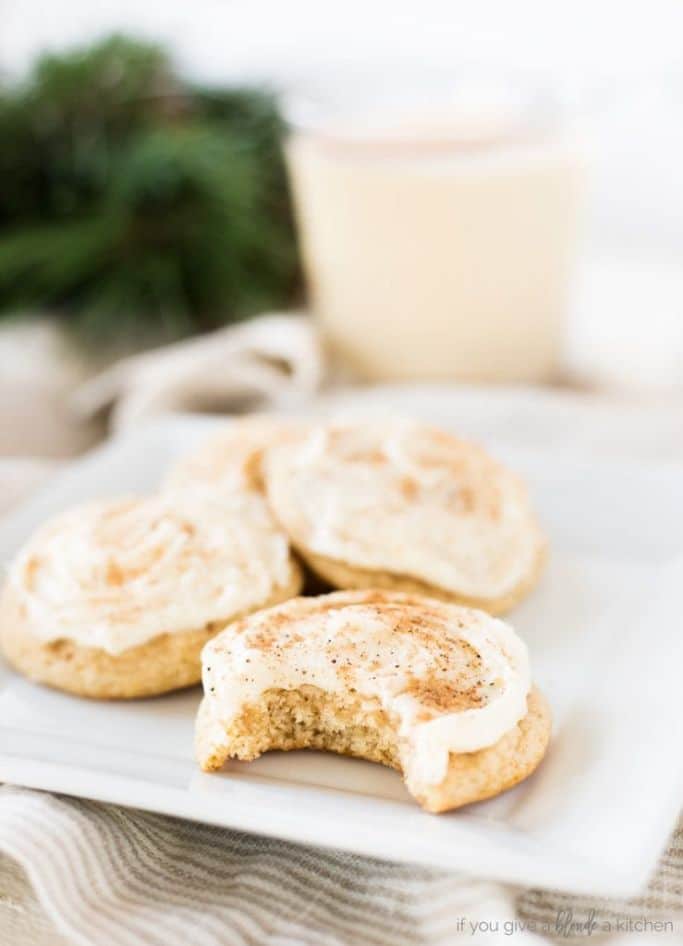 Your sweet tooth will surely be satisfied with these frosted eggnog cookies with that delicious holiday flavor in every bite. They get their flavor from eggnog, rum extract, egg yolks, and nutmeg. Eggnog is also incorporated into the cookie frosting. Finish them off with a sprinkle of nutmeg, and you have a tasty treat that tastes just like the classic Christmas drink.
Eggnog Buttercream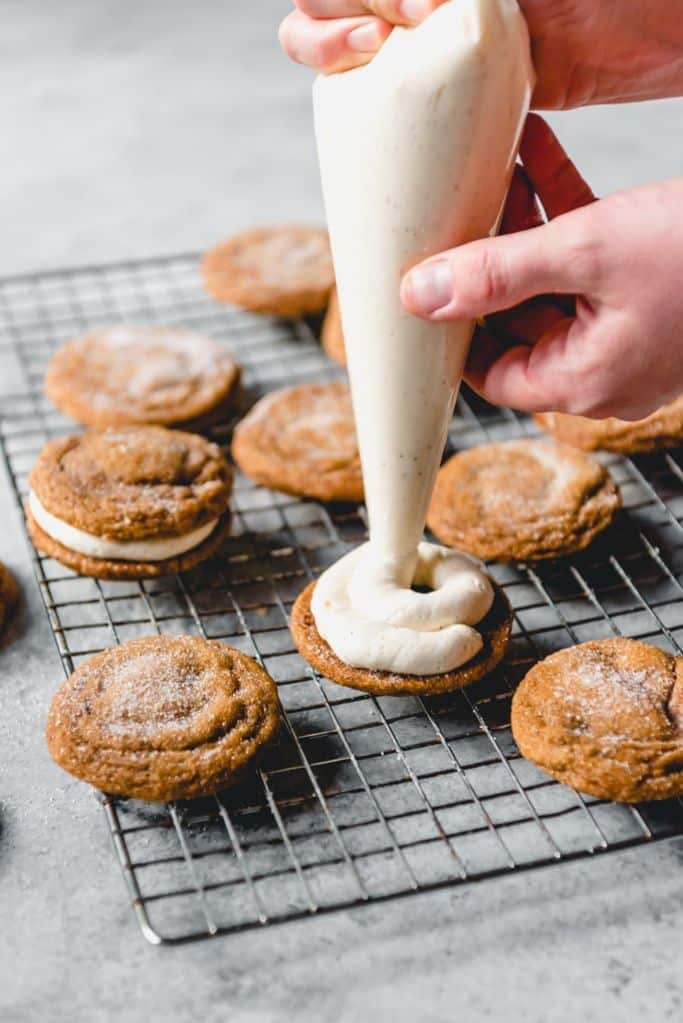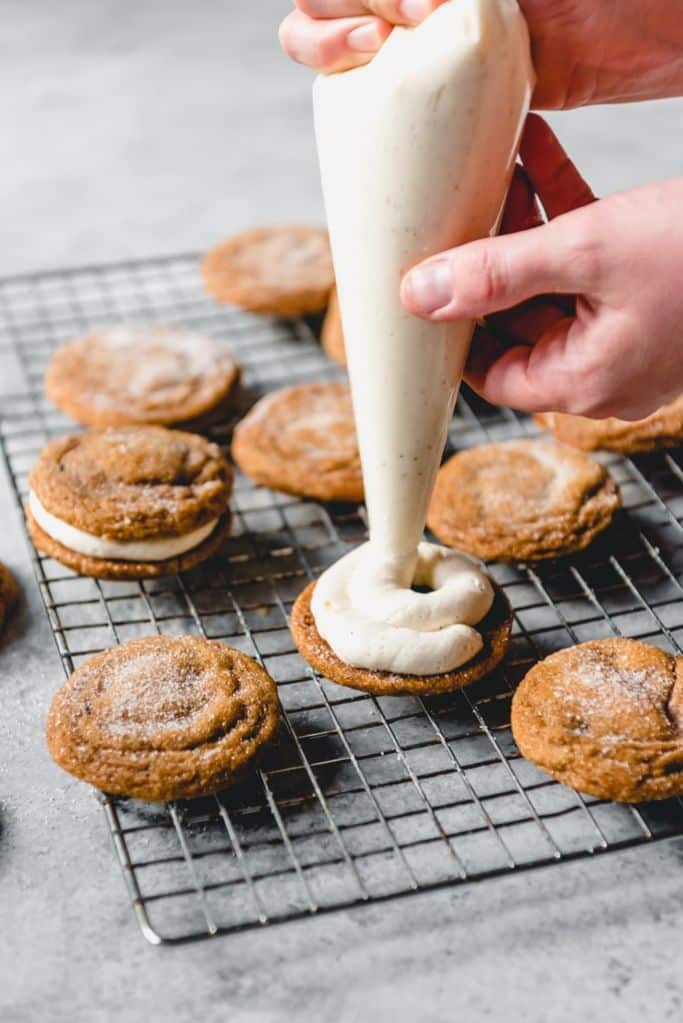 Whether you're a fan of eggnog or not, you'll love this eggnog buttercream. It packs lots of flavor thanks to the rum extract and freshly grated nutmeg. The buttercream is delicious on top of gingerbread muffins or sandwiched between gingerbread cookies to make whoopie pies.
Eggnog Poke Cakes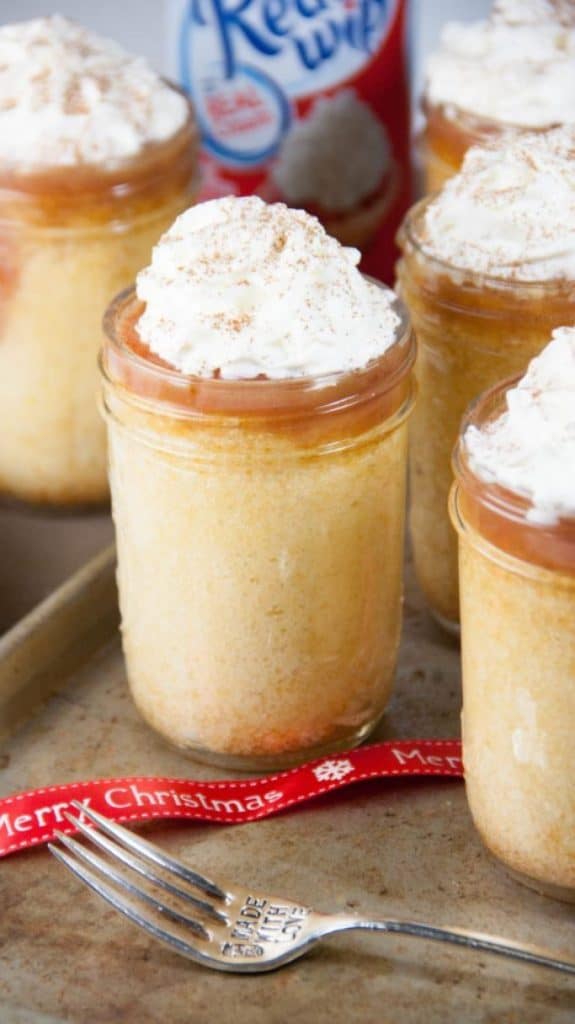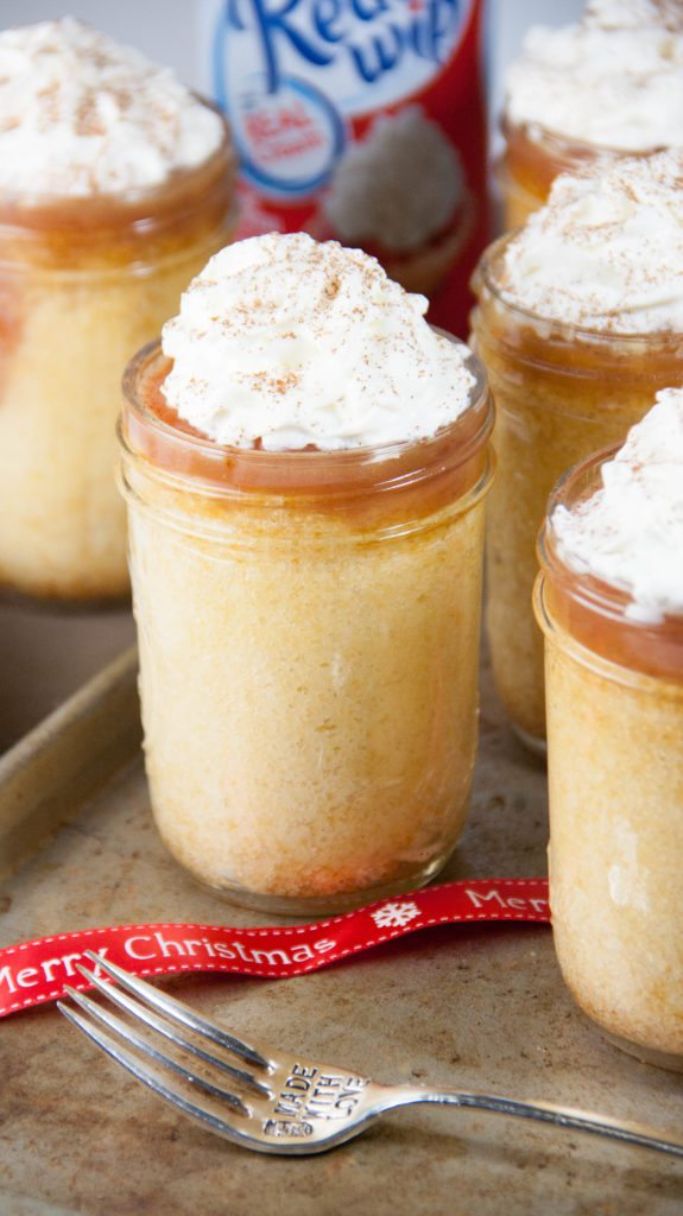 Individual desserts are so fun and cute and especially handy at holiday parties. These eggnog mason jar poke cakes are sure to get rave reviews. You'll start with a vanilla cupcake recipe that's made with eggnog instead of milk. The eggnog caramel sauce works its way down through the cake, making every bite moist and delicious.
Eggnog Ice Cream Pie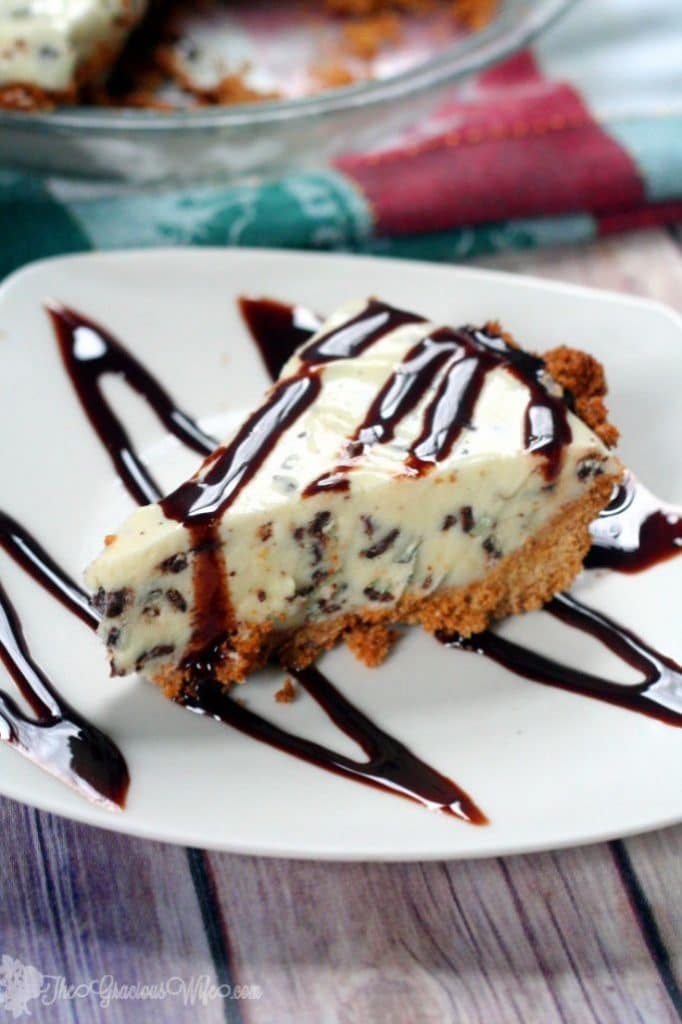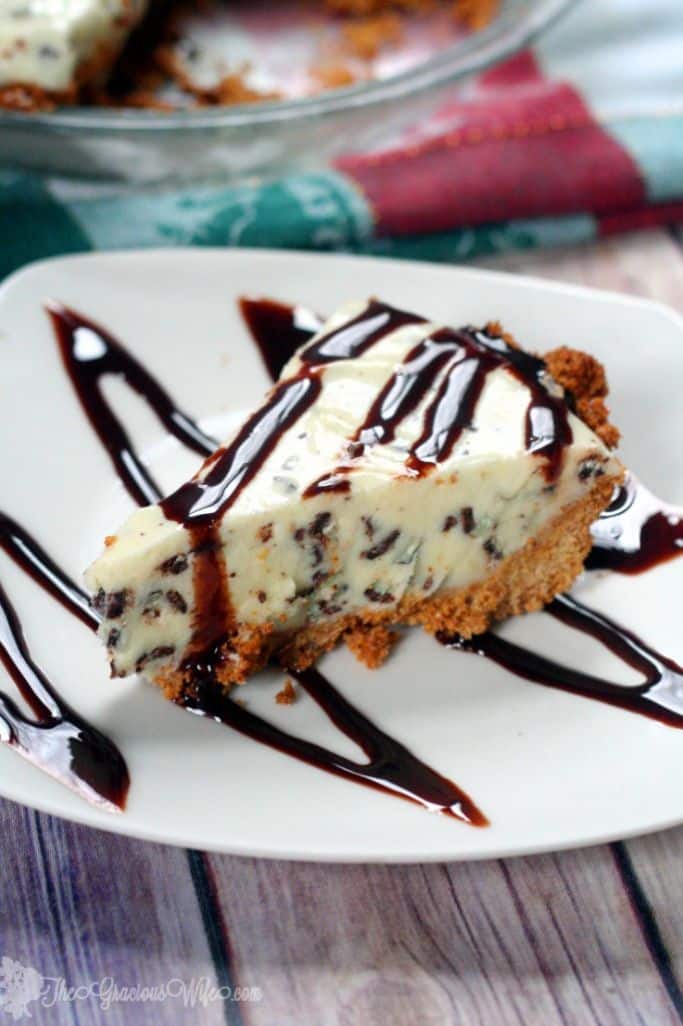 Not everyone has a snowy, white Christmas. If it's still rather warm where you live, you'll love this delicious eggnog ice cream pie to cool off. The graham cracker crust and mint chocolate chunks give this ice cream dessert a nice crunch against the creaminess of the ice cream.
Eggnog Bread Pudding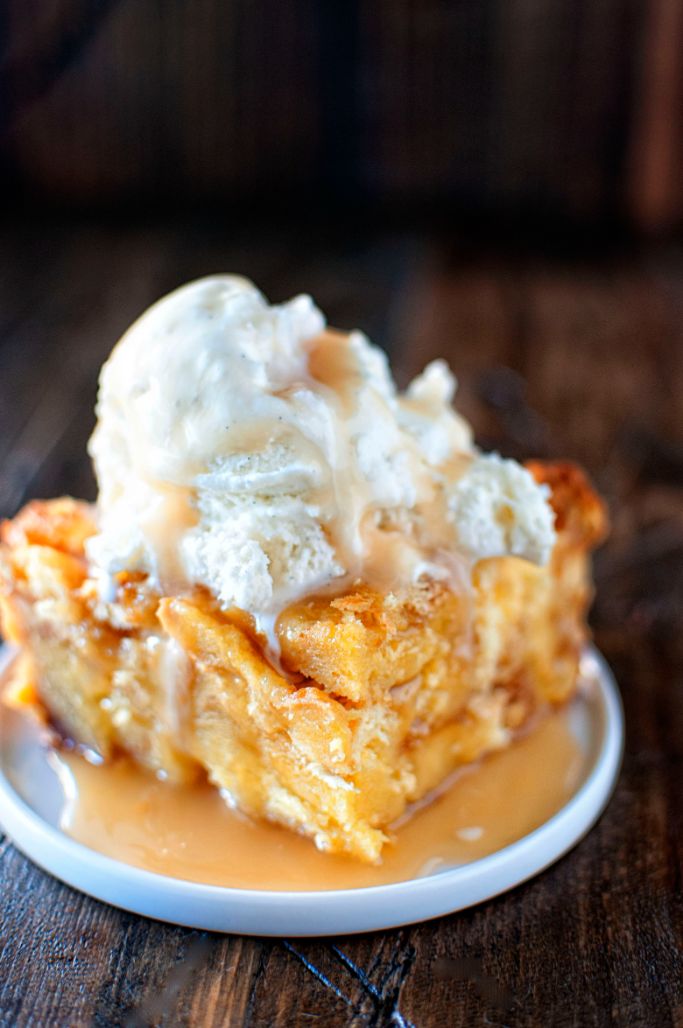 Making eggnog bread pudding is easier than you think. You'll start with butter flake rolls (or regular rolls if you can't find those), and add an eggnog custard to create a yummy dessert the whole family will love. Top it off with the decadent spiced caramel rum sauce and a big scoop of vanilla ice cream.
Eggnog Muffins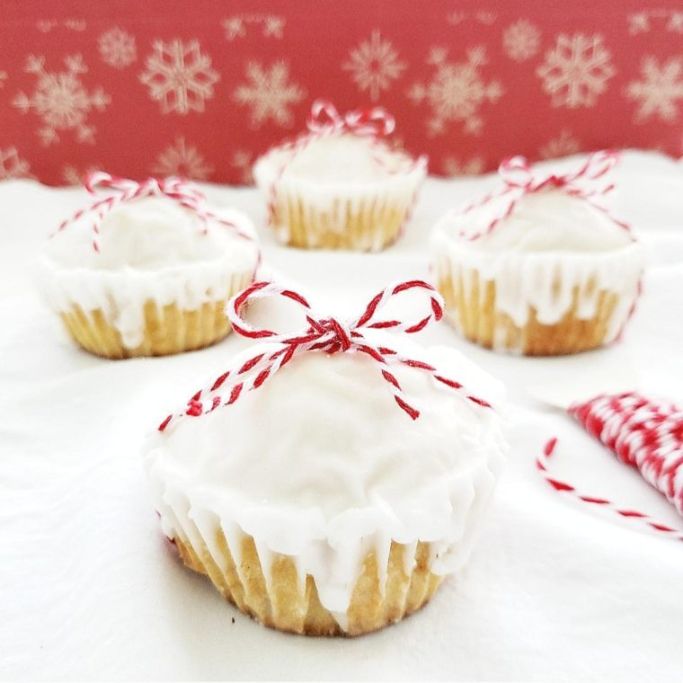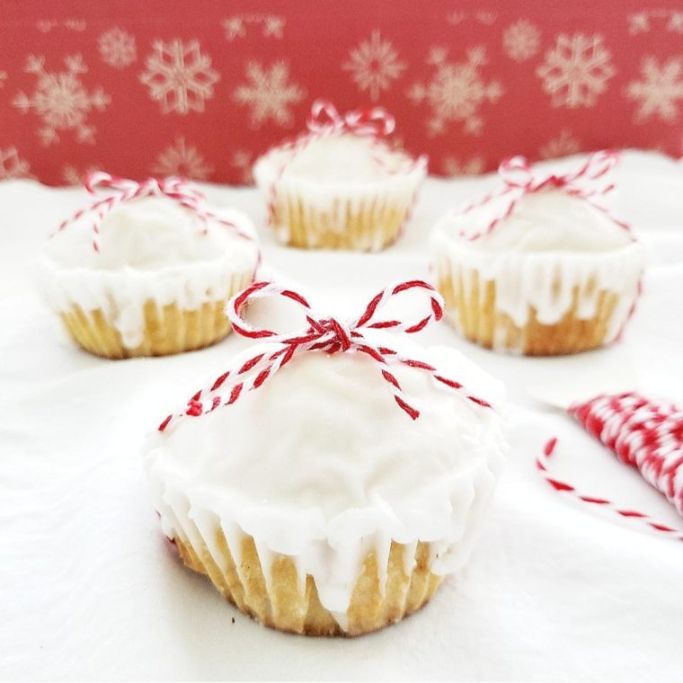 Start your morning with some spiced rum eggnog muffins or eat them as a dessert. The muffins are made from scratch and coated with a sugary eggnog glaze that's sure to have you smiling into the new year.
Eggnog Christmas Dip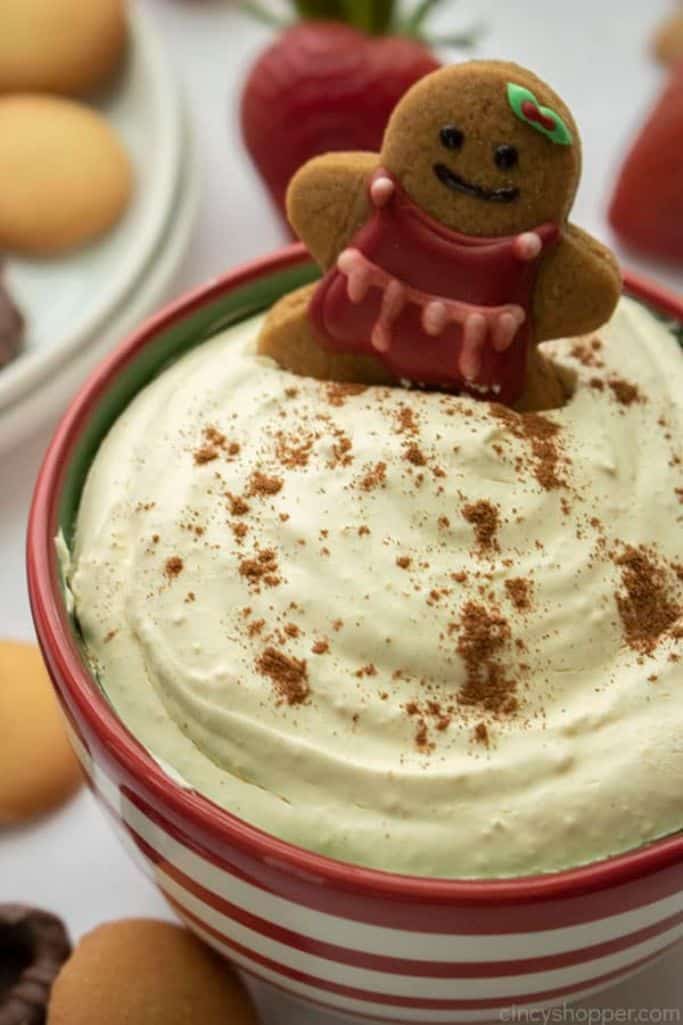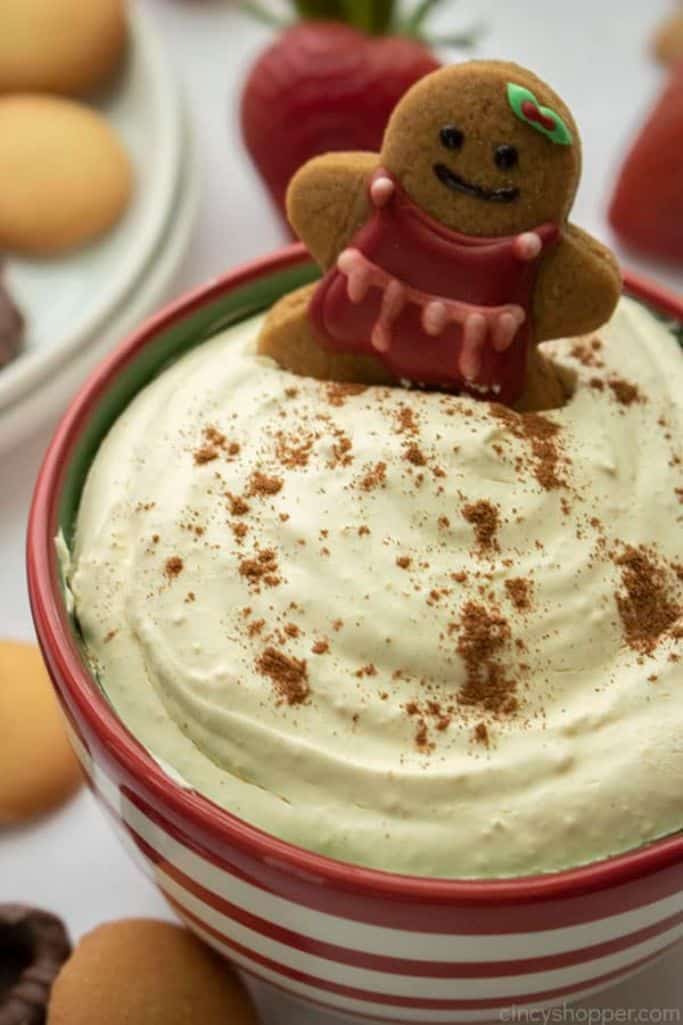 Dip your gingerbread cookies, fruit, and other holiday treats into this yummy and creamy eggnog Christmas dip. Dessert dips like this are a bit hit at parties, so take it to your next holiday get-together.
Gingerbread Thumbprint Cookies with Eggnog Filling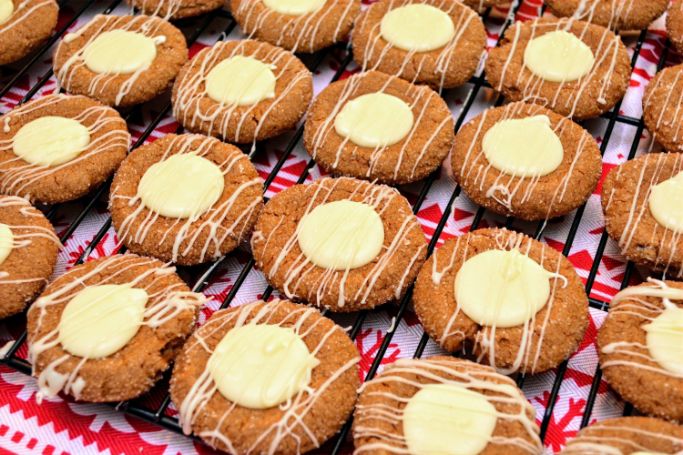 Three holiday flavors come together in one recipe for gingerbread thumbprint cookies. The soft, chewy cookies are full of warm spices in every bite, which are balanced by the sweet (but not too sweet) white chocolate eggnog center.
Eggnog Pudding Shots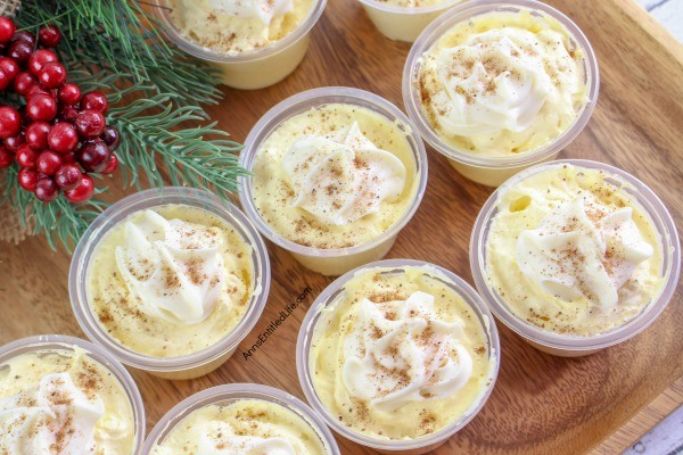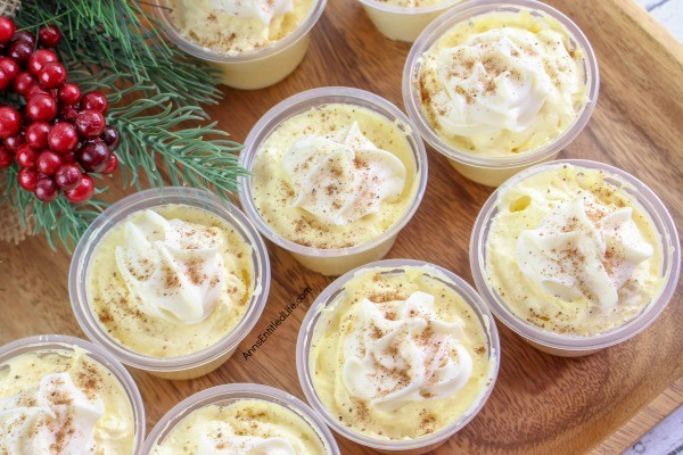 Grown-ups are going to love these festive eggnog pudding shots! It's a boozy cross between a jello shot and a dessert. Make them for your Christmas party or take them on into your New Year's celebrations.
Spiked Eggnog Bundt Cake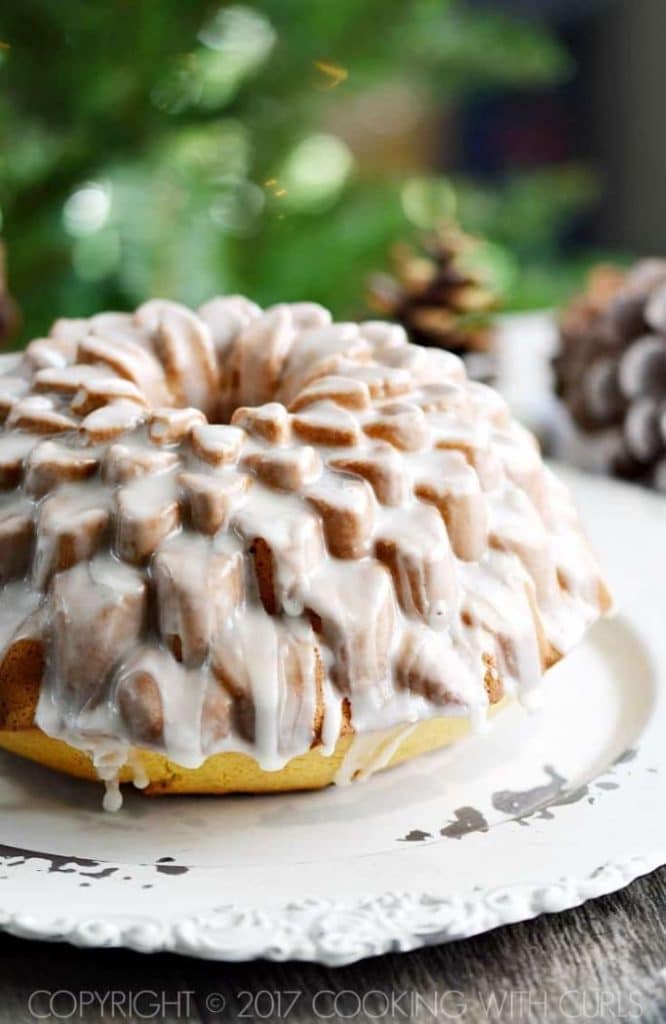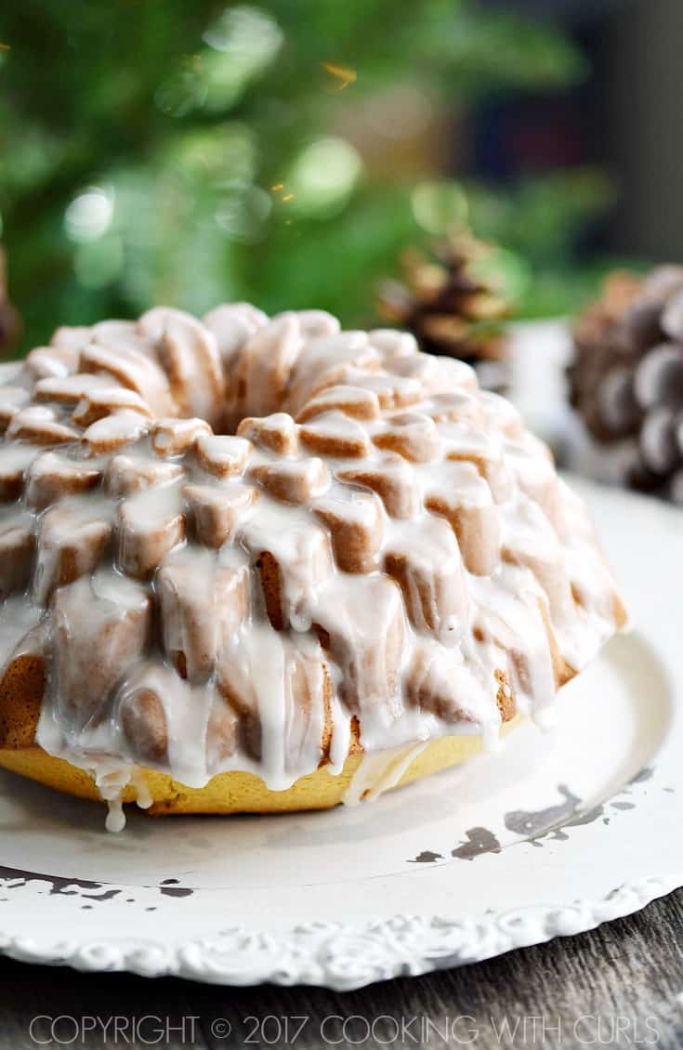 Who wouldn't love a cake spiked with alcohol? There's no actual eggnog here in this spiked eggnog bundt cake, but it tastes like it has eggnog in it because there's lots of brandy, bourbon, nutmeg, and eggs.
Eggnog Chocolate Fudge Bundt Cake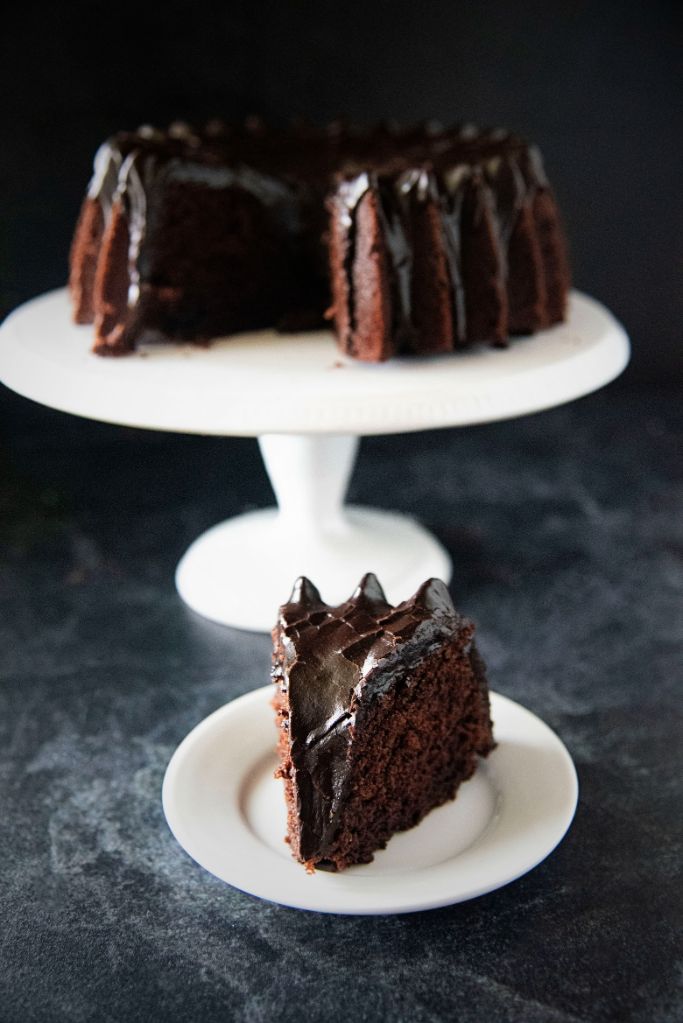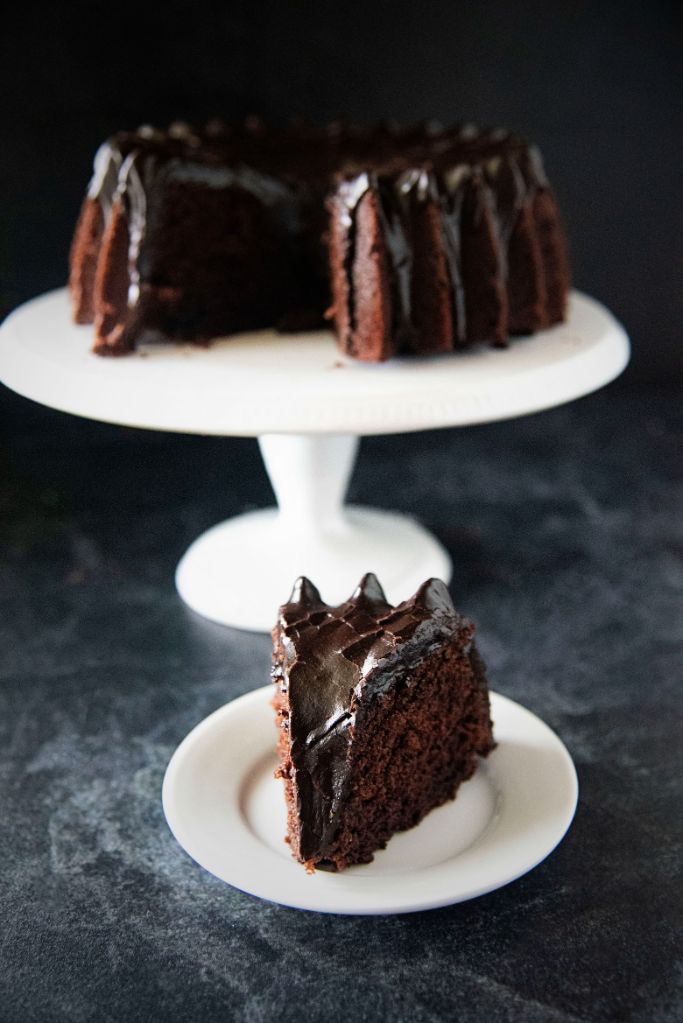 Okay, maybe you want actual eggnog in your cake. In that case, try this eggnog chocolate fudge bundt cake that's packed with cocoa and eggnog and topped with even more chocolate and eggnog. It's more chocolate flavored than anything, but you'll love the flavor.
Eggnog Snowflake Cake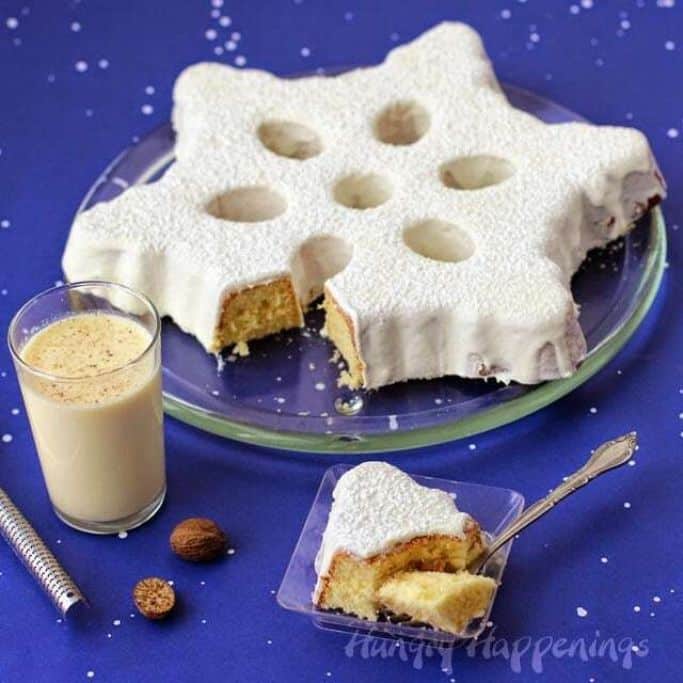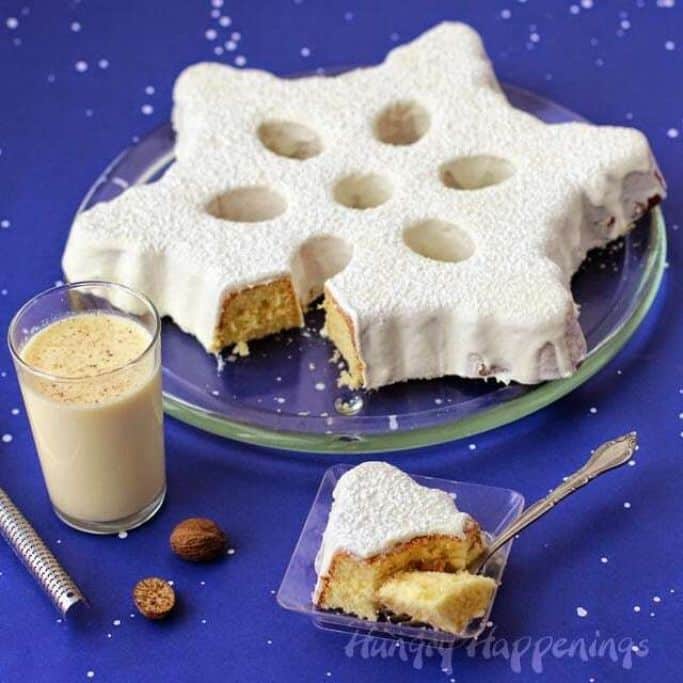 Finally, we've found this eggnog snowflake cake that just screams Christmas. I mean, hello?! It's a white snowflake cake packed with eggnog flavor, both in the pound cake and the ganache.
We hope you enjoy these 25 eggnog dessert recipes as much as we do! If you have a favorite recipe that's not on the list, please share it in the comments below. Happy Holidays and Merry Christmas from all of us at Glue Sticks & Gumdrops!