You're reading this post right now because you're looking for something delicious to eat that will help you stay on track with your low carb diet. Well, look no further! This cheesy keto taco skillet is the perfect comfort food that won't leave you feeling guilty after eating it. Plus, the recipe only takes 35 minutes to make so there's no excuse not to whip up a batch tonight!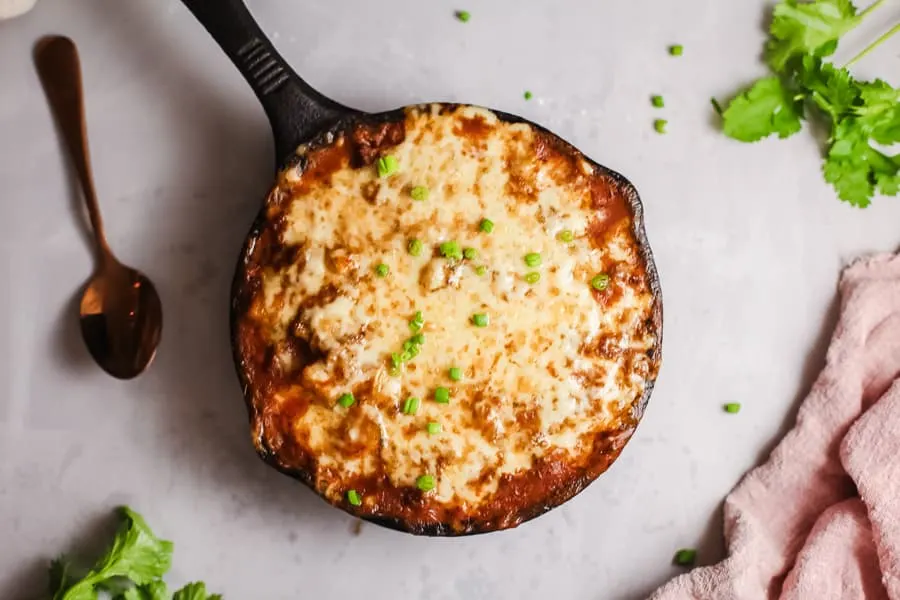 What Is A Ground Beef Taco Skillet?
A ground beef taco skillet is a quick, easy dinner that can be made on the stovetop or in the oven (ours gets a little of both). It's a simple mixture of ground beef, taco seasoning, salsa, and cheddar cheese, along with any other taco toppings you like. It's a taco casserole recipe that can be served with low-carb tortillas, lettuce wraps, salsa, extra cheese, and sour cream on top.
This recipe is basically taco fillings cooked in a skillet. You get all the flavor of delicious tacos without the carbs. Plus, it's made in one skillet, so you have fewer dishes to wash. Who doesn't love that? This is one of our favorite keto ground beef recipes!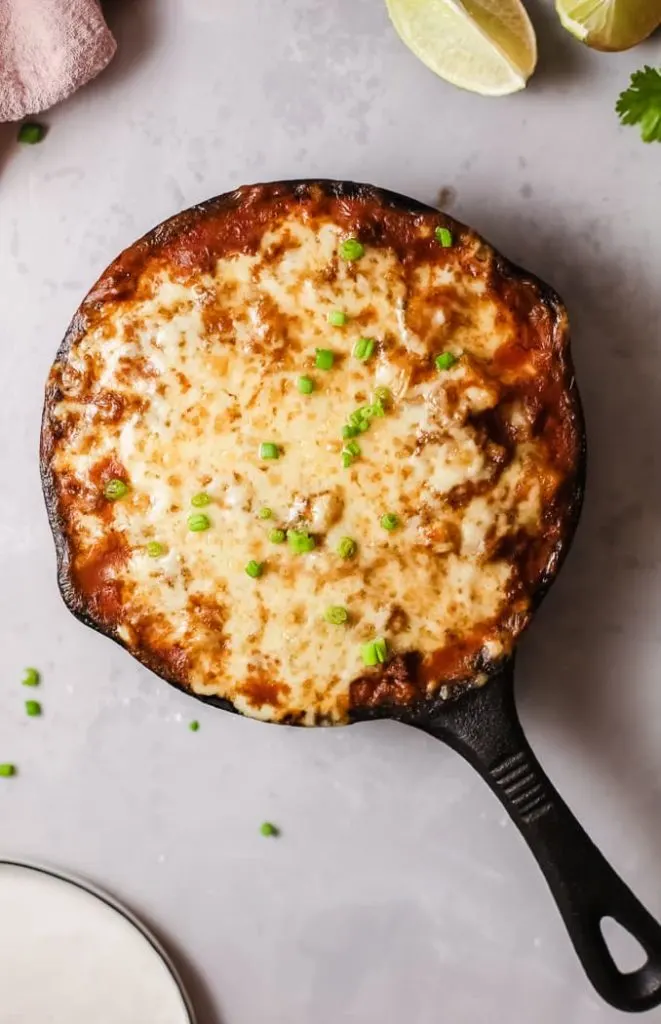 What's in this taco skillet?
This keto taco skillet recipe is filled with all the ingredients you'd expect: ground beef, onions, garlic, tomatoes, spices, and cheese. But sometimes a low carb diet can be a little heavy on the meat without getting all the good-for-you veggies that you need, so there's a zucchini diced and added to the mix as well. You won't even taste it, but it adds some fiber and makes the meal more filling. This low carb taco skillet also has jalapeno added for heat, but if your family prefers dishes that are not spicy, just leave it out.
What are some toppings ideas?
Some topping ideas include anything you typically enjoy on your tacos. But if you're looking for a little culinary inspiration, try some of these toppings:
lettuce
green onions
pico de gallo
guacamole
diced avocado
salsa
chipotle sauce
sour cream
Serve this beef taco skillet up with a side of our Mexican Cauliflower Rice for the ultimate Mexican keto experience!
Another yummy idea is to pile this taco meat and some of the cauliflower rice into a bell pepper, top with cheese, and bake in the oven for some yummy taco stuffed peppers.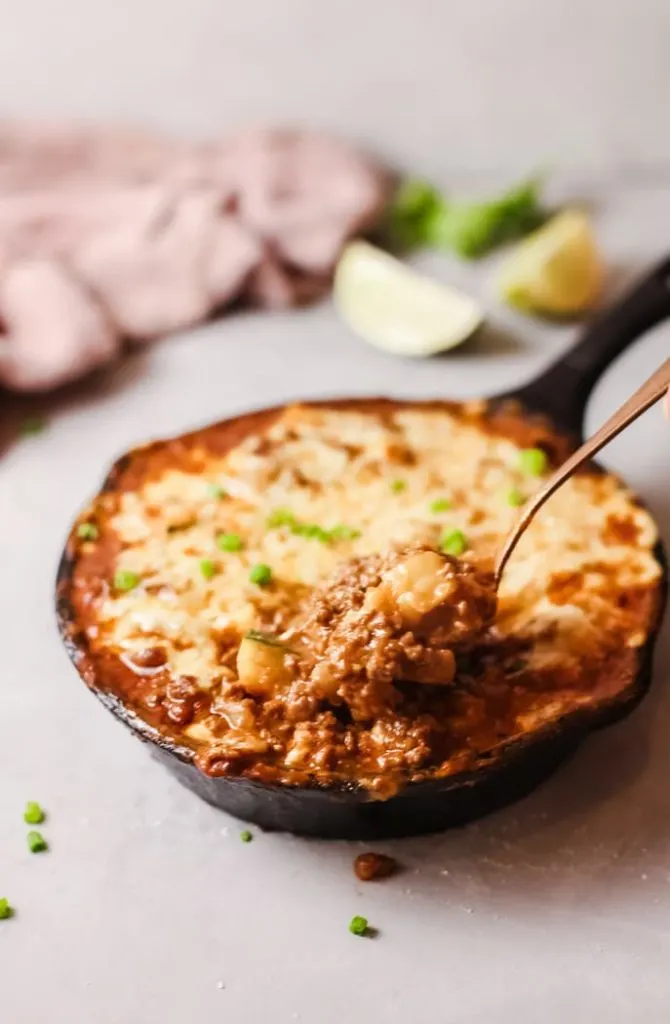 What is the nutritional information?
This keto Mexican taco skillet comes in at around 497 calories and 7 net carbs per serving (total carbs minus fiber). This is only an estimate provided for your convenience. For more accurate nutritional information, put the products you used into a calorie calculator (such as MyFitnessPal) along with any toppings or extra ingredients you added.
Can I use a different protein in this keto taco skillet?
Of course! If you're trying to stay away from red meat, you can substitute ground turkey or ground chicken for ground beef. If you want less fat but a similar flavor to beef, just add beef bouillon to help give the ground poultry a little of that flavor.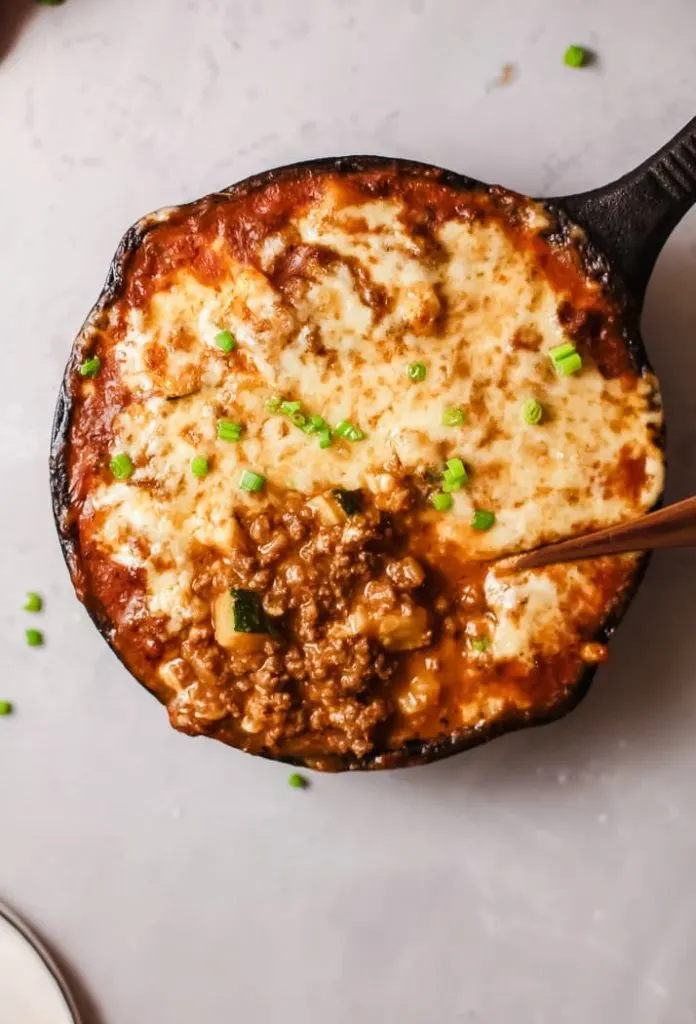 Can You Make A Taco Skillet Ahead?
Yes, you can make a cheesy keto taco skillet ahead of time. You can just cook everything as-is (except for the cheese), and reheat it in a skillet or in the microwave. Once it's hot, top with cheese of your choice.
Or, if you prefer your veggies (like the zucchini) fresher, just prepare the meat, tomatoes, herbs, and spices beforehand, and then add the zucchini in while reheating, letting it simmer until the zucchini softens.
Another option is to brown the ground beef ahead of time and then cooking all the rest of the ingredients together later. Having browned ground beef at the ready can be a time-saver on busy days when you don't have a lot of time to spend in the kitchen!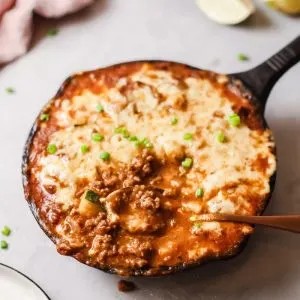 Keto Cheesy Taco Skillet
Taco Tuesday just got a whole lot more interesting with this deliciously easy-to-make Keto Taco Skillet. A low-carb version of an old favorite. Definitely add this one to your dinner rotation!
Ingredients
1

Tbsp

olive oil

1

lb

Ground beef

1

Onion

chopped

1

Garlic clove

minced

1

Cup

crushed tomatoes

1

Jalapeño

chopped

1

Zucchini

diced

1

Tsp

cumin

1

Tsp

paprika

1

Tsp

oregano

Salt and pepper to taste

1

Cup

shredded cheddar cheese
Instructions
Preheat the oven to 350 degrees.

Heat olive oil in a skillet over medium heat. Add beef and cook until just browned in the edges but still slightly pink.

Add onion and cook until translucent.

Add minced garlic, crushed tomatoes, jalapeño, zucchini, and spices. Stir to combine and simmer for 5 minutes.

Remove from heat and add half the cheese, mix to incorporate. Top with the remaining cheese and take to the oven.

Bake for 15 minutes or until the cheese is bubbly.

Serve with your favorite taco toppings. Enjoy!
Nutrition
Serving:
1
g
Calories:
497
kcal
Carbohydrates:
10
g
Protein:
39
g
Fat:
33
g
Saturated Fat:
13
g
Polyunsaturated Fat:
15
g
Trans Fat:
1
g
Cholesterol:
129
mg
Sodium:
478
mg
Fiber:
3
g
Sugar:
5
g
How to Reheat This Keto Taco Skillet
You can reheat this dish in the microwave, in a skillet, or in the oven.
Heat individual portions in the microwave in 30-60 second increments until it's heated through. Then, add your toppings.
To reheat in a skillet, set the skillet over medium heat for about 5 minutes, stirring frequently to prevent the ingredients from sticking.
Alternatively, you can reheat in an oven-safe skillet at 350 degrees for about 20-25 minutes until warmed through.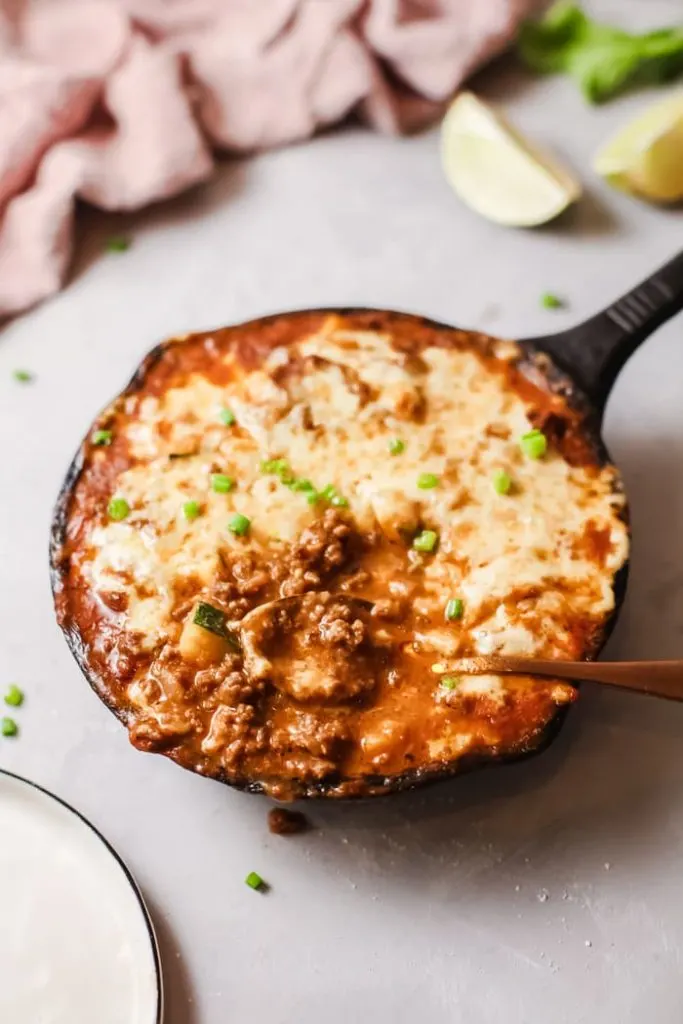 Can You Freeze A Beef Taco Skillet?
You can freeze a beef taco skillet dinner recipe. Just cook it as you normally would (except for the cheese on top), and store it in an airtight container or freezer-safe dish or zip-top bag once cooled. It will keep in the freezer for about 2-3 months. You'll want to thaw overnight in the refrigerator and reheat in the microwave or pan before serving.
More Keto Mexican Recipes
Chicken Enchilada Soup: This soup is cheesy and delicious! It's comfort food in a bowl, and it's perfect for chilly fall and winter days when you're craving a hot, filling meal that can be made in no time.
Keto Nachos: Get our recipe for homemade low-carb tortilla chips along with the keto nacho recipe. They're so good your whole family will love them, even if they're not following the keto lifestyle.
Keto Carbonara: This yummy pasta-like dish will satisfy your cravings for sure. It makes a great main dish or side dish.