Parents and teachers, it's time to get those kids ready for the spookiest season of the year! It can be a lot of work to keep up with all their excitement. Luckily, we have 25 easy Halloween paper crafts that will make your life so much easier this Halloween! From simple cut and paste projects to origami Halloween figures, these are perfect for a wide variety of age groups. Get started now and have some fun crafting with your little monsters before they're out trick or treating on October 31st. Happy Halloween!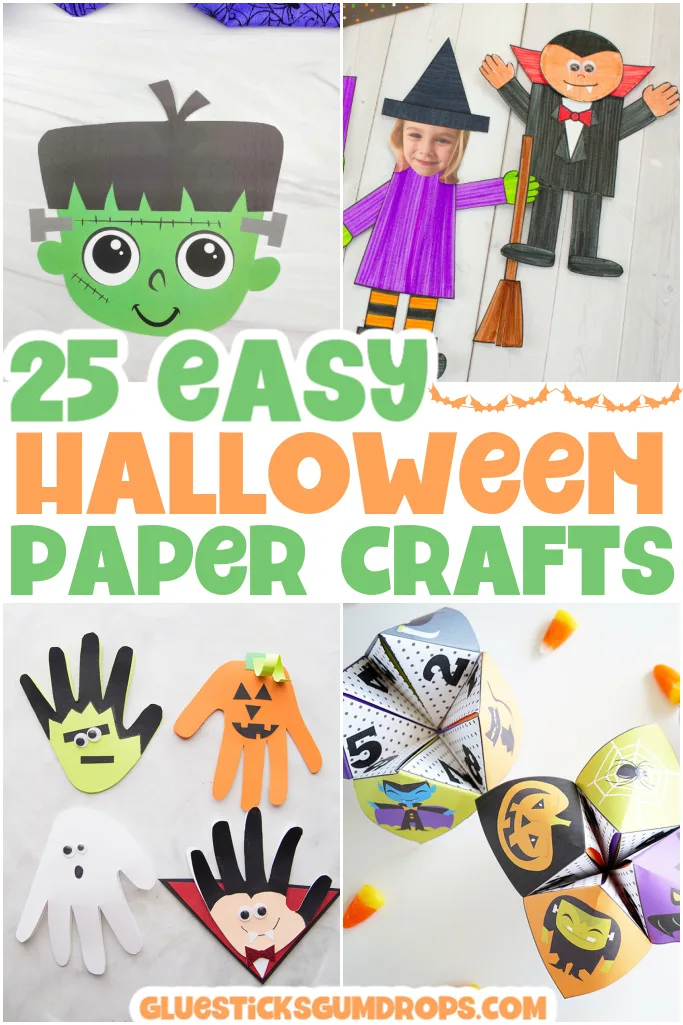 Fun Halloween Paper Crafts to Make
Most of these crafts have free or inexpensive templates to use to make the crafting process simpler, but all are really easy! You'll love that you don't need to make a trip to the craft store to get started. All you need is your printer, some paper, scissors, and glue. Ready? Let's go!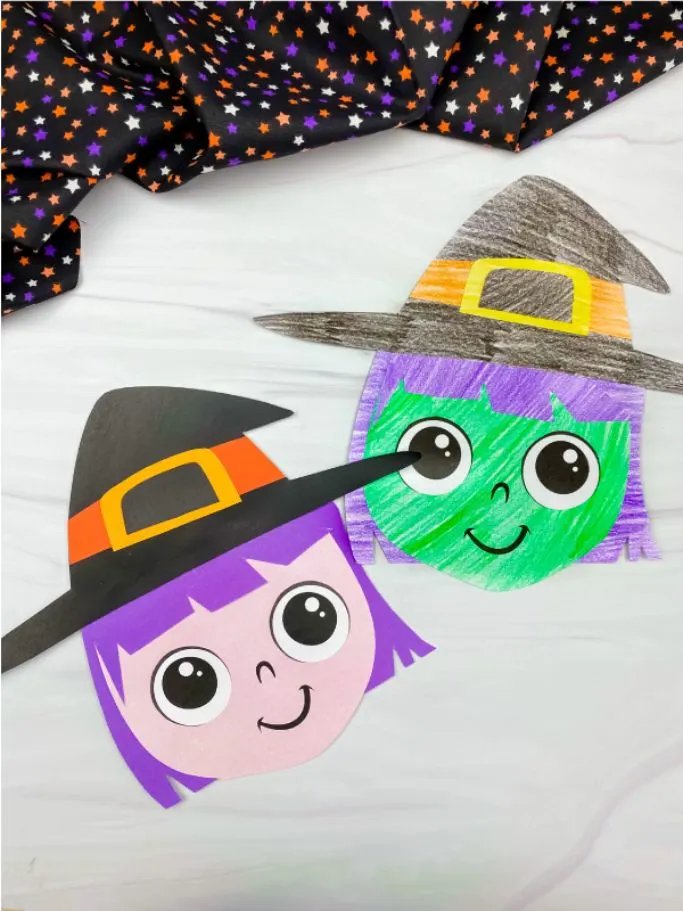 Witch Cut and Paste Craft
This adorable cut and paste witch isn't scary at all. Print it in full color to start cutting and pasting your witch together right away, or try the black and white version if you want the kids to color them in instead. They'll have fun either way.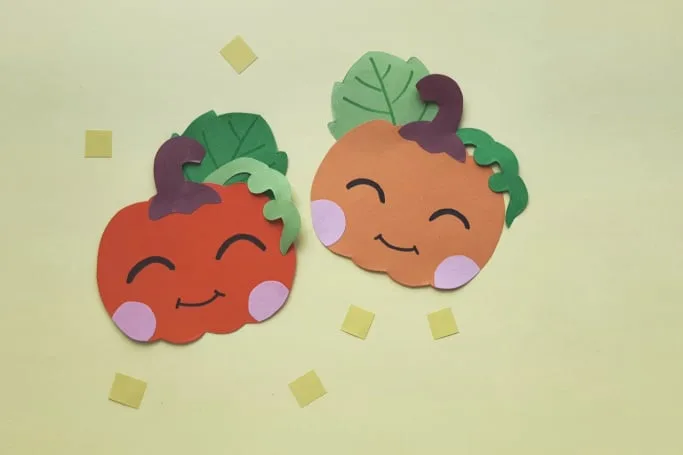 Happy Pumpkin Paper Craft
Our happy paper pumpkin craft is a darling addition to your Halloween crafts. Simply print the template, trace the pieces onto colored paper, and let the children practice their scissor skills while cutting pumpkins, leaves, and vines. Glue it all together for a sweet little pumpkin decoration you can hang in your windows.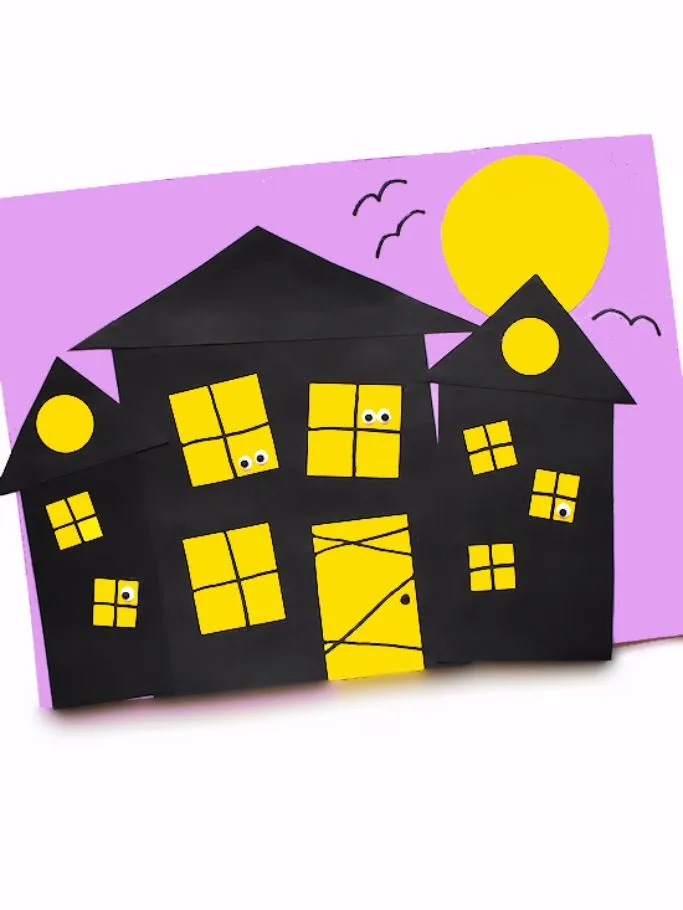 Shape Haunted House
Haunted houses don't have to be scary, at least not this shape haunted house! It's made with simple shapes, so it's perfect for little ones to practice cutting and shape identification for squares, circles, triangles, and rectangles. It's perfect for getting everyone into the Halloween spirit.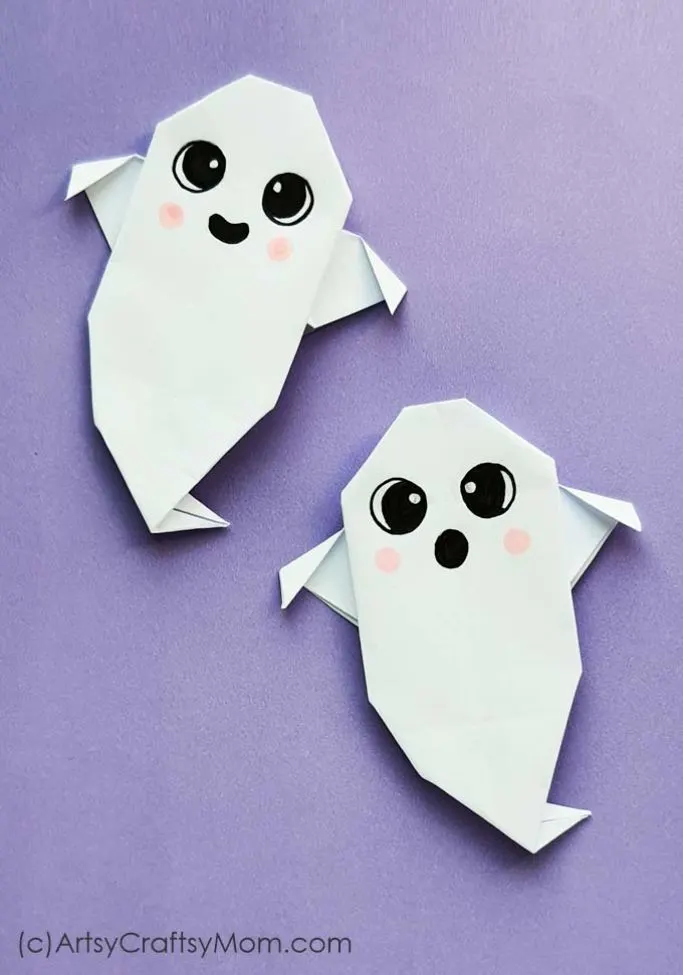 Origami Ghosts
Follow the step-by-step instructions to make some cute little origami ghosts! This Halloween paper craft is perfect for tweens and teens, but it's simple enough for your older elementary-aged children to follow as well. Make several of them and pin them to twine to make a spooky banner for your Halloween party. Kids of all ages will enjoy these paper ghosts.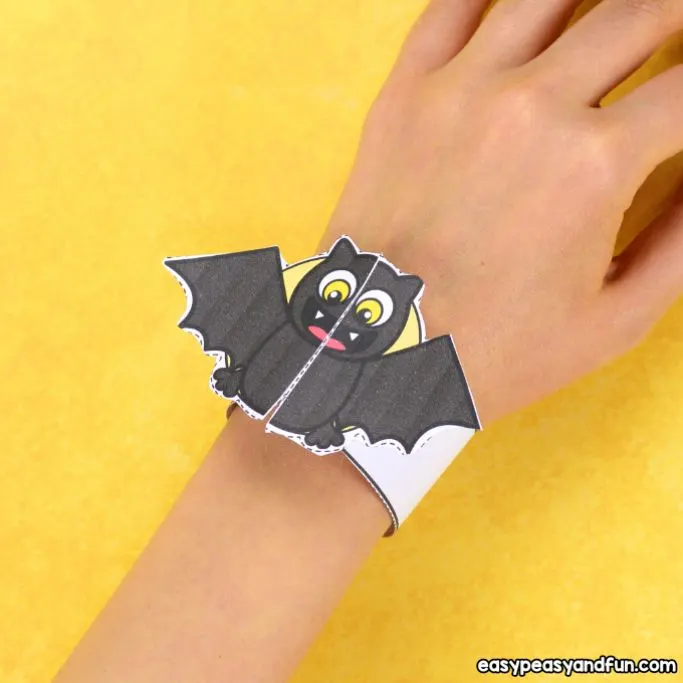 Halloween Bracelets
These printable Halloween bracelets are perfect for toddlers, preschoolers, and kindergarteners. With several different characters to make, kids have lots of fun options to choose from, including a bat bracelet, Frankenstein, a witch, a black cat, a ghost, and a jack-o-lantern. Which is your favorite? Mine is the bat!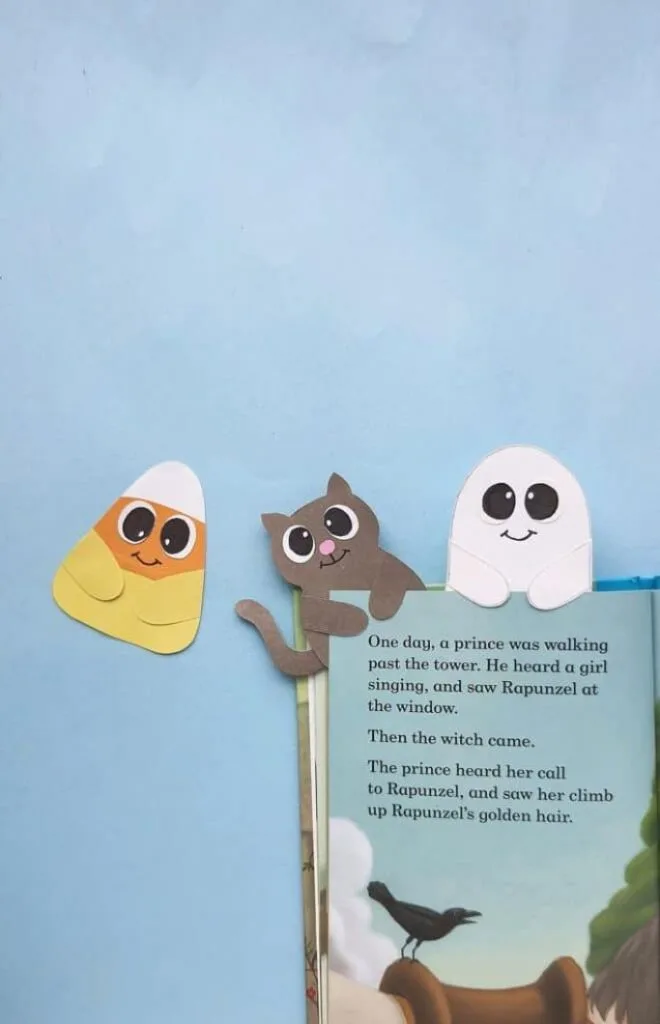 Halloween Bookmarks
These cute DIY Halloween bookmarks are one of our favorite easy Halloween crafts with construction paper. Use the ghost, black cat, bat, or candy corn to mark your place in your spooky reads. This is a terrific classroom craft that encourages students to read.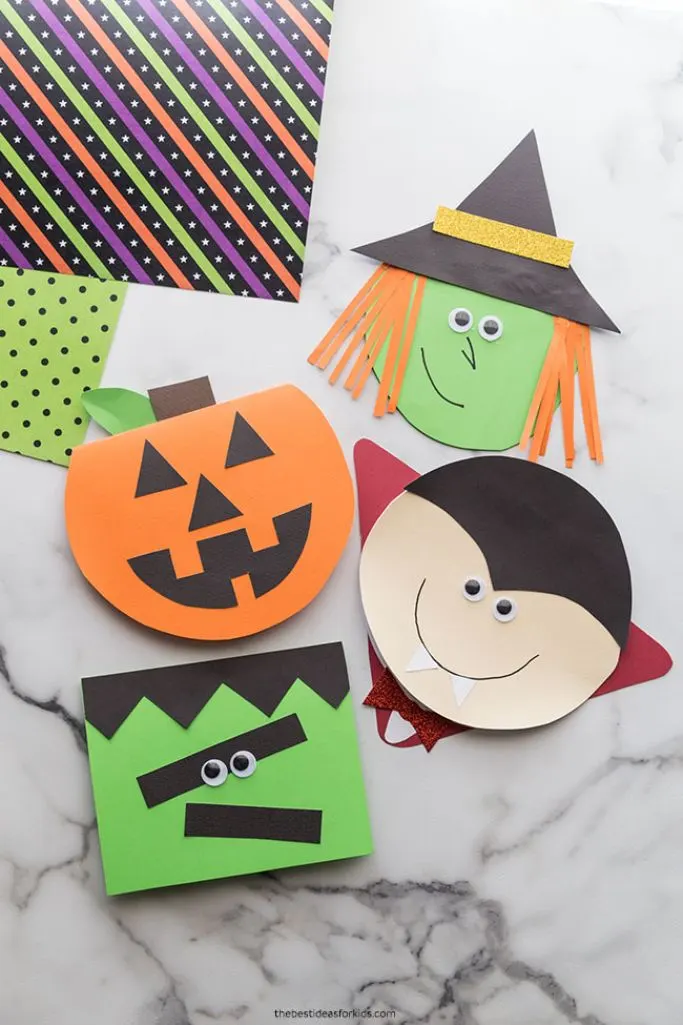 Halloween Cards
We send cards for so many holidays—why not Halloween, too? These handmade Halloween cards are adorable and will truly make someone's day when they receive one in the mail or in person. Learn how to make a vampire, a witch, a jack-o-lantern, or a Frankenstein card. These Halloween paper crafts do include googly eyes, but if you don't have any, you can always draw the eyes on, cut some out of cardstock, or use eye stickers.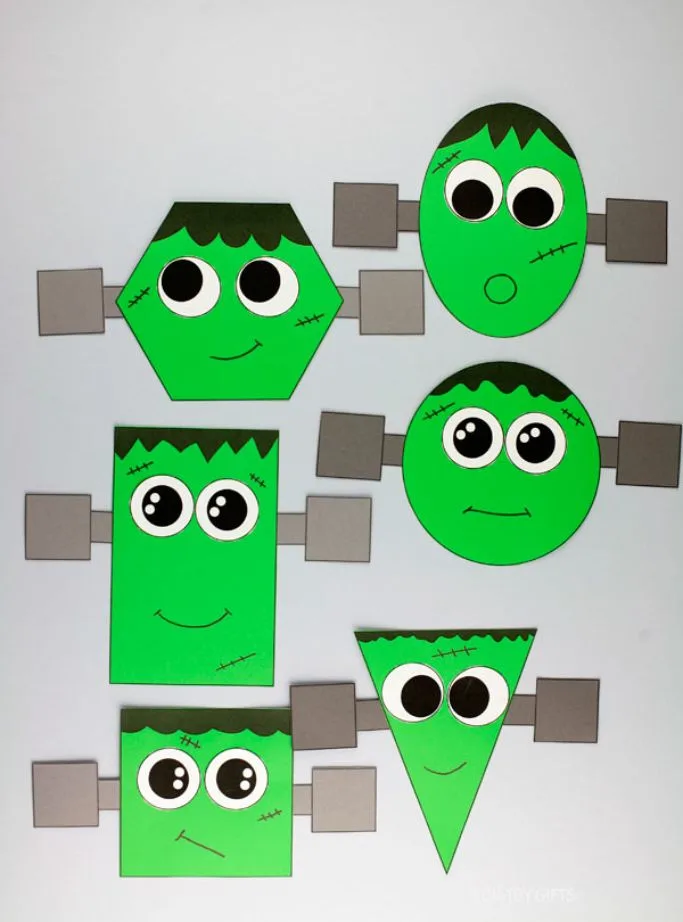 Frankenstein Shape Craft
Practice shape recognition while getting crafty. This Frankenstein shape craft features your favorite green guy made with shapes like circles, triangles, squares, and even hexagons. The simple cut-and-paste craft will look wonderful on a Halloween bulletin board in the classroom.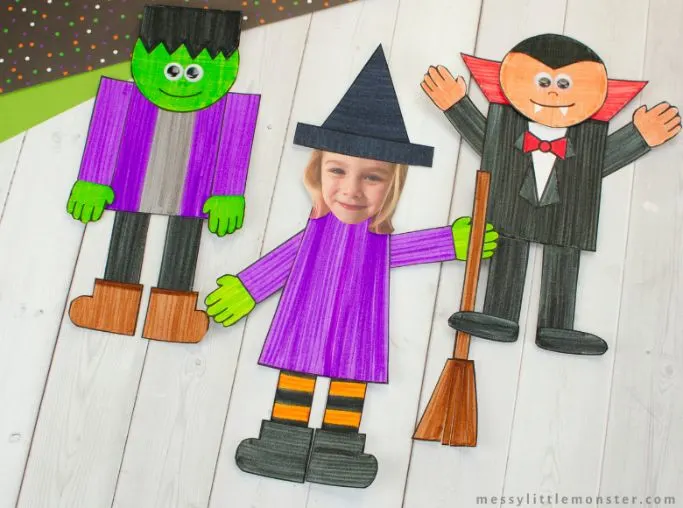 Halloween Mix and Match Paper Craft
What fun the kids will have making this Halloween mix and match craft using their own photos to complete classic spooky characters like a witch, Frankenstein, or a vampire. These are fun keepsakes to add to this year's scrapbook.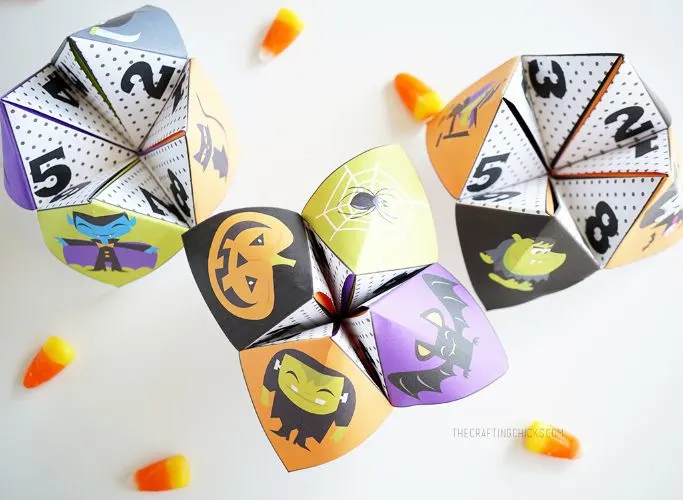 Halloween Cootie Catchers
You probably remember making cootie catchers as a kid, and now they're easier than ever. These Halloween cootie catchers are ready to print, cut, and fold. They're filled with hilarious Halloween jokes that kids will get a kick out of.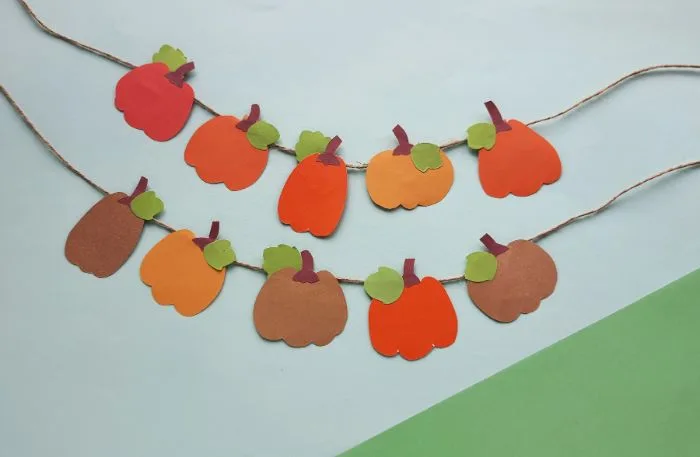 Pumpkin Banner
Need a Halloween decor on the cheap? Our paper pumpkin banner is cute, easy to make, and comes together in no time. All you need in addition to orange, green, and brown paper, scissors, and glue, is some twine, yarn, string, or ribbon. Any of those will work fine to create a charming pumpkin-themed garland that's perfect for any fall celebration.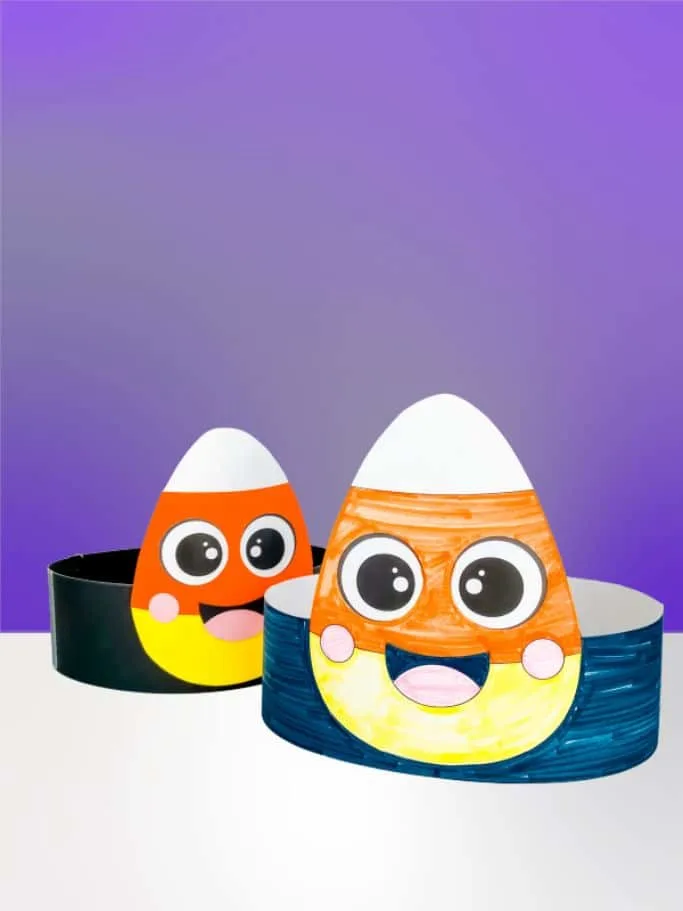 Candy Corn Headband
Candy corn—people seem to love it or hate it. Personally, we love it, so we'd be happy to rock these adorable candy corn headbands. Won't they look cute on your toddler or preschooler this Halloween season?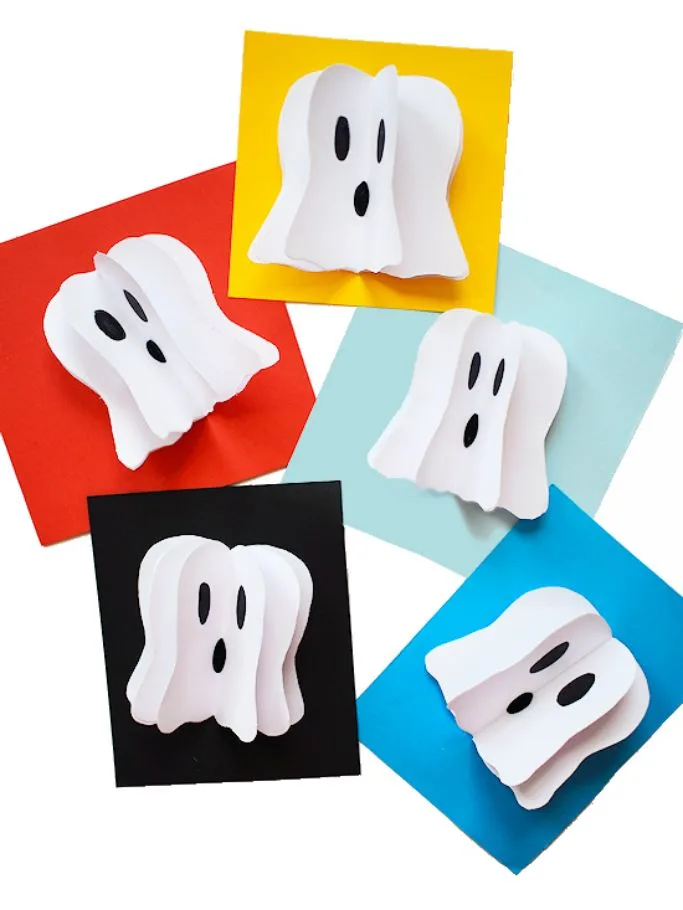 3D Ghost Craft
These 3D ghosts look like they're about to leap off the page—good thing they won't! This craft uses folded paper to give the ghosts that cool 3D effect. They'd make awesome Halloween cards or will look super cool hanging up on your walls this spooky season.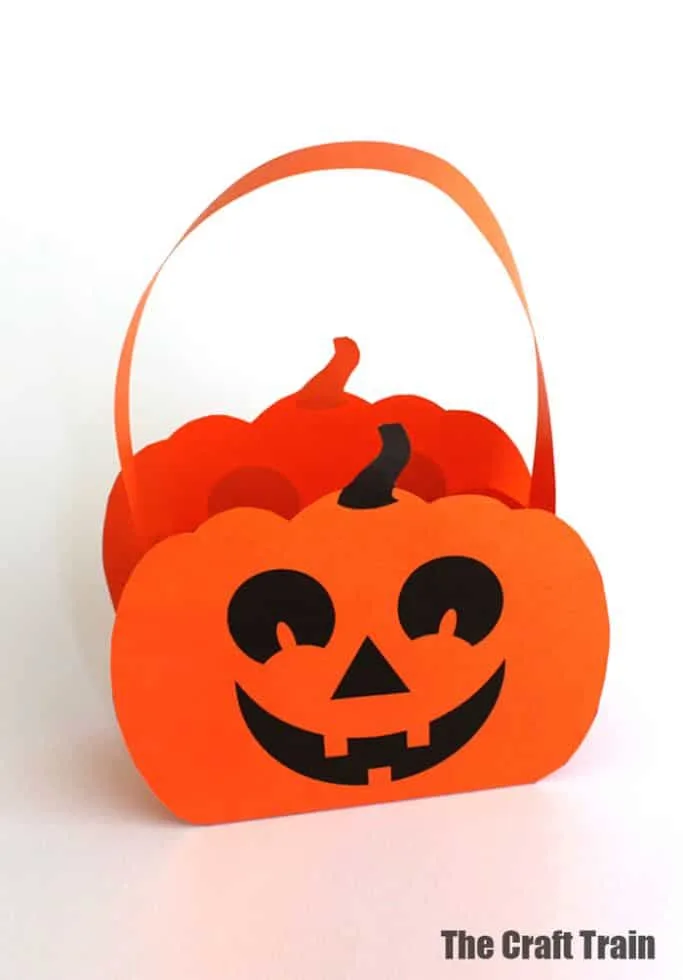 Paper Pumpkin Basket
Trick or treat! These cute paper pumpkin baskets are the perfect craft for little ones who are having a Halloween party. Once they're finished, fill them with lightweight Halloween treats or stickers, erasers, etc. They'll make fun party decorations, too.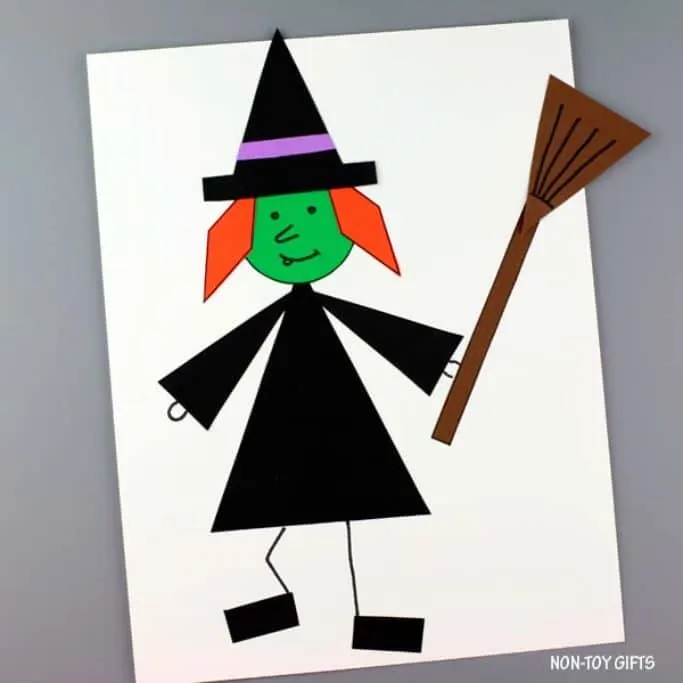 Shape Witch
Turn ordinary shapes into a funny shape witch complete with her broom. There are lots of triangles, a few rectangles, and even some diamond shapes (rhombuses) to identify. This is a terrific Halloween art idea for preschoolers.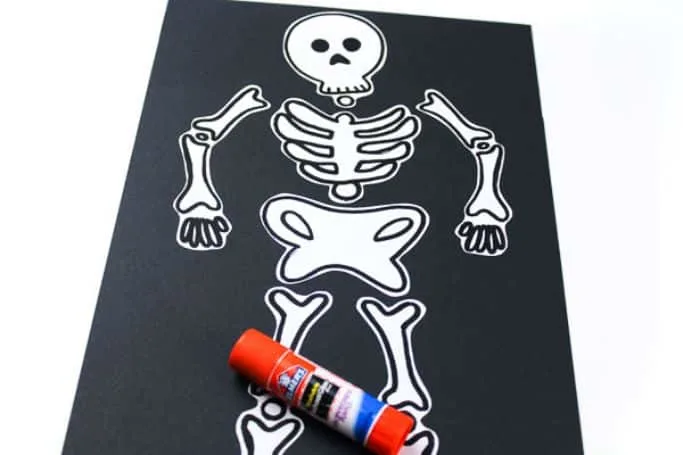 Simple Skeleton Craft
A simple skeleton craft is a great option for Halloween! It's as simple as cut and paste, and it would make an awesome card. And although it's not anatomically correct, it could serve as a fun and easy introduction to the skeletal system helping kids to identify the skull, knees, elbows, femurs, etc.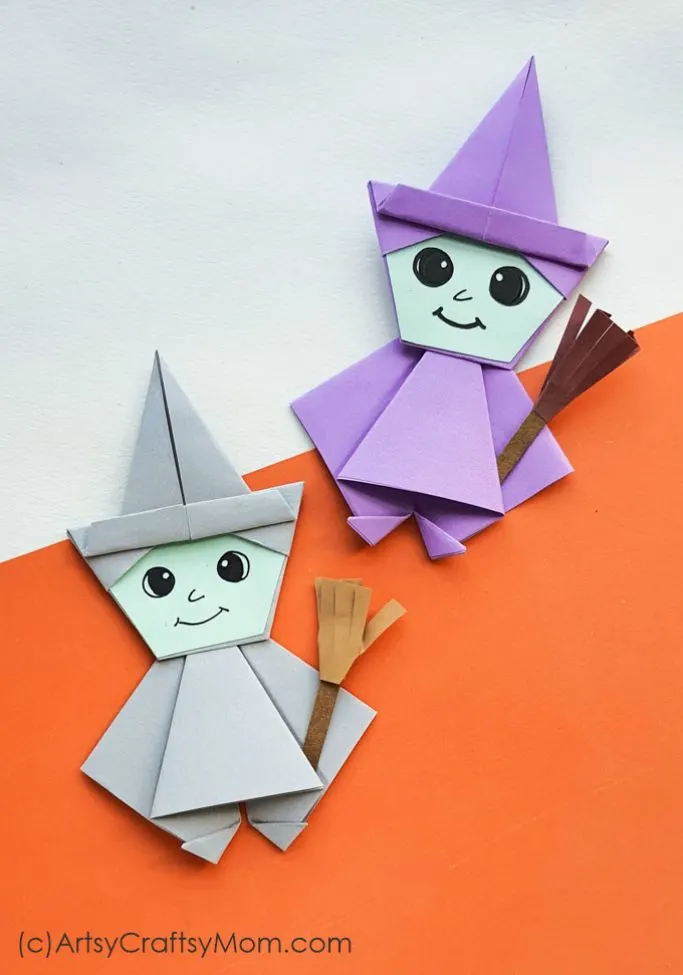 Origami Witches
Here's another fun project for your tweens and teens. These origami witches are made with two separate origami pieces that are assembled together (along with a cute little broom). It's a fantastic project for older kids to help their younger siblings with.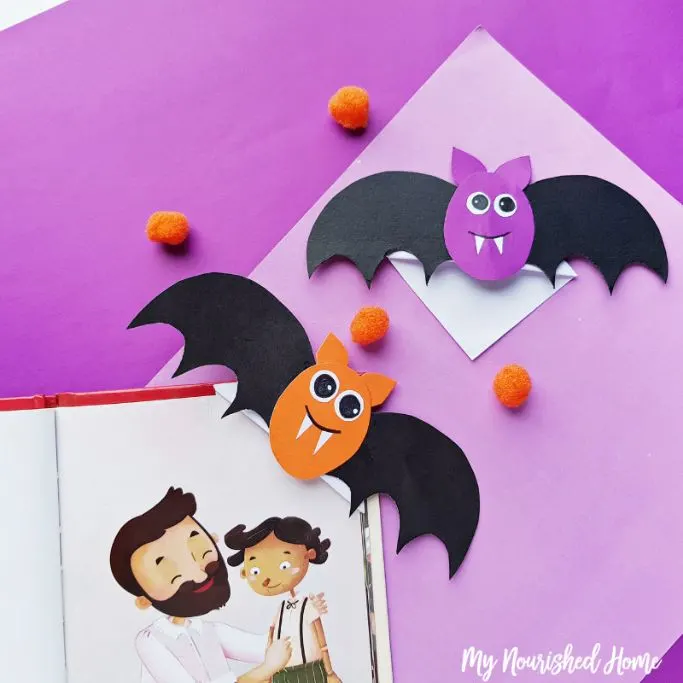 Bat Bookmarks
Make some bat bookmarks to save your spot in your favorite Halloween stories. These cute corner bookmark bats will peep out from your book reminding you to pick up where you left off.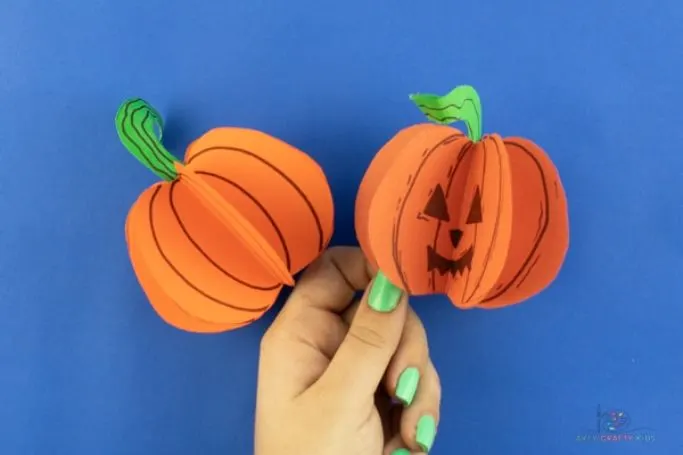 3D Paper Pumpkin Art
These 3D paper pumpkins make excellent table decorations. Draw jack-o-lantern faces on them for Halloween or leave them as simple pumpkins for Thanksgiving.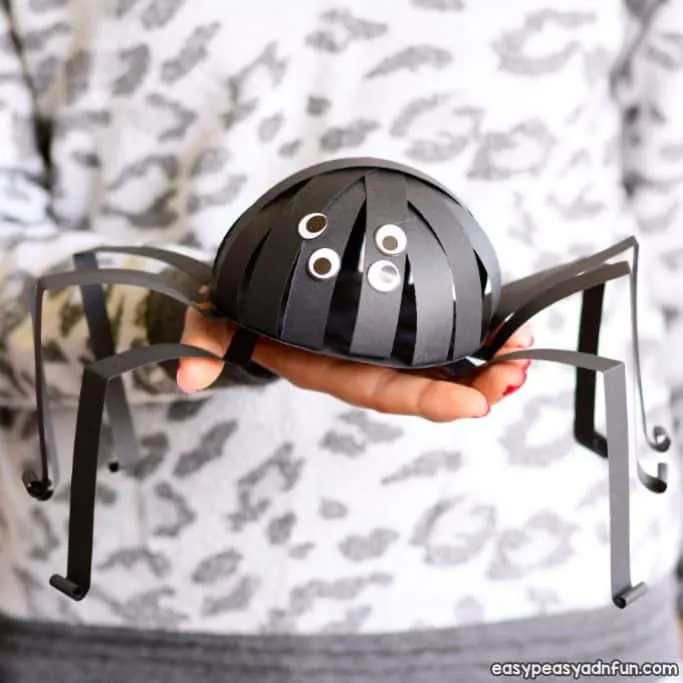 Paper Strips Spider
You'll need black construction paper for this creepy paper strips spider craft. Hang it from a string for a spooky decoration for your home or classroom. They'd also look cool in a haunted house with dozens of these guys hanging from the ceiling. I'm shuddering just thinking about it! (Really not a fan of spiders.)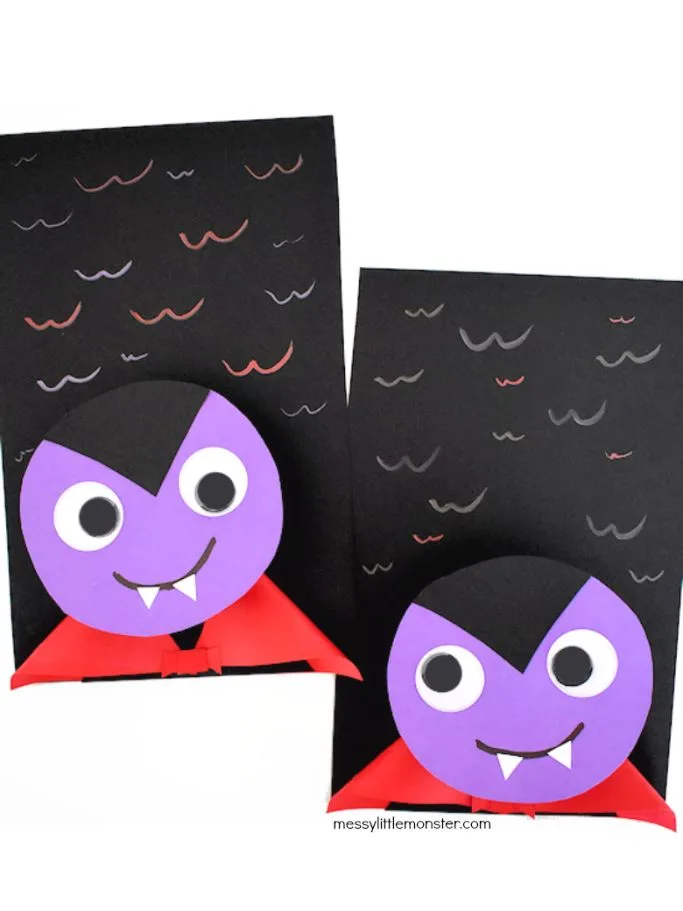 Bobble Head Vampire
Make a pair of bobble head vampires to display this Halloween. Use the free template to cut and assemble all the pieces. You'll find that the strip of accordion-folded paper under the head helps it move and wobble all around, giving this craft a fun interactive element.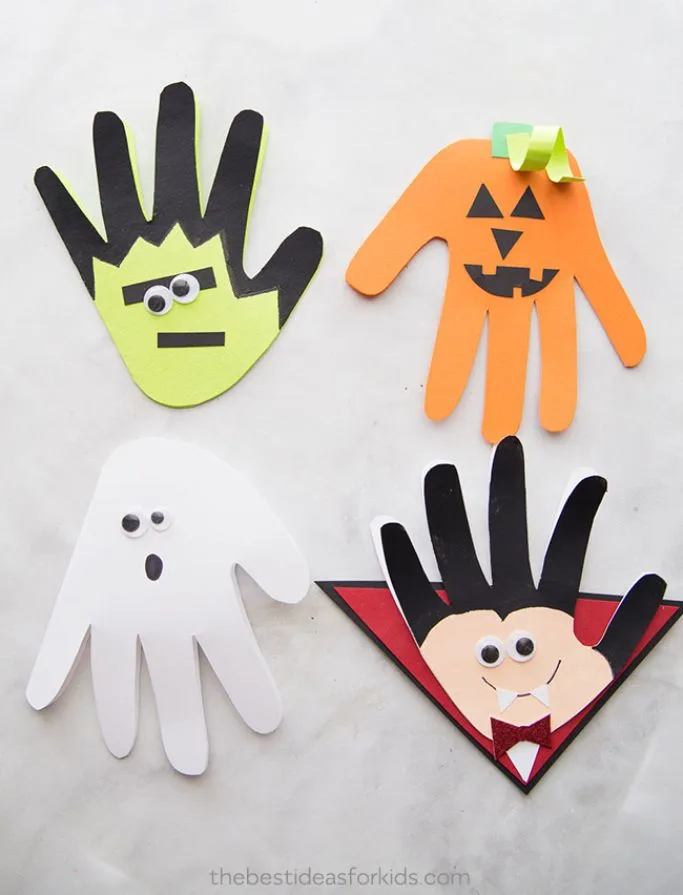 Halloween Handprints
Turn your child's handprints into some cute Halloween keepsakes or cards. Use markers or paint to turn the handprints into a ghost, vampire, jack-o-lantern, or Frankenstein. Which Halloween handprint craft is your favorite?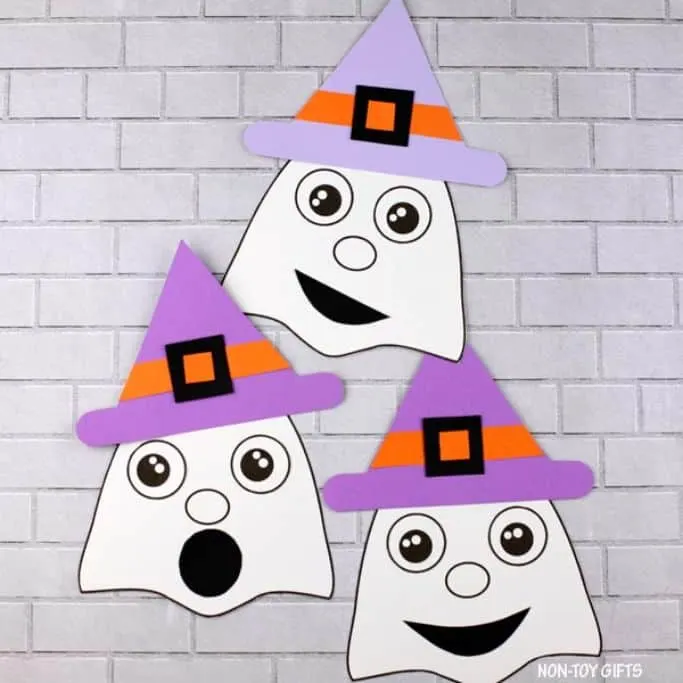 Paper Ghost Craft
Is it a ghost? A witch? Why not both? This paper ghost craft includes three different options for the mouth and a fun witch's hat to top off his head. Just grab some card stock and your printer to get to work on a ghost right now!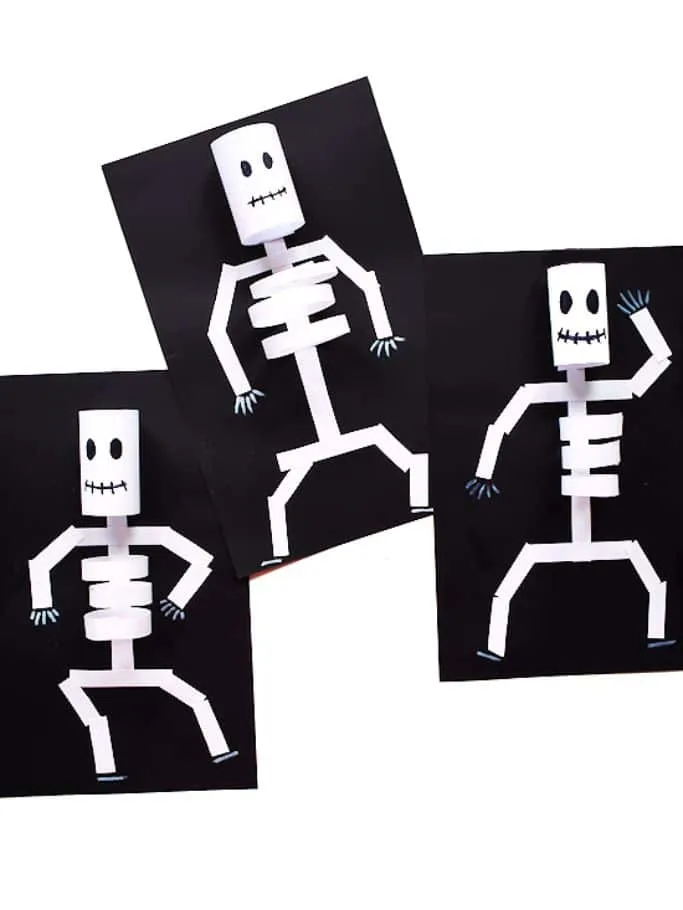 Paper Loop Skeleton
You'll be surprised at all the neat things you can make with paper loops, including this spooky paper loop skeleton. All you need is white printer paper, a black construction paper background, and black and white pens or markers to draw on a few details.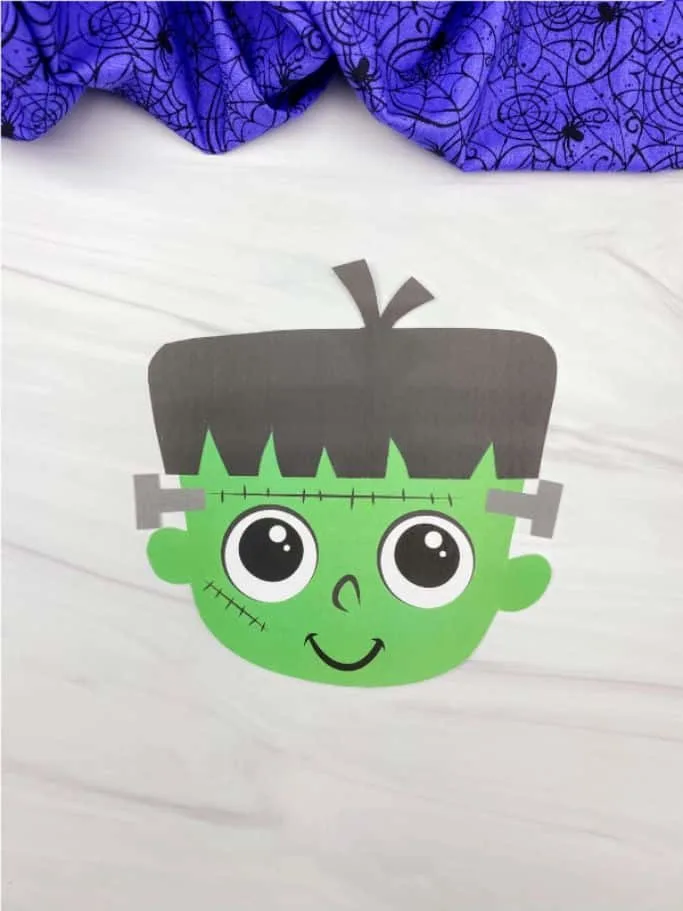 Frankenstein Cut and Paste Craft
Frankenstein has never looked cuter; it's one of our favorite Halloween craft ideas! Kids will love assembling this Frankenstein cut and paste craft complete with bolts for the sides of his head and his adorably messy hair. This craft includes a full-color option or black and white version for kids to color in.
These 25 easy Halloween paper crafts for kids are so fun and creative. I feel like they would be a great addition to any classroom party! The projects are not only simple enough for little ones, but they're also perfect for older children who may need some extra help with dexterity or fine motor skills. There really is such a wide variety of projects that can appeal to different skill levels and ages, many with printables to make the projects even easier. Which one will you try first?