This post is for all parents and teachers who are looking for some easy crafts to do with their kids. We've compiled a list of 21 paper plate Halloween crafts that will keep your little one happy and busy this October! Grab your supplies, get creative, and have a spooktacular time crafting with kids of all ages this fall.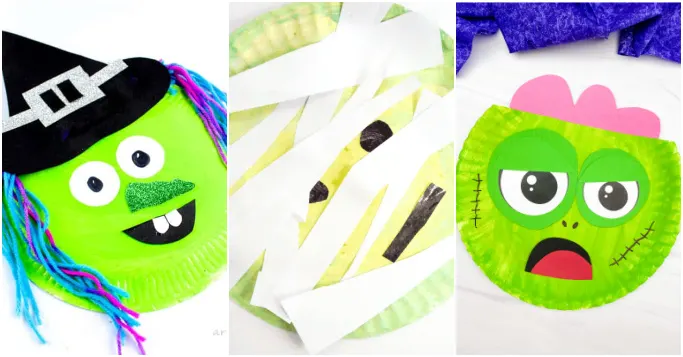 Halloween Paper Plate Crafts
Making paper plate crafts for Halloween is a no-brainer. Paper plates are inexpensive (only a buck for each pack at the dollar store) and readily available—you probably have some in your kitchen right now! With a little imagination and creativity, you can turn a paper plate into just about anything, as you'll see here. From spooky ghosts and witches to cute jack-o-lanterns and bats, you'll find something fun to make and display in your home or classroom.
Let's get crafting! You'll love these last minute Halloween craft ideas.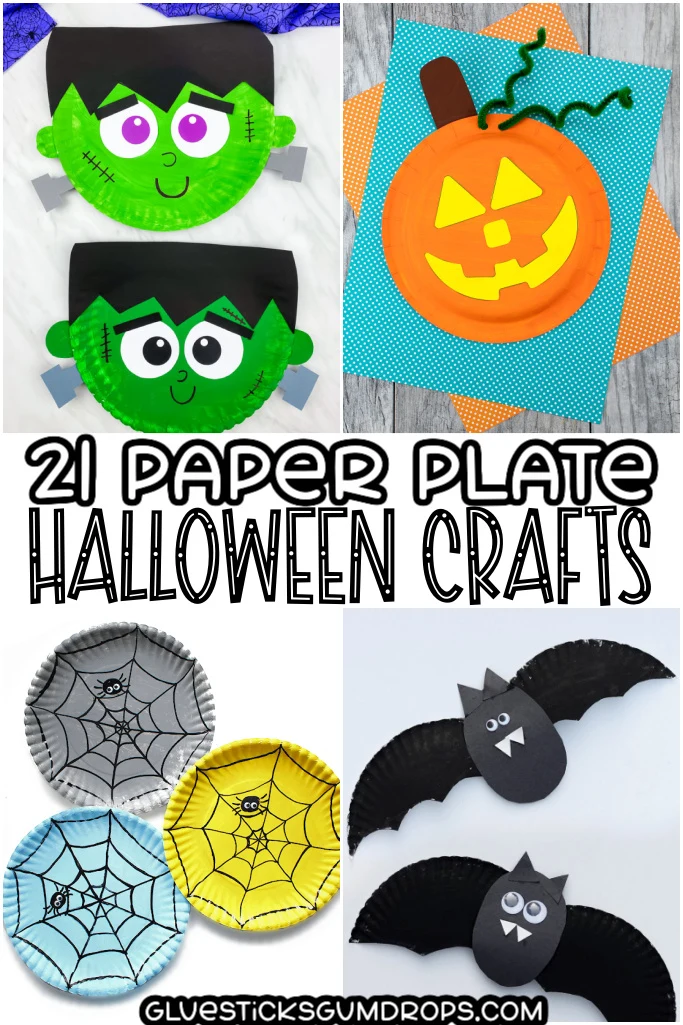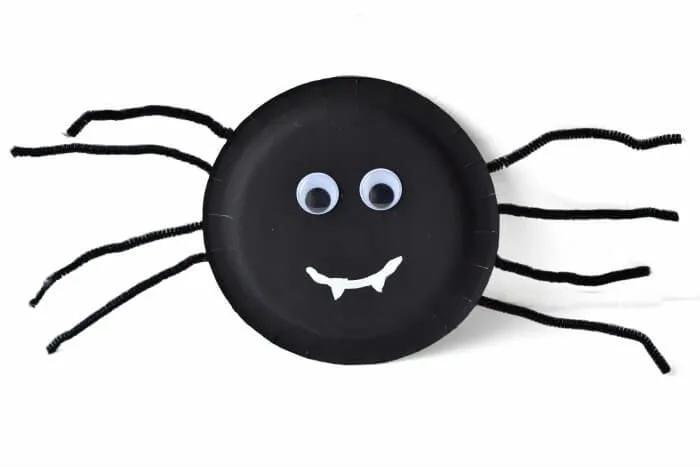 Paper Plate Spider
Grab some black paint, black pipe cleaners, googly eyes, and white paint to make this simple spider craft. It's easily one of the quickest and easiest crafts on the list, but it's so fun to make. It's spooky enough for Halloween, but you can make it outside this holiday if you're studying arachnids or bugs. Use small paper plates or large ones; this craft works well either way.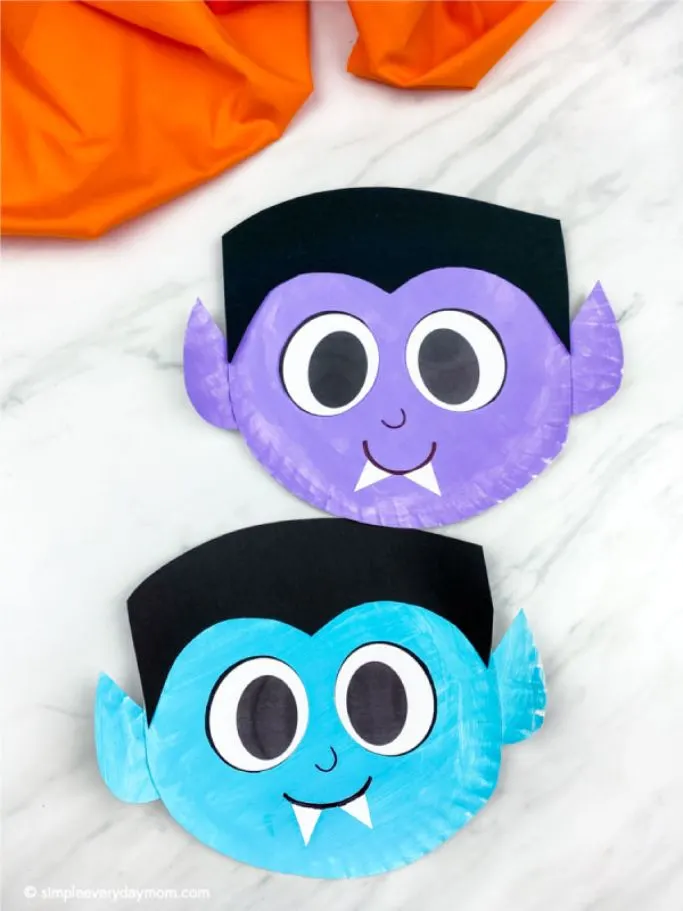 Vampire Craft
Vampires can be a little spooky for kids, but not when they're this cute. These little fanged friends are colorful and fun. This vampire paper plate craft comes with a printable template that makes this project so easy to do at school or at home.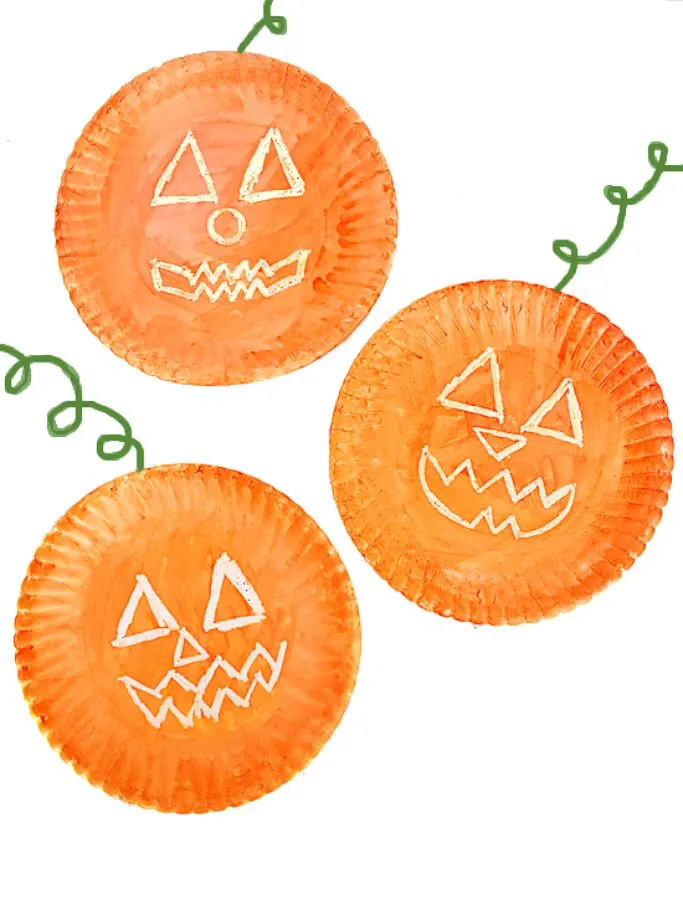 Crayon Resist Jack-o-Lanterns
If you've never tried crayon resist water color projects, you're in for a treat. Kids will have such fun drawing their jack-o-lantern faces with a white crayon or a very pale color and then painting over them with a gorgeous orange watercolor paint to reveal the face in contrast. Add a pipe cleaner stem (or make one out of paper), and your crayon resist pumpkin is ready for display.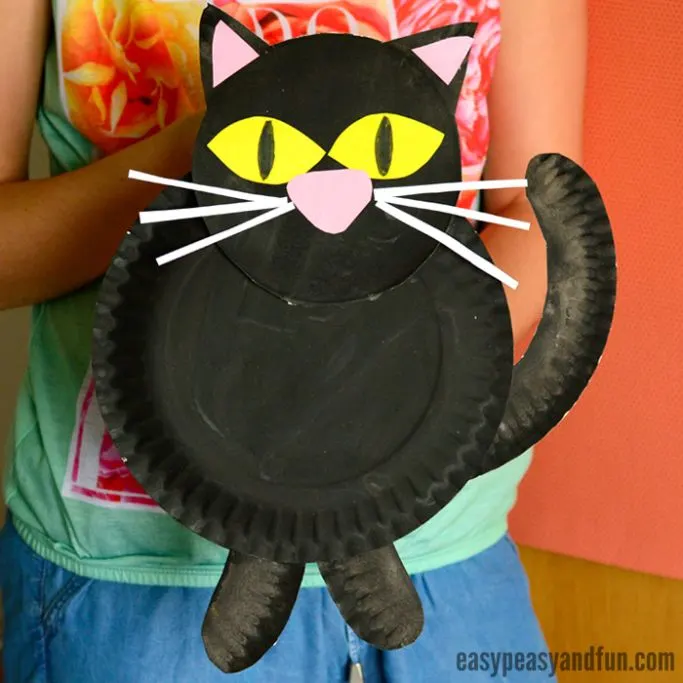 Paper Plate Black Cat
Any kid who's a feline friend will love this black cat craft made with paper plates. It's quite a large craft when finished, so it will look great on the door or in a big window for Halloween.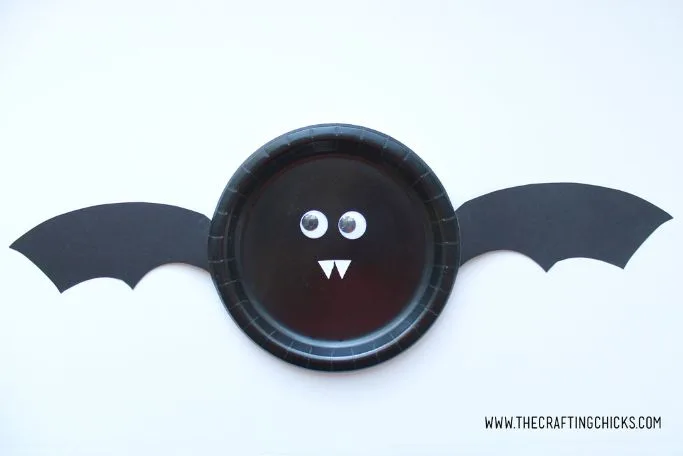 Bat Paper Plate Craft
Make a simple paper plate bat in no time at all! When you start with a black plate, you can skip the painting altogether, meaning this project is finished in minutes. Simply cut the wings, glue on the eyes and fangs, and you're done.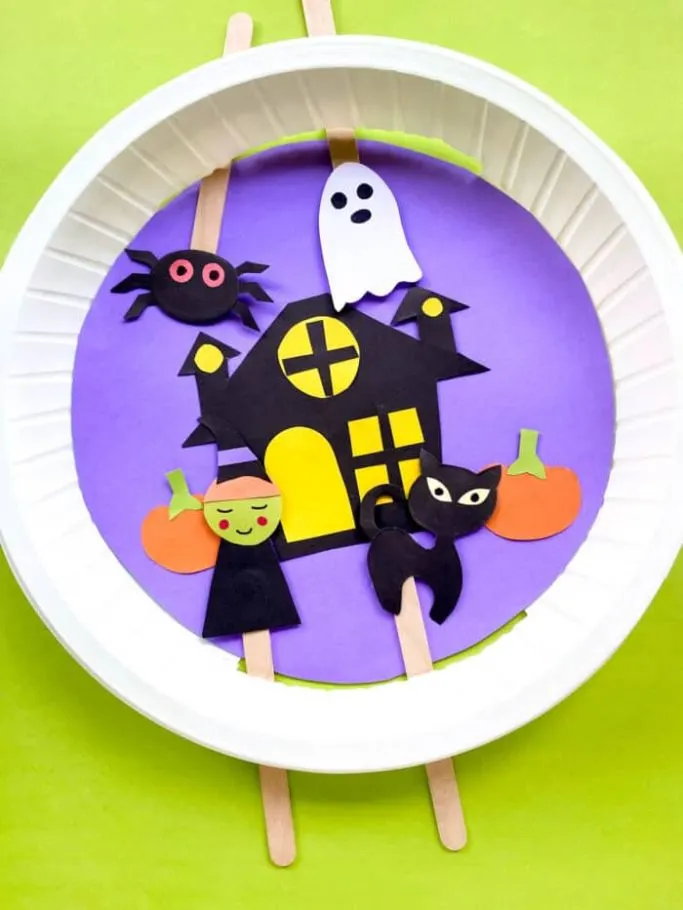 Haunted House Craft
If you're up for a challenge, try this haunted house paper plate craft. There are quite a few pieces to put together, but when it's finished, you have an interactive haunted house complete with a black cat, a witch, a spider, and a ghost, all of which you can move around through the slits in the paper plate. Spooky!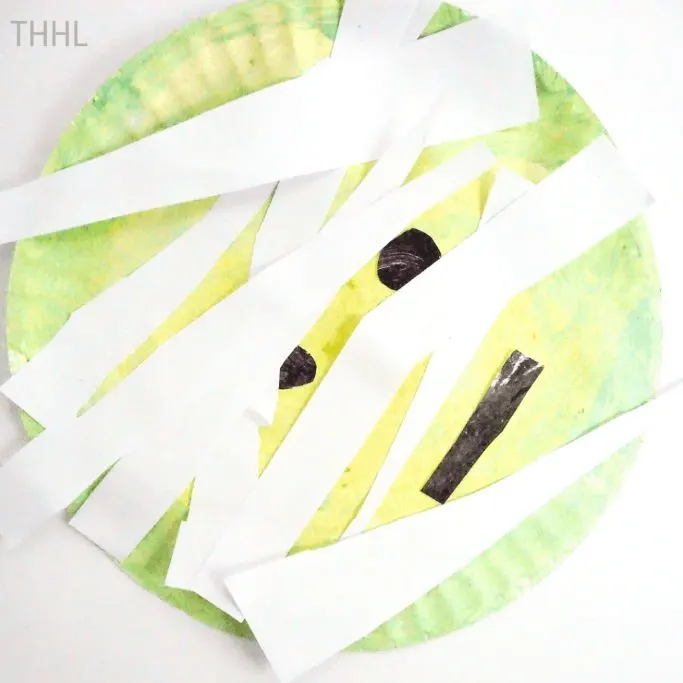 Mummy Paper Plate Craft
Preschoolers will love this easy paper plate mummy. Once the mummy's face is painted, you're ready to apply white paper strips. Kids can cut or tear the strips of paper—either way they're getting some fine motor practice.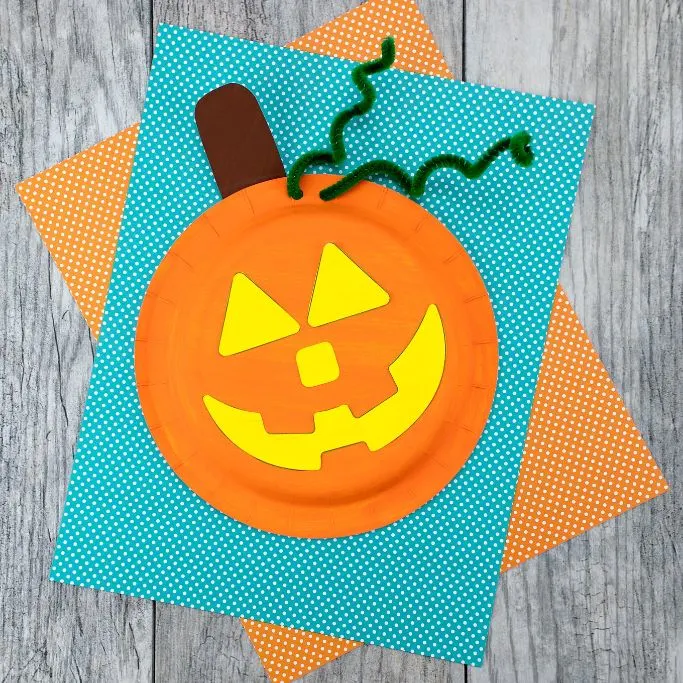 Paper Plate Pumpkin
This simple paper plate pumpkin is the cutest! Use the free printable template to create lots of different jack-o-lantern faces. Mix and match the eyes, nose, and mouth to see how many variations you can come up with. Soon, you'll have a whole "pumpkin patch" filled with paper plate jack-o-lanterns. This is a fantastic classroom craft to see how many different versions your students can come up with!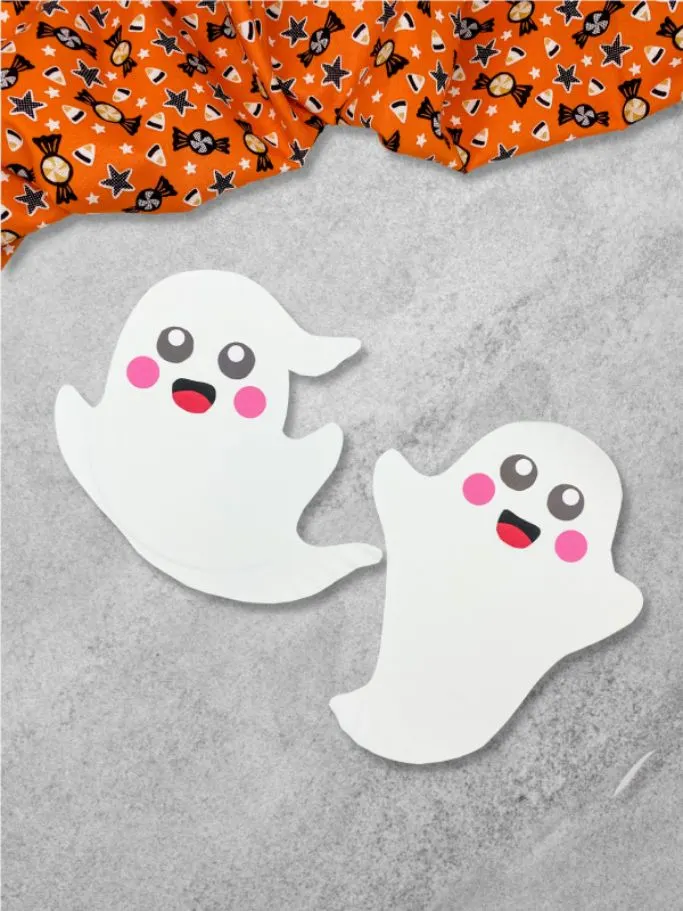 Paper Plate Ghosts
Trace the ghost template onto a paper plate, cut out the eyes, and trace the rosy cheeks, mouth, etc. onto colored cardstock. There's no painting involved with these paper plate ghosts, which makes cleanup easier. Kids will be so proud that they can cut, paste, and assemble this craft all by themselves. Aren't the ghosts adorable? You could also make them on white construction paper, if you prefer. Glue some white streamers to the bottom and hang them from the ceiling for a fluttery and spooky decoration.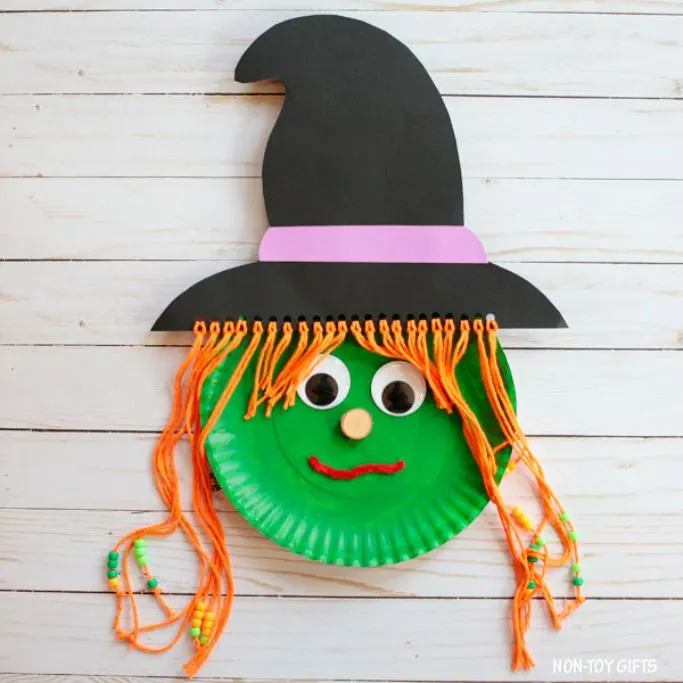 Paper Plate Witch Craft
Have you ever given a witch a haircut or put beads in her hair? Well, now you can do both! This paper plate witch is pretty dang cute with yarn hair (threaded with a few beads, of course) that can be cut to the length your child likes (great for scissors skills). With a cute smile and a flower hat, this witch isn't scary at all. Use a hole punch to make holes to thread the yarn through for the hair. It gives kids lots of fine motor practice!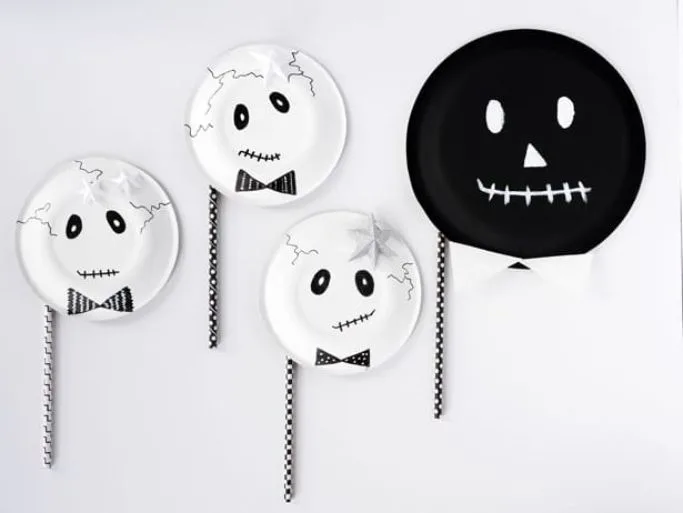 Skeleton Paper Plate Masks
Need some photo props for your Halloween party? These skeleton masks are easy enough for kids to make, and your guests will have loads of fun snapping pictures with them. They're also a rather easy costume idea. Just wear black or white, carry around a mask, and hold it up whenever someone asks, "Where's your costume?" 😉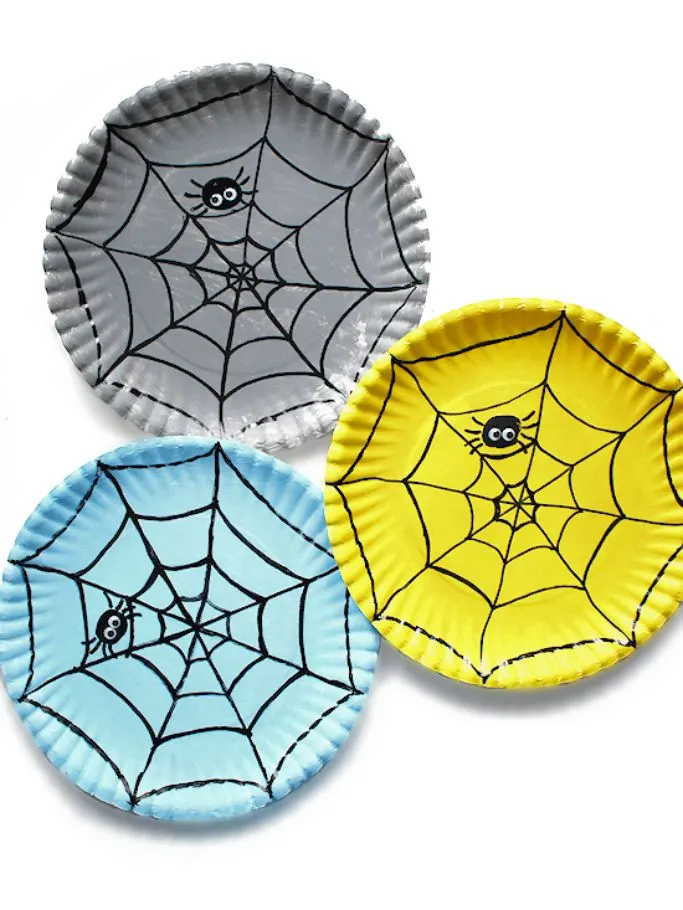 Paper Plate Spider Web Craft
If you'd like to add a little more color to your Halloween crafts and decor, try this adorable spider web craft. The background can be any color you'd like—yellow, blue, gray, orange! The yellow is our favorite. It looks like a light is glowing behind the spider and his web. Wouldn't these make cute party decorations?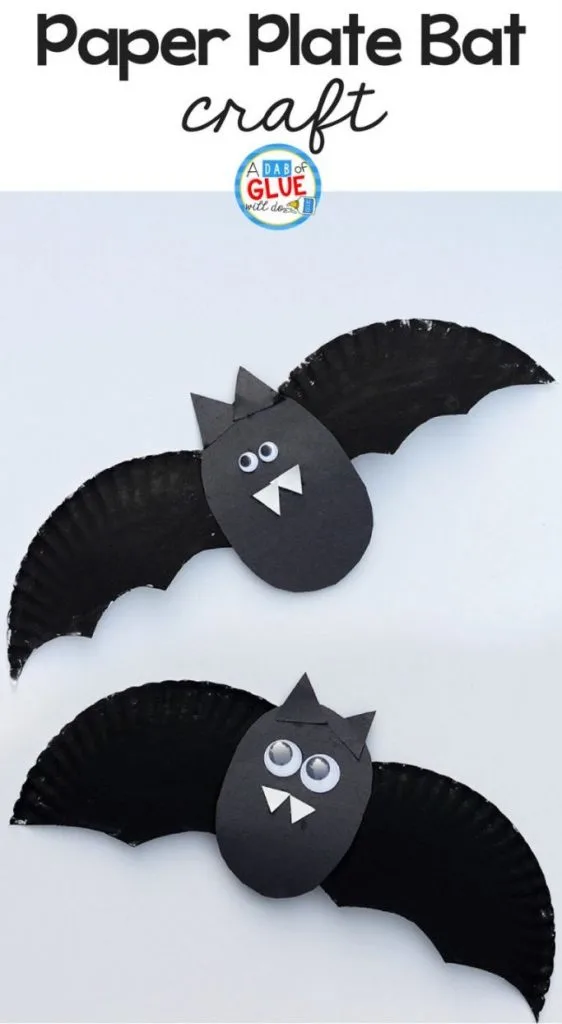 Paper Plate Bats
This paper plate bat craft is a little different than the one above. This time, the paper plate is cut to make the wings, and the bat's body is made with construction paper. Either option is super cute.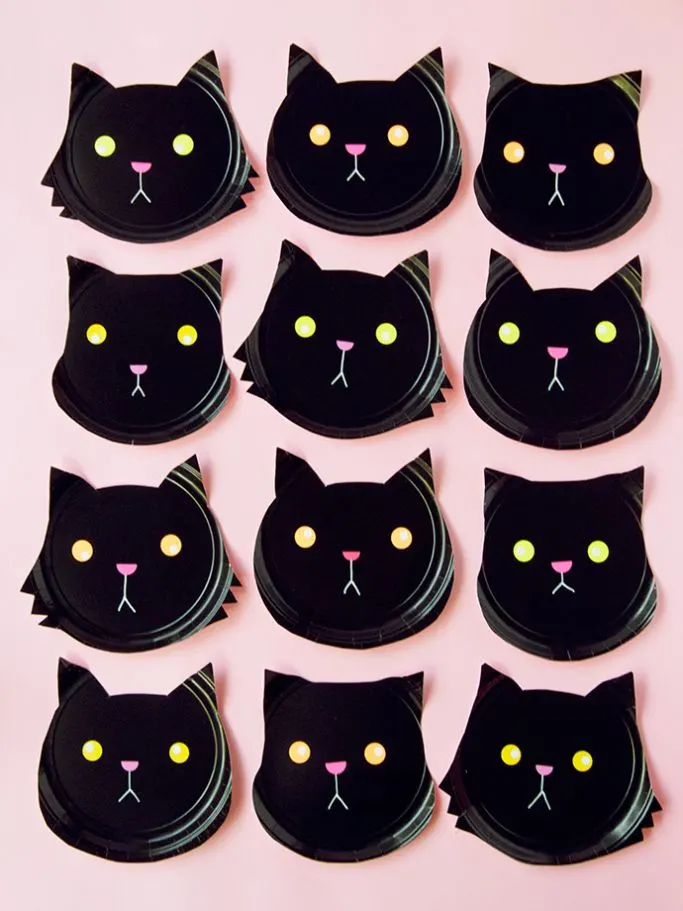 Paper Plate Black Cats
Make an entire wall of paper plate black cats following these instructions! The faces are cut into lots of different fun feline shapes, and the eyes and nose are made with brightly colored dot stickers.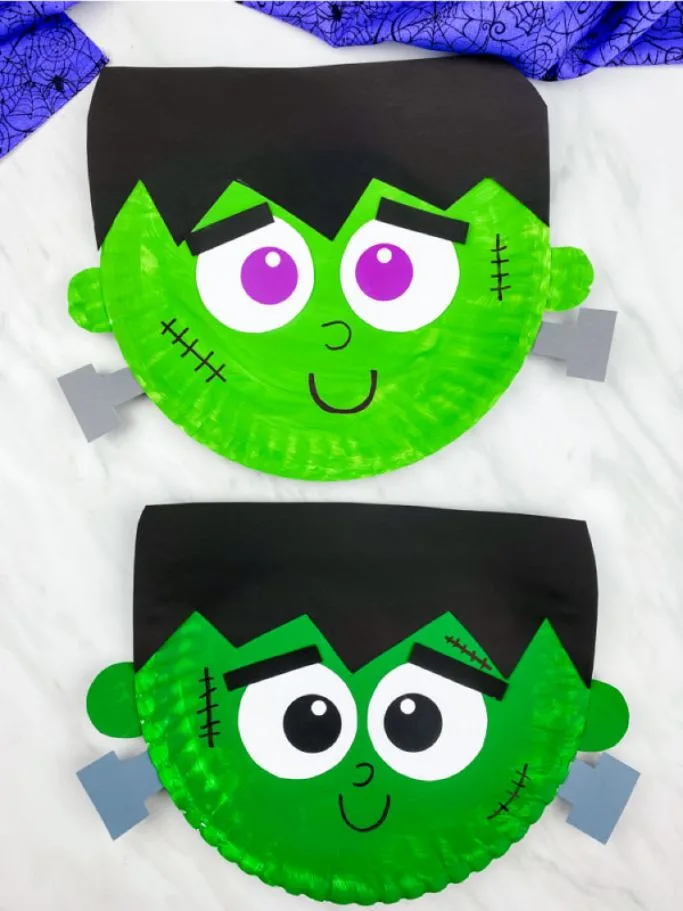 Paper Plate Frankenstein
Frankenstein is our favorite ghoul in green! Okay, so he's not technically a ghoul, but he can be a little frightening for some kids. Not this version, though. This paper plate Frankenstein is cute as a can be. Kids will have a blast painting green plates and adding on the eyes, hair, neck bolts, and scars on his face.
Mummy Paper Plate Lacing Craft
This mummy lacing craft is great for kids who are working on fine motor skills (like preschoolers) or even kids who are interesting in learning about sewing because lacing is a terrific pre-sewing skill. If you'd like a little more contrast, you could always use a green or black plate underneath for the face.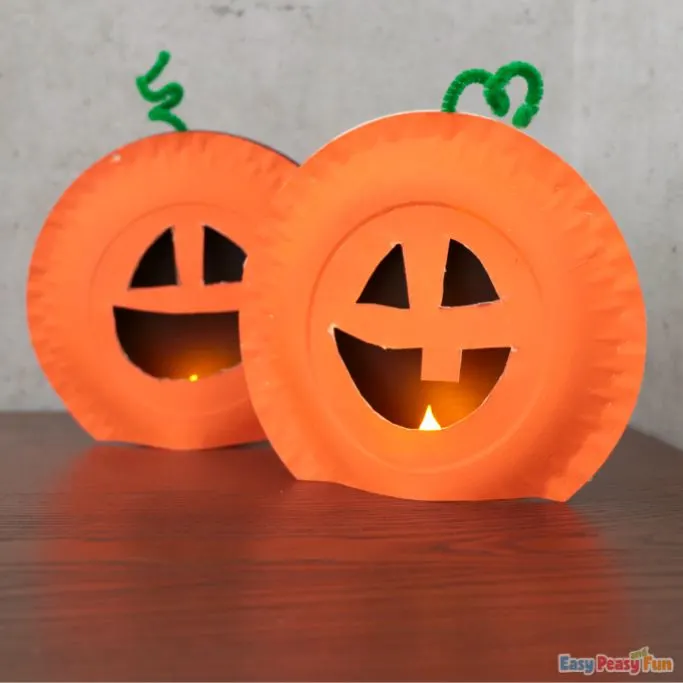 Glowing Pumpkin Paper Plate Craft
This glowing pumpkin craft is one of our favorites on the list. It takes a little more work, but kids will be mesmerized by the glowing face once you add your battery-powered tealight between the orange paper plate layers. This is a great, inexpensive decoration idea for Halloween!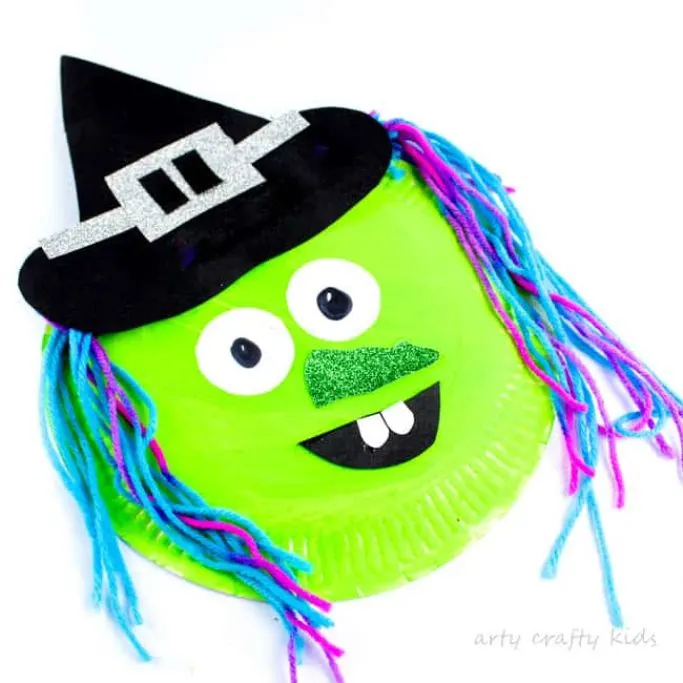 Witch Paper Plate Craft
Here's another cute take on the paper plate witch with yarn hair. This one has pink and blue hair, which kids will love. The sparkly nose and glittery trim on the hat really make this craft stand out.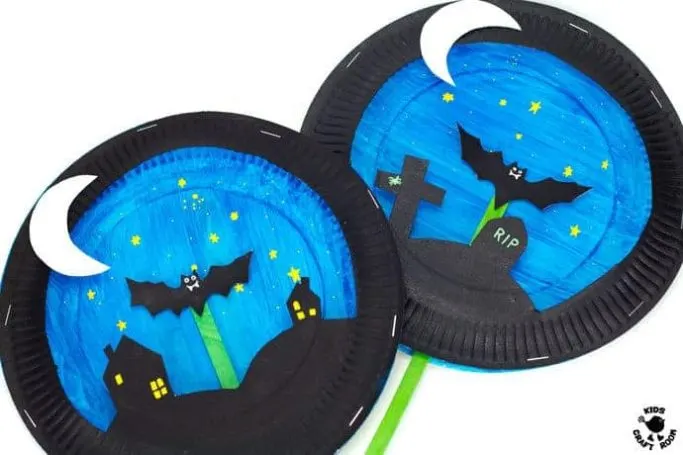 Flying Bat Craft
This spooky flying bat craft is lots of fun to make and play with. The bat can either fly over graveyard, or if that's a little too creepy for your kid, over a pair of houses. The blue starry background and big bright moon in the sky really set the scene.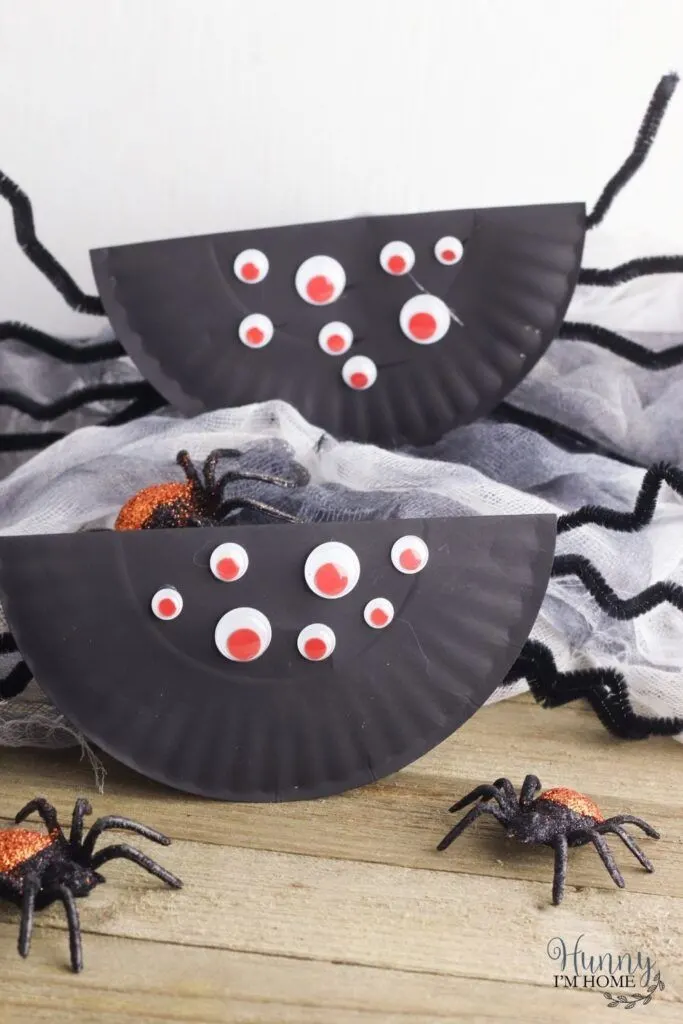 Rocking Spider Craft
Here's a rocking spider craft that's perfect for Halloween. With lots of red eyes, wavy pipe cleaner legs and a paper plate body that rocks back and forth, it'll make a great display on your Halloween table.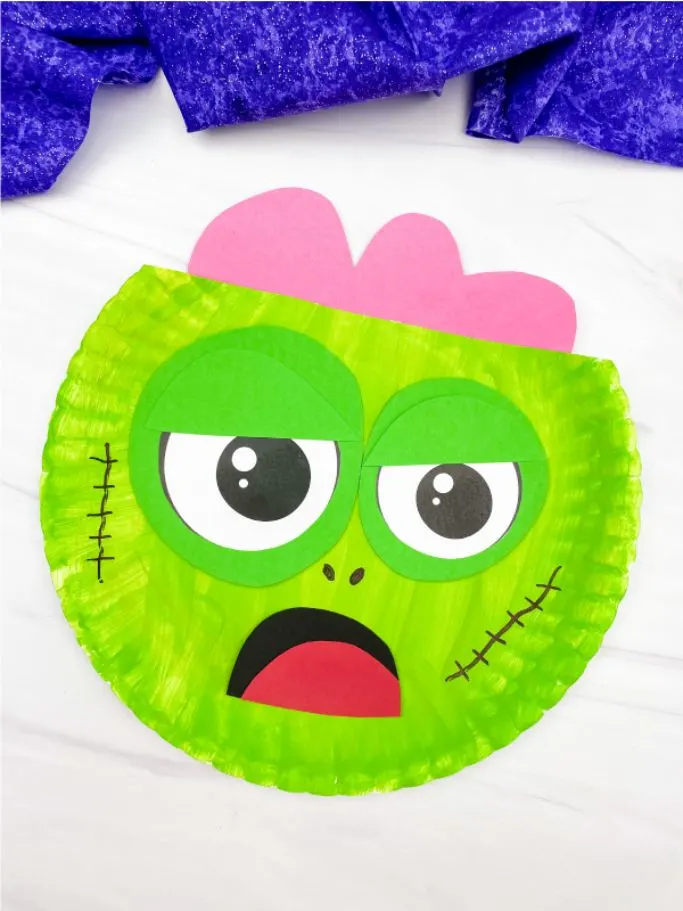 Zombie Paper Plate Craft
This paper plate zombie is a great craft for older children and tweens. It's really easy and totally creepy with the exposed brain on top.
Have you made any of these paper plate Halloween crafts? We hope that this post has inspired you to get creative with your kids and make one or two of these easy projects. If you enjoyed this list, please take a moment to share it on your favorite social media channel using the buttons below! Happy crafting!
More Halloween Crafts for Kids