This Halloween, make your kids' handprints the focal point of your decorations! Whether they're cutting out paper bats or making their own handprint salt dough ornaments for a Halloween tree, these crafts are simple enough for little hands. Kids of all ages will enjoy these projects, from toddlers to teens (seriously)!
These Halloween handprint crafts are a great way to make special memories with your kids this autumn. Most are cute, a couple are spooky, but all are lots of fun to make.
From Frankenstein to vampires and ghosts, you'll find your favorite spooky characters here.
Let's get started!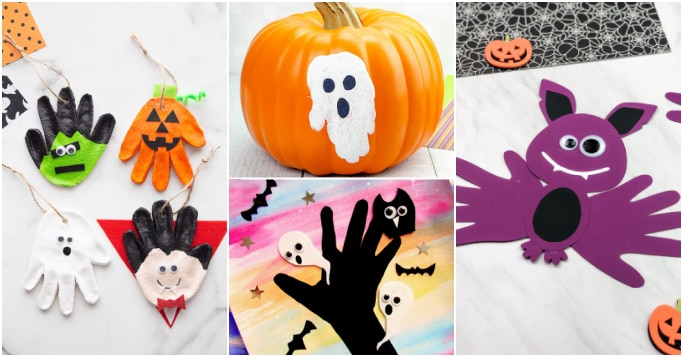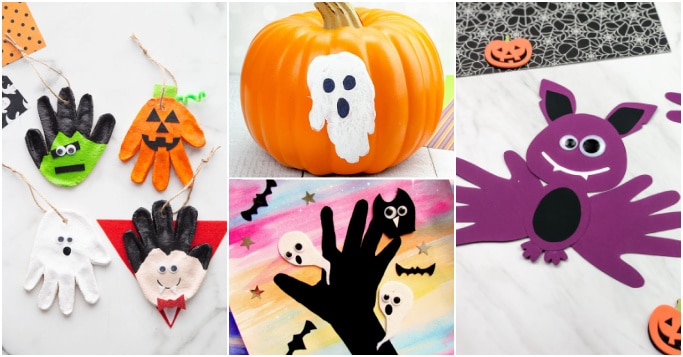 Handprint Bat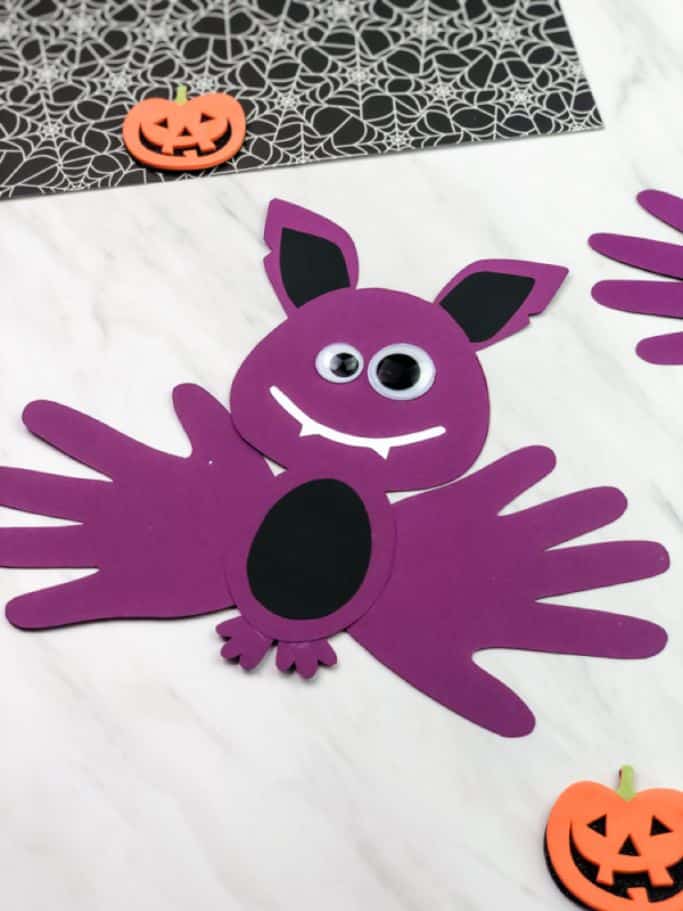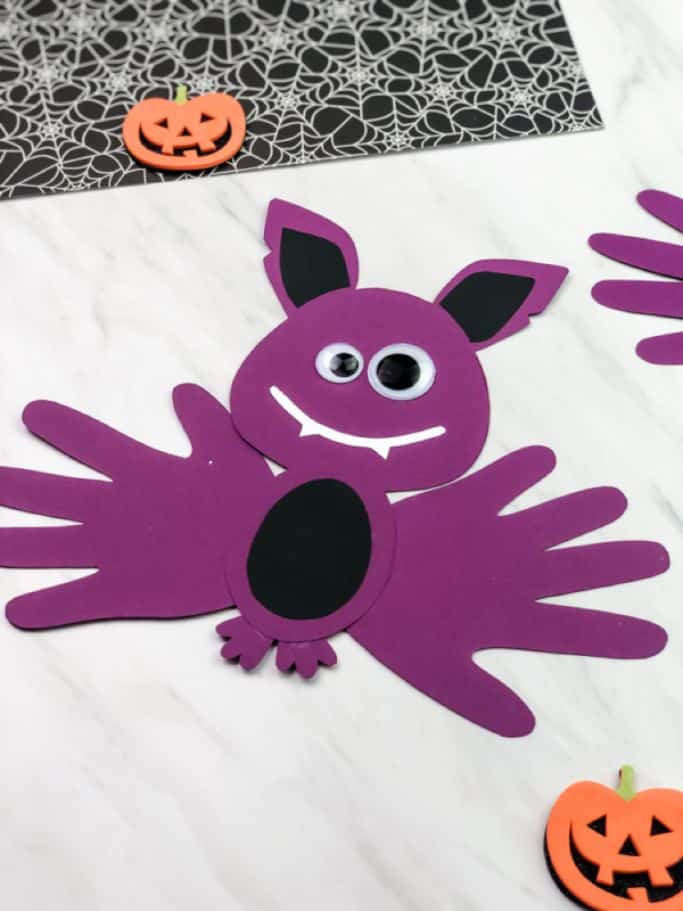 This handprint bat from Simple Everyday Mom is totally adorable and not at all spooky.
All you need is colored cardstock, googly eyes, and a few basic crafting supplies like scissors and glue to pull this cute creature together in no time.
The bat craft template makes it really easy to assemble!
Handprint Witch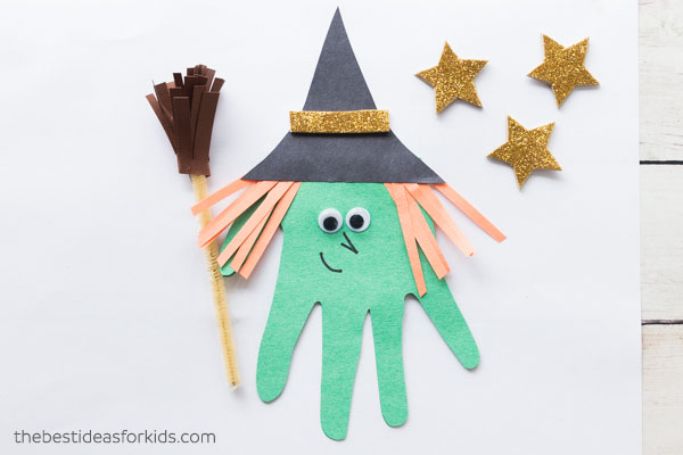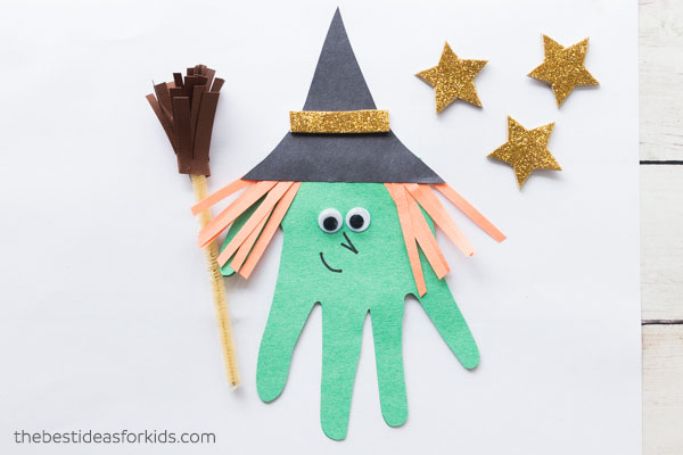 This cute handprint witch from The Best Ideas for Kids doubles as a craft and an adorable Halloween card that kids can make for their teachers, parents, or friends.
The sparkly touches on the hat and the stars as well as the pipe cleaner and paper broom really make the scene with this handy little witch!
Spooky Twilight Handprint Tree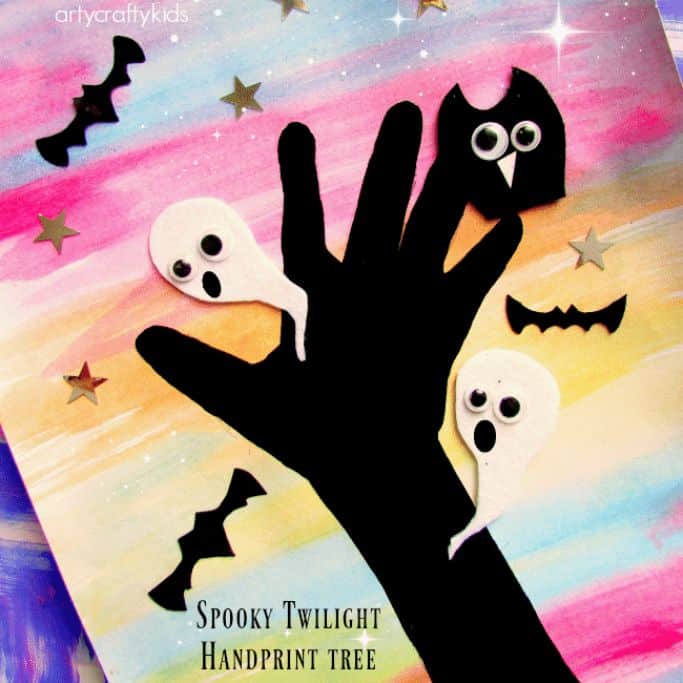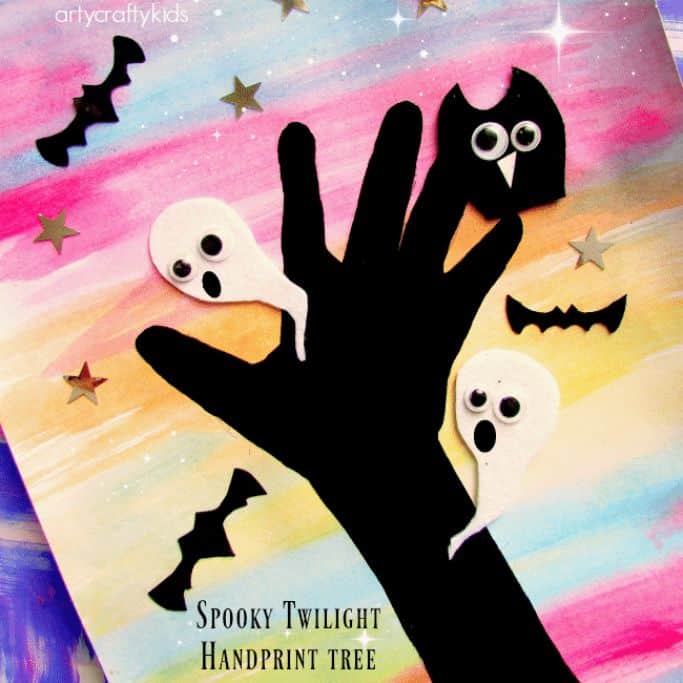 I think this spooky twilight handprint tree from Arty Crafty Kids is perfect for kids of all ages, from preschool to tweens and teens.
Creating the watercolor background is a lot of fun, and it can be as simple as a single color or this colorful background of pinks, yellows, oranges, and blues like you see here.
Add a felt or paper handprint tree, some bats, ghosts, and stars, to finish off this spooky scene.
Salt Dough Pumpkin Keepsake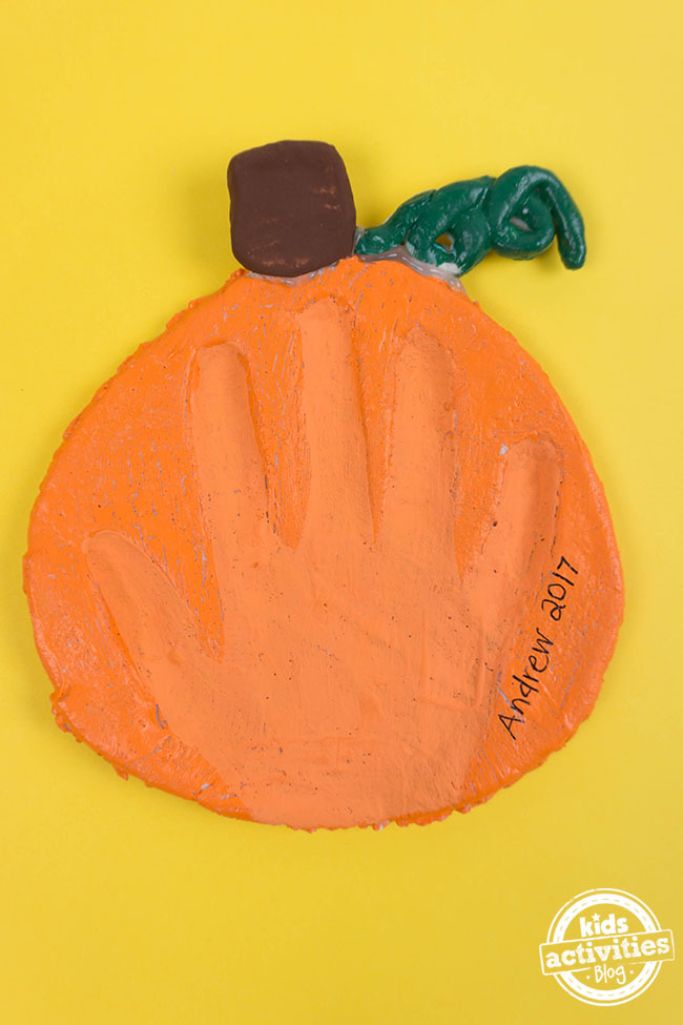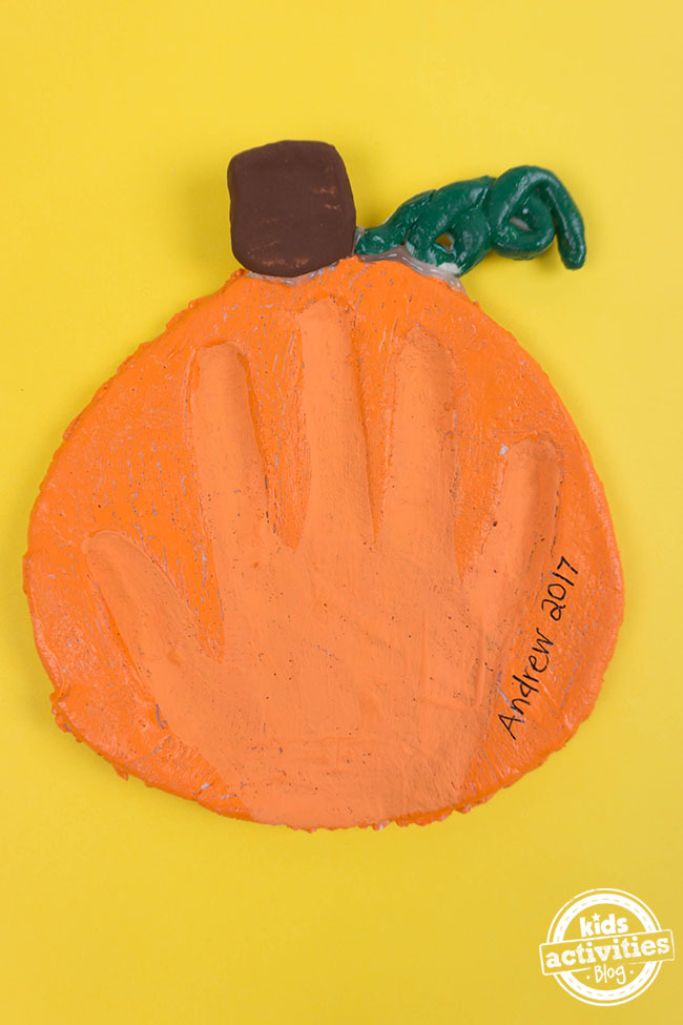 Here's a simple little salt dough handprint pumpkin keepsake from Kids Activities that all parents and grandparents will adore.
Just paint the handprint a slightly lighter color of orange than the rest of the pumpkin to make it stand out.
You'll love looking at that tiny little handprint when you bring it out for decorating year after year.
Handprint Ghost Pumpkins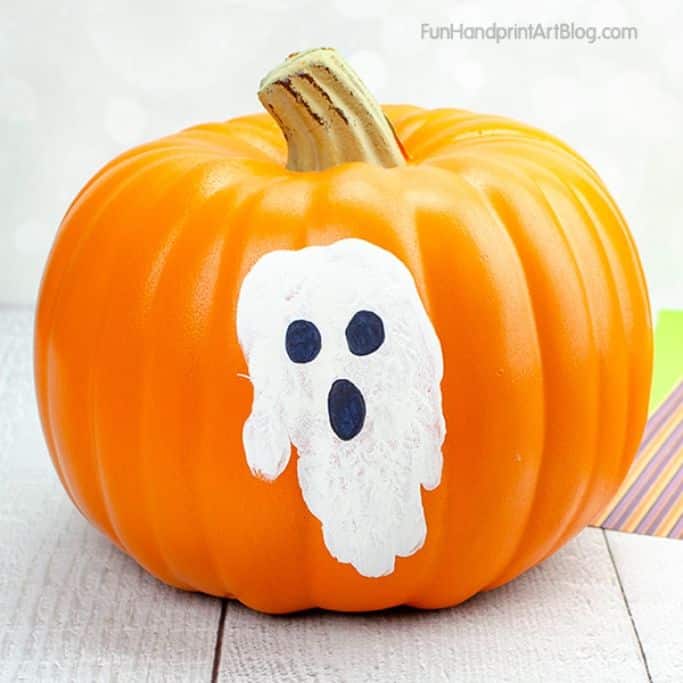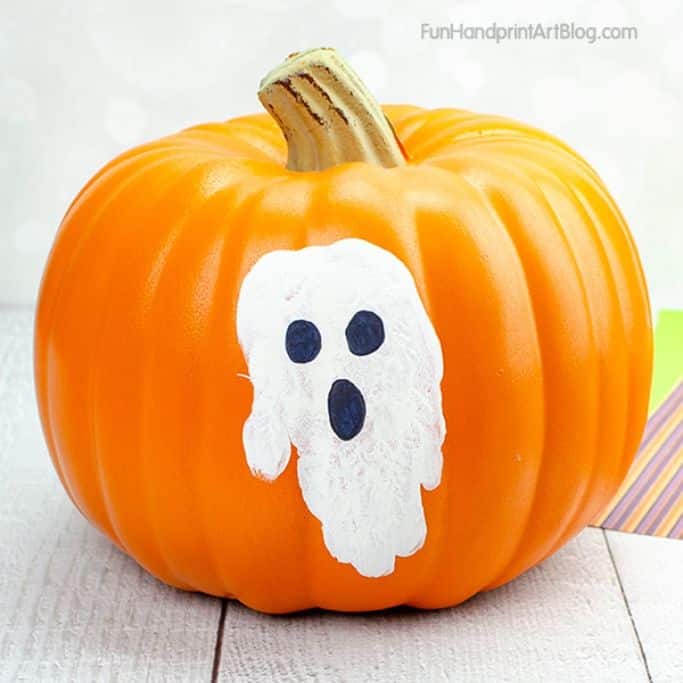 Looking for easy pumpkin decorating ideas? These handprint ghost pumpkins from Fun Handprint Art are too easy and cute to pass up.
All you need is your child's handprint, white paint, black paint, and a pumpkin (real or fake). You can have a ghostly pumpkin for your porch in no time at all.
There's a spider pumpkin idea in the post, too!
Halloween Handprint Salt Dough Ornaments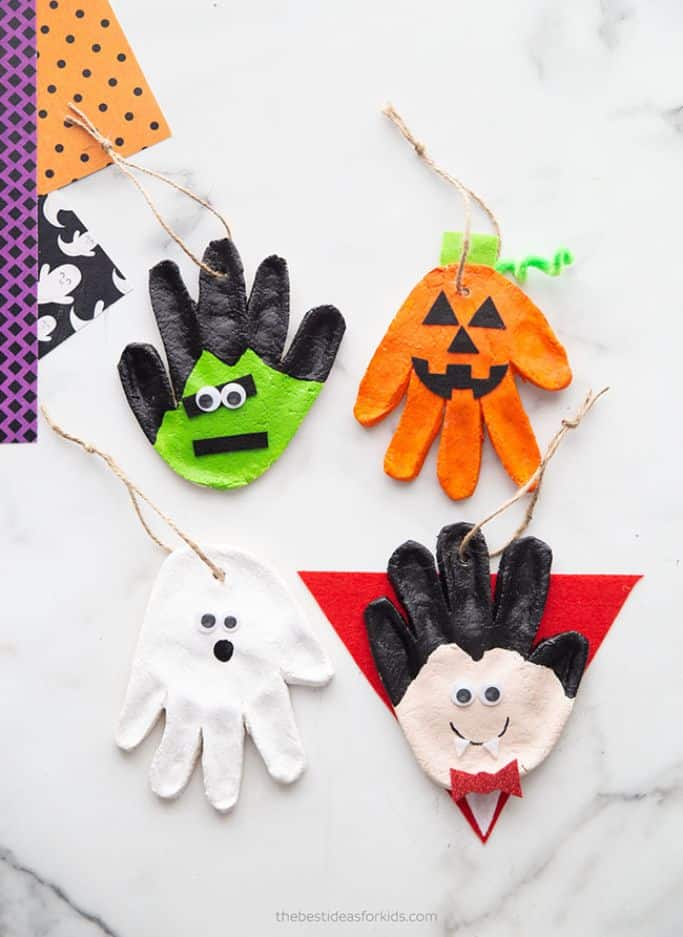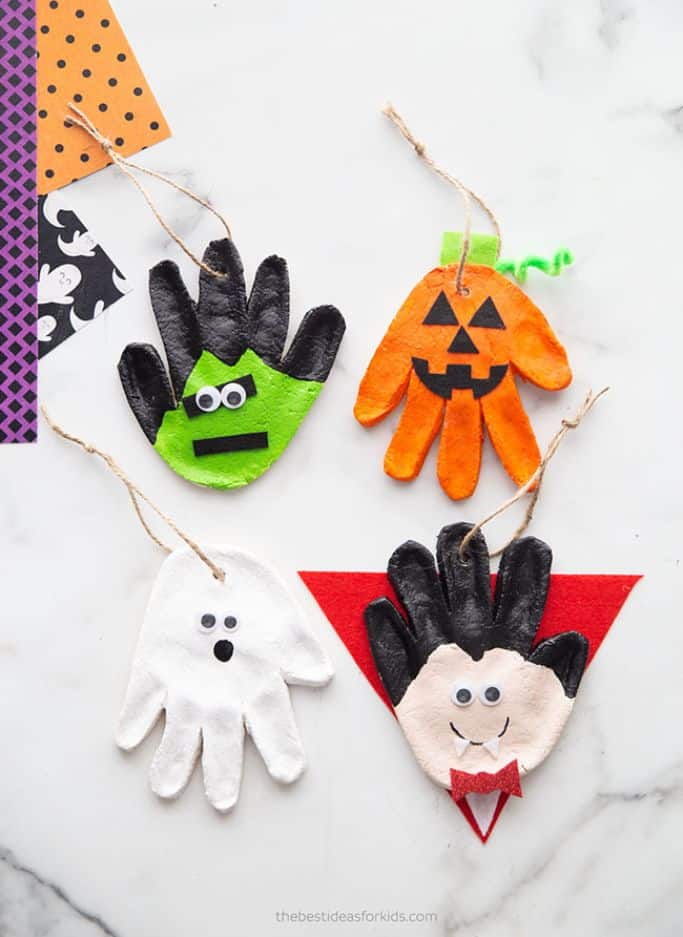 Learn how to make all sorts of Halloween handprint salt dough ornaments from The Best Ideas for Kids.
With tutorials for Frankenstein, a ghost, a jack-o-lantern, and a vampire, you'll get to make all your favorite spooky characters.
These are perfect if you have a Halloween tree or just for hanging on the wall.
Handprint Frankenstein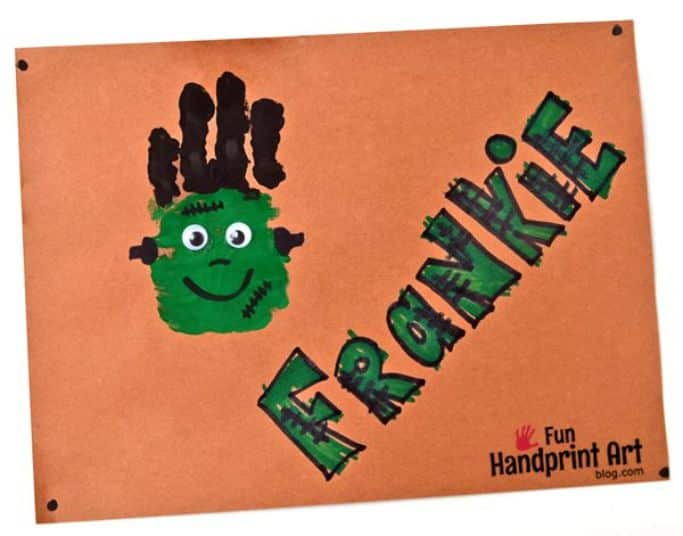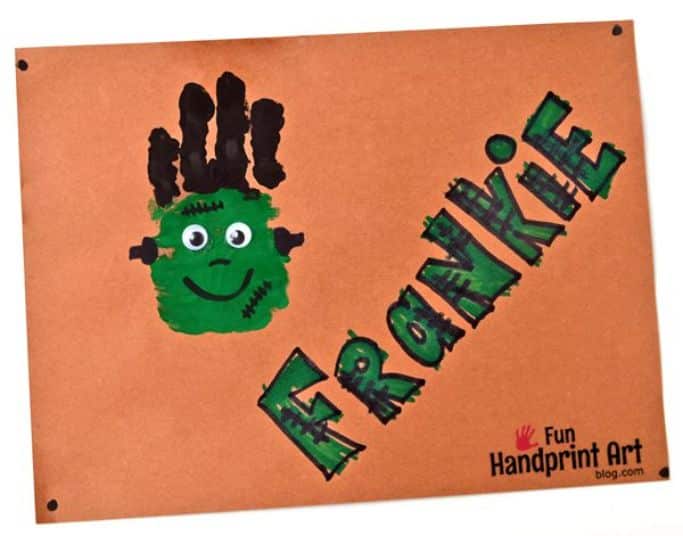 How fun is this handprint Frankenstein from Fun Handprint Art?
He's simple to make with green paint on the palm and black paint on the four fingers (leave off the thumb).
Just add googly eyes and some facial features, and Frankie is ready to rock.
Handprint Spider Clay Craft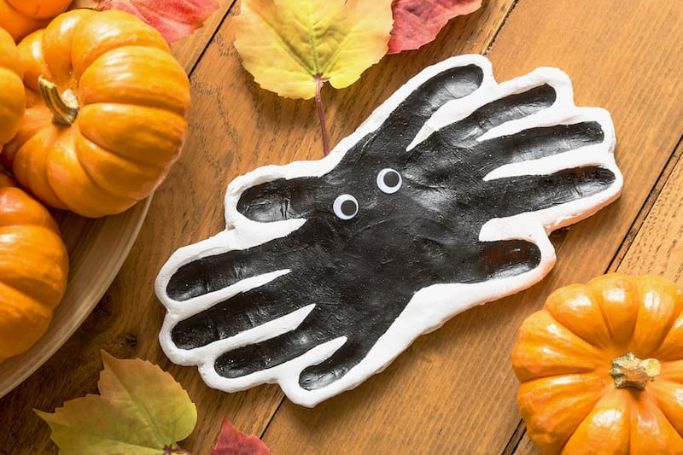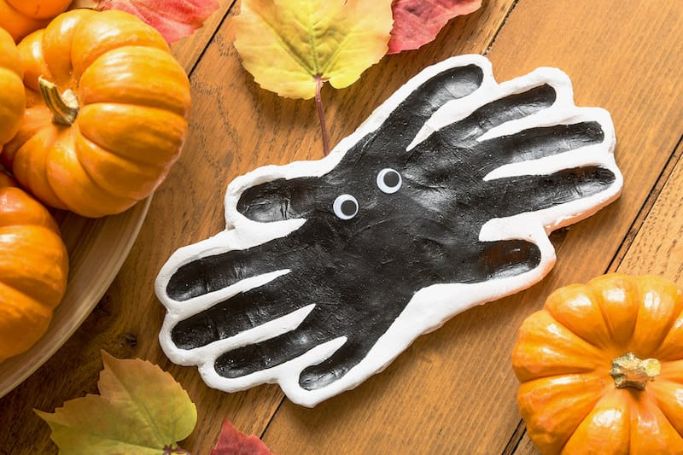 If you're looking for a longer-lasting Halloween keepsake, try this handprint spider made with air-dry clay from Mod Podge Rocks.
You could also make it with salt dough if you don't have clay on hand! We have an easy salt dough recipe if you need it.
She's also included cute tutorials for pumpkins and footprint ghosts in this post. They'll all make fabulous keepsakes of memories with your kids.
Handprint Jack-o-Lanterns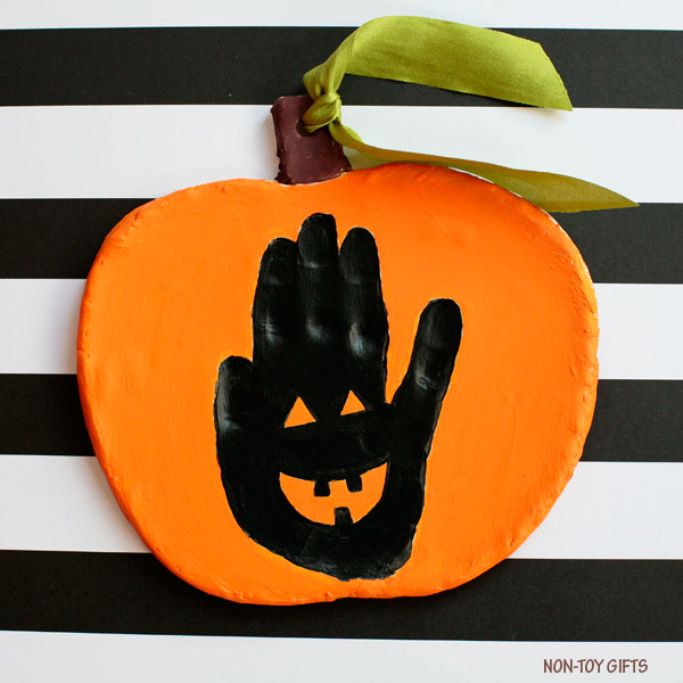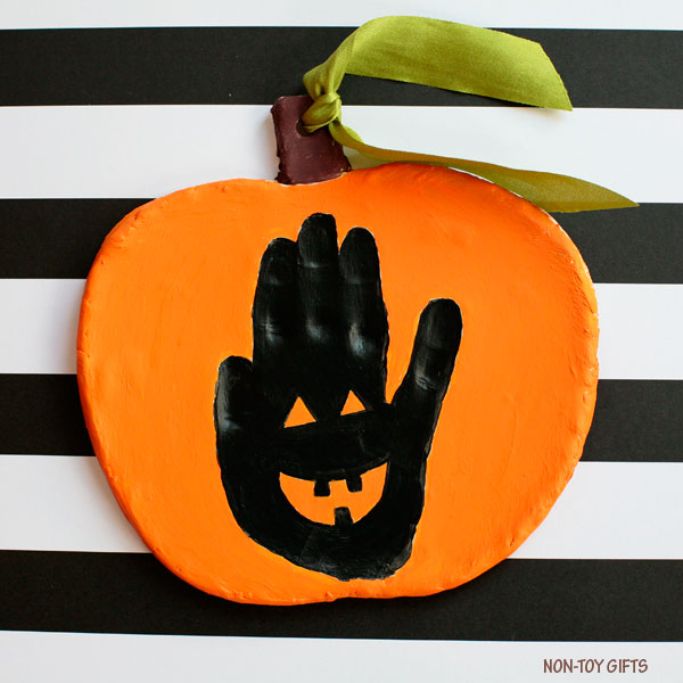 These handprint jack-o-lanterns from Non-Toy Gifts are a bit of work for the parents, but it's so worth it when you can enjoy the finished result for years to come.
Both the jack-o-lanterns and ghosts are made with air-dry clay, so it takes a day or two to complete them, including drying time for both the clay and the paint.
As you can see, though, the finished ornament is stunning! This is a terrific project for baby's first Halloween or with your toddler or preschooler.
Handprint Monsters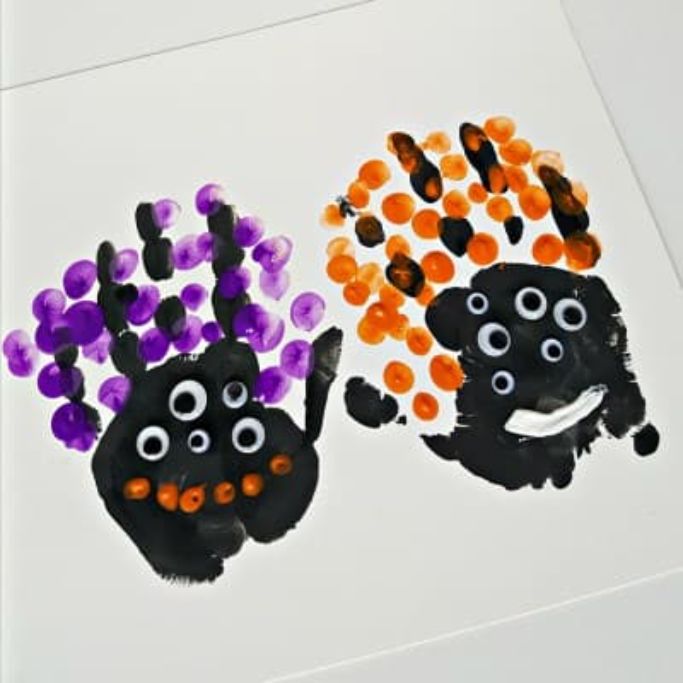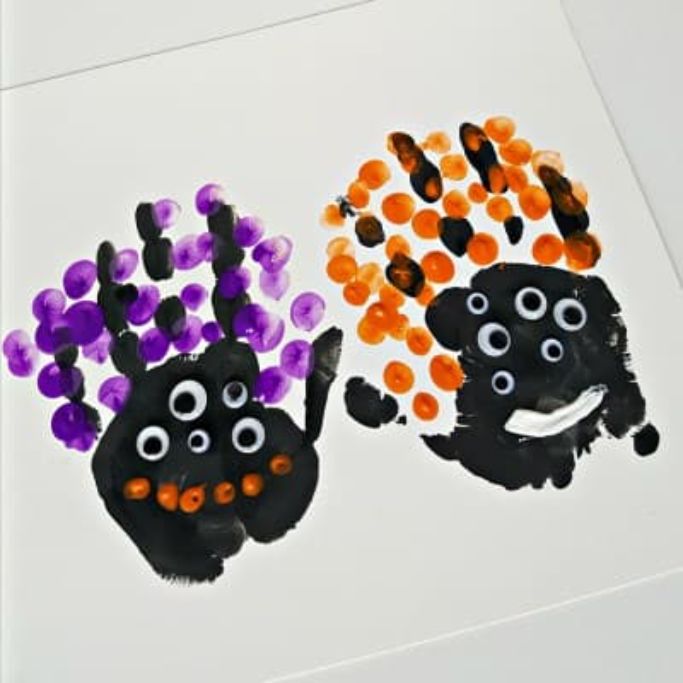 We love how simple and open-ended these handprint monsters from My Bored Toddler are.
Once your child has the black handprint in place, add as many googly eyes as you'd like, use fingerprints to make hair and a mouth, and so on.
Each little monster will be unique and adorable.
Bloody Handprints Window Clings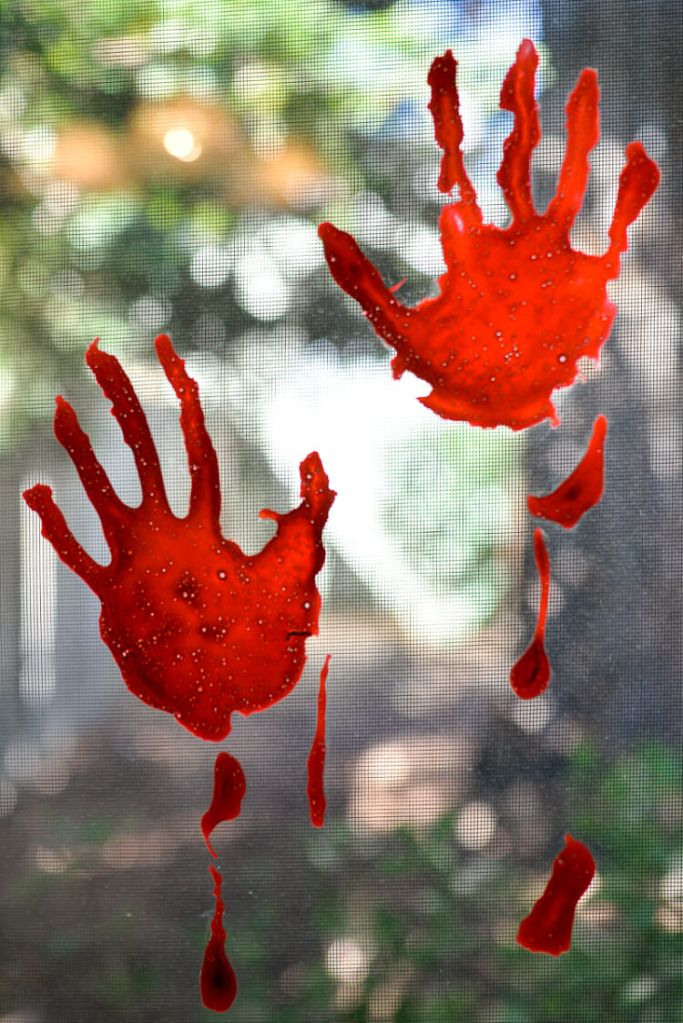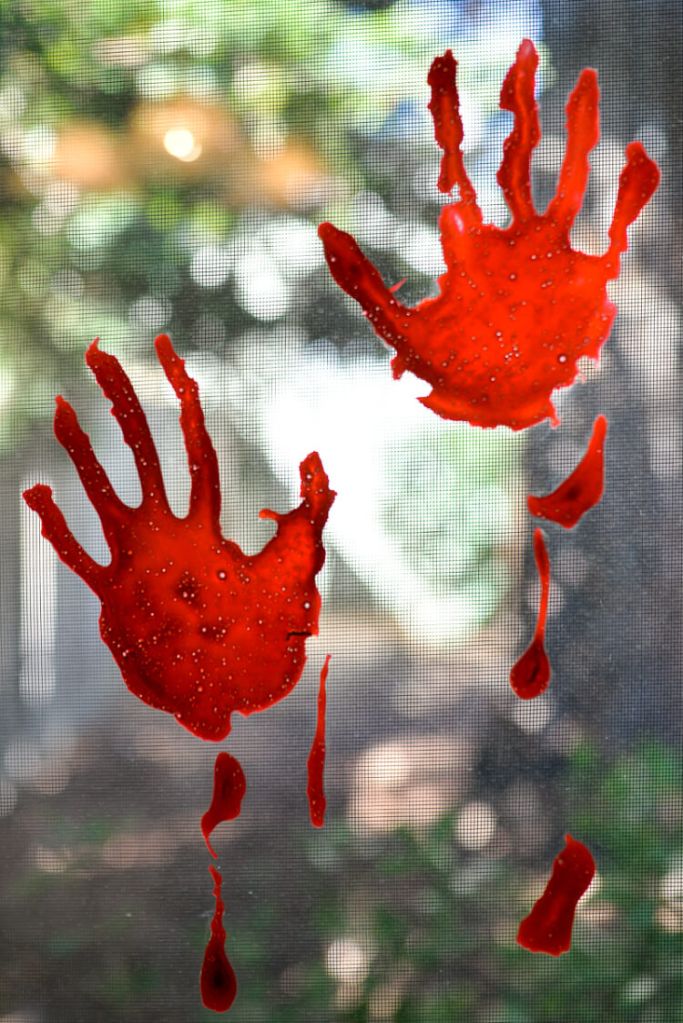 You may have a hard time getting your teens to join in the Halloween crafting fun, but not when they can make these totally creepy bloody handprint window clings.
They're the perfect Halloween party decoration for your windows. Can you believe they're made with just glue and food coloring?
Check out the tutorial at Hey, Let's Make Stuff.
Happy Halloween! And don't forget to send us your favorite Halloween crafts you've made with your kids. We're more than happy to share them on our social media channels, and we might even feature the best ones in a follow-up post. In the meantime, have fun crafting some spooky handprints for this year's holiday season!
More Fun Halloween Crafts for Kids