Try these 20 plant based breakfast ideas to see just how amazing a vegan breakfast can be! No dairy, no meat, no eggs… just plant-based goodness in every bite!
If you're new to plant-based eating, breakfast can be a tricky meal. Not only are eggs and meat often breakfast staples, but eggs are in loads of other breakfast foods, too, like pastries, pancakes, waffles, and yogurt. But that doesn't mean that it's impossible to make a good dairy-free, meat-free, egg-free breakfast that's good for you and will energize your morning.
Breakfast is the most important meal of the day and that's not just a saying. It's scientifically proven that people who eat breakfast are more productive, have higher cognitive function, and can better maintain weight loss than those who skip it altogether. So why don't we all start our days off right? I've compiled 20 different plant-based breakfast ideas for you to try out. This way you'll never be stuck again wondering what to eat in the morning!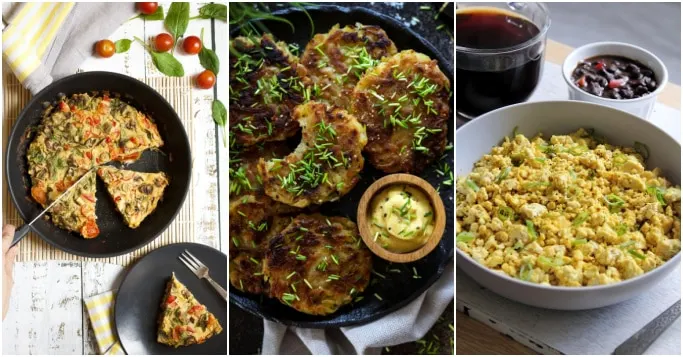 Baked Strawberry Oatmeal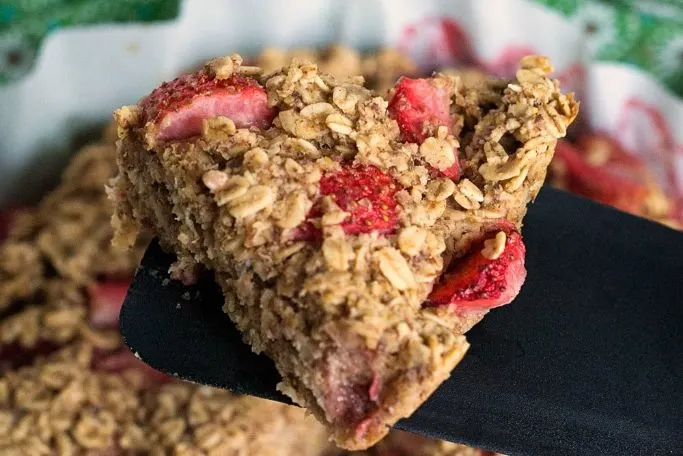 Our delicious baked strawberry oatmeal is, hands down, one of our favorite plant-based breakfast ideas. It's jam-packed with strawberries and made with real maple syrup instead of sugar. Enjoy it with a glass of plant-based milk or freshly squeezed orange juice.
Peanut Butter Chocolate Overnight Oats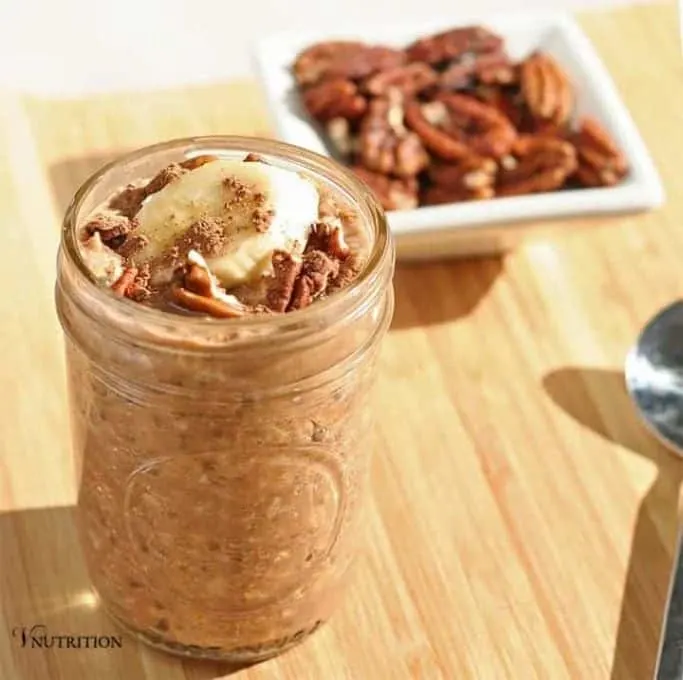 If the classic combo of peanut butter and chocolate is the stuff your dreams are made of, try this super easy recipe for peanut butter chocolate overnight oats. Top with sliced bananas for a little extra sweetness!
Tofu Scramble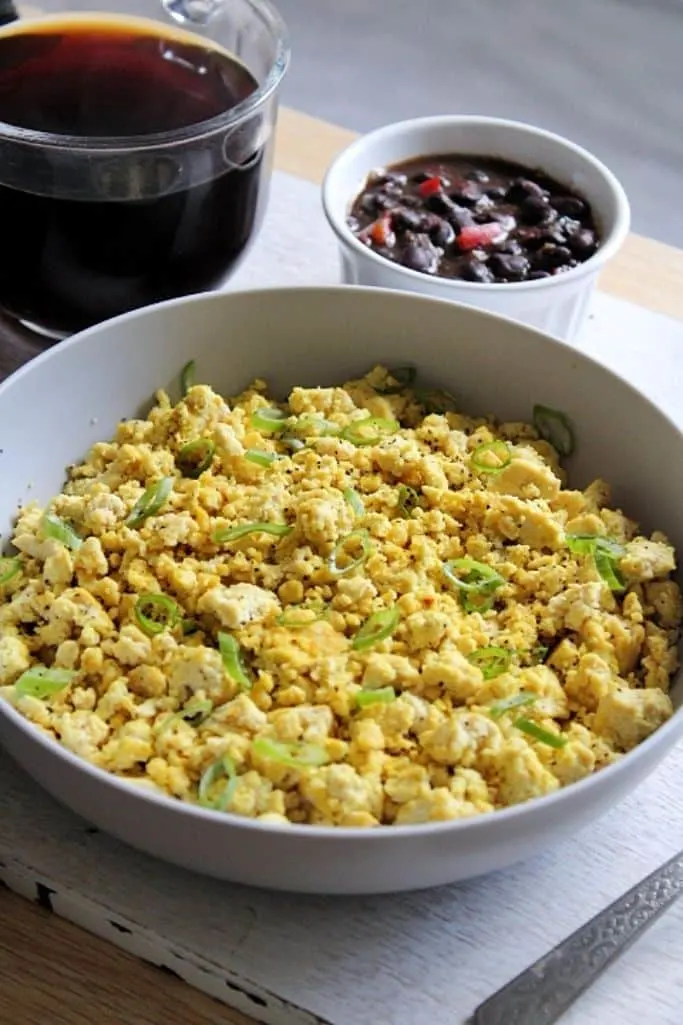 If you're new to plant-based eating and are missing eggs, this tofu breakfast scramble should become a regular in your breakfast rotation. Add your favorite spices and veggies, and breakfast is ready in about 10 minutes. Tofu scramble is fantastic with a side of breakfast potatoes and fresh fruit!
Peanut Butter Banana Breakfast Cookies
Want a plant-based breakfast the kids will get on board with? These PB Banana Breakfast Cookies are where it's at! They're so easy to make (just 3 ingredients) and are a no-guilt option when the kids want to grab one (or two or three).
Breakfast Polenta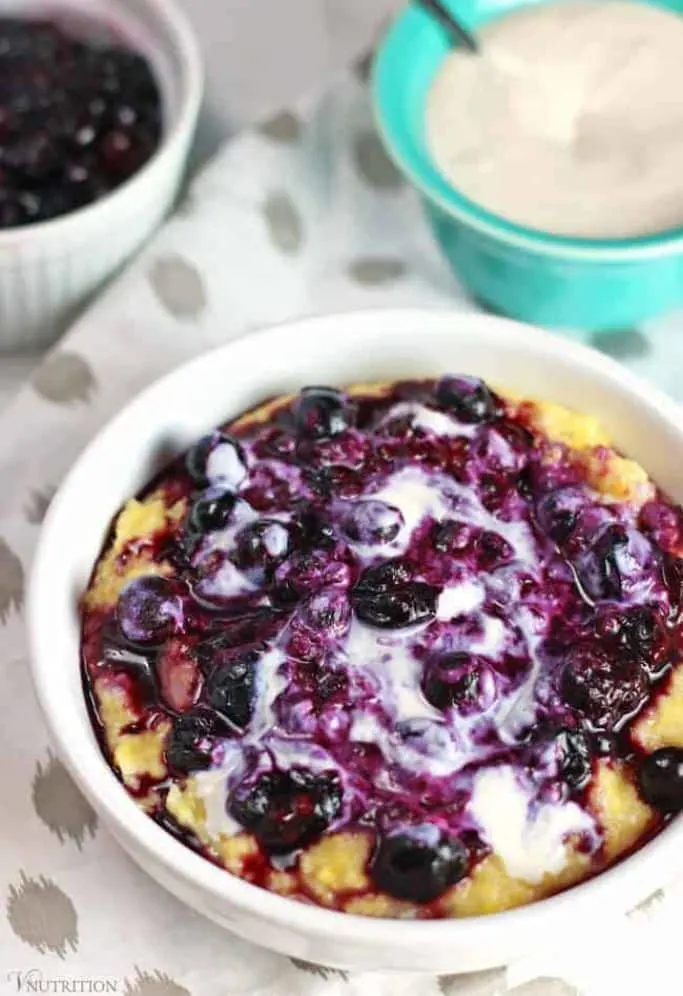 This breakfast polenta with berry compote is a creamy alternative to oatmeal for breakfast. Top with your favorite berries or fruit and some cashew cream for an almost dessert-like start to your morning.
Buckwheat Pancakes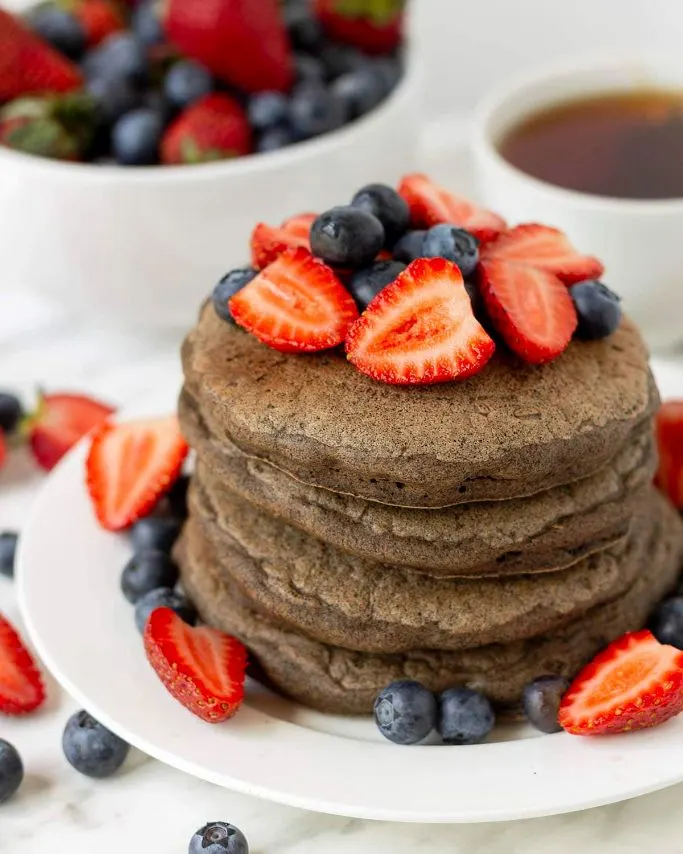 These vegan buckwheat pancakes are made using only a handful of ingredients, have a fluffy texture and an amazing flavor! They're gluten-free, dairy-free AND healthy.
These tasty treats can be whipped up in just seven simple steps which take less than half an hour to complete.
Vegan Waffles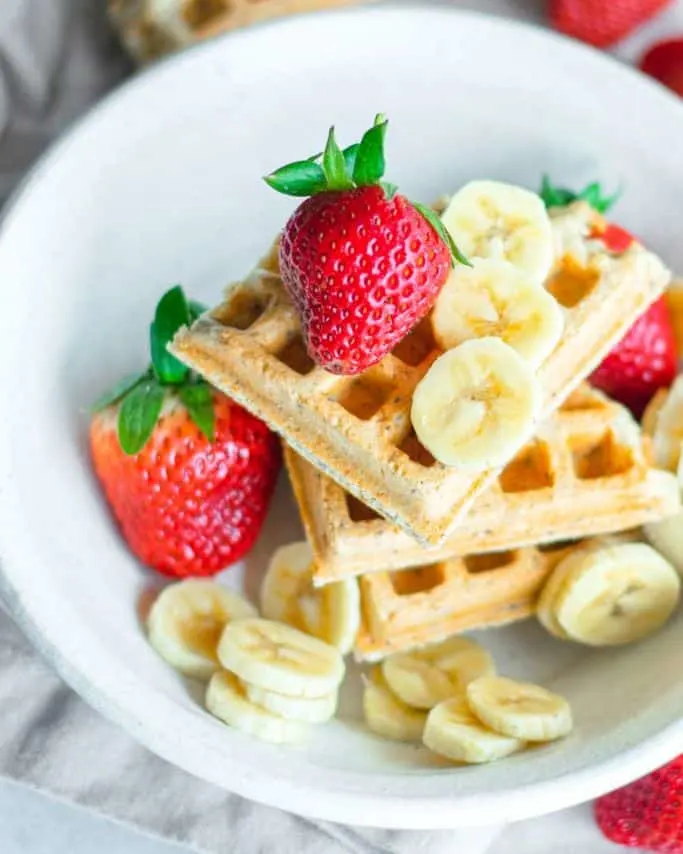 Waffles are a great way to start your morning, but vegan ones are often hard to find in the grocery store or when dining out. It's easy to make your own at home, though. These vegan waffles are made with only seven ingredients and are crispy on the outside and fluffy on the inside—just what you want from a waffle.
Carrot Bacon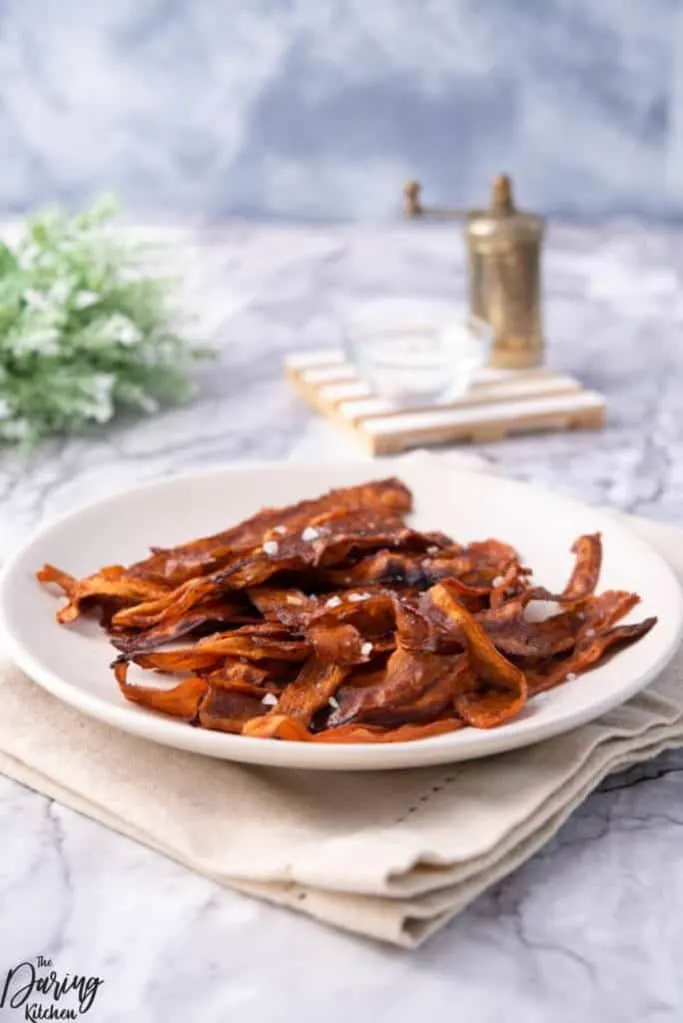 Yup, carrot bacon exists. It's so easy to make at home and tastes delicious! All you need are some carrots, maple syrup, smoked paprika, black pepper, garlic powder, tahini, olive oil, and balsamic vinegar. Coat the carrot slices in the spices, bake, and voila! You have some delicious meat-free bacon.
Chickpea Omelet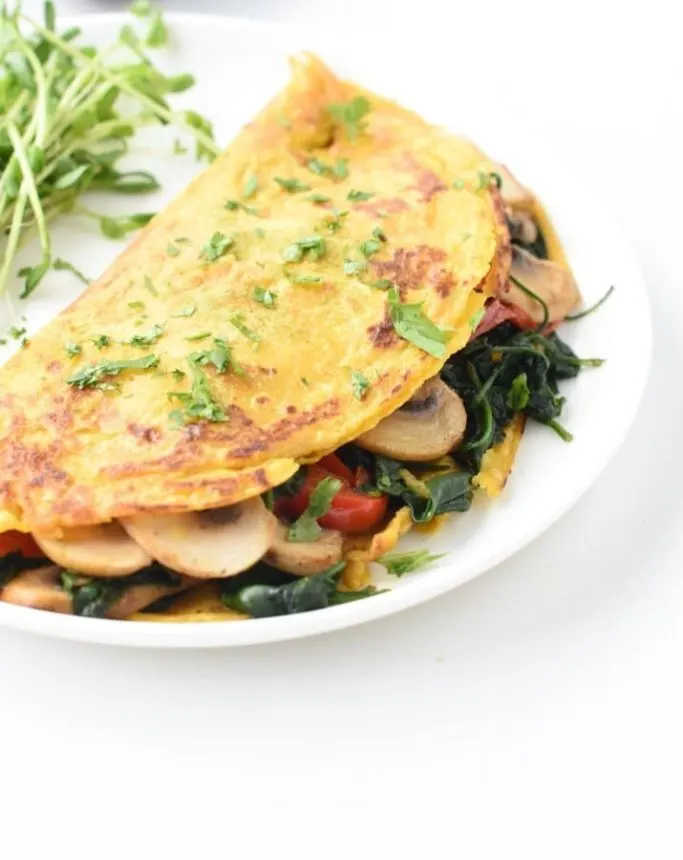 This vegan chickpea omelet is made with chickpea flour and a few simple ingredients. It's the perfect quick, protein-packed breakfast for days when you're running short on time. You can eat it plain or dress it up with your favorite veggies and condiments.
Vegan Breakfast Casserole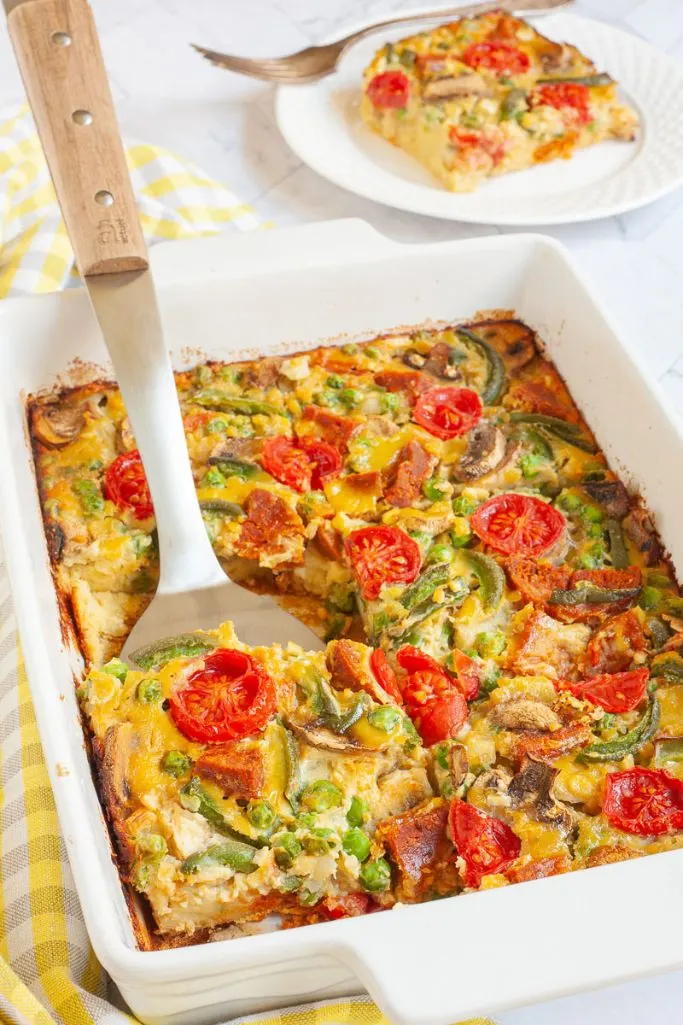 A classic breakfast casserole is always a hearty way to start the day, but when it's made with a chickpea flour base, vegan sausage crumbles, and plenty of veggies? It's absolutely amazing. With seven healthy veggies in the mix, this hot breakfast is sure to get your morning started on the right foot.
Vegan German Potato Pancakes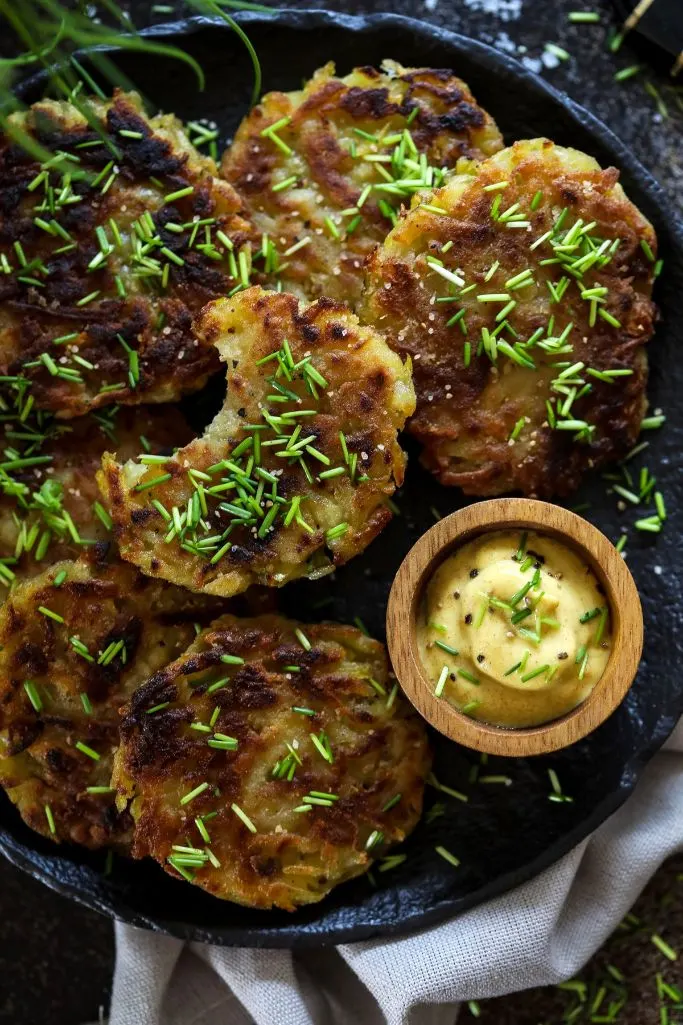 These crispy vegan German potato pancakes are a great breakfast option, and the shredded potato is bound together with flour instead of eggs! They're easy to customize with your favorite veggies, spices, and condiments. Serve them up with some fresh fruit and you have yourself a well-rounded plant-based breakfast.
Vegan Breakfast Sausage Links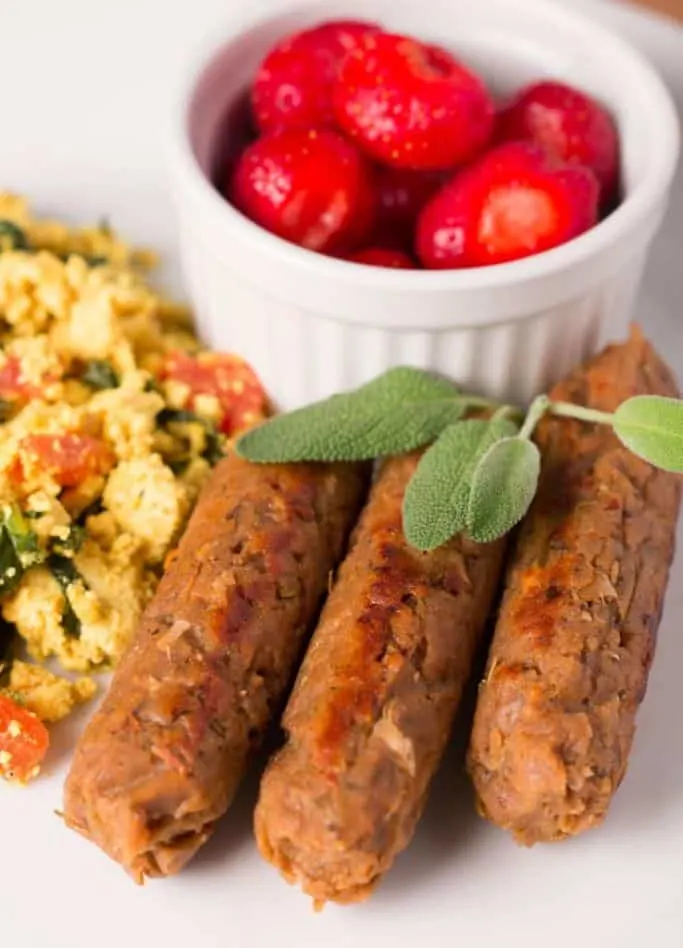 These vegan breakfast sausage links are delicious and are definitely worth the time it takes to make them. They're a meat-free and oil-free version of a traditional favorite. Serve with your favorite waffle, pancakes, tofu scramble, or vegan gravy for a hearty plant-based breakfast that will keep you full until lunchtime!
Vegan Granola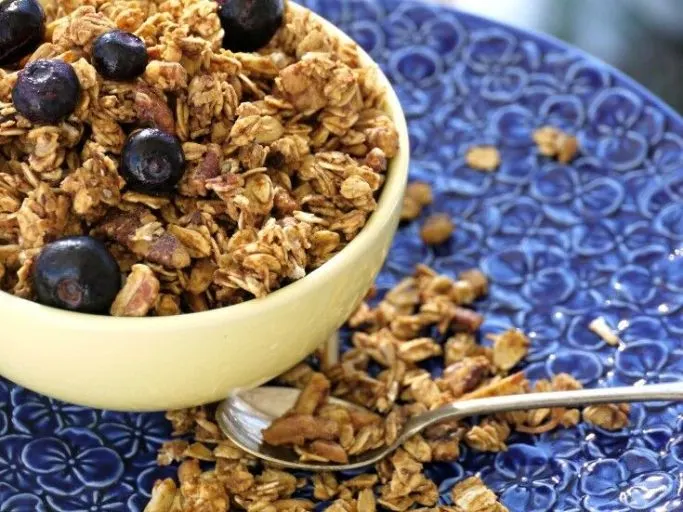 This homemade vegan granola recipe is a great, customizable breakfast option. You can choose your favorite nuts and seeds and flavor it with the sweetener of choice— use pure maple syrup or agave for a wholly vegan recipe. This granola is hearty and healthy with no added candies or unnecessary sugar. It's just the right amount of sweet and would be terrific on top of some dairy-free yogurt along with some fresh berries.
Vegan Frittata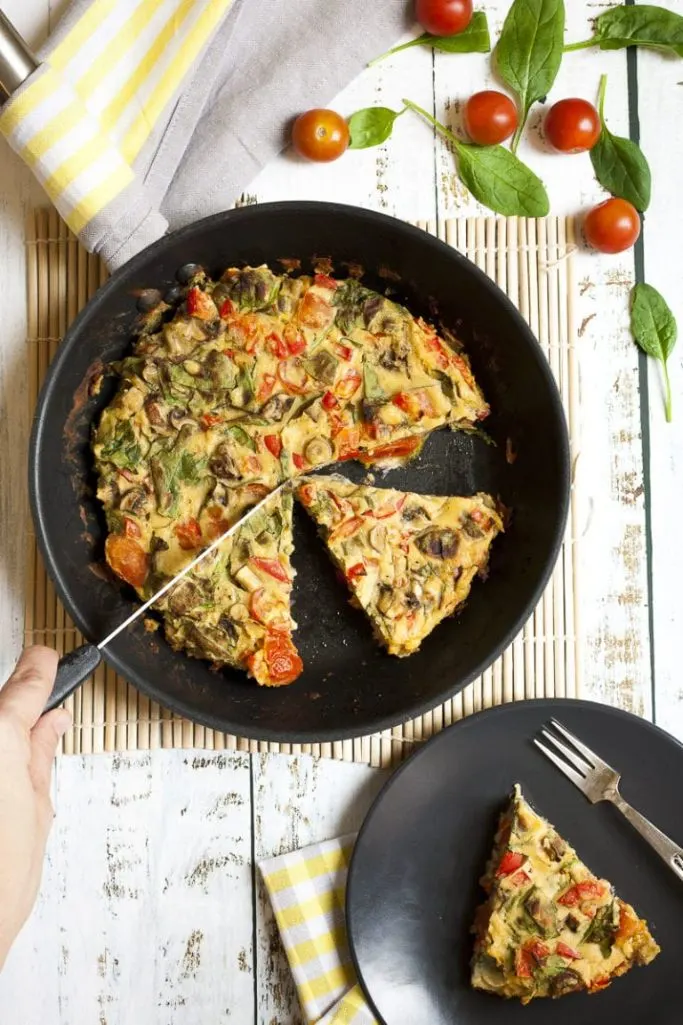 A vegan frittata is a veggie-packed breakfast that you can make ahead and enjoy for days. Its basic ingredients are chickpea flour, dairy-free milk, loads of veggies, and your favorite spices. Feel free to use whatever you have in your fridge. Get creative with it—you won't regret it!
Blue Smoothie Bowl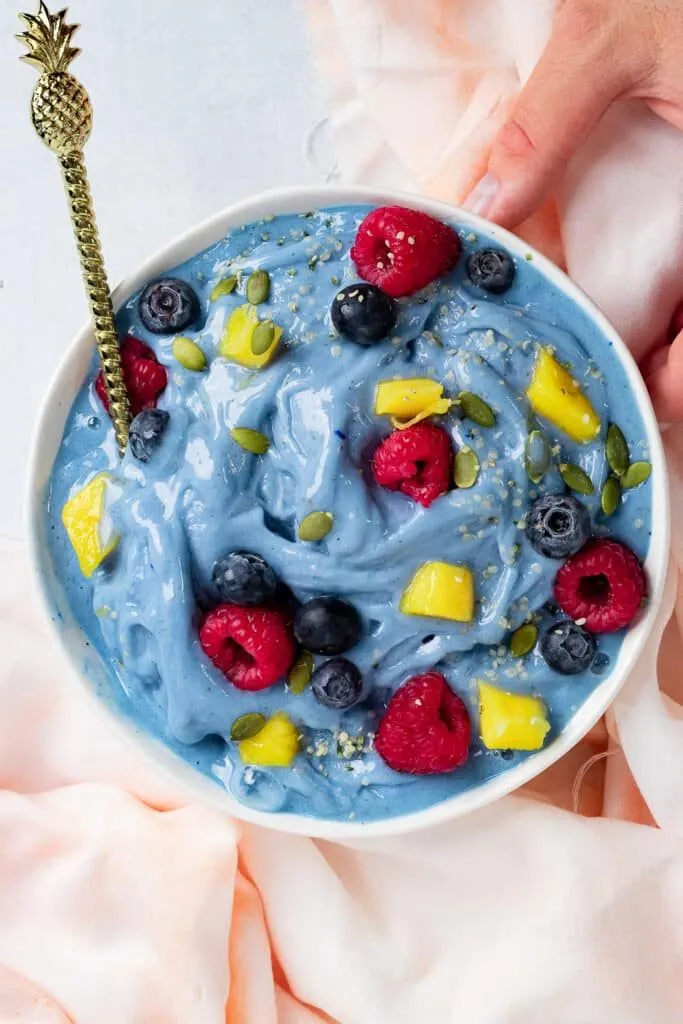 Use this idea for a blue smoothie bowl to make all kinds of different vegan smoothie bowls! The trick is pairing a frozen banana with oat milk (or another plant-based milk) to create a thick, creamy base. Then, top with your favorite berries, fruit, seeds, and nuts. It's a fruity and delicious way to start your day.
Eggless French Toast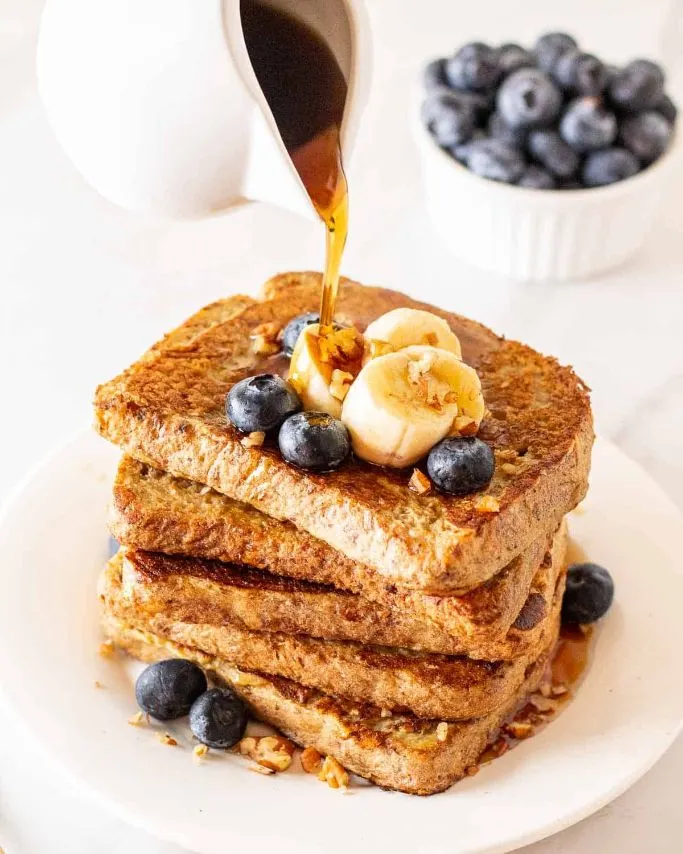 For an extra-special breakfast, make a vegan French toast. This recipe is eggless and dairy-free but it tastes just like the real thing! It's deliciously decadent with a drizzle of real maple syrup and will rival any traditional French toast breakfast. Best of all, it takes only 30 minutes to make this recipe, and the French toast is freezable. Make an extra batch for the freezer when you whip these up.
Vegan Blueberry Muffins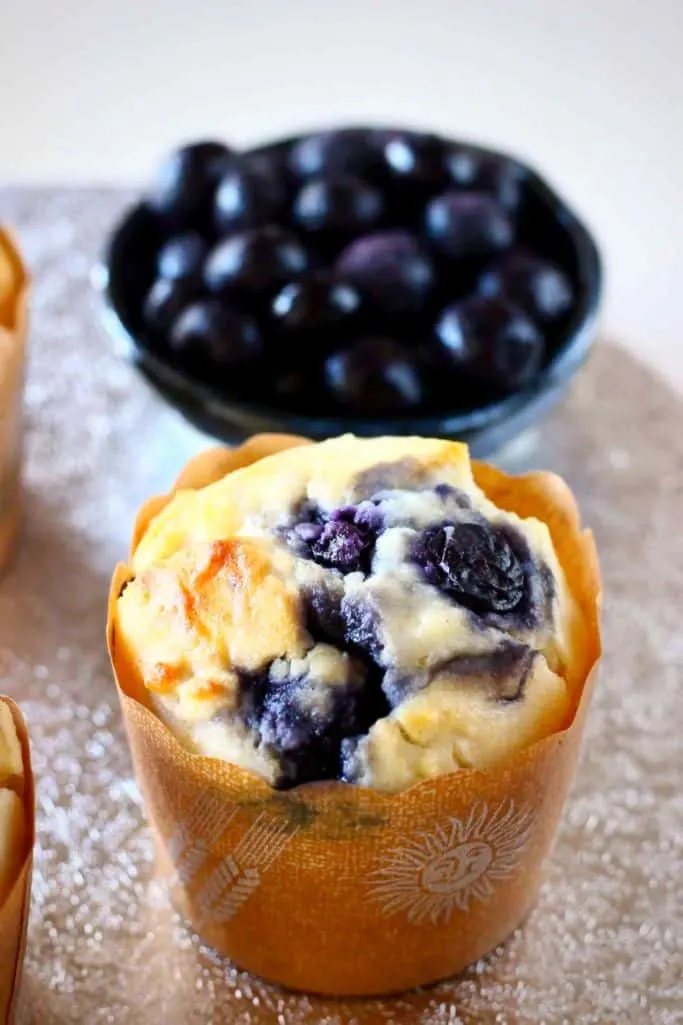 These simple vegan blueberry muffins are a healthy and easy way to start your morning. You can use fresh or frozen blueberries or substitute any other berry you like, such as raspberries or blackberries. These muffins are sweetened with pure maple syrup and are gluten-free as well. Make extras to store some in the freezer if you're typically an eat-on-the-go person.
Vegan Breakfast Tacos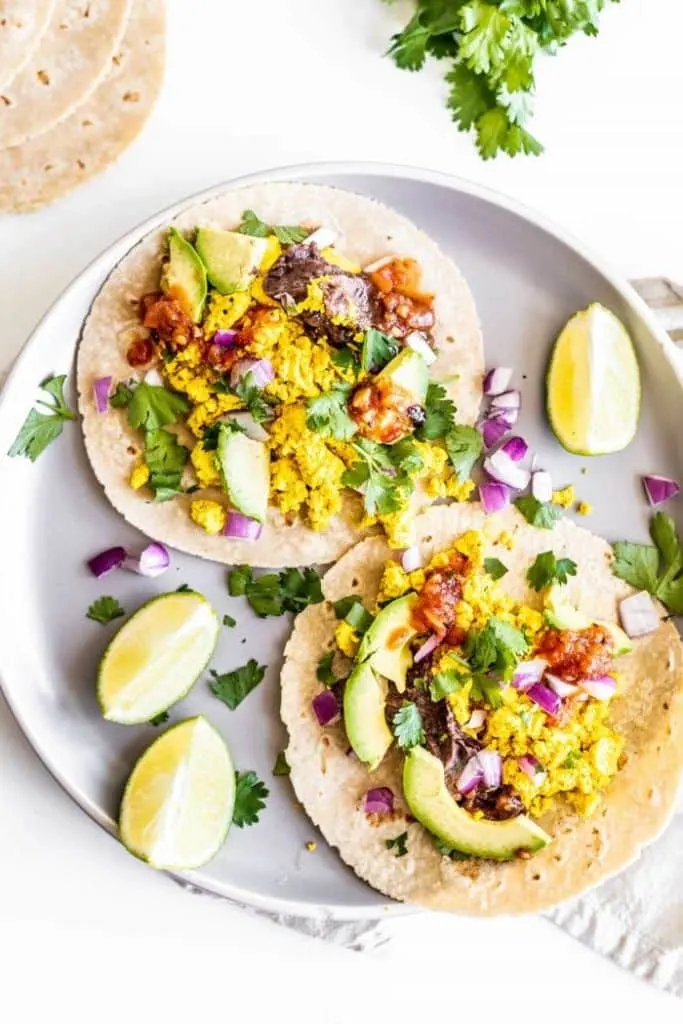 Who says you can't eat tacos for breakfast? This vegan breakfast taco recipe is sure to put you in a good mood in the mornings. Packed with protein, fiber, and omega-3 fatty acids, it's a healthy way to kick off your routine. Top with your favorite taco add-ons like salsa or vegan cheese.
Breakfast Potatoes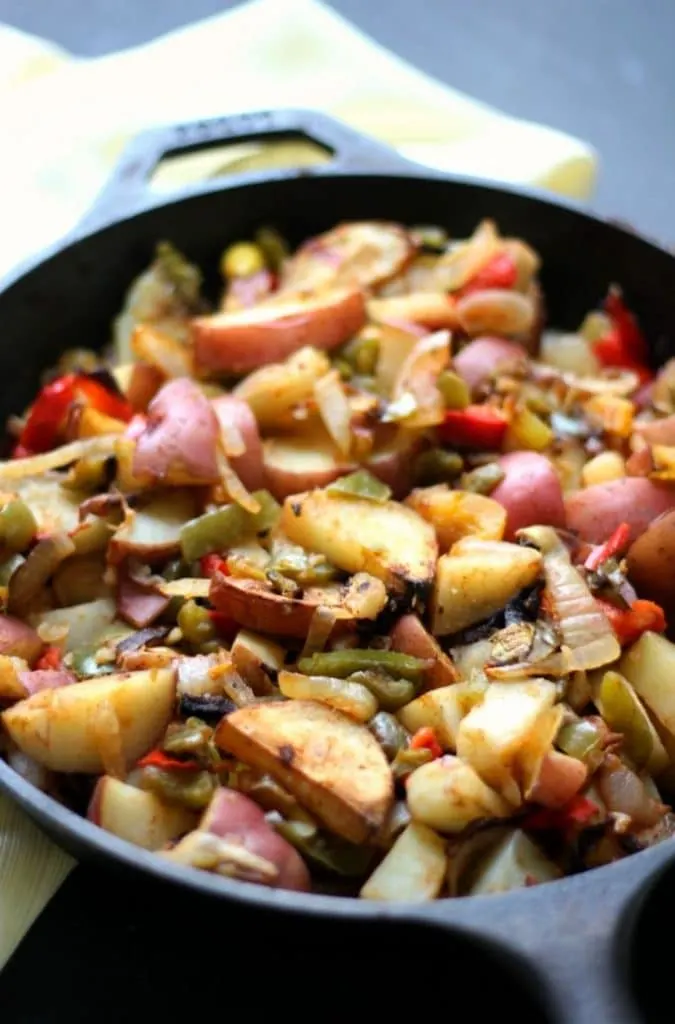 This healthy breakfast recipe is easy and inexpensive. Breakfast potatoes with peppers and onions are hearty and filling to help you power through your morning! Customize this skillet by adding your favorite spices and veggies. Even non-vegan friends and family will love this simple meal.
Tahini Toast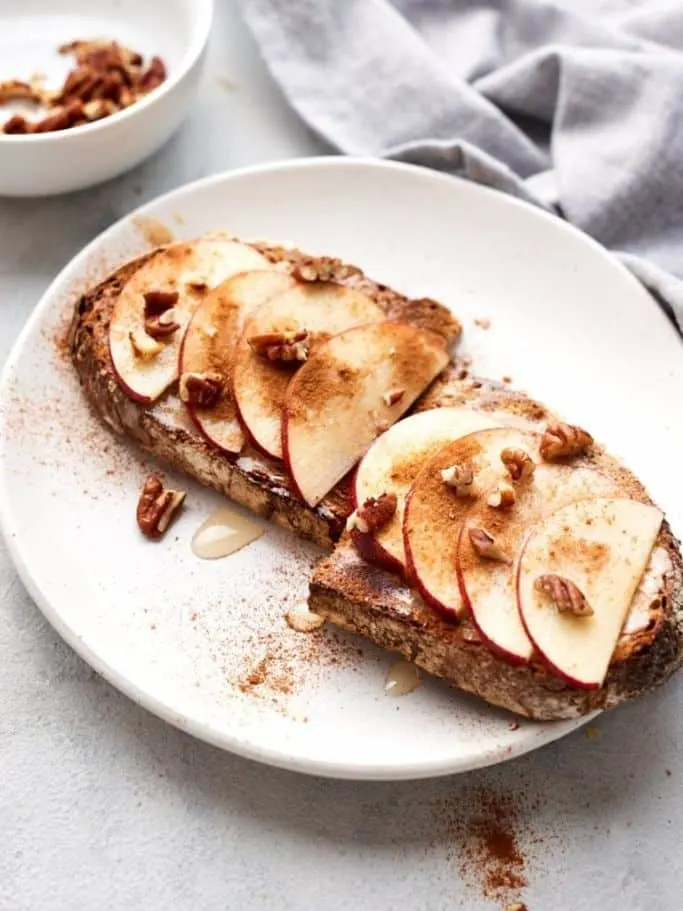 Tahini toast is a tasty way to start your day. This recipe shows you two different ways to make it: a savory toast with tomatoes and garlic and a balsamic glaze or a sweet version with apples, cinnamon, pecans, and agave nectar. Alternatively, can slather your favorite jam or preserves on top for an extra burst of flavor, then sprinkle with some hemp seeds for added protein. The sky's the limit when it comes to toppings!
Breakfast is an important meal that can help you power through your day. You don't have to eat oatmeal or cereal every morning when there are so many other delicious options available, including vegan breakfasts like these 20 recipes! These plant-based breakfast ideas will keep you full and energized all the way until lunchtime. Let us know which of these recipes you're going to try out first!