Since starting on my plant-based journey (though my husband is still low carb dieting), I have struggled with eating oatmeal for breakfast. "It's so good for you," I'd lament to myself. But after a couple of days, I could no longer stomach the soggy texture, no matter how I dressed it up with fruit, maple syrup, nuts, seeds and other goodies. I knew I had to find a way to make it more palatable, and here it is… Strawberry Baked Oatmeal.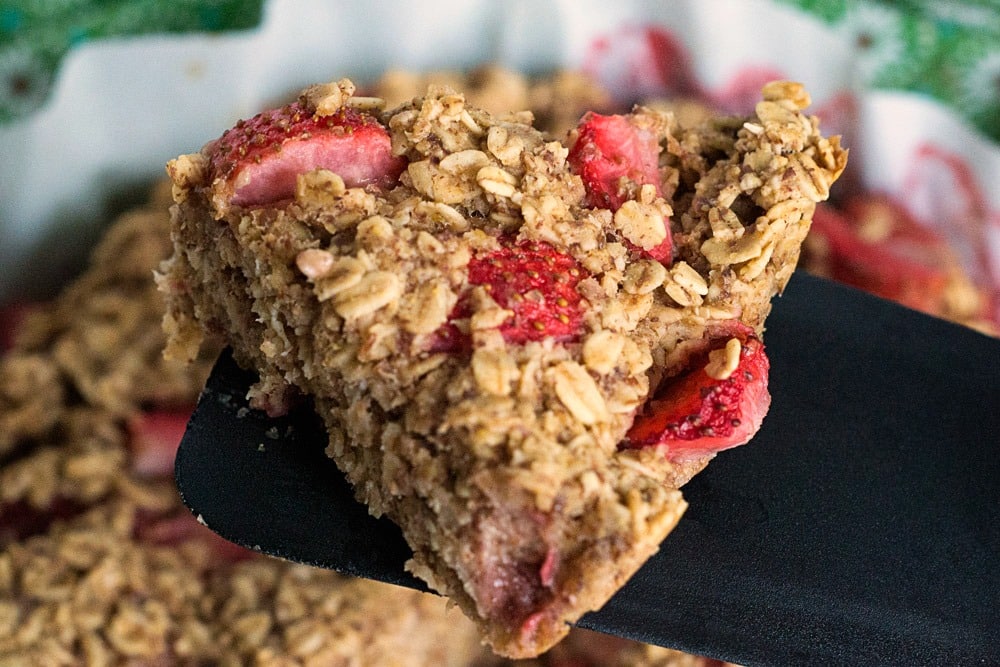 I made only slight changes to this recipe from A Virtual Vegan because my particular plant-based plan does not allow sugars but does allow pure maple syrup. (If you're curious as to why some plant-based diets allow sugars and some don't, Monkey and Me Kitchen Adventures has a great post HERE.)
To accommodate the extra liquid, I adjusted the ingredients slightly. I added an extra tablespoon of ground flax seeds and reduced the plant milk by about 1/4 cup. I also added about 1 1/2 cups of chopped strawberries instead of only 1 cup because… why not? You can never have too many strawberries. (Check out these yummy strawberry recipes for more ideas.)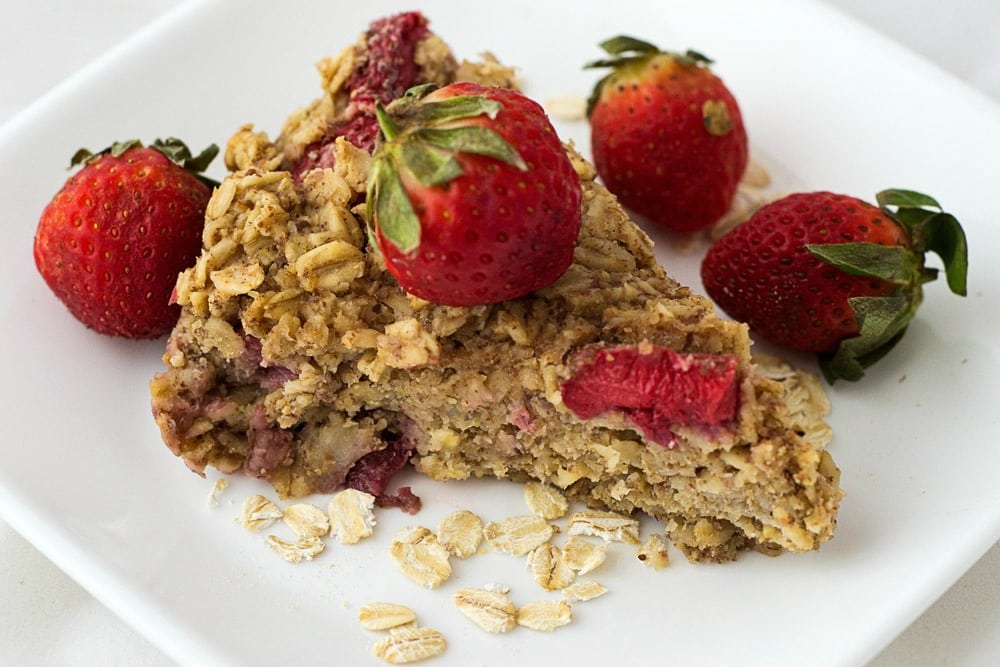 If you're new to plant-based eating and are wondering what this tastes like, imagine the Special K Red Berries cereal in casserole form. Sounds weird, but it's really delicious.
You can easily adapt this recipe with other types of fruit. Blueberries and coconut would be amazing. So would apples and raisins or peaches. My husband is begging me to make a peach version soon, so when I figure it out with the spices and adjustments, I'll be sure to post it!
We have an awesome list of plant based breakfast ideas if you need more inspiration.
Recipe for Strawberry Baked Oatmeal
You'll want to print this recipe for baked strawberry oatmeal because you'll be making it again and again!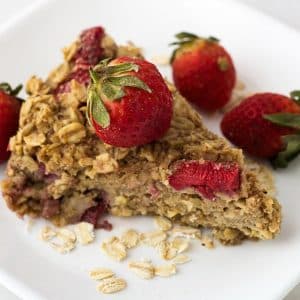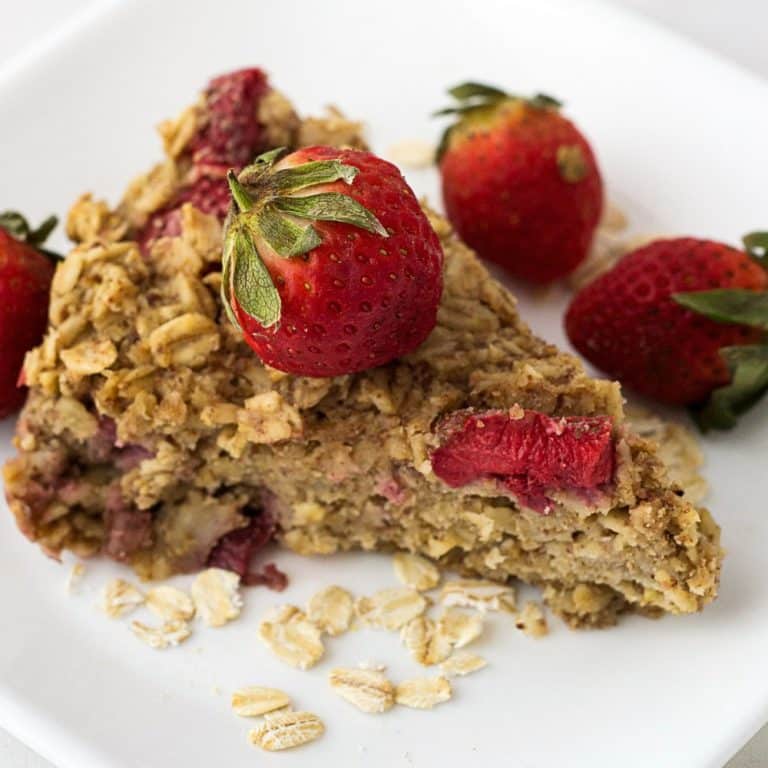 BAKED STRAWBERRY OATMEAL – PLANT BASED | VEGAN
If you're tired of boring breakfasts, this baked strawberry oatmeal is a delicious to fit in fruit and healthy whole grains. It's great for plant-based and/or vegan diets!
Ingredients
2

cups

old fashioned oats

3

tbsp

ground flax seeds

1/2

tsp

salt

1/4

cup

pure maple syrup

3/4

cup

unsweetened almond milk

1

tsp

vanilla extract

1/4

cup

almond butter

1 1/2

cups

chopped strawberries
Instructions
Pre-heat oven to 375°F. Line an 8″ baking dish with parchment paper.

In a large bowl, stir together the oats, flax seeds, and salt.

In a small bowl, mix the almond milk, vanilla extract, pure maple syrup, and almond butter together.

Add the milk mixture to the dry ingredients, and stir until combined.

Add mixture to your baking dish, and bake at 375°F for about 40 minutes. You may need to adjust your cooking time by 5-10 minutes either way.
Make this strawberry baked oatmeal ahead of time. That way, when you're in a hurry, you can simply grab a slice, warm it up in the microwave or oven, and have a meal in a pinch. This type of dish is perfect for those crazy mornings when you're trying to get the kids off to school and yourself to work or to your errands.
If you'd like to save this recipe for baked strawberry oatmeal for later, just click the image below to pin it. You can also click the social media buttons above and below the post to share to Facebook, Twitter, or your other social media challenges. We love when we get shares!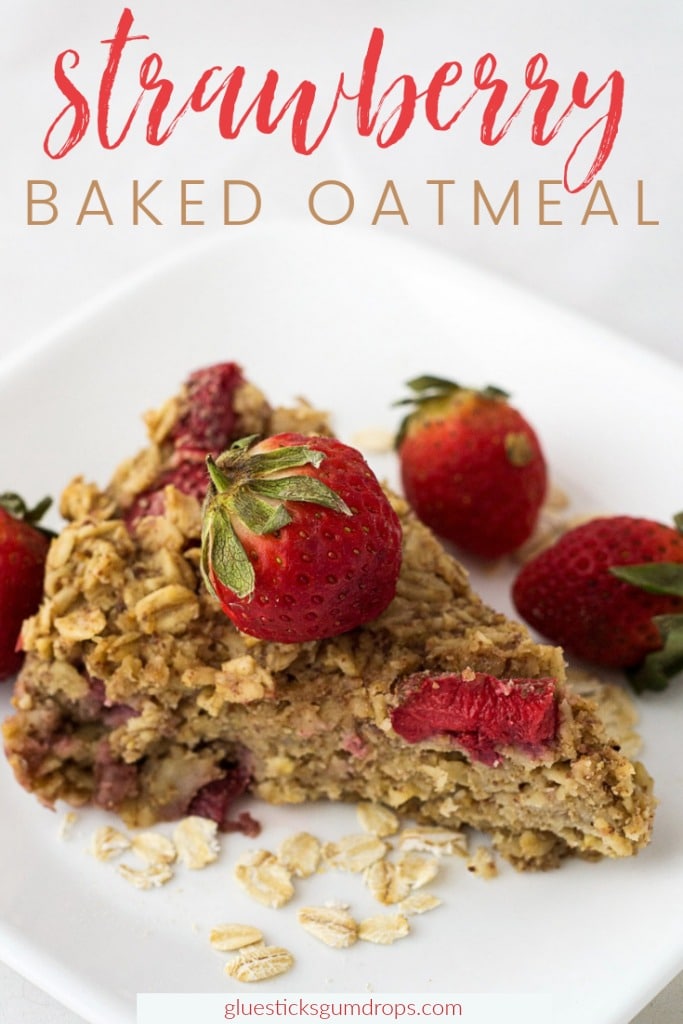 If you make this recipe, please share your own pictures on Instagram and tag us at @gluesticksgumdrops.