I've been buying strawberries like crazy recently because I can't get enough of the sweet strawberry recipes I've been seeing! Everything from strawberry cake to strawberry protein shakes and smoothies tempts my taste buds, so I thought I'd share some of my favorites from our Funtastic Friday link party. Strawberries are great in salads and other dishes, don't get me wrong, but my favorites are drinks and desserts. So if you're on the lookout for some sweet strawberry recipes, too, take a look at this list!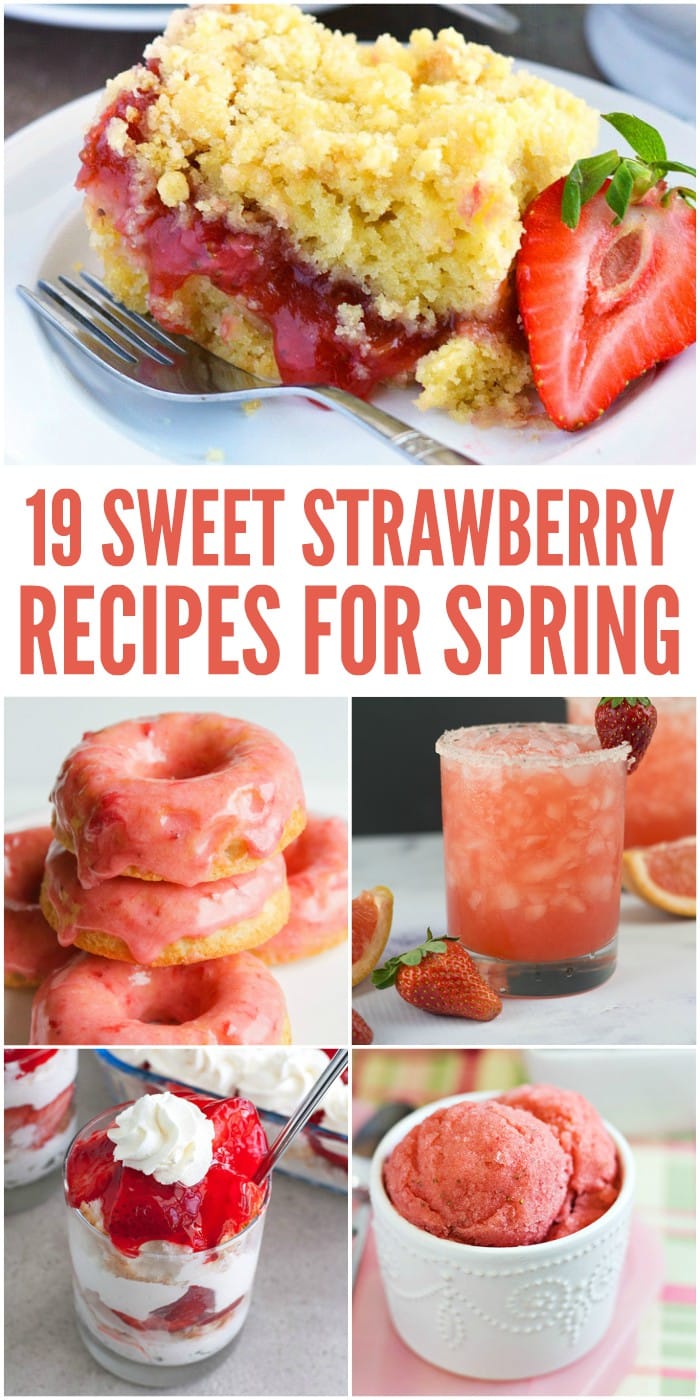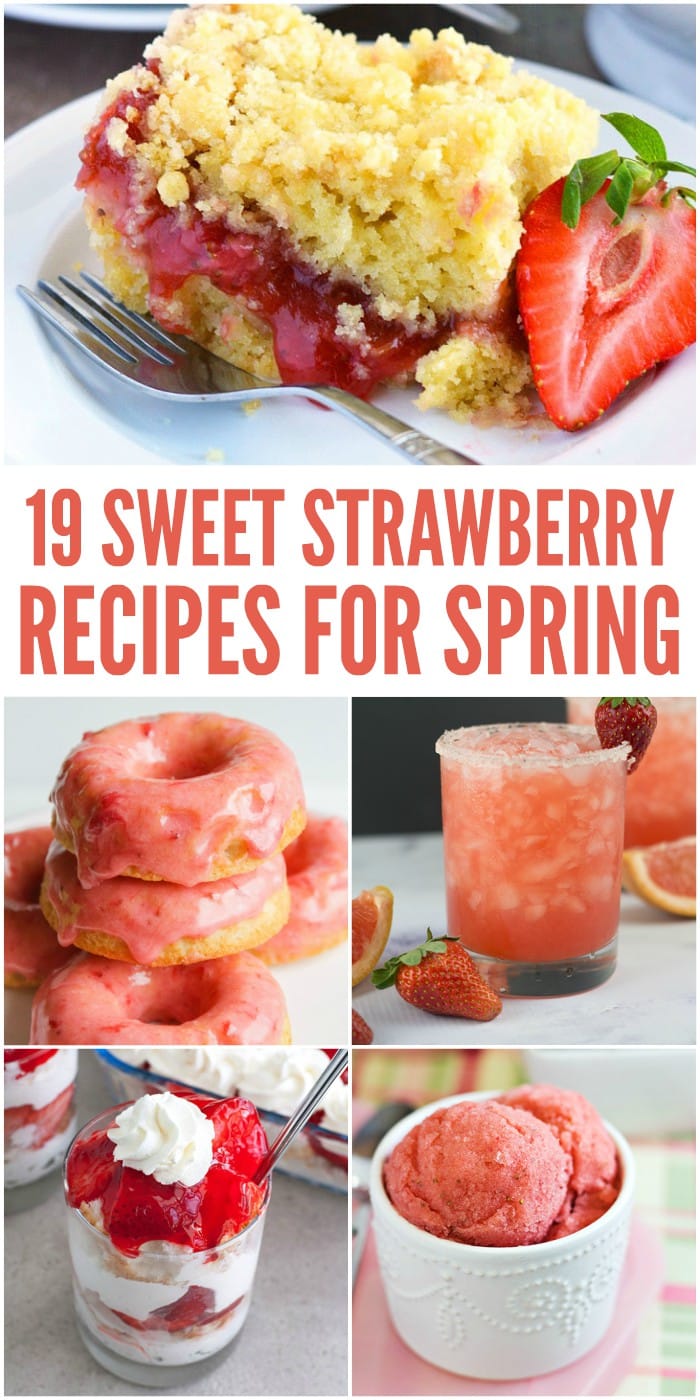 Sweet Strawberry Recipes – Desserts & Drinks!
You simply can't get through the strawberry season without enjoying a big slice of Creamy Strawberry Pie. This is a no-bake recipe, so what's not to love?
Our Healthy Strawberry Pineapple Smoothie is a staple for us on busy mornings. It's so easy to throw together and head out the door.
I love sweet bread, so you'd better believe I'll be making this Simple Strawberry Bread with Honey Lemon Butter very soon. It's the perfect recipe to send to a neighbor or friend, don't you think?
These chocolate covered strawberry cookies are just as sweet and decadent as dipping those sweet berries in warm chocolate. They're a lot easier to eat, though!
My mother loved rhubarb, so seeing this Gluten Free Strawberry Rhubarb Coffee Cake in our Funtastic Friday link party last week made me smile. Gotta love that sweet/tart combination!
If you're looking for the perfect cocktail for spring, this Strawberry Limoncello Spritzer is IT! It's a boozy, adult-friendly version of strawberry lemonade.
Gluten-free and grain-free, these Paleo Strawberry Coconut Thumbprint Cookies are a sweet snack that you don't have to feel guilty about.
Make Strawberry Sorbet without an ice cream maker! Add vodka for a boozy treat, or leave it out for a kid-friendly version.
For backyard get-togethers, try this Strawberry Salty Dog Moonshine cocktail. Everyone'll love it!
Strawberry Frosted Baked Donuts are the perfect breakfast. Who wouldn't love waking up to a couple of those with a tall glass of milk?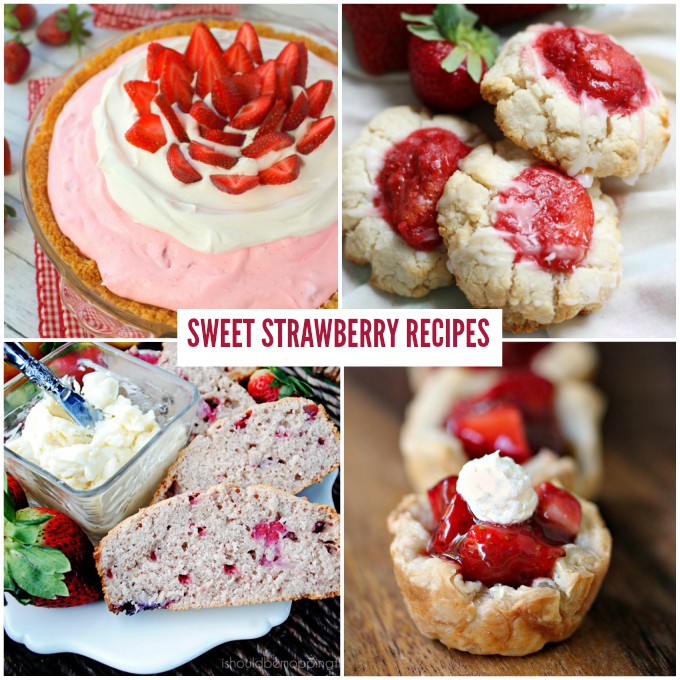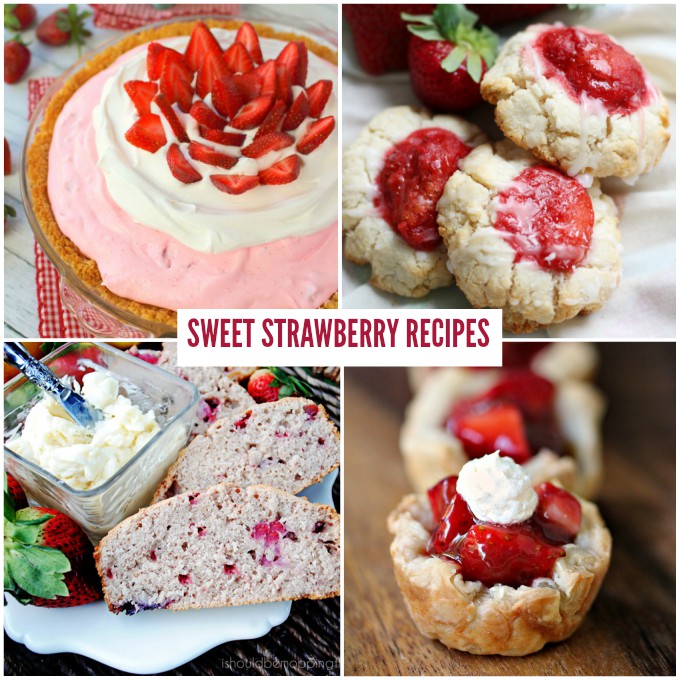 Mason jar desserts are my favorite! This Strawberry Banana Pineapple Cake has all my favorite things in one yummy jar.
Nibble on these Strawberry Orange Popsicles during the spring and summer to keep cool on hot days.
Oh my gosh. I'm definitely making this Strawberry Banana Poke Cake for my husband soon. His favorite cake is strawberry, and this looks over-the-top good!
These Strawberry Filled Mini Puff Pastries are so easy to put together for a brunch or as a dessert after dinner.
Strawberries in the Snow is another wonderfully simple recipe that you'll want to make again and again for spring. My aunts used to make this but never had a name for it. Now I know!
Strawberry Sugar Muffins double as a sweet breakfast or a decadent dessert.
I'd love to sip on one of these Strawberry Lemon Sangrias right now. Perfect for a girl's day!
Power up your morning with a Strawberry Pina Colada Protein Shake. The coconut and rum extracts really up the flavor factor.
Strawberry Granola is a delicious addition to a cup of yogurt or just to nibble on as a snack.