black bean and corn chili
is just the ticket. It comes together in about 30-40 minutes, and it's not so spicy that the kids won't eat it. It's the perfect busy weeknight meal, especially during the chilly fall and winter seasons!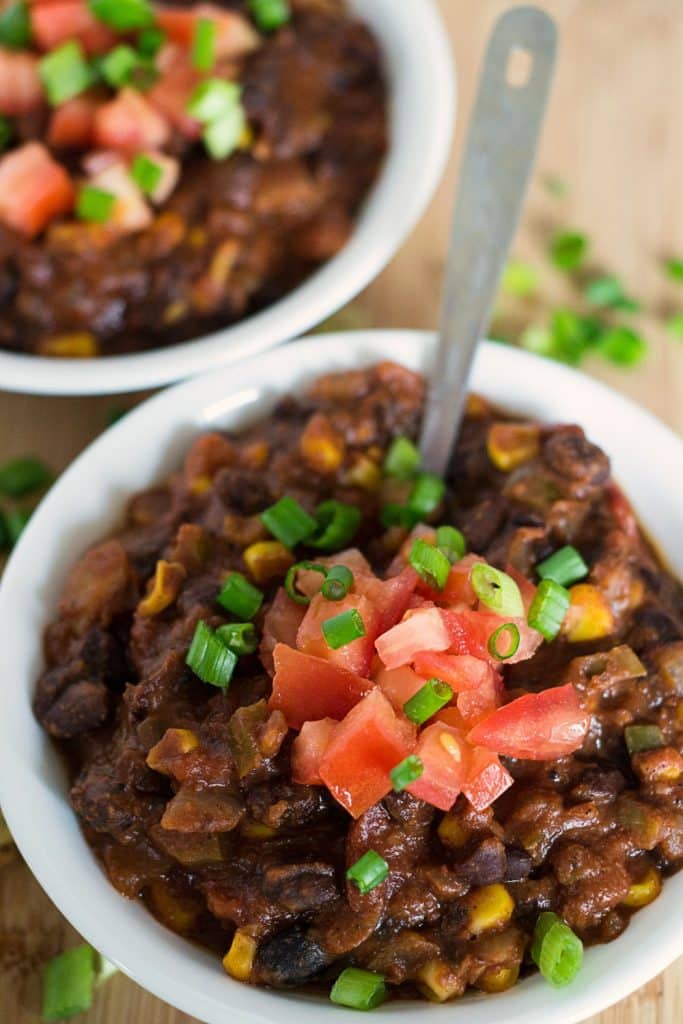 Now, before we get started with the recipe, I have to warn you that this recipe uses canned beans and tomatoes. Gasp! I know that some of you prefer to use fresh ingredients all the time, and we try to do the same whenever possible. However, we keep canned veggies and legumes on hand for those times when we don't have time to prep fresh beans from scratch, and it really helps us pull meals together quickly.
Canned veggies retain much of their nutritional value
, and if you're watching your sodium, you can always look for low salt or no salt options. If you don't want to use canned goods, you'll need to have an equivalent amount of cooked beans on hand as well as fresh diced tomatoes and sweet corn kernels. Now that's out of the way… let's get to it!
Plant-Based Black Bean and Corn Chili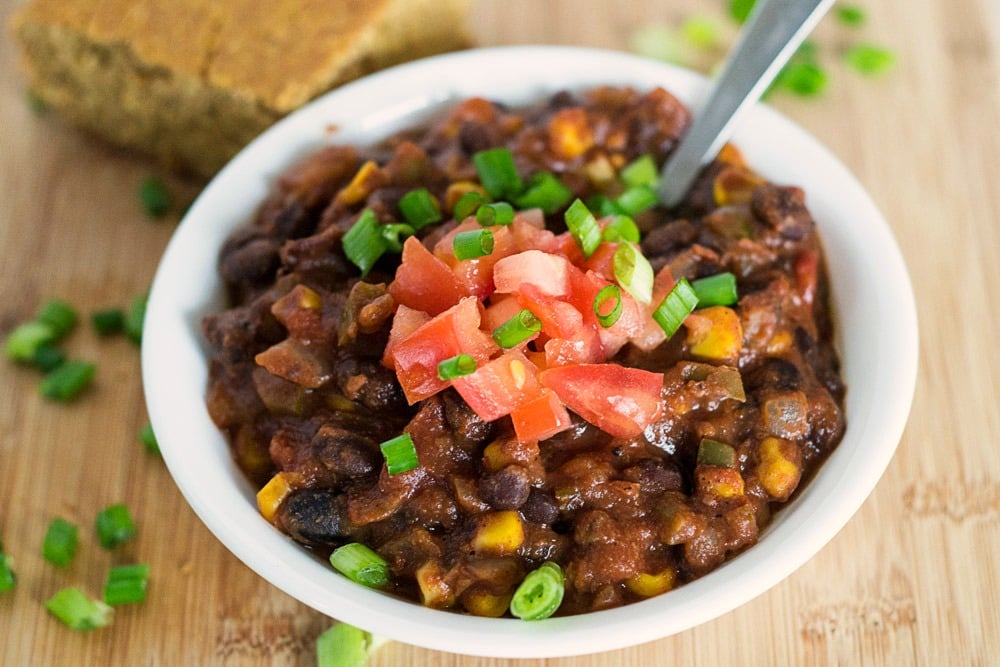 This plant-based black bean and corn chili recipe is one of our favorites. We've had it at least every other week since we've started plant-based eating. We may not have it as much during the summer… or then again we may… since I'm sure you can easily pop all the ingredients in a slow cooker and let it simmer all day rather than heating up your kitchen using the stove. Hmm… something to think about. This recipe is kid-friendly as is, but you can make it even more so by serving it with homemade corn tortilla chips and fun toppings like diced tomatoes, diced green onions, and plant-based sour cream.
Black Bean and Corn Chili Recipe
For a printable list of ingredients and directions for this
black bean and corn chili
recipe, just click on the "print recipe" button below. We'd also love it if you pinned the image below to save it to Pinterest for later!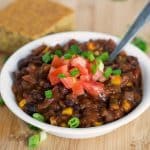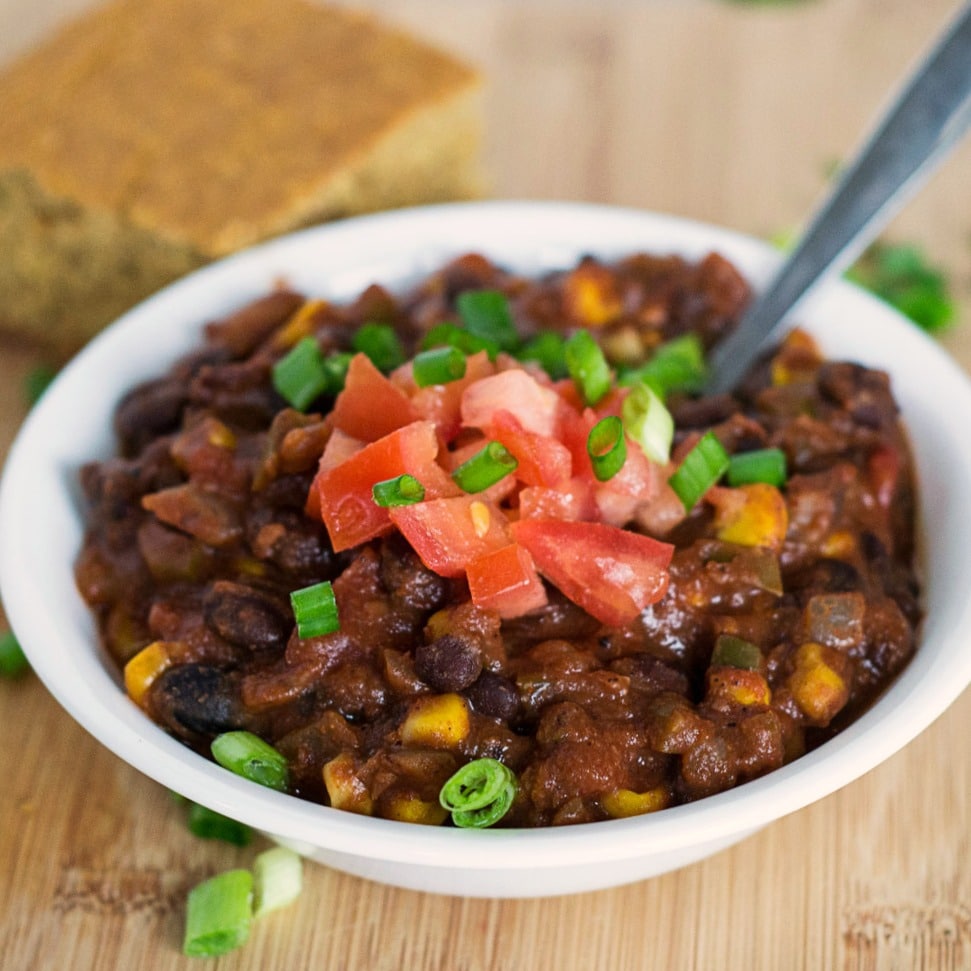 Print Recipe
EASY VEGAN BLACK BEAN AND CORN CHILI
This black bean and corn chili is thick, hearty, and packed with flavor. Get dinner on the table in about 30-40 minutes! It's plant-based and vegan-friendly.
Instructions
Add onions and peppers to pot and saute for 1-2 minutes.

Add beans, tomatoes, tomato sauce and corn to the pot along with the chili powder, garlic powder, cumin, and paprika.

Heat until veggies are cooked through and extra liquid is cooked out, about 25-30 minutes, usually.
Notes
If you like your chili soupy, don't cook it as long. If you prefer a thick chili with little liquid, cook for about 25-35 minutes, or until the extra liquid has cooked off.
If you're looking for more plant-based and vegan recipes, which we will occasionally feature on this site now, check out the posts below!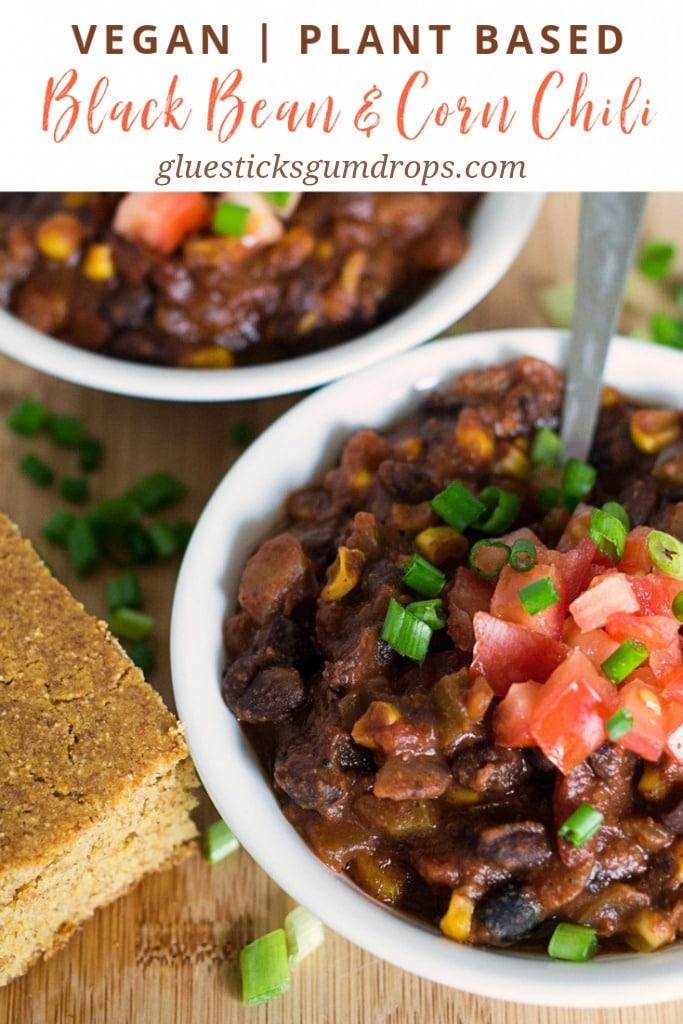 Hi! I'm Donella. Welcome to Glue Sticks and Gumdrops, where I blog about crafts for kids, kid-friendly recipes, and meals for families with a bit of parenting and party ideas sprinkled in. I am a mom to one amazing (and active) little boy, and I'm married to a deputy. As you can imagine, our lives are hectic, but sitting down to a family meal or making a craft together is our way of connecting with each other.
Latest posts by Donella Crigger (see all)