Are you looking for a dish that makes you feel like you're eating comfort food without all those carbs to weigh you down? This keto zucchini mac and cheese is just what you need. It's low carb, creamy, cheesy, and oh-so-delicious. At about 6.4 net carbs per serving, this is a side dish you'll want to make often since it goes with almost everything! And you don't even have to worry about spiralizing your zucchini. Diced zucchini works out just fine.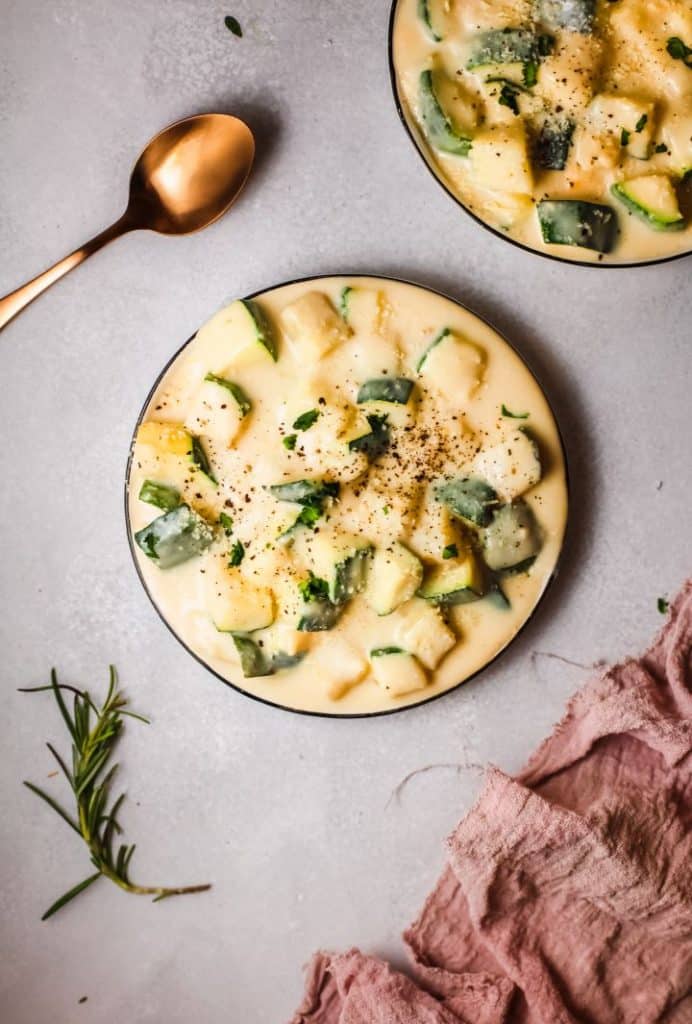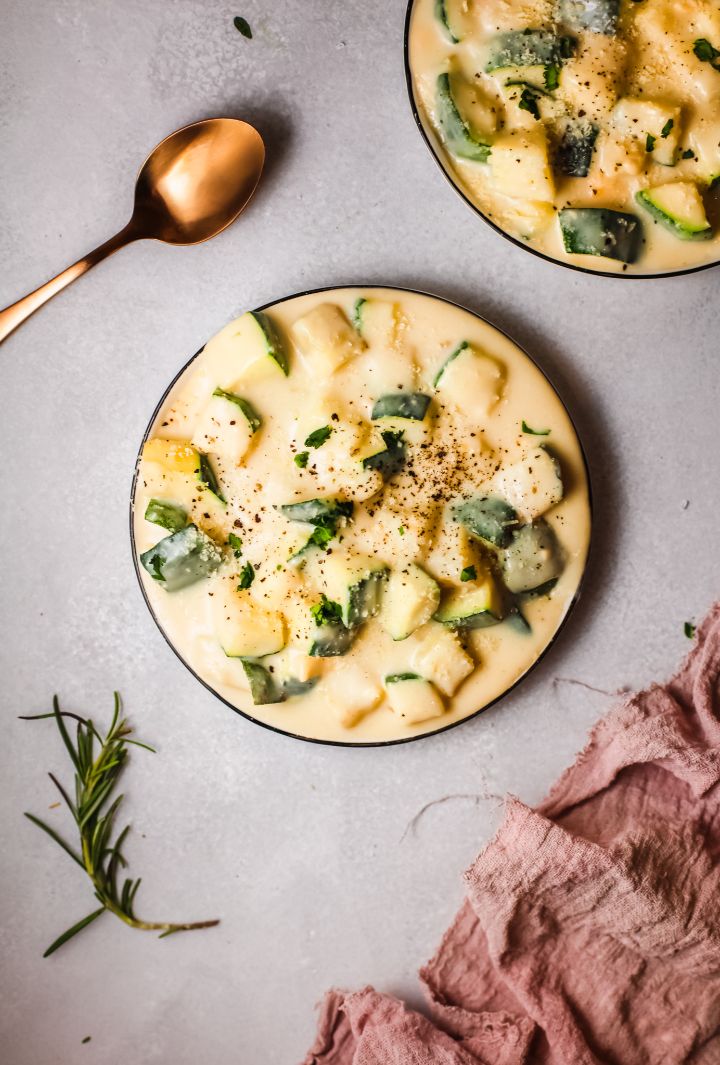 I know what you're thinking—I'm going to miss the noodles! But honestly, what's the most crucial part of any mac and cheese dish? Does anyone ever say, "This macaroni is amazing!" or "These noodles are the best!" NO!
Mac and cheese is all about the CHEESE, folks. And this creamy, dreamy cheese sauce is so good you're not going to miss the noodles at all. Really. Even if you're not a huge fan of veggies (or zucchini in particular), you're going to love this cheese sauce.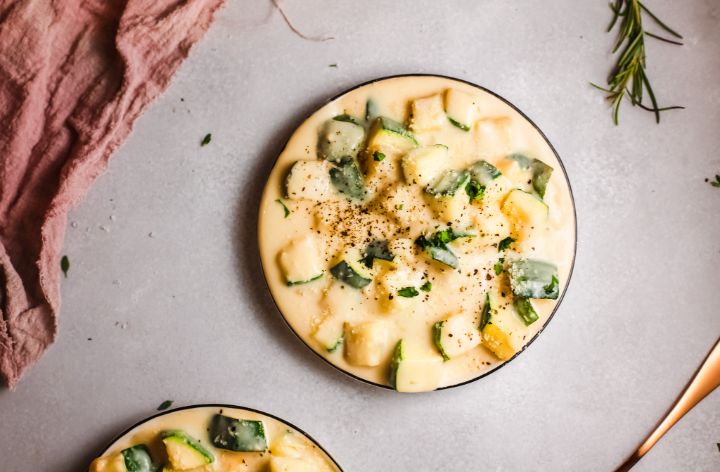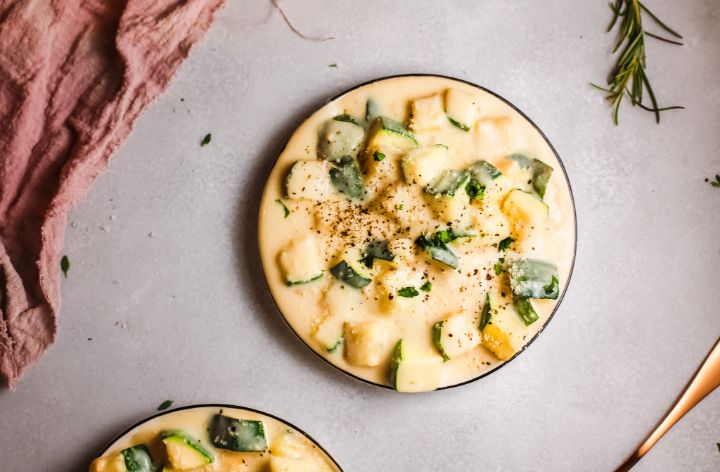 Tips for Making Keto Zucchini Mac and Cheese
We made this recipe two times, and the secret to zucchini with a firm bite like al dente pasta is to leave the skin on. While the presentation is a little prettier with peeled zucchini, it gets a little too mushy during cooking. We like pasta to have some bite to it, so we wanted the zucchini to have the same feel.
This sauce is made with cream cheese, heavy cream, cheddar cheese, and a splash of water to make it velvet, creamy, flavorful, and so, SO GOOD!
Now, those ingredients are calorie-laden, so if you're looking for a low-calorie zucchini mac and cheese, this is not the recipe for you. It's made with the full-fat ingredients so that it tastes as much like the real thing as possible.
Each serving (as a side dish) has about 6.3 net carbs. It makes 4 sides, or if you want to eat this dish as your main course, it makes 2 servings. Note that 2 servings of the dish will be about 12.6 net carbs.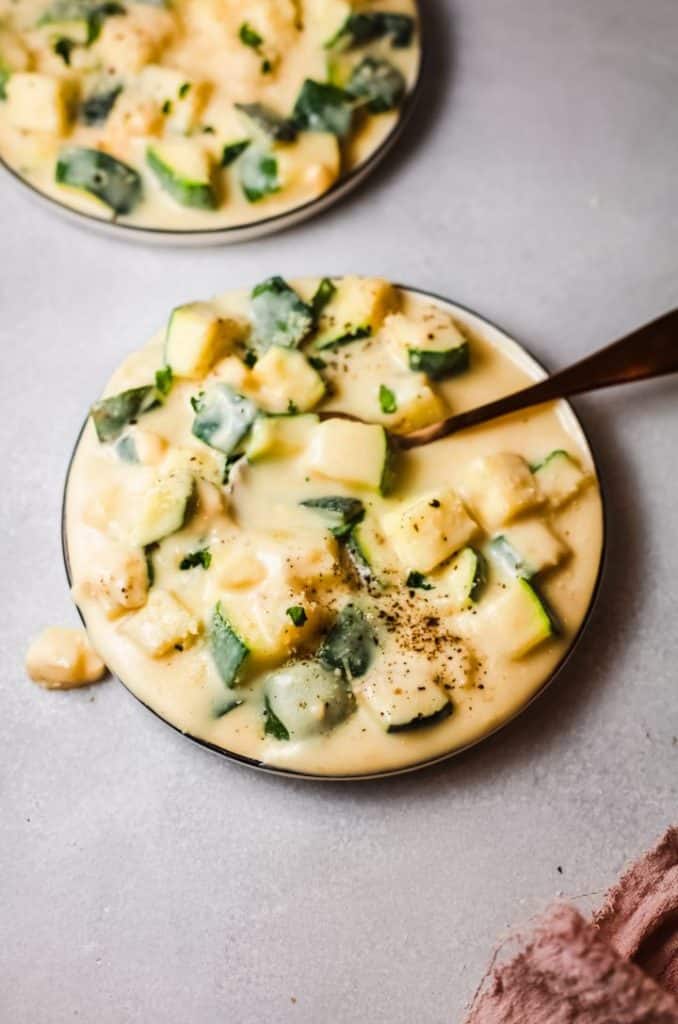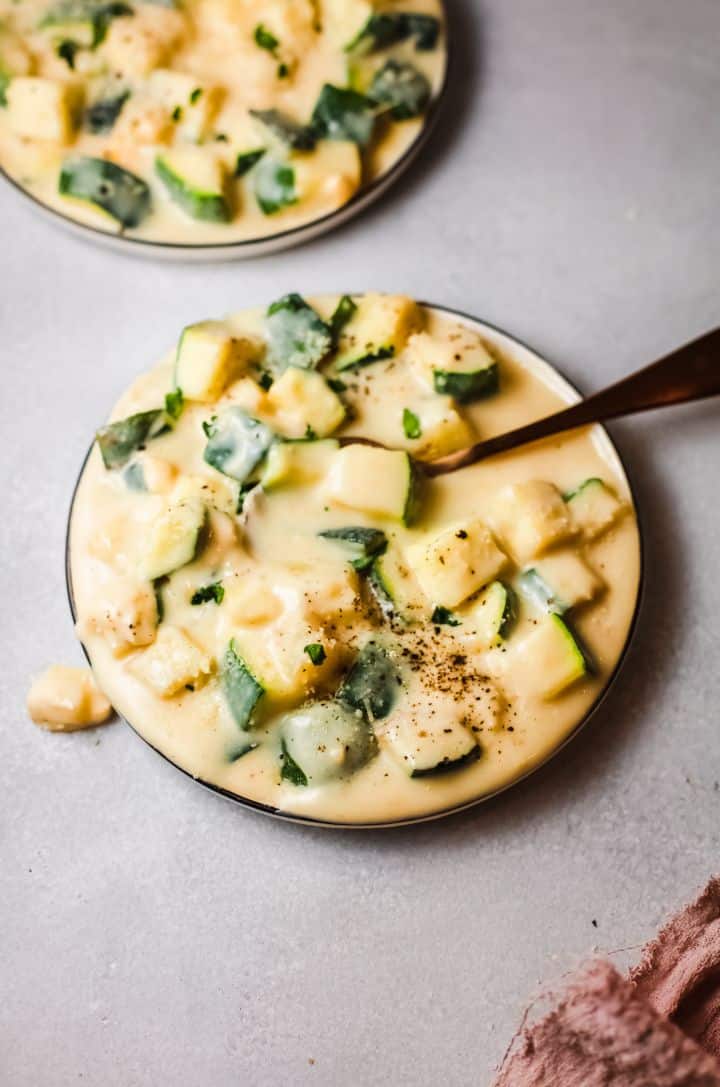 How to Cook the Zucchini
Leave the peel on the zucchini for an "al dente" texture. Note: If you peel the zucchini, be mindful that it gets a little mushy in all that sauce.
Cook the zucchini in both butter and olive oil to give this dish a yummy, buttery flavor. The olive oil helps raise the smoke point of the butter, which is important when sauteing veggies in butter.
Sprinkle with onion powder and garlic powder for added flavor depth in this dish. You don't want to skip this part!
Don't bother spiralizing the zucchini. I mean, you can if you want to, but when I eat the pasta version of mac and cheese, I don't eat spaghetti noodles in it, so I don't know why you'd want spiralized zucchini either. Diced is just fine and is less work.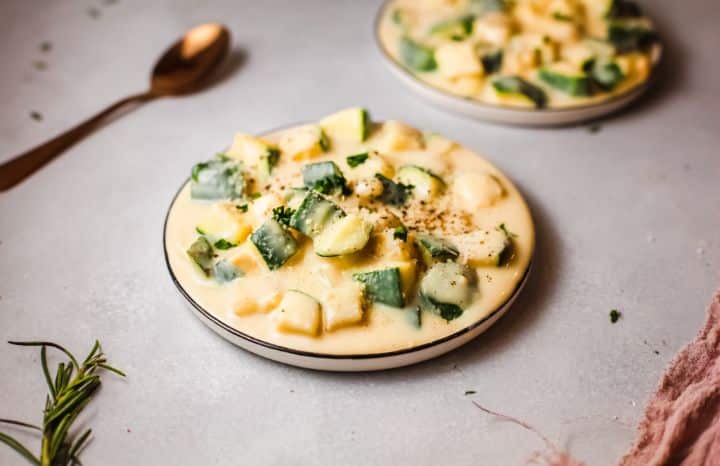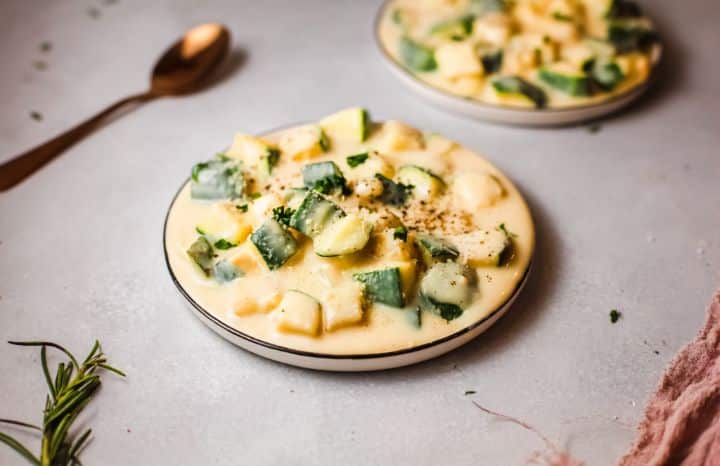 How to Make the Cheese Sauce
Use heavy cream. It is essential to a good cheese sauce. It makes the sauce rich and creamy, which is just what you want when you're eating comfort food.
We use both cream cheese and cheddar cheese in this sauce, which makes it ultra cheesy and creamy!
Don't overcook the cheese sauce. Just bring the heavy cream and water to a simmer, add in the cream cheese and cheddar cheese, and stir until everything is melted and mixed together.
Remove this dish from the heat once you incorporate the zucchini.
Another note: This dish is best eaten when warm, so we don't recommend making it in big batches. Although you *can* technically reheat this, zucchini releases water when heated, so it may make your mac and cheese a little too watery. Really, though, we don't think you'll have leftovers. It's that good.
Let's get to the recipe, shall we?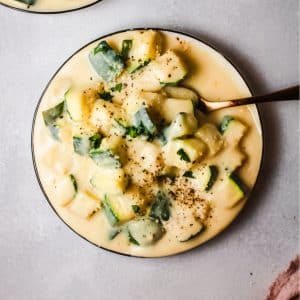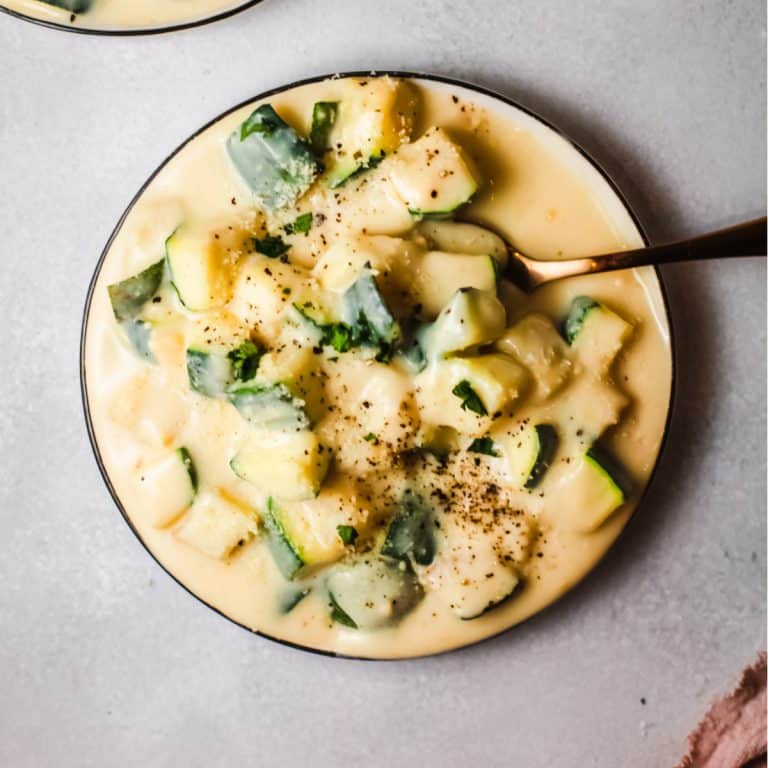 Zucchini Mac and Cheese
This quick and easy zucchini mac and cheese is keto and low carb. The creamy, cheesy sauce is so good!
Ingredients
2

Large zucchini

washed and diced

2

Tbsp

butter

1

Tbsp

olive oil

½

Tsp

garlic powder

½

Tsp

onion powder

Salt and pepper to taste

½

Cup

heavy cream

½

Cup

water

4

oz

cream cheese

½

Cup

cheddar cheese

shredded

1

Tsp

paprika
Instructions
Melt butter and oil in a large saucepan over medium heat.

Add zucchini, sprinkle with garlic and onion powder and cook untouched for 2 minutes.

Flip and cook for 2 more minutes.

Toss around and cook for 3 more minutes or until all sides are golden.

Transfer to a dish and sprinkle with salt and pepper.

In the same saucepan mix heavy cream with water and bring to a simmer.

Add cream cheese and cheddar and stir until evenly incorporated and melted.

Add the cooked zucchini and mix so everything is well coated.
Notes
This recipe is 4 servings if used as a side dish, or 2 servings if eaten as the main dish.
Nutrition
Pin this keto zoodle macaroni and cheese recipe to save it for later. You'll want to make it again and again!
Want a dish to pair with this mac and cheese? Try the recipes below!