Chances are you have peroxide in your medicine cabinet. But do you have peroxide with your cleaning supplies? Believe it or not, peroxide can be used throughout your home to clean everything from laundry to cutting boards. Let's look at some ways to clean with peroxide.
How to Clean With Peroxide
"Bleach" Clothing
Bleach can be harsh, and the smell can be overwhelming. It can also ruin your clothing if you're not careful. Peroxide can be used to pretreat stains. If you combine it with Dawn dish detergent, you'll have a stain remover strong enough to remove tough stains. You can also add a cup of peroxide to your laundry to get whites brighter.
Clean Grout
If the grout in your bathroom is stained, use peroxide to get it white again. Spray the grout and allow the peroxide to set while you clean the rest of your bathroom. Use an old toothbrush to scrub the grout. You may need to do this multiple times depending on how dirty the grout is.
Sanitize Cutting Boards and Countertops
It's pretty much impossible to wash large cutting boards in the sink. However, you want to make sure you're sanitizing your cutting boards. Spray the cutting board with peroxide and allow it to bubble up. Let set and then scrub and rinse. You can also use it to sanitize countertops as well.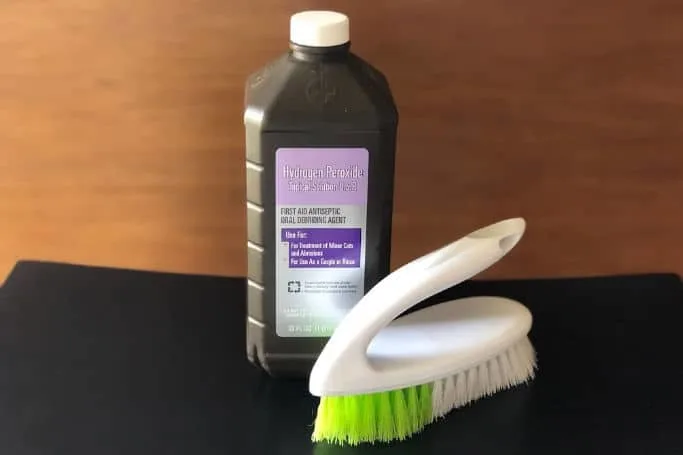 Remove Baked on Food
Casseroles are great but cleaning a casserole dish can be a nightmare. The baked-on food can seem impossible to remove. Create a paste using hydrogen peroxide and baking soda. Spread the paste over the baked on areas and allow to set. Wash with warm water and a scrub sponge. The food should come right off.
Wash Sponges
Here's one of our favorite ways to clean with peroxide.
Sponges get nasty. Instead of tossing them, soak in a shallow dish filled with equal parts warm water and peroxide. Remove from the water after 10 minutes and rinse thoroughly.
Clean the Toilet
I've used this one several times when I've run out of toilet cleaner. Pour 1/2 cup of hydrogen peroxide into the toilet bowl, swish it around a bit to get everything covered (especially under the rim), and then give it a good scrub with the brush after 20 minutes. You should have a sparkling white bowl when you're done!
Wipe Out the Fridge and Freezer
Last, but not least, because peroxide is non-toxic, you don't have to worry about it coming in contact with food surfaces. Remove everything from your fridge and freezer and spray the interior down with hydrogen peroxide. Allow to set for 5 to 10 minutes before rinsing.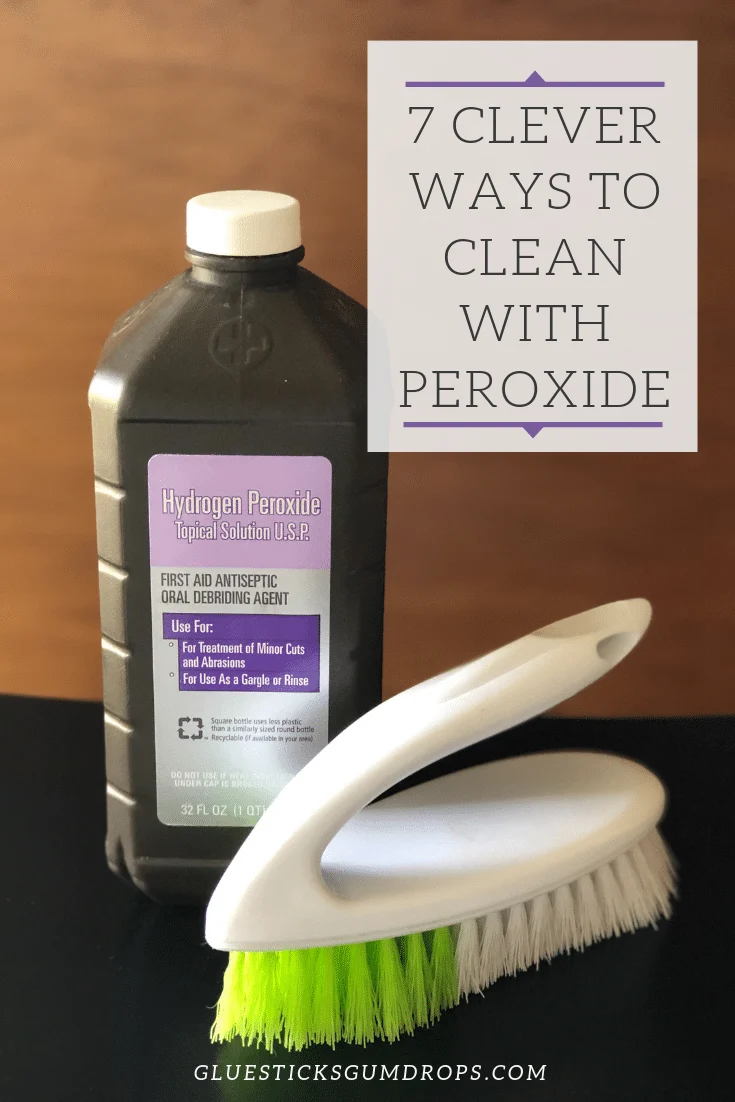 Peroxide is great for cuts and even works as a mouthwash. However, it's also wonderful to use throughout your home. You can remove baked-on food, clean your fridge, and even whiten your laundry when you clean with peroxide.
Love these cleaning tips? You may be interested in these posts, too.