Parents know the importance of reading for growing children. Reading can help your child in many ways, from strengthening his vocabulary to developing critical thinking abilities and so much more. While some kids fall in love with reading on their own, others need a little push, and that's exactly what we're here to help you with.
Read on to discover seven super effective tips and tricks to raise your child to be a voracious reader, including our fun kids reading challenge complete with printable bookmarks!
Also, check out our post on 8 ways to teach your child to love reading.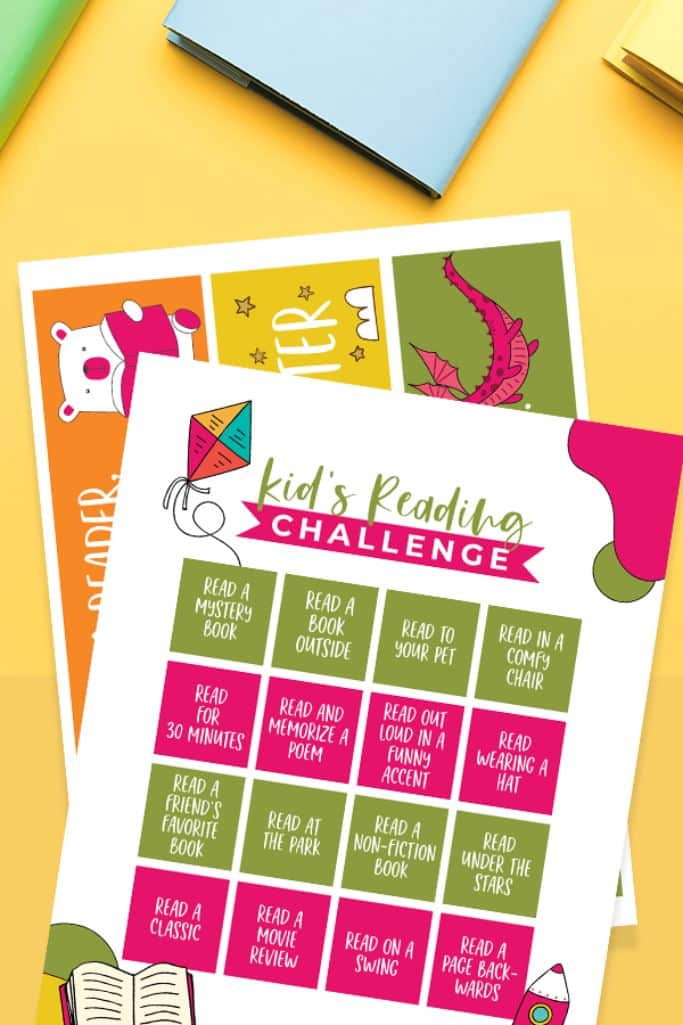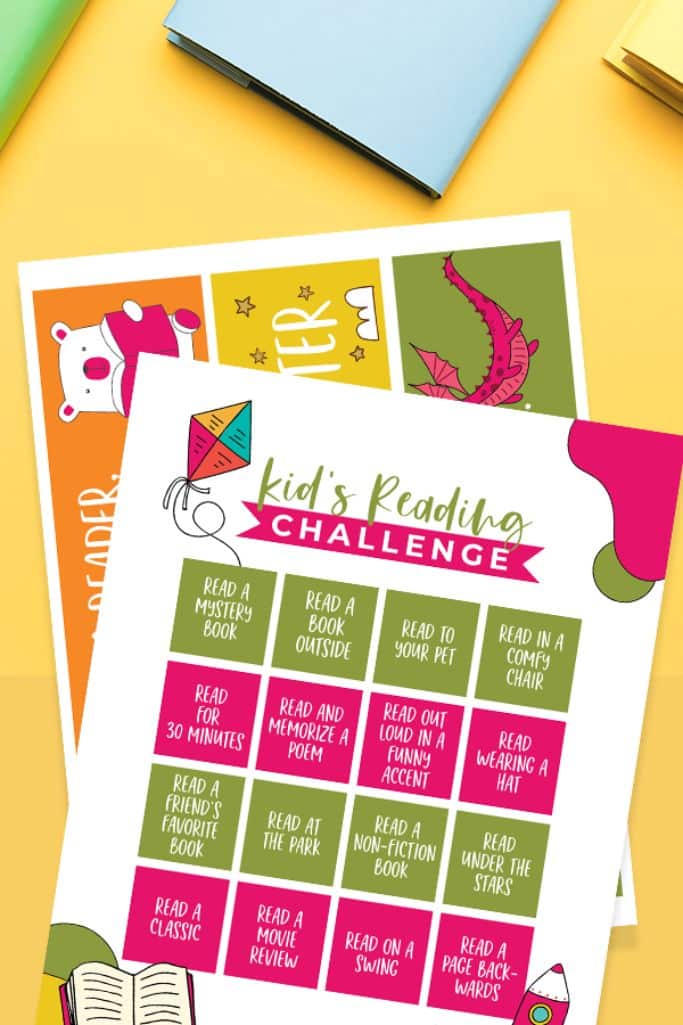 Make Reading a Bedtime Routine
One of the simplest ways to raise a reader is to incorporate reading into your kid's bedtime routine. It's relaxing to listen to a story at bedtime and can be a wonderful parent-child bonding experience as well.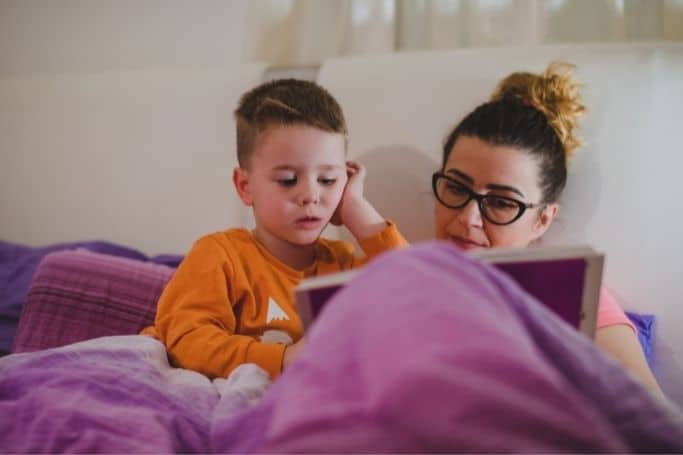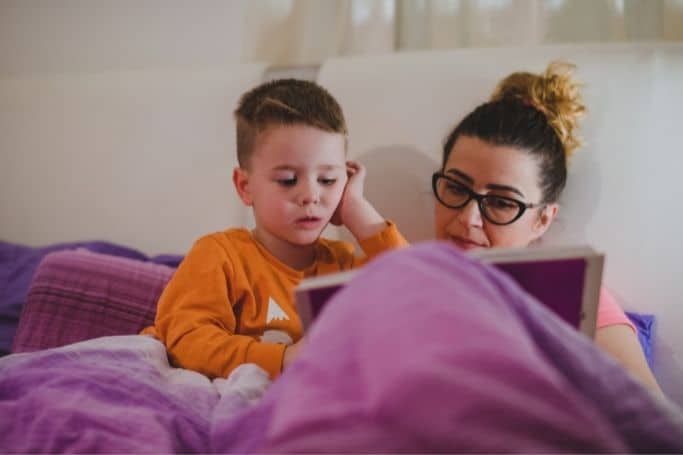 You may think that your days of reading bedtime stories are over, but that's not true! Research shows that there are still lots of benefits to reading aloud to older children, including improving vocabulary, increased bonding, and improved comprehension.
It's very important to find time to read to your kids.
Make Books Easily Accessible
Have different books in different places around your home. Make them easily accessible and noticeable. Having a content-rich environment will get your little one more interested in pursuing reading.
Set a few options out in a morning basket; put some on your child's nightstand. A book within arm's reach will soon be read!
Make it Fun
Reading shouldn't be only about flipping pages and reading words—you need to make it a fun and interactive experience for your little one to get him interested. While you're reading to him, animate the characters for him, speak using different voices, and make it more engaging. Don't be afraid to be silly!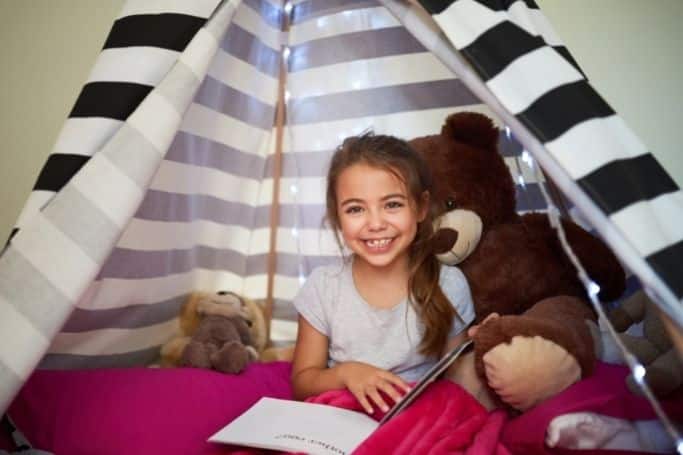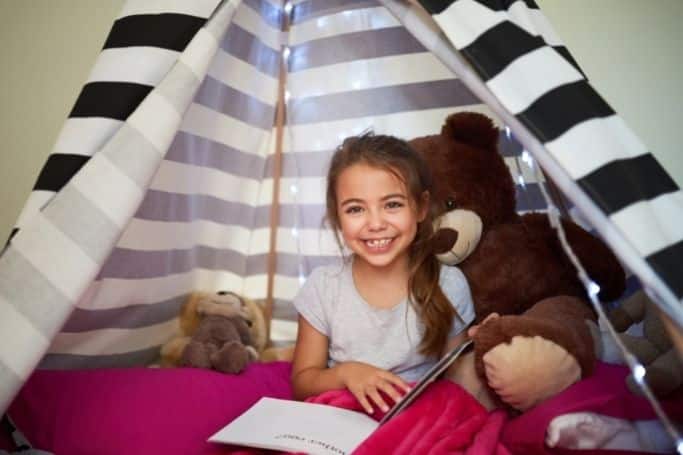 You could also set up a reading corner for your child. Build a fort in the corner of his room or set up a blanket in the yard (on a nice day) or in the living room. Throw some pillows down and make it a cozy and inviting spot for your little one to read.
Hit the Library/Bookstore Together
Another excellent way to get your little one interested in reading is to get to the library or bookstore together. Make it a fun destination. Allow your kid to explore the racks of books and take his pick. Show your child how to browse and identify different genres, check out all the new releases and popular items. Make it a special outing, just the two of you.
Let Your Child Choose
Yes, that's right. Simply allowing your little one to pick his choice of books from a selection of titles can get him interested. Growing kids like the idea of being in charge, and when you offer him a choice, it can get his interest piqued pretty quickly.
Reading can seem like a chore when you're told what to read. Let your child choose his own titles for independent reading, and then read some classics or more challenging books at bedtime. That'll give him a good variety and will still be enjoyable.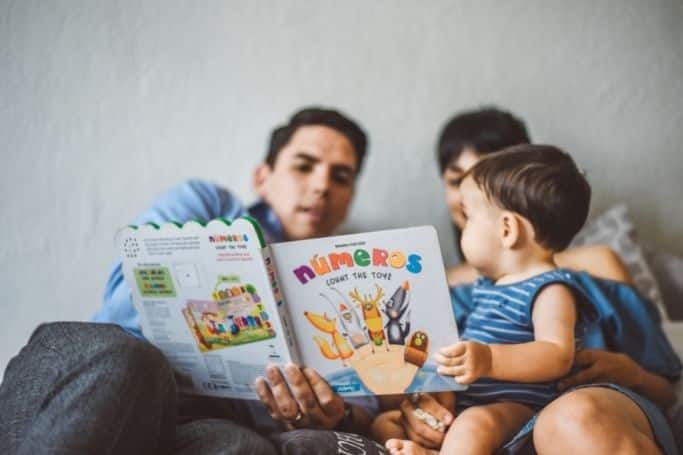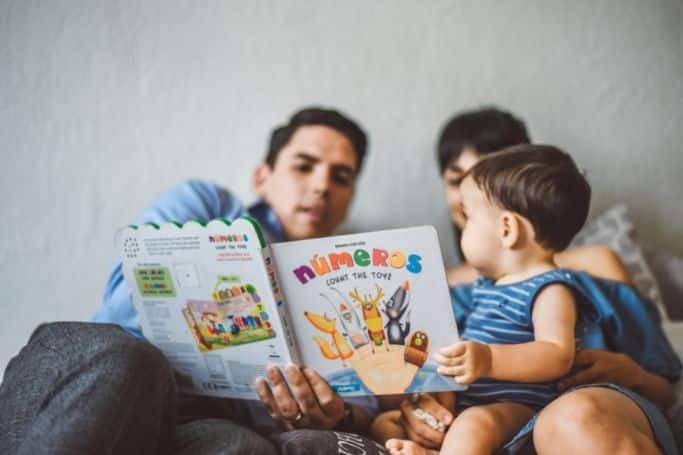 Take the Pressure Off
Last, but not least, make sure reading isn't a pressure for your little one. The idea is to get him interested in reading, and eventually develop a passion and love for it, which can be hard to do if you're constantly nagging him to read those books that you just got him. Don't push him to read, or make him feel guilty if he doesn't want to. Let it come to him naturally.
Sit down with a book yourself every once in a while to help him understand how it is actually an enjoyable experience. Lead by example.
Try Our Kids Reading Challenge
We have a fun reading challenge for kids to try. The first printable offers interesting ways to read—at the park, under the stars, or in a swing as well as different materials to read—a movie review, a mystery book, or a poem.
The printable also includes three printable bookmarks in fun colors. Your child will love them!
Get the kids reading challenge and bookmarks HERE or by clicking on the picture below.
Note: Both the challenge and the bookmarks are included in the same PDF. The PDF is 2 pages.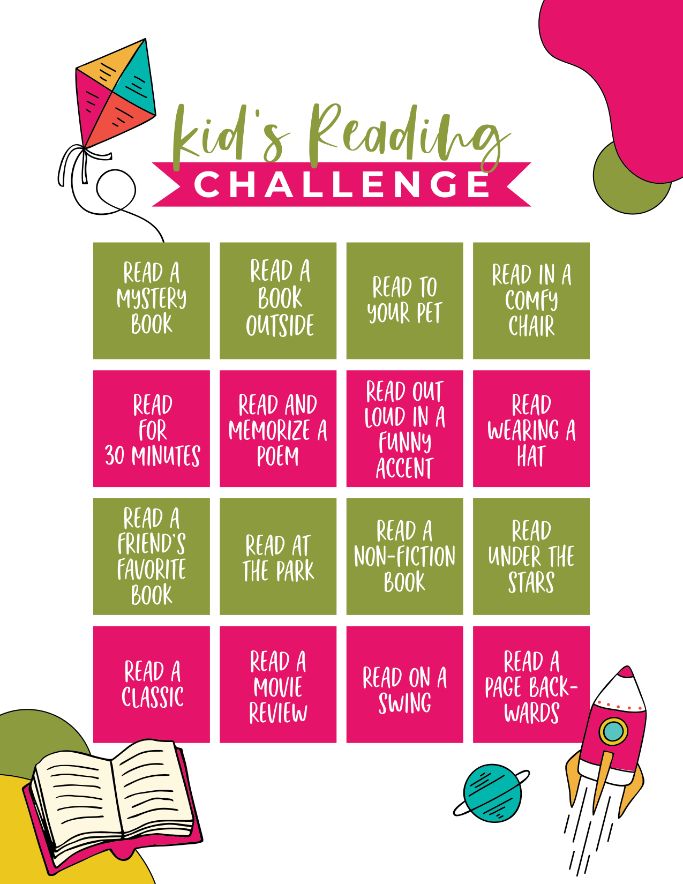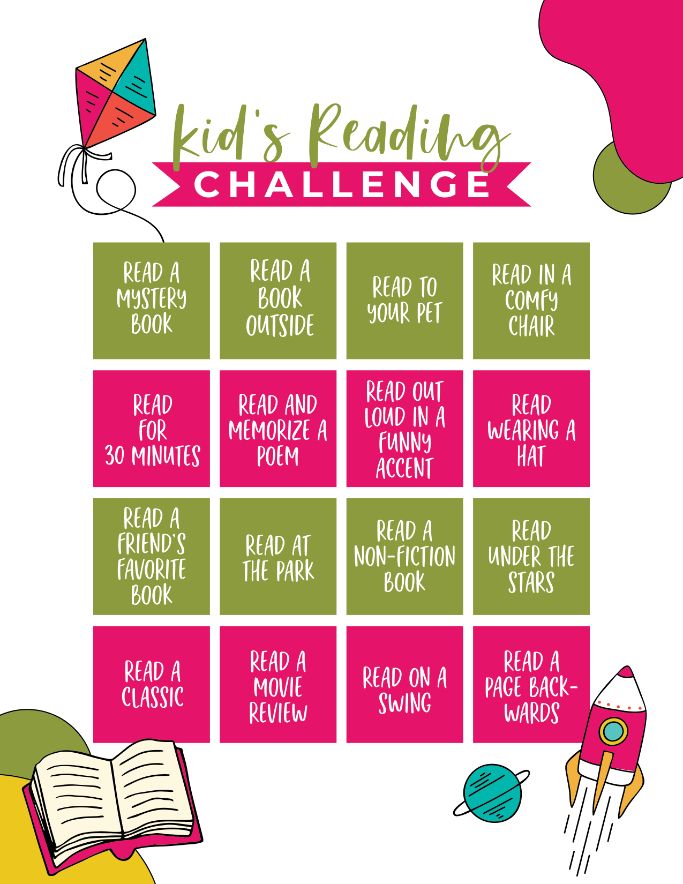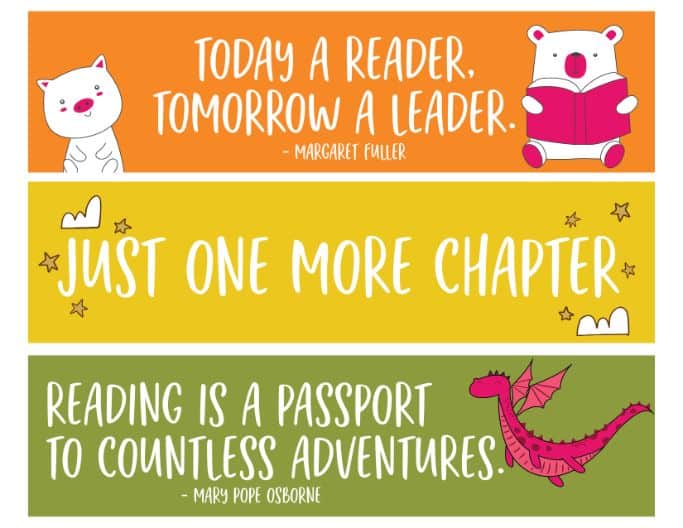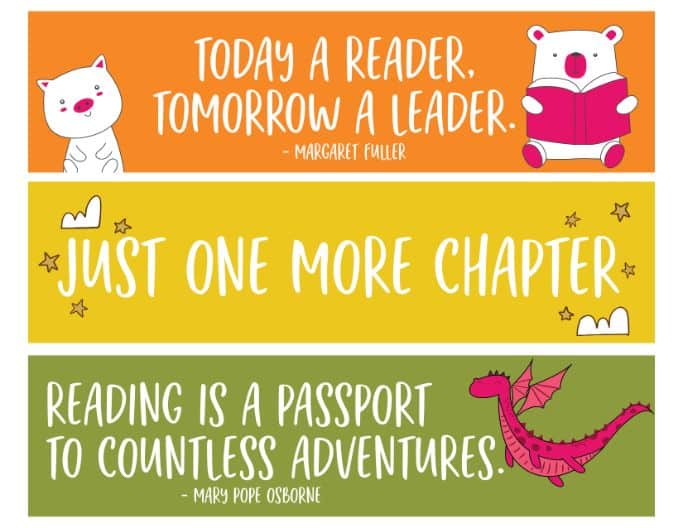 It can be easy to fall out of the reading routine during summer, but with this challenge, you can encourage your kids to keep picking up books all year long.
We hope you enjoyed this reading challenge for kids as well as our tips on encouraging kids to read. Do you have any tips? Share them with us in the comments!