This shop has been compensated by Collective Bias, Inc. and Mazola® Corn Oil. All opinions are mine alone. #SimpleSwap #CollectiveBias
Recently, we've been going lighter on some of our go-to recipes, like this Light Three Bean Salad. One way we're doing that is by making smarter swaps that still allow us to enjoy our favorite foods without the guilt. For example, you can swap fresh veggies for canned, honey for sugar, or swap out the type of cooking oil you use for corn oil. A recent study has found that adding Mazola® Corn Oil to one's diet resulted in lower cholesterol levels than Coconut Oil. A previous study found that corn oil can also help lower cholesterol more than extra virgin olive oil. To learn more about the study, see Mazola.com. Now, let's get to our tips for making a classic like Three Bean Salad a little lighter.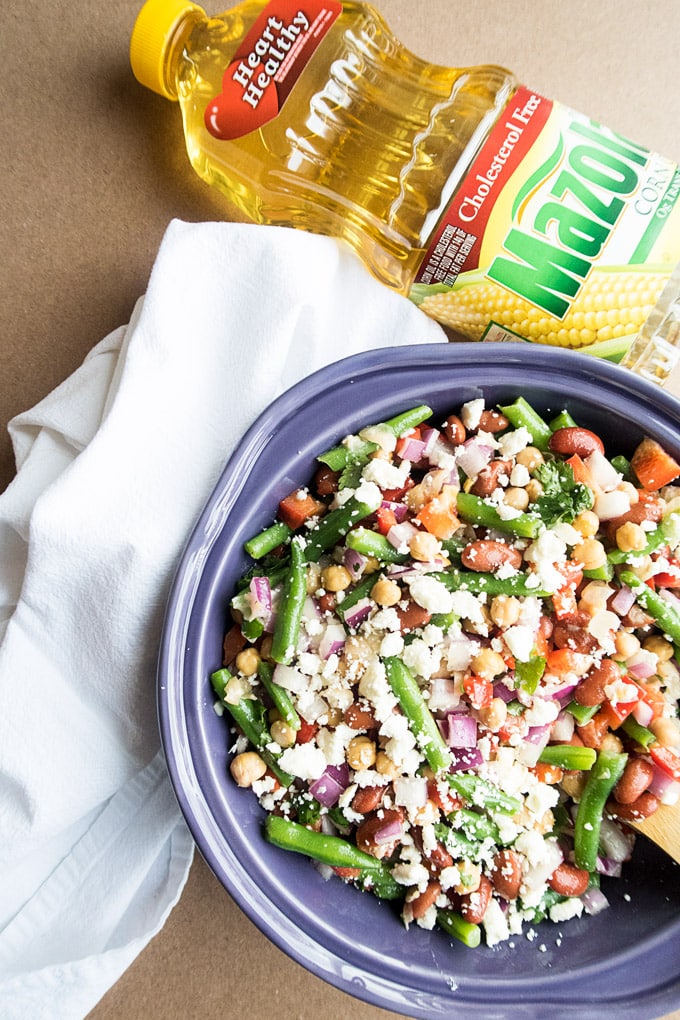 With springtime coming, we're going to be going to a lot more potlucks and picnics. One of our favorite recipes to take to such an event is the classic Three Bean Salad. Normally, the recipe calls for the usual cast of veggies (as you'll see in the recipe below) as well as sugar and olive oil to make the vinaigrette. We've decided to freshen the recipe up a bit by using fresh green beans instead of canned; they're so much snappier! And for the vinaigrette, we'll make it lighter by swapping sugar for honey and extra virgin olive oil for corn oil. A clinical study showed Mazola® Corn Oil reduces cholesterol 2x more than extra virgin olive oil. To learn more about this claim, see Mazola.com.
How to Make a Light Three Bean Salad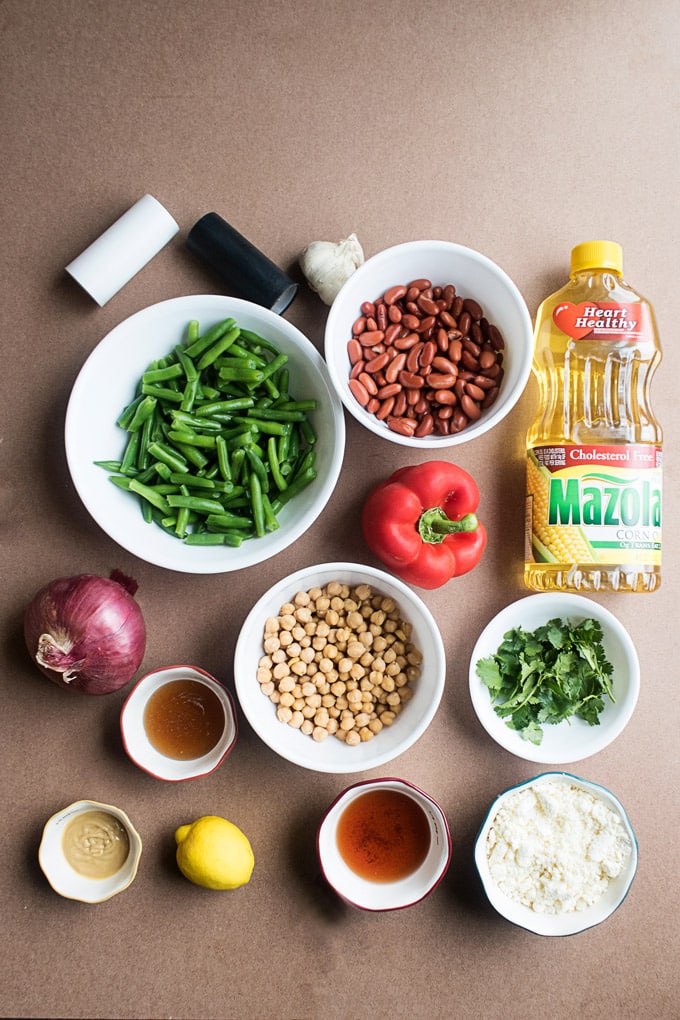 Step 1 – Prepare the fresh green beans.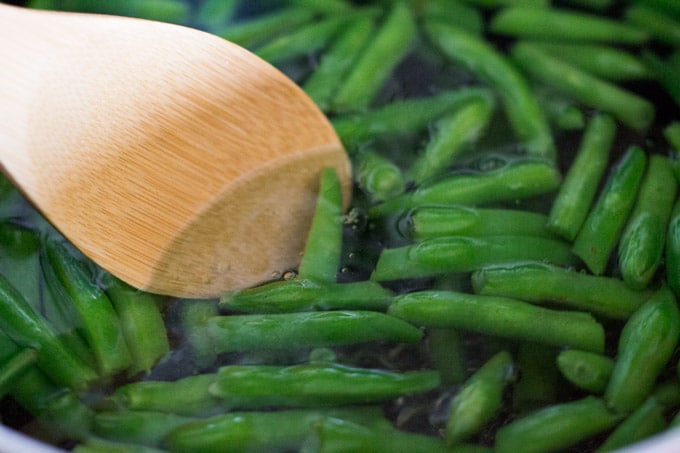 Rinse and cut the ends off the fresh green beans. Break them into 1 1/2 inch pieces. Bring a pot of water to a boil. Add the green beans, and boil for 3-4 minutes. Remove from heat immediately, drain beans, and add them to a bowl of ice water.
Step 2 – Prepare the other veggies and beans.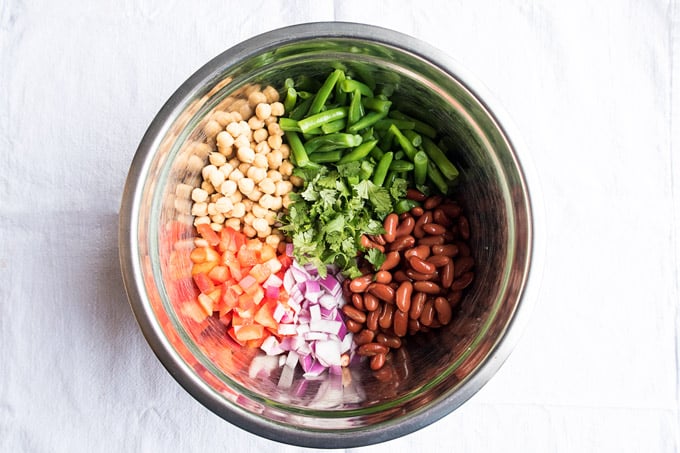 Chop the red onion, red bell pepper and parsley for the salad. Drain and rinse the garbanzo beans and kidney beans. Add veggies and beans to a large salad bowl.
Step 3 – Prepare the vinaigrette.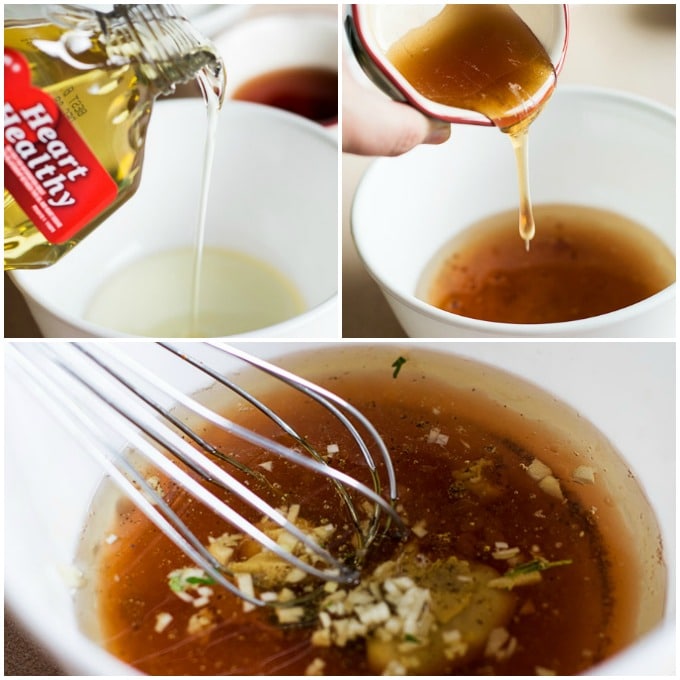 Add Mazola Corn Oil, red wine vinegar, honey, dijon mustard, lemon juice, minced garlic, salt and pepper to a small bowl. Mazola® Corn Oil is an all-purpose cooking oil that is a smart heart-healthy choice for your family. It has a variety of uses including baking, grilling, sautéing, stir frying, or mixing up a marinade or dressing. Whisk ingredients together until emulsified, or add the ingredients to a jar and shake until blended.
Step 4 – Mix the salad.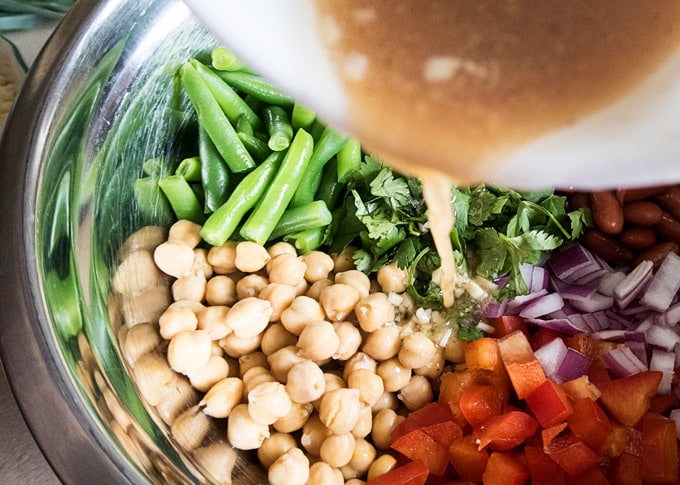 Pour the red wine vinaigrette over the salad, and mix everything until it's well combined.
Step 5 – Sprinkle finished salad with feta cheese crumbles.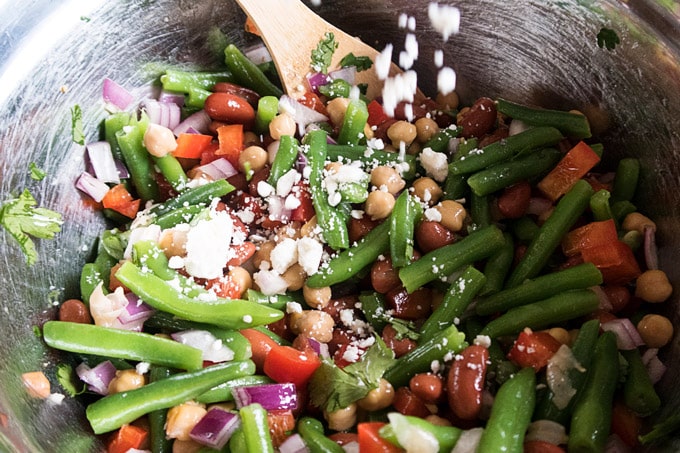 Mix some feta cheese into the salad, and sprinkle some over the top before putting it away.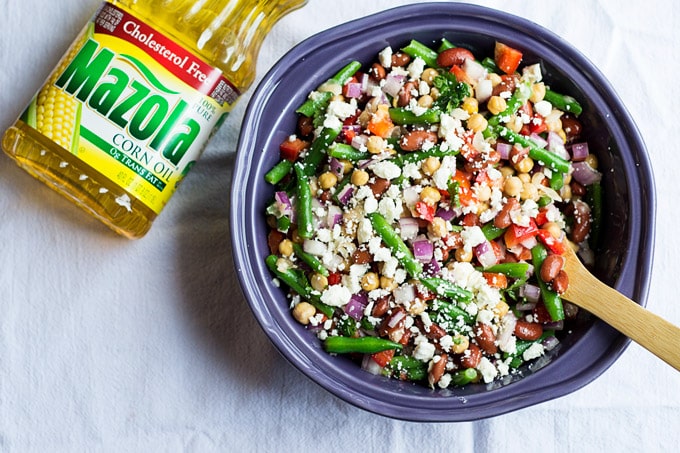 Ta-da! Now your lighter three bean salad is ready… for the refrigerator. That's right; it has to sit 4-6 hours in the refrigerator to allow all the flavors to come together. Waiting is hard, but it's totally worth it!
If you're worried about changing out the extra virgin olive oil for corn oil like we did, fret not! Mazola® Corn Oil has a neutral taste that won't negatively impact the taste of ingredients, so it lets the natural flavor of your food stand out.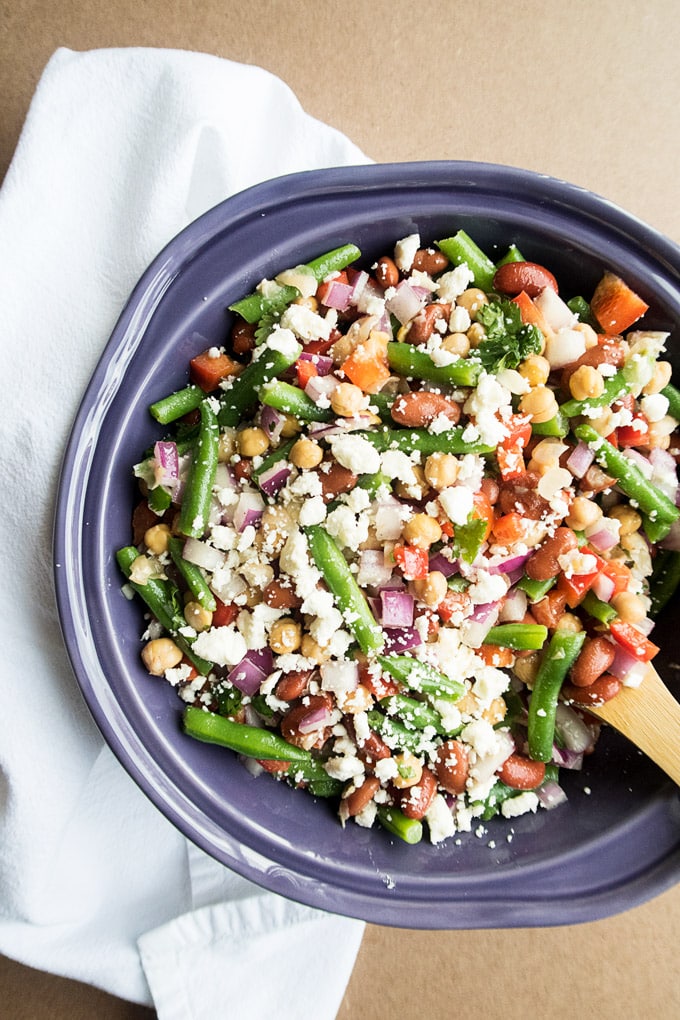 We love it for cooking, too… you wouldn't believe how long it took me to understand smoke points of different oils. Mazola® Corn Oil has a smoke point higher than most cooking oils at 450°F and performs well in a variety of cooking applications, including stir-frying, sautéing, grilling and even baking. Many home cooks may not realize that all cooking oils have a smoke point that, once exceeded, not only negatively affect the food's flavor and nutritional value. I can't tell you how many times I had a smoky kitchen before learning this!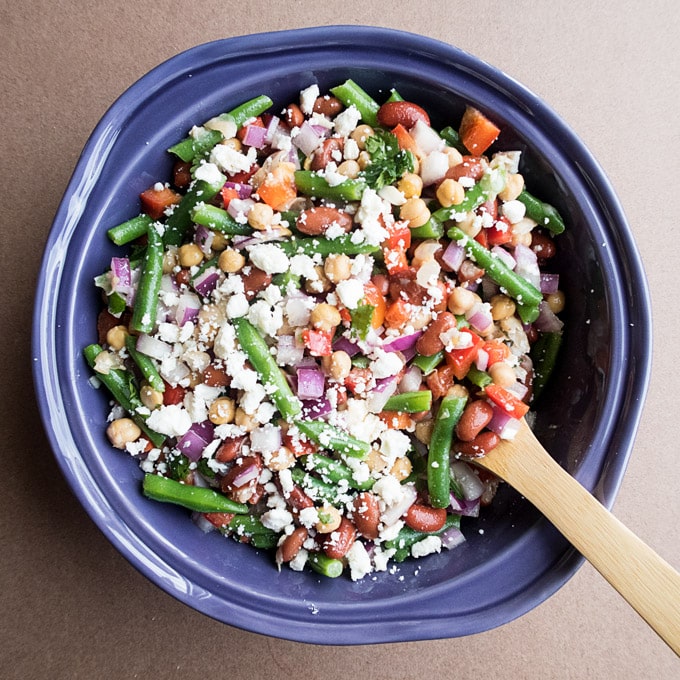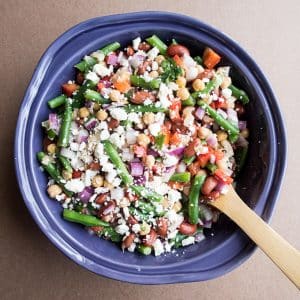 Print
Light Three Bean Salad
Yield 8 servings
Our light three bean salad with a red wine vinaigrette features three ingredient swaps to make a better-for-you dish for your next potluck or picnic. It's a delicious and wholesome take on a classic side dish!
Ingredients
For the three bean salad:
12 oz. fresh green beans, ends trimmed and cut into 1-1/2 inch pieces
1 (15 oz.) can red kidney beans, drained and rinsed
1 (15 oz.) can garbanzo beans, drained and rinsed
1 red bell pepper, seeded and chopped
1/2 medium red onion, chopped
1/4 cup fresh parsley, chopped
1/2 cup feta cheese crumbles
For the red wine vinaigrette:
1/2 cup Mazola® Corn Oil
3 Tbsp. red wine vinegar
2 Tbsp. honey
2 Tbsp. fresh lemon juice
2 tsp. dijon mustard
1 clove garlic, minced
1/4 tsp. salt
1/8 tsp. pepper
Instructions
Bring a medium pot of water to a boil. Add trimmed and cut fresh green beans to boiling water, and let boil for 3-4 minutes. Drain immediately, and place green beans in a bowl of ice water. Drain when completely cooled.
Add green beans, garbanzo beans, red kidney beans, red bell pepper, red onion and parsley to a large salad bowl. In a separate bowl, mix all the ingredients for the vinaigrette.
Pour vinaigrette over salad, and stir until well combined. Sprinkle in about 1/2 cup of feta cheese crumbles, and stir lightly.
Refrigerate 4-6 hours to allow flavors to come together.
Top with additional feta cheese crumbles and serve.
Courses Side Dish
Mazola® cooking oil is made of 100% pure oil with no additives, so the great flavor of your food comes through. So, try it in our light three bean salad today, and tell us what you think in the comments!