Looking for low-carb breakfast ideas to get the New Year started off right? This delicious open-faced pizza omelet is just the ticket. It's versatile because you can add any toppings you want. Use up the extra veggies in your fridge. Want to use ham instead of pepperoni? Go for it! The options are endless.
It's time for us to get back on board with our low-carb lifestyle, and that means figuring out how to make lots of simple low carb meals. We decided to make the change in November, but the holidays made it easy to make excuses to indulge in sweets. But, because I have PCOS and insulin resistance, low carb is really the way to go for me. That means I'll be cooking up lots of low-carb dishes for you to try, the first of which is this delicious pizza omelet.
Here's what you'll need:
4 Medium Eggs
Salt
Pepper
Garlic
Pepperoni
Green Peppers
Onions
Mushrooms
Shredded cheese
Pizza Sauce
Any other pizza toppings you want
Melt a pat of butter in a nonstick pan, throw in your veggies and cook them until they're tender.
Meanwhile, beat the eggs together and add salt, pepper and a bit of minced garlic (optional). Cook the eggs until they're firm on the bottom, and then flip it all in one piece.
As soon as the eggs are flipped, add your toppings. I added 2 tablespoons of pizza sauce, a bunch of shredded cheese, pepperoni slices and the veggies. It was awesome. It was big and hearty enough to serve two people, but you can eat it all by yourself if you want to. I won't tell.
Now here's the short version of the recipe.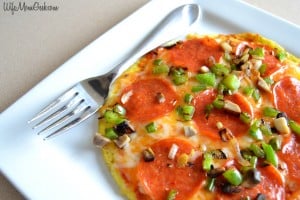 Open-Faced Low Carb Pizza Omelet
This low-carb, open-faced pizza omelet is sure to curb your pizza cravings when you're watching your carbs.
Ingredients
4

medium eggs

Salt

Pepper

Minced garlic

Mushrooms

Green peppers

Onion

Shredded cheese

Pizza sauce
Instructions
Dice veggies and saute in butter over medium heat.

Beat eggs together, and add salt, pepper and minced garlic. Cook until firm on bottom and flip.

Remove the eggs from the heat. The bottom will still cook while you add the toppings.

Add pizza sauce, shredded cheese, pepperoni and veggies to the top of the eggs.

Tilt the pan to slide the omelet into your plate. Enjoy!