If you've been following for a few months, you know I'm all about sensory bins, play dough and other sensory activities. But I've been short on time lately, so I haven't been able to put my own bins together just yet. If you're looking for some inspiration, though, you'll find plenty in this list! Here are 10 fun and educational sensory activities for toddlers from members of the Kid Blogger Network!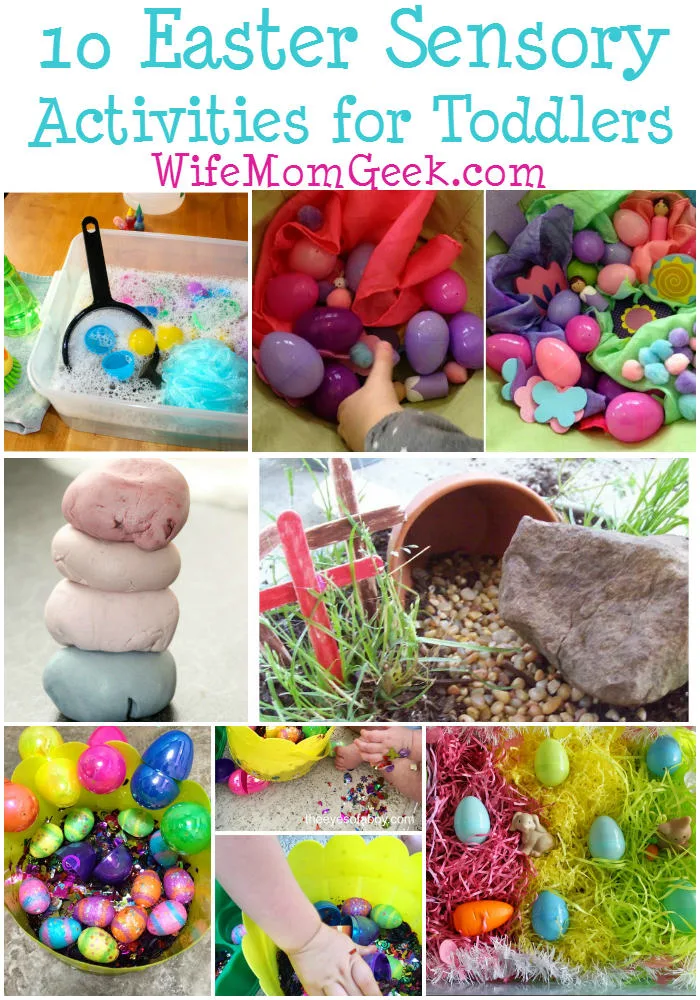 1. Easter Bunny Sensory Bin | Source: House of Burke – The little bunnies are so cute!
2. Egg Wash Water Sensory Play | Source: Little Bins for Little Hands – My son LOVES water activities, so this one is sure to be a hit.
3. Easter Eggs Sensory Play Activity | Source: Artsy Momma – Check out all the surprises and sensory play she set up for her kiddos! How fun!
4. Spring Time Sensory Basket for Toddlers | Source: Natural Beach Living – Pom poms, plastic eggs and foam toys… You can't go wrong with this toddler-friendly sensory basket.
5. Spring Confetti Sensory Bin | Source: The Eyes of a Boy – I never thought to use confetti! This would definitely be one I'd take outside, though. I can imagine it would stick for a while in our carpet. 🙂
6. Fine Motor Easter Egg Hunt | Source: In the Playroom – Here's another that uses confetti and lots of Easter grass to develop fine motor skills.
7. Resurrection and Empty Tomb Sensory Garden | Source: Schooling a Monkey – Let's not forget the reason for the Easter season! This sensory activity offers a great opportunity to talk about Jesus and the resurrection.
8. Easter Egg Sensory Game | Source: My Mundane and Miraculous Life – Julie puts different objects inside the plastic eggs, and her kiddo tries to guess what's inside based on the sound. Great idea!
9. How to Make Shimmer Playdough | Source: In the Playroom – This isn't an Easter-specific activity, but the colors are perfect for Easter, and you can never have too much playdough.
10. Easter Sensory Box | Source: Rubber Boots and Elf Shoes – This big box is full of rice in various shades of green and lots of Easter goodies. It looks like loads of fun.
Have you prepared an Easter sensory activity for your kiddo? Leave a link in the comments!