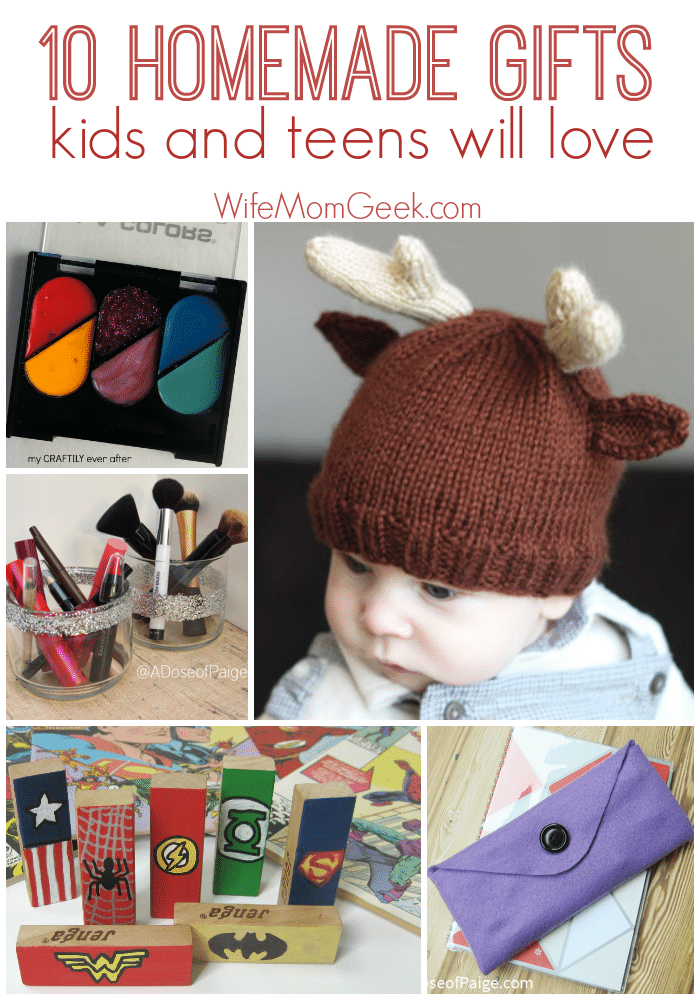 Is your Christmas budget stretched to the max? I know the feeling! We buy gifts for all the children in our extended families, and that can get expensive, since more kids are added each year. Homemade gifts are a great way to save, but kids don't exactly go crazy for jar mixes and body scrubs. So here are 10 homemade gift ideas that kids will LOVE finding under the tree this Christmas.
And while you're browsing the list, download these free printable Snowman gift tags to use on your gifts this year. Enjoy!
Large Snowman Labels | Small Snowman Labels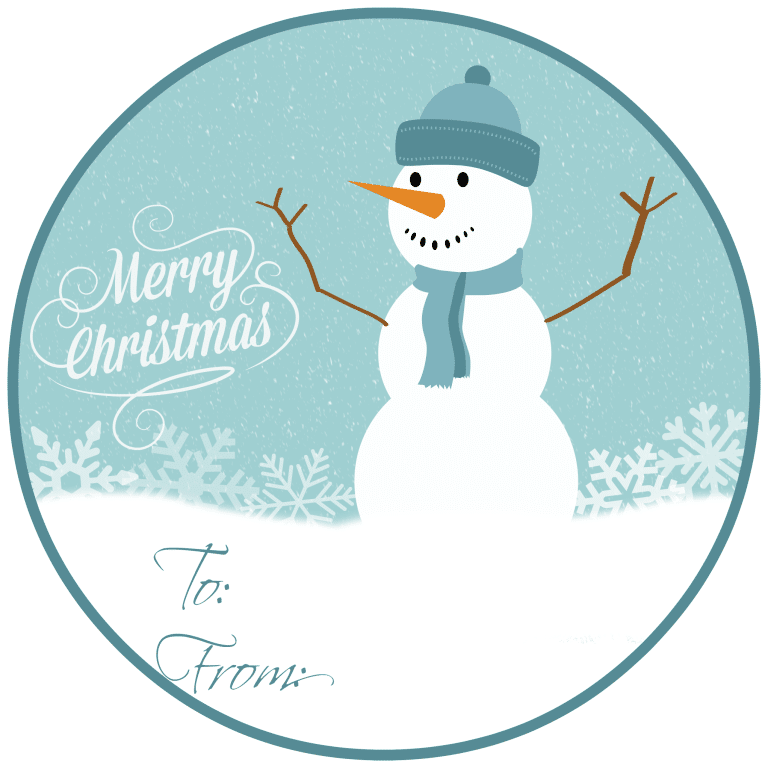 Cute Homemade Gifts for Kids and Teens
1. Knit Reindeer Beanie: How darling is this? It's perfect for any new babies in your family this year.
2. DIY Pencil Pouch: This pencil pouch is perfect for kids who love to draw and write, and it's so simple!
3. Easy DIY Makeup for Little Girls: If your little girl thinks she's old enough for makeup, but you don't feel she's quite ready, this is a great alternative. Using old makeup containers and some nail polish, you can create a play makeup set for hardly any money at all!
4. Glitter Makeup Brush Holders: These are a great idea for teens who wear makeup (and adults, too!) You could also do this for pencil containers for smaller children, but use plastic jars instead of glass ones.
5. Superhero Blocks: So clever! These superhero blocks were made using a little paint and some old Jenga blocks. If you're good at drawing and painting, you could also do this for princesses and other characters.
6. DIY Felt Play Mat: Love this idea. These are easy to put together and fold up nicely, too. This one is for a "grass" play mat, but you could also create roads for cars, snowscapes for winter, sandy-colored mats for beach play, etc. There are so many possibilities!
7. DIY LEGO Table: All you need is a breakfast tray, LEGO base plates and glue to make these DIY tables. Great for LEGO fans!
8. Snow Globe Jar Toppers: Fill a small jar with candy and top it with this DIY Snow Globe Jar Topper for a sweet gift that kids will enjoy year after year.
9. Holiday Nail Art Ornament: Have a little girl that melts for manicures? Give her this cute gift. Just find an ornament that you can fit a few bottles in along with a pretty emery board, and you're all set.
10. Homemade Play Dough: You just can't go wrong with homemade play dough for toddlers and preschoolers. Throw in a few cookie cutters from the dollar tree, and they'll have hours of fun.
Bonus:
11. DIY Pencil Toppers: You'll find loads of great pencil topper ideas here for kids of all ages. From simple pipe cleaner toppers to easy sewing projects with felt, they're the perfect weekend project. You can whip up a bunch in no time!
Do you have a homemade gift idea that kids will love? Share it in the comments, please!