Is your Christmas budget stretched to the max? I know the feeling! We try to buy gifts for all the children in our extended families, and that can get expensive since more kids are added each year. Handmade gifts are a great way to save, but kids don't exactly go crazy for jar mixes and keychains. So here are 10 homemade gifts for kids that they will LOVE finding under the tree this Christmas.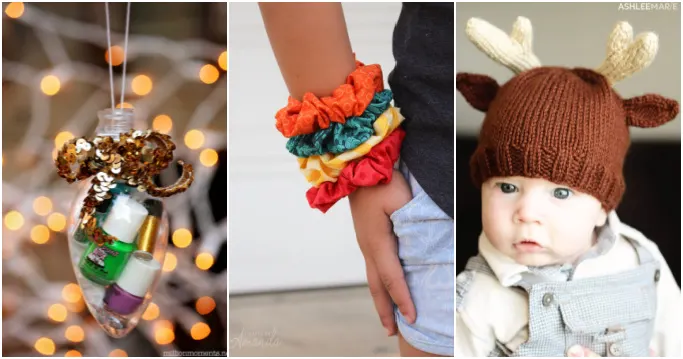 And while you're browsing the list of easy gifts kids will love, download these free printable Snowman gift tags to use on your gifts this year. Enjoy!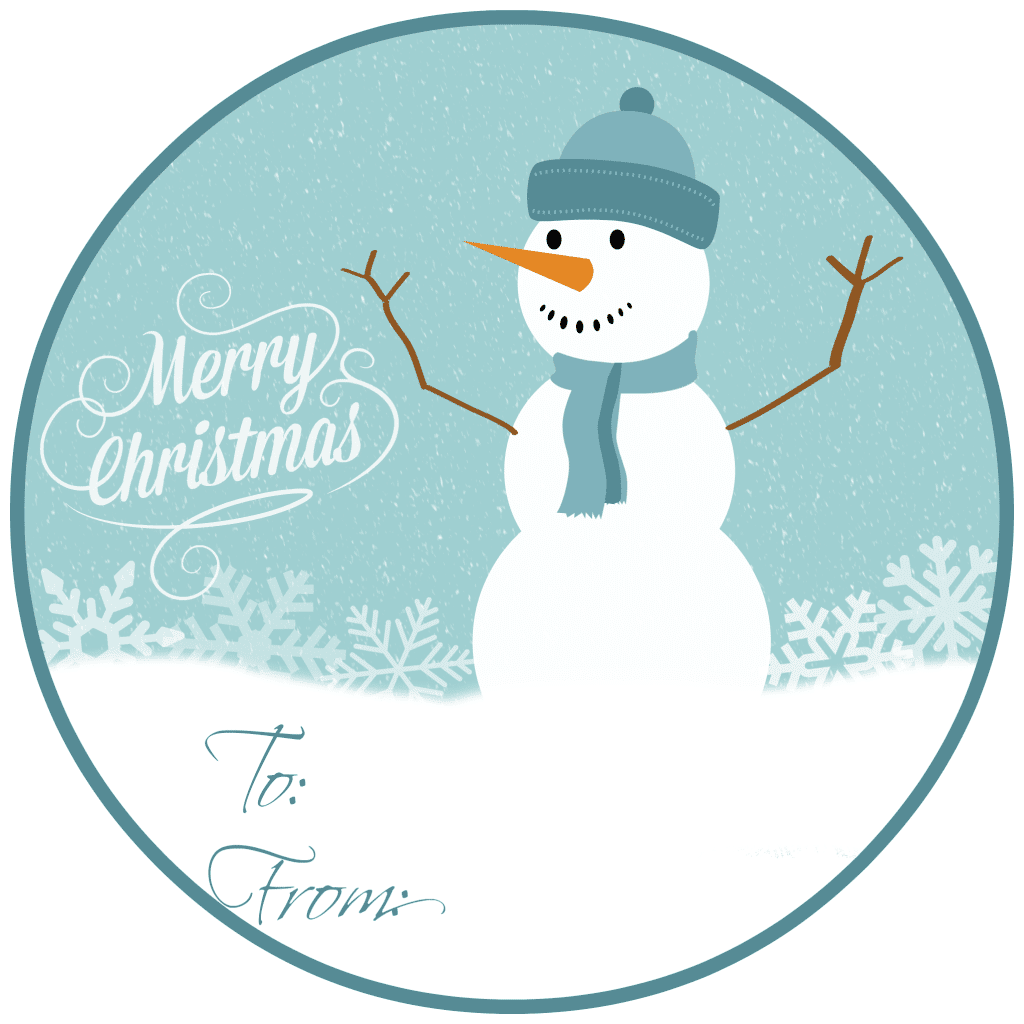 Large Snowman Labels | Small Snowman Labels
Although we began this list with only 10 homemade gift ideas, we've expanded it to include 15 cute handmade gifts for kids. They're perfect for Christmas, birthdays, and other occasions when you could use a DIY gift. Tell us which one is your favorite in the comments!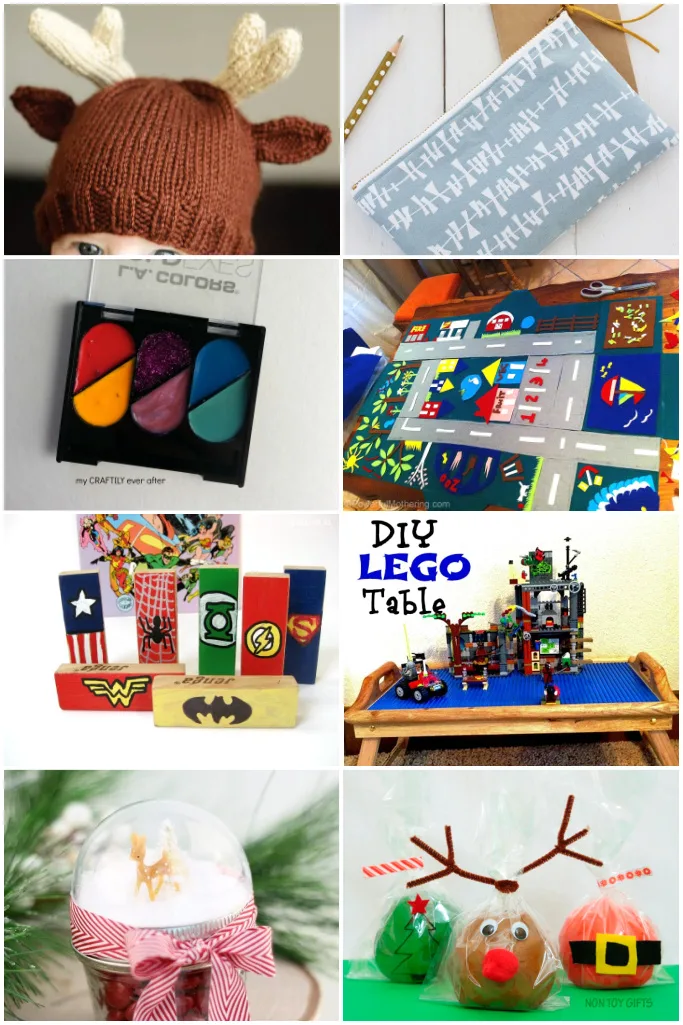 Cute Homemade Gifts for Kids
1. Knit Reindeer Beanie: How darling is this? It's perfect for any new babies in your family this year.
2. DIY Pencil Pouch: This pencil pouch is perfect for kids who love to draw and write, and it's so simple! This 15-minute sewing tutorial is the perfect project if you're short on time but have sewing skills. Kids can use it to hold their pencils or crayons, while tweens and teens may use it for a makeup pouch. Swap out the fabrics to match your child's favorite colors or interests.
3. Easy DIY Makeup for Little Girls: If your little girl thinks she's old enough for makeup, but you don't feel she's quite ready, this is a great alternative. Using old makeup containers and some nail polish, you can create a play makeup set for hardly any money at all!
4. DIY Felt Play Mat: Love this craft idea. These are easy to put together and fold up nicely, too. This one includes a road to drive toy cars on, a zoo, a fire station, a farm, a beach, and lots of other places for imaginative kids to visit.
5. Superhero Blocks: So clever! These superhero blocks were made using a little paint and some old Jenga blocks. If you're good at drawing and painting, you could also do this for princesses and other characters.
6. DIY LEGO Table: All you need is a breakfast tray, LEGO base plates and glue to make these DIY tables. Great for LEGO fans!
7. Snow Globe Jar Toppers: Fill a small jar with candy and top it with this DIY Snow Globe Jar Topper for a sweet gift that kids will enjoy year after year.
8. Homemade Christmas Playdough: You just can't go wrong with a homemade play dough recipe for toddlers and preschoolers. Throw in a few cookie cutters from the dollar tree, and they'll have hours of fun. We love that the different colors are placed in cellophane bags and decorated to look like Rudolph, Santa, and a Christmas tree. How clever!
Homemade Christmas Gifts for Teens
9. Wooden Makeup Brush Holder: These are a great idea for teens who wear makeup (and adults, too!). It's super simple to make using a scrap piece of wood, and you can paint it or stain it to dress it up a little.
10. Holiday Nail Art Ornament: Have a little girl or teen that melts for manicures? Give her this cute gift. Just find an ornament that you can fit a few bottles in along with a pretty emery board or nail kit, and you're all set. Tie a pretty ribbon to the top and hang it on the tree.
11. Circle Zip Earbud Pouch: Earbuds and AirPods are hard to keep up with. This circle pouch makes it much easier. Clip the pouch to your backpack, purse, or use it as a keychain to always have them on hand.
12. Flannel Infinity Scarf: You can never go wrong with a good scarf. This flannel infinity scarf is stylish and trendy but will be a great wear for the holidays for years to come.
13. Christmas Light Bath Bombs: For girls who like the spa experience, these bath bombs are fun and festive! They're shaped as colorful lights that kids of all ages will love, and you can add any scent you like to them.
14. DIY Scrunchies: Would you have ever guessed that scrunchies would make a comeback? Yet, here they are! Learn how to make them yourself to give them to all the kids, teens, and adults in your life.
15. Adventure Notebook: Dress it up as you see in the tutorial or come up with your own design. No matter how you do it, artsy and creative teens will appreciate an adventure book to sketch or write in. Personalizing a notebook with your own theme makes it all the more special. This is a great gift that'll make a nice keepsake in the years to come.
Bonus:
DIY Pencil Toppers: You'll find loads of great pencil topper ideas here for kids of all ages. From simple pipe cleaner toppers to easy sewing projects with felt, they're the perfect weekend project. You can whip up a bunch for kids' gifts in no time! They're lots of fun.
Do you have a homemade gift for kids that we should include? Share your DIY Christmas gift in the comments, please!