Living the low carb lifestyle can be difficult. I've tried before with my husband, and I think that most of my problem is that I didn't try a variety of foods, and I didn't keep low-carb snacks on hand. Now I have no excuse! I've compiled this HUGE list of 50 low carb snacks ideas to help all of us. And the good news is that most of these require very little prep or cooking at all. They're easy peasy snacks you can whip up in just a few minutes, with a few exceptions. Having these items on hand will also help you make simple low carb meals, too.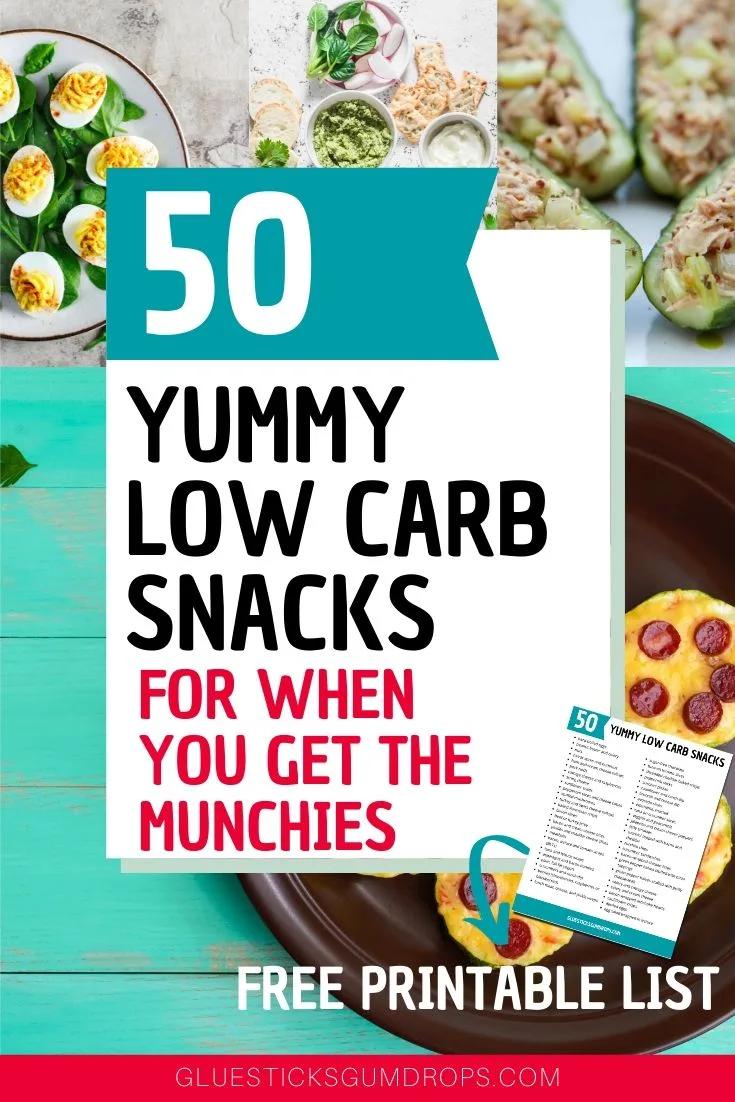 This post was updated on 10/19/2019.
Please keep in mind that, as with all foods, you need to watch your portions. Things like nuts, sugar-free chocolates and berries are easy to indulge in when you're low carbing, but you need to portion them out before you start snacking to avoid eating too much.
Also, I've had a few complaints that some of these foods aren't truly low carb. That is actually a matter of which plan you're following.
If you're following an early phase of Atkins, for example, and you need to stay under 20 net carbs a day, some of these low carb snacks won't fit into your plan. However, people like my mother-in-law (who's a diabetic), limits carbs, but perhaps within 80-100 carbs a day.
So, in that way, "low carb" is a little subjective. No matter what your carb count goal is for the day, though, I believe you'll find something here to nosh on when you get hungry.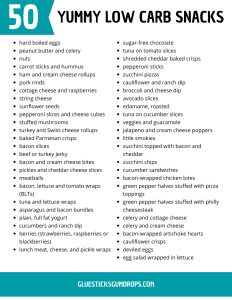 Here's the low carb snacks list. Print it out for easy reference. You can also pin it for later.
hard boiled eggs
peanut butter and celery
carrot sticks and hummus
ham and cream cheese rollups
cottage cheese and raspberries
string cheese
pepperoni slices and cheese cubes
stuffed mushrooms
turkey and Swiss cheese rollups
bacon slices
beef or turkey jerky
bacon and cream cheese bites
pickles and cheddar cheese slices
meatballs
bacon, lettuce and tomato wraps (BLTs)
tuna and lettuce wraps
asparagus and bacon bundles
plain, full fat yogurt
cucumbers and ranch dip
berries (strawberries, raspberries or blackberries)
lunch meats
tuna on tomato slices
shredded cheddar baked crisps
zucchini pizzas (toppings on baked zucchini slices)
cauliflower and ranch dip
broccoli and cheese dip
avocado slices
tuna on cucumber slices
veggies and guacamole
jalapeno and cream cheese poppers
little smokies
zucchini topped with bacon and cheddar
zucchini chips
cucumber sandwiches
bacon-wrapped chicken bites
green pepper halves stuffed with pizza toppings
green pepper halves stuffed with philly cheesesteak
celery and cottage cheese
celery and cream cheese
bacon-wrapped artichoke hearts
cauliflower crisps (smashed and baked cauliflower)
deviled eggs
egg salad wrapped in lettuce
And just in case you're looking for the old image to print out, here it is: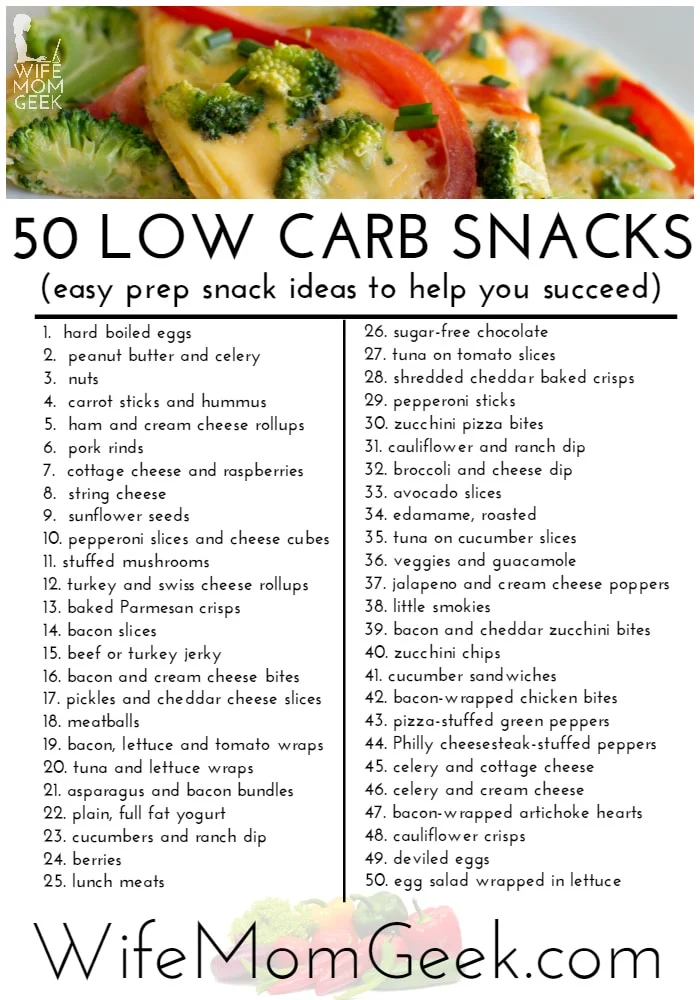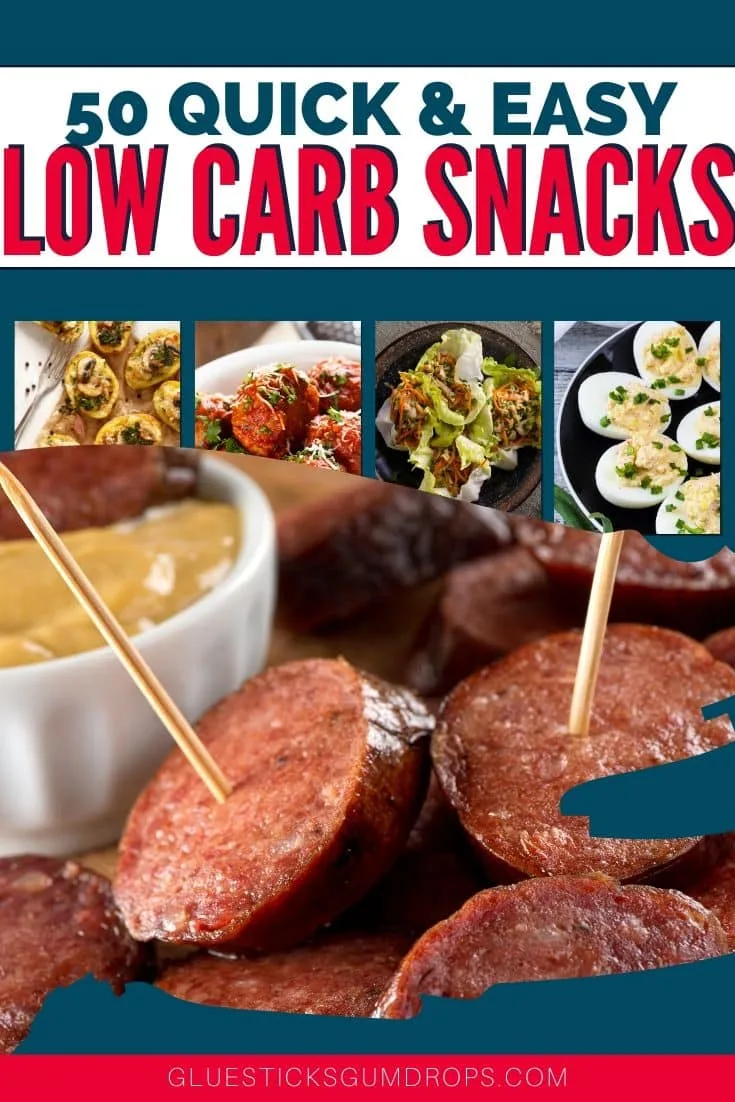 If you liked this list of 50 Low Carb Snack Ideas, you'll also enjoy these posts: