As a busy mom, there's a good chance that you have to run errands during the school day. Perhaps it's an appointment, a last-minute grocery run, or if you're like most of us, carting kids to and from sports and clubs. If you're homeschooling your child, you may think that this means an interruption from learning. Wrong! Enter carschooling!
There are actually many ways you can keep the lessons going while out and about. From working on spelling, to improving reading, to doing a few math drills and much, much, more, time in the car is always a great time for learning. Let's take a closer look at some tips and tricks for carschooling when you're on the go.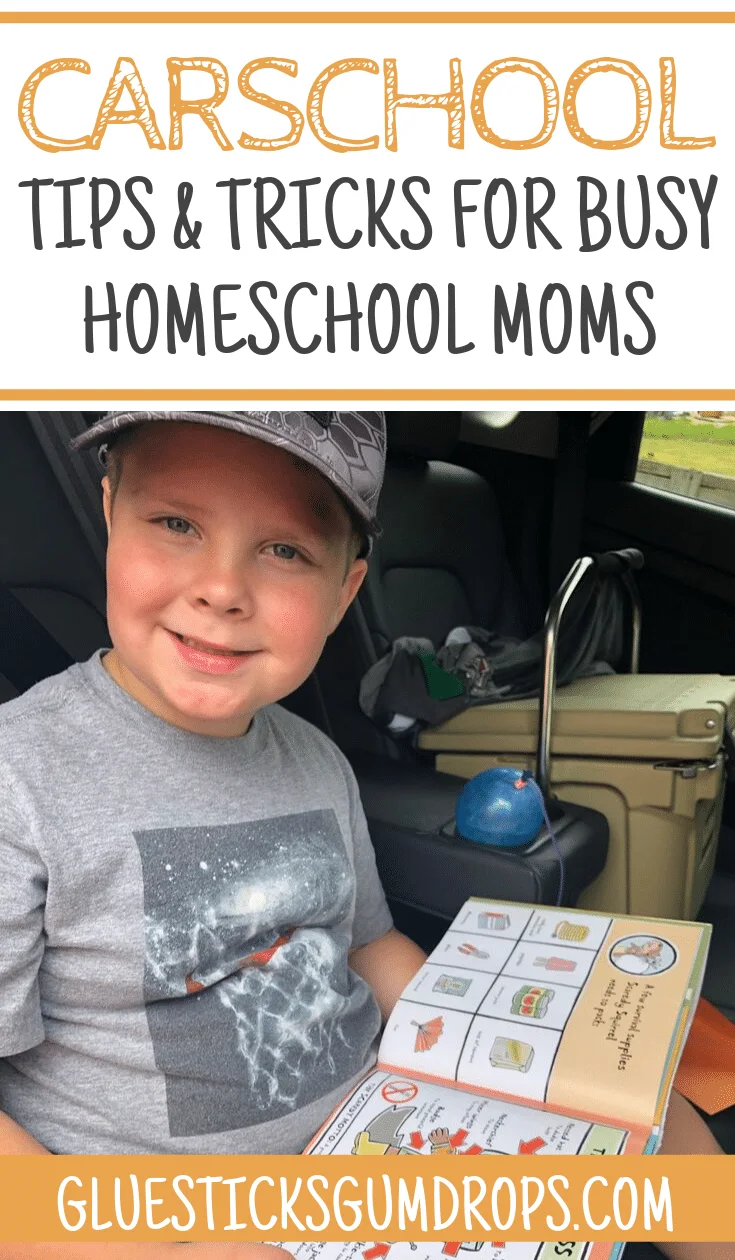 Links to products in this post are affiliate links. We earn a small commission if you click that link at no additional cost to you.
Also, please note that any pictures of my son in the car were obviously taken while the car was resting in our driveway, which is why he's not buckled in. Whenever we are in a moving car, rest assured that he is in his booster and seat-belt, safe and secure.
Work Out Math Problems
As you're driving around town, give your child math problems to work out. He can do his calculations on the car window using a dry erase marker. This is a great way to build math skills and practice simple problems.
The dry erase marker tip was given to me by my niece who homeschooled her kids for years. She's braver than I, however, because I give my kid a small dry erase board to work on (and a marker with an eraser) rather than letting him use my windows. I love the idea, but I love a marker free leather interior more.
Have a Carschooling Spelling Bee
Okay, so your child may be the only contestant, but it's a fun way to practice spelling words. Give your child words to practice each week and when you're in the car running errands, you can ask him to spell out the words.
This will obviously be a lot more fun with siblings, especially if they're close in age and can reasonably be expected to know how to spell a lot of the same words.
Use Letter Manipulatives
Alternatively, you can call out spelling words and have your child spell them out using alphabet magnets on a small cookie sheet. That could be loads of fun! Word play helps kids better commit the words and letters to memory.
Take a look at how we organize our manipulatives at home.
Read Aloud or Silently
We all know that reading is something that children need to do more of. If you child can read in the car without getting sick, this is a wonderful time for your child to get in his required reading time. You can even make things better by making sure to hit the library at the beginning of the day so that he can read a new book while you're running errands.
You can have your child read aloud if you're working on phonics and sight word recognition. But if your kids are older (or if Mom just needs a little quiet time), the kids can read silently to themselves. Ah, the bliss of a few minutes of quiet cannot be underestimated.
Keep Puzzle Books in the Car
Puzzle books can be a great way for kids to practice math, reading, and more. Mad Libs books are great for children learning language. They will have to think of adjectives, verbs, and nouns. This helps them practice. Plus, it's a fun method for learning. Mad Libs Junior is a great option for the younger crowd.
Do Workbook Pages
Depending on the age of your child and your method of teaching, you can find a number of awesome workbooks at your local Walmart, Target, or Dollar Tree. These are wonderful for carschooling. If your child is older or you've worked through all the books the store offers, you can print pages online for free and put them into a binder to make your own workbooks.
We don't do much in the way of worksheets, but if they're fun ones, it's a great way to get in a few minutes of practice to reinforce something your child has learned.
Play the Round Game
As you're out and about, ask your child to round numbers you see along the way. For example, gas might be $2.47 per gallon. Ask your children to round to the nearest tenth. If you go grocery shopping, give your child the receipt and ask him to round the prices to the nearest tenth on the way home.
For more games you can play in the car, check out Carschooling: Over 350 Entertaining Games & Activities to Turn Travel Time into Learning Time for inspiration.
We also LOVE BrainQuest cards. Our kiddo is in 2nd grade, but you can find them in different topics for many grades. Highly recommend them!
Homeschooling doesn't have to stop because you have to run errands. There are many ways you can take the classroom with you. Whether you have your child work out math problems or do workbooks, you can carschool while running errands.