I used to be that person… you know the one… no ornament storage plan whatsoever. I'd open up the Christmas decorations bins, excited to put the tree up only to find a heaping mess of ornaments, lights, garland, and all the other trimmings that go with the tree.
I was usually so ready to get the tree down by January 1st that I crammed everything in as fast as possible. I paid no regard to the headache I'd cause myself in November when it's time for the tree to go back up. Thankfully, I've smartened up.
These ornament storage, light storage, and garland storage tips have saved my sanity. No more tangled lights… no ornaments getting hooked together… putting the tree up is fun again! We've included several Christmas decorations storage ideas to get you organized in the new year.
This post was originally written on January 1, 2018 and was updated on 10/7/2019. Any links to products are affiliate links, and we receive a small commission on those at no extra cost to you.
Christmas Decorations Storage Tips
Happy New Year, folks! We hope your year is off to an enjoyable and/or productive start. We've had the flu for the past two weeks here, but that didn't stop us from taking down our tree on New Year's Eve to get it out of the way for 2018. This, in and of itself, is quite a feat for us. We've been known to keep the tree up until the end of January or even into February! So, it was a huge relief for sick ol' me to get it boxed away until November. And our elf on the shelf has made his way back to Santa, too.
You may already know these Christmas lights and ornament storage tips… I know I smacked myself on the forehead and thought, "Obviously!" when I saw the light trick in particular. I'll be the first to admit that I just took Christmas lights down, wrapped them up in a ball and put them in a bag which then went into a box which then went into the basement. The next year, I'd curse myself when I had to untangle string after string of lights. But no more, my friends.
Christmas Lights Storage Tip
We started wrapping our lights around sections of cardboard last year, and let me tell you, it was easy as pie to unravel them when we put up the tree in November. Simply take any old piece of cardboard, cut a couple of notches in it, and wrap your lights around it. See? Easy peasy. And no, I'm not a Scrooge. We have more than one set of lights… promise. I just used one for the photo.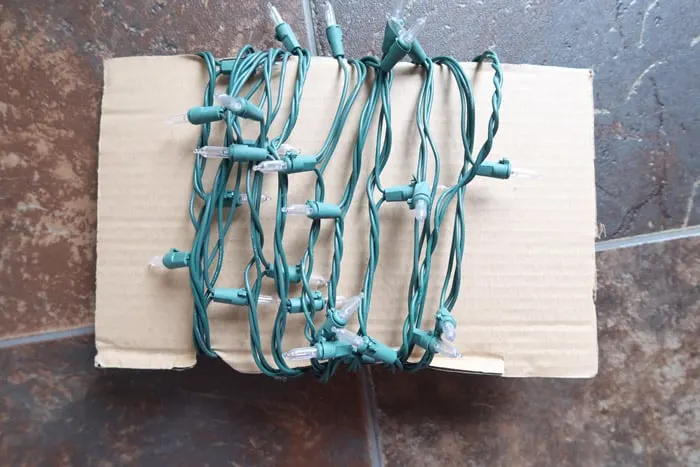 I do the same with our garlands. Wrap the garland around cardboard pieces (or egg carton inserts in this case since hubs threw out all my cardboard pieces) to keep them tangle-free.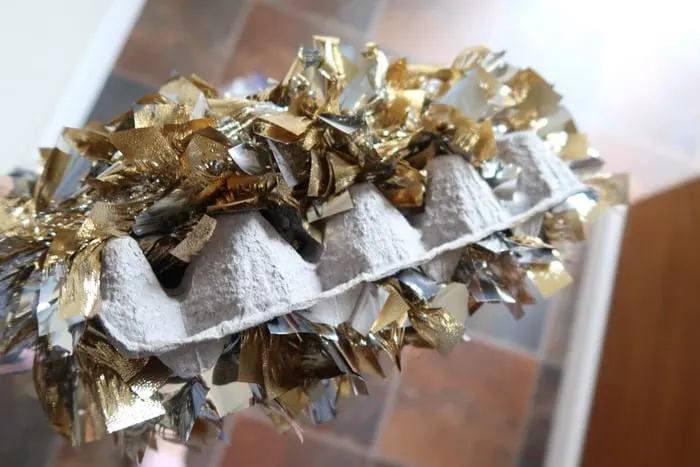 Christmas Ornament Storage Tips
For the small ornaments that tend to tangle together, I just keep them separated by type in Ziploc bags. Sophisticated system, right? But it helps so much with these snowflake and icicle ornaments that are the bane of my existence when decorating the tree.
These cheap little ornaments are my son's favorite, but they have strings instead of hooks, and they ended up in a tangled mess every year. I also save myself the trouble of fitting those strings around tree branches by just adding a hook to the ornaments instead. It doesn't matter that they hang down a little lower since these go on interior branches, anyway.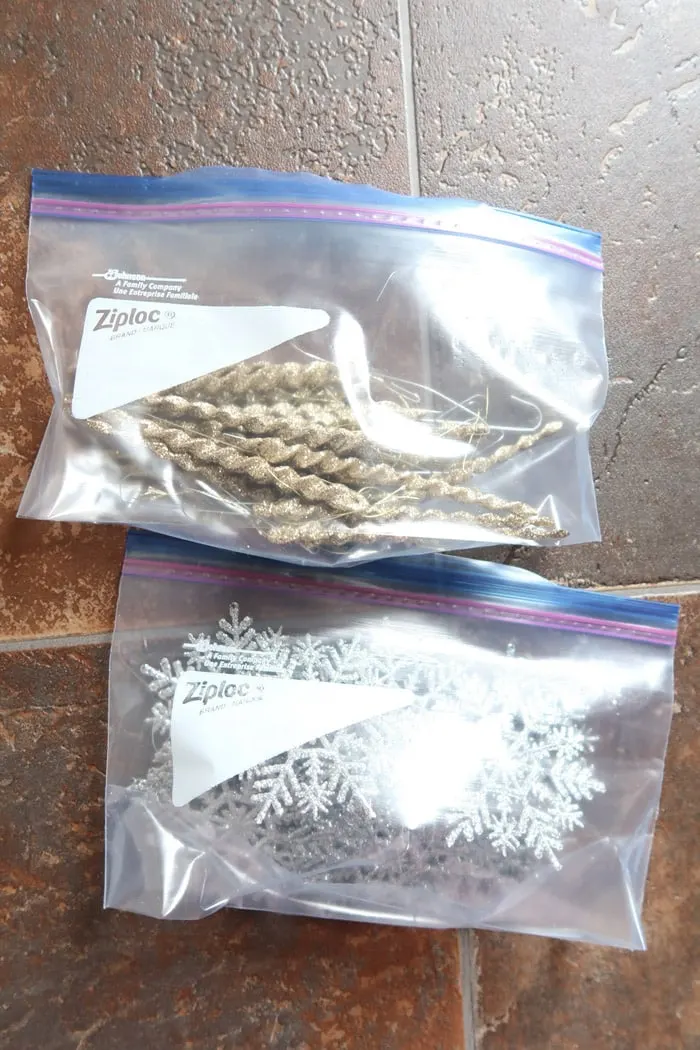 And for the rest of the ornaments, they're boxed up with their hooks still in place to make them easier to hang next year. No one has time to rehang ornaments year after year! I do usually purchase an extra box of hooks, though, so that I can re-hook them if the hook falls off in the box. It would be no fun to have to dig through to the bottom to find those hooks. But when I do get to the bottom, I just add those hooks back into the container and repeat the process the next year.
If the ornaments were smaller or fragile, I'd put those in egg cartons or in an ornament box with protective wrapping around them. We have very few ornaments that were passed down to us, but we do have some that our son made that are very important to us. All of these then get put in a large plastic storage tub and taken to the basement for the year.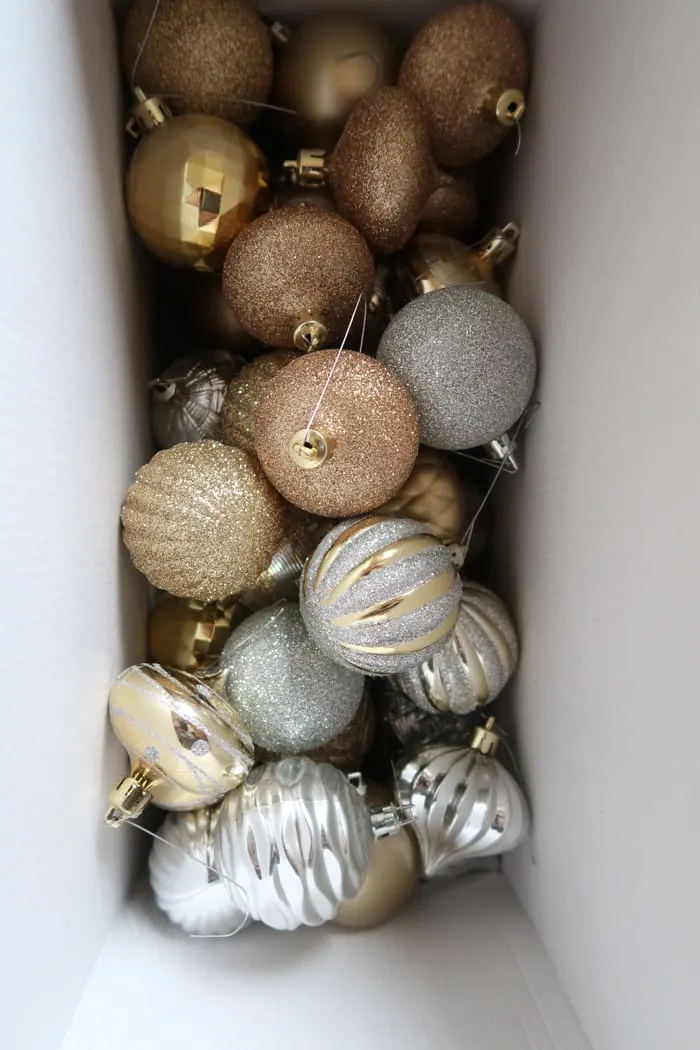 Do you have a great idea for storing Christmas decorations? Leave a comment! I'd love to hear some tips on wreath storage, and in particular, storing them without smooshing them. My wreaths are never as pretty after they've been in storage for a while, even though I do fluff them up when I get them out.
If you enjoyed these ornament storage tips, you might also like: