Looking for a low carb meal that will satisfy your fast food craving? This Cheeseburger Salad is it! The creamy Mac Sauce Dressing is incredible, and very nearly tastes like "the real thing" that you get at McDonald's. You won't even miss that starchy bun!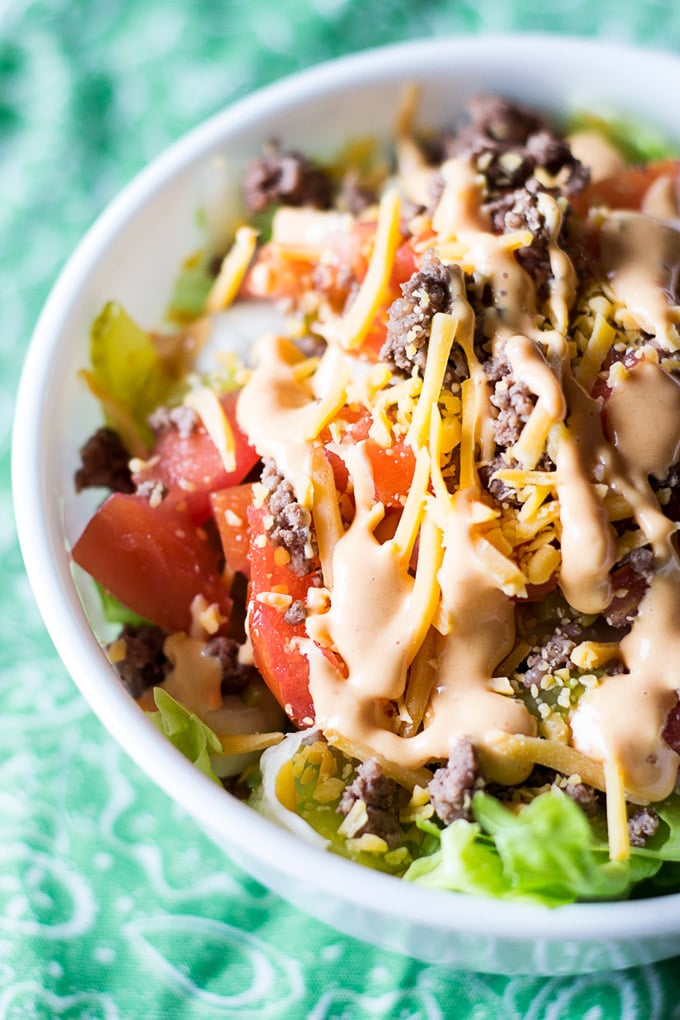 I've mentioned before that my husband is usually low carbing at any given point in time. It works really well for him in managing his weight, and it's a great plan for someone who does a lot of weight lifting and has a big appetite! He's very rarely hungry when he sticks to his plan.
And since I need to drop the pounds, too, I've decided to join him. Unfortunately, on super busy evenings, we're known to just go through the drive-thru to get a quick meal all too often, and when you stop fast food cold turkey, you kind of miss it!
That's where this Cheeseburger Salad comes in. When that craving for a McDonald's Big Mac hits, I promise you, this will fix it. The secret's in the Mac Sauce Dressing, which is very similar to the sauce they put on their famous burger.
But you're hungry, so let's get to how you can make one for yourself, alright?
How to Make Cheeseburger Salad with Big Mac Dressing
The salad is pretty self-explanatory. We keep some browned ground beef on hand so we can make cheeseburger salads quickly whenever we want them. Oh, and tomatoes are totally optional. I know that Big Macs don't have tomatoes, but I enjoy them in my salad nonetheless.
Here's how you make the Big Mac Dressing:
Step 1 – Add mayonnaise, reduced-sugar ketchup, sugar-free sweet pickle relish, vinegar, black pepper and Swerve to your bowl.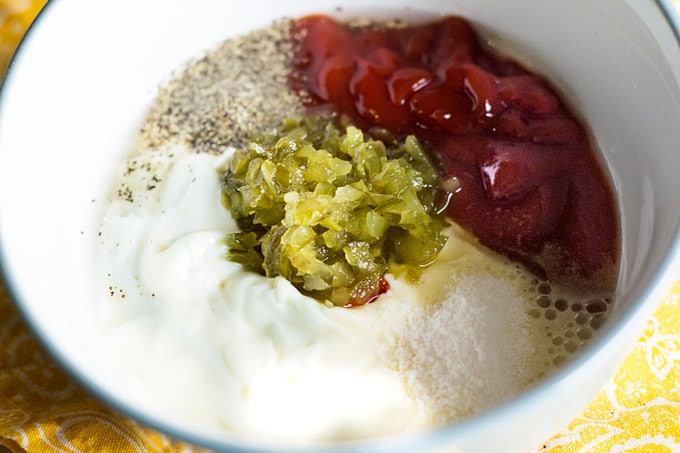 Step 2 – Stir until smooth and creamy.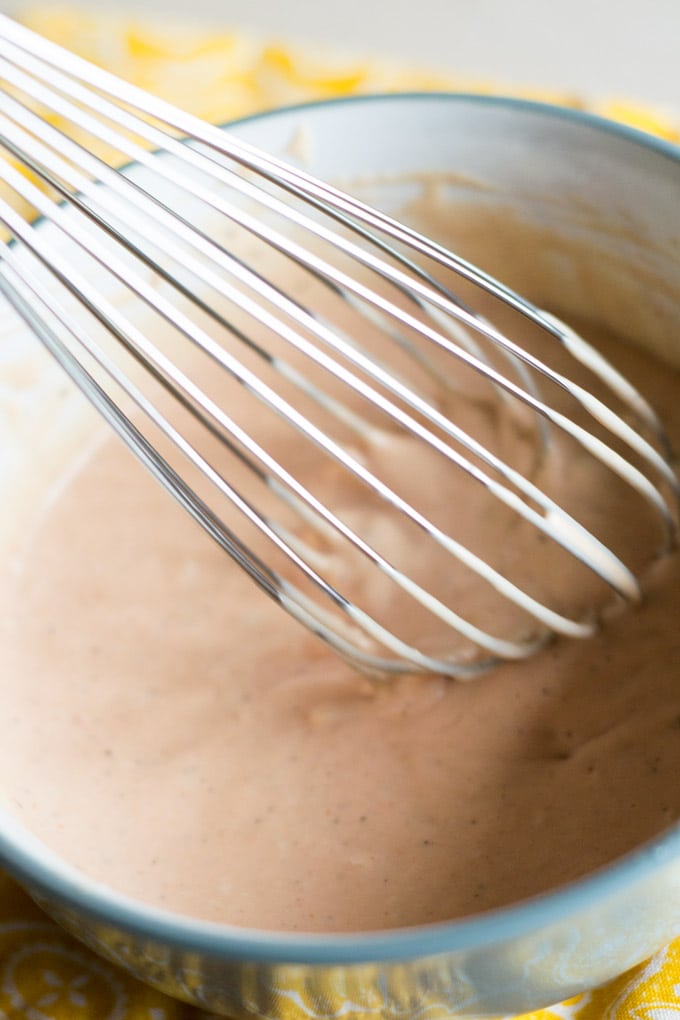 Step 3 – Refrigerate 1-2 hours before serving. This lets the flavors come together. It's even better the next day!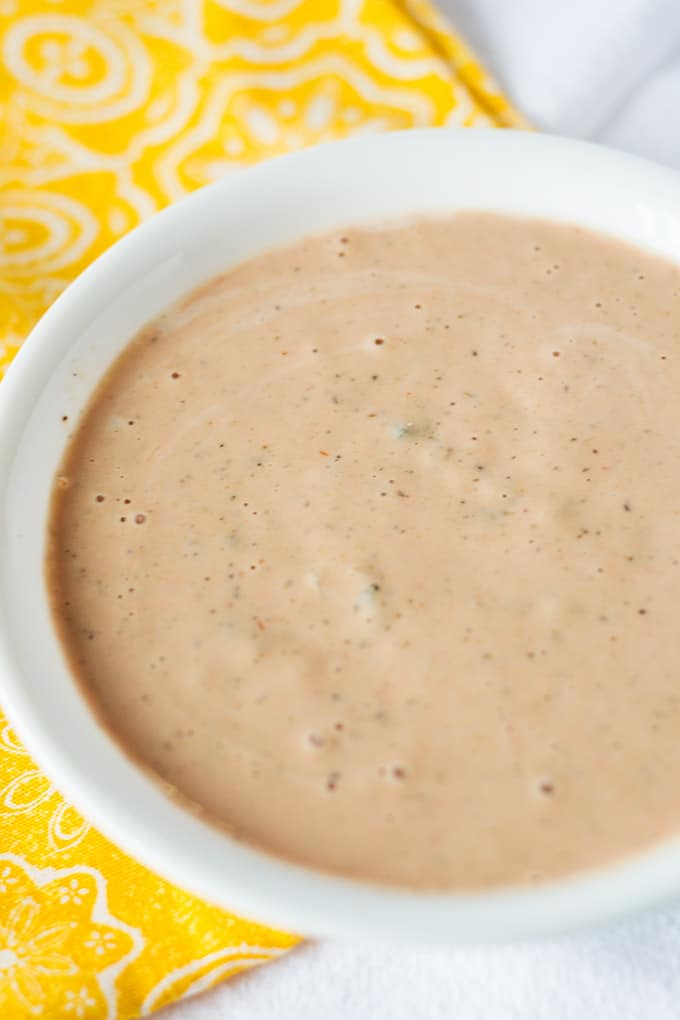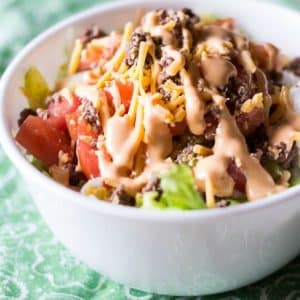 Print
Cheeseburger Salad with Big Mac Dressing
Yield 1 cup
This Low Carb Cheeseburger Salad with Big Mac Dressing really hits the spot when you're craving fast food but don't want to ruin your eating plan. The sauce is creamy and delicious, and the salad is so filling!
Ingredients
For Salad:
3 oz. ground beef, browned
2 cups iceberg lettuce
1/4 medium tomato, diced (optional)
1 tbsp. diced onion
2 tbsp. diced dill pickle
1 oz. shredded cheddar cheese
For Big Mac Dressing: (use 2 tbsp. per salad)
1/2 c. mayo
1/4 c. reduced-sugar ketchup
1 tbsp. sugar-free sweet pickle relish
1/2 tsp. black pepper
1 tsp. white vinegar
2 tsp. Swerve or other sweetener
Instructions
For Cheeseburger Salad:
Cook ground beef over medium heat until browned. Drain. Set aside.
Add lettuce, tomato, pickles and onions to bowl. Top with ground beef and shredded cheddar cheese.
Drizzle 2 tbsp. Big Mac Dressing over salad and serve.
For Big Mac Dressing:
Mix all ingredients together until smooth and creamy.
Refrigerate 1-2 hours before serving on salad or burgers.
Courses Condiments
Nutrition Facts
Serving Size 1 salad with 2 tbsp. dressing
Amount Per Serving

Calories 426

% Daily Value

Total Fat 27.6 g

42%

Total Carbohydrates 11.7 g

4%

Dietary Fiber 1.5 g

6%

Protein 31.6 g

63%
* Percent Daily Values are based on a 2,000 calorie diet. Your daily values may be higher or lower depending on your calorie needs.
You won't believe how good this is. I even got my husband to try it, and he hates dressings of any kind on salad. Yes, you read that right. He does not like salad dressings at all. But this? It's a winner. Next on my list to try: A Bacon Cheeseburger Salad!
For more quick and easy low carb meals, check out these posts: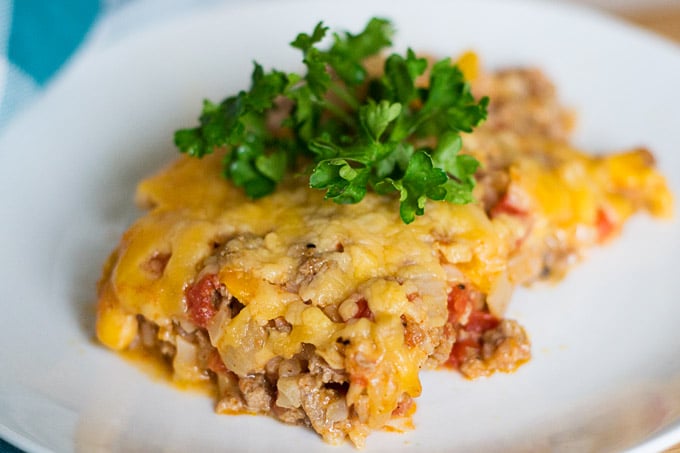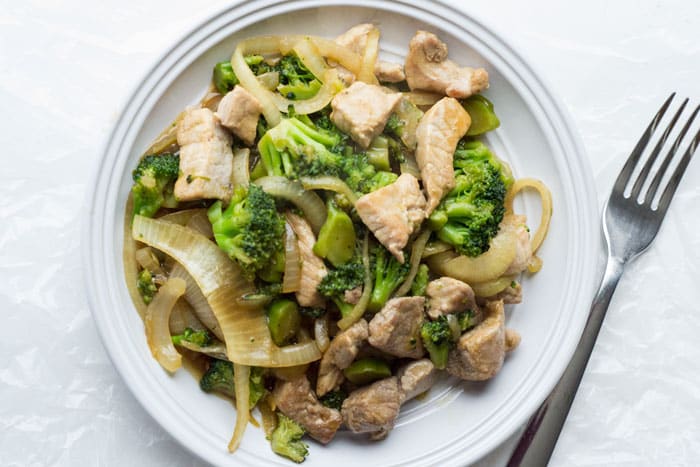 Low Carb Pork and Broccoli Stir Fry
Hi! I'm Donella. Welcome to Glue Sticks and Gumdrops, where I blog about crafts for kids, kid-friendly recipes, and meals for families with a bit of parenting and party ideas sprinkled in. I am a mom to one amazing (and active) little boy, and I'm married to a deputy. As you can imagine, our lives are hectic, but sitting down to a family meal or making a craft together is our way of connecting with each other.
Latest posts by Donella Crigger (see all)