Looking for a super easy Rudolph craft that doesn't involve lots of steps expensive craft materials? Look no further! This paper reindeer craft is simple to put together with construction paper, googly eyes, clothespins, and a red jewel nose. It's perfect for toddlers, preschoolers, and other wiggly kids who like to craft for just a few minutes at a time.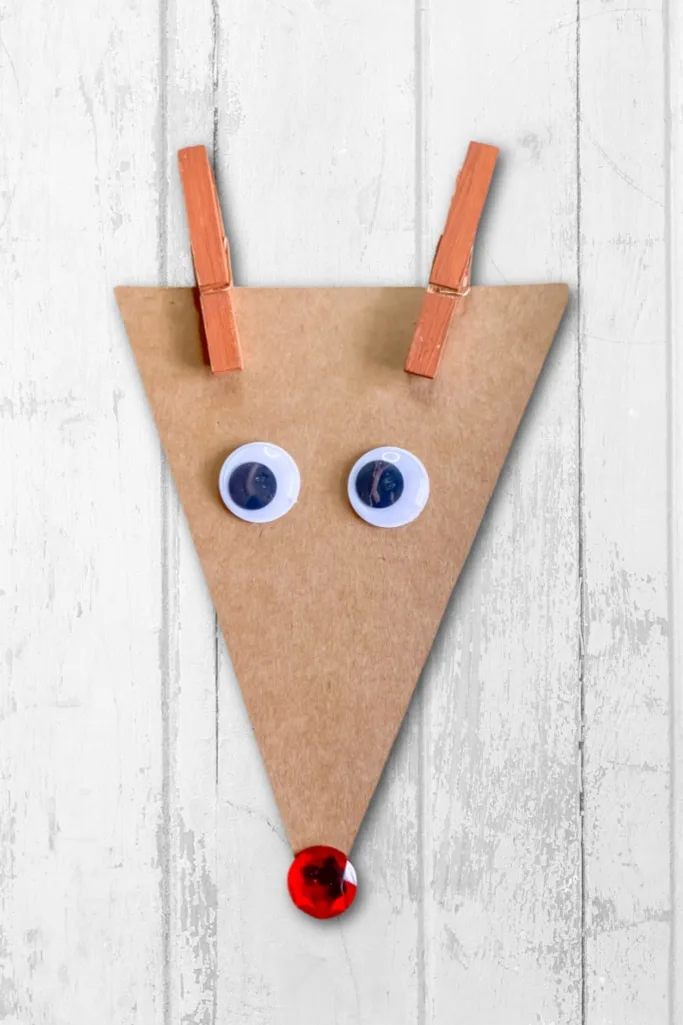 Why You Should Make this Reindeer Craft
Crafting is a wonderful way to spend time with kids. Here are a few reasons why they'll love this Rudolph clothespin craft:
Your child also may like our Rudolph Christmas Bookmarks!
Materials for This Clothespin Rudolph Craft
Here's what you'll need to make this easy reindeer craft. Affiliate links are included for your convenience.
You can find most of the materials at your local Dollar Tree or Walmart, but the above links are for Amazon in case you like to do your shopping online.
How to Make a Simple Rudolph the Red Nosed Reindeer Craft
Step 1: Prep the Clothespins
This step is optional, but if you want brown antlers (clothespins), here's where you should paint the clothespins using the brown paint. Allow at least 10-15 minutes of drying time while you finish the rest of the Rudolph craft.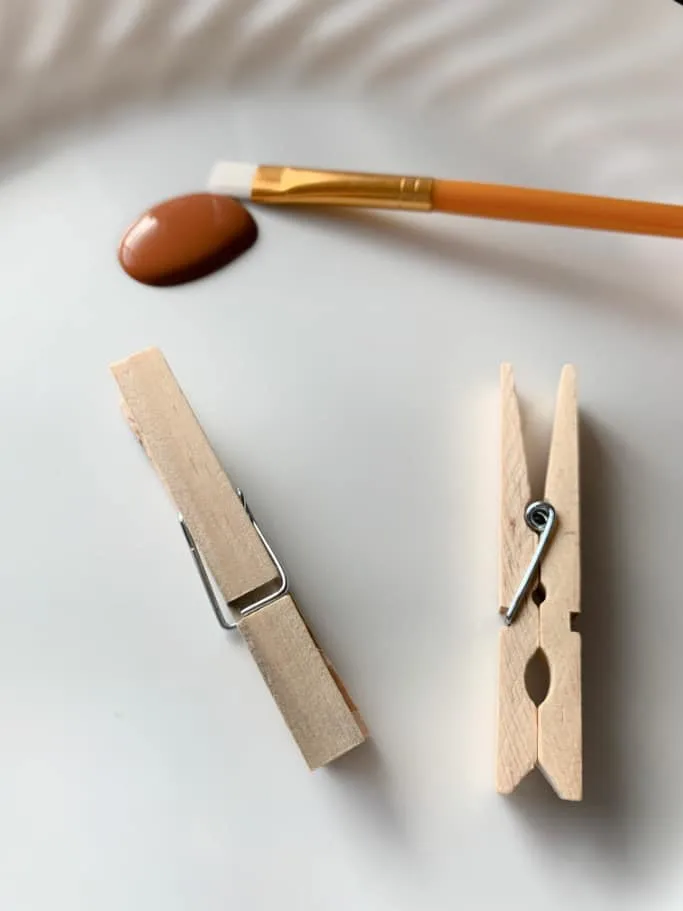 Step 2: Prep Your Construction Paper
Cut your construction paper into a large triangle shape. It doesn't matter if it's not perfect. It adds whimsy if it's a little crooked!
Alternatively, you can grab a kraft paper banner at Hobby Lobby or Michaels and just use one of those pieces instead. Wouldn't a banner of reindeer be cute?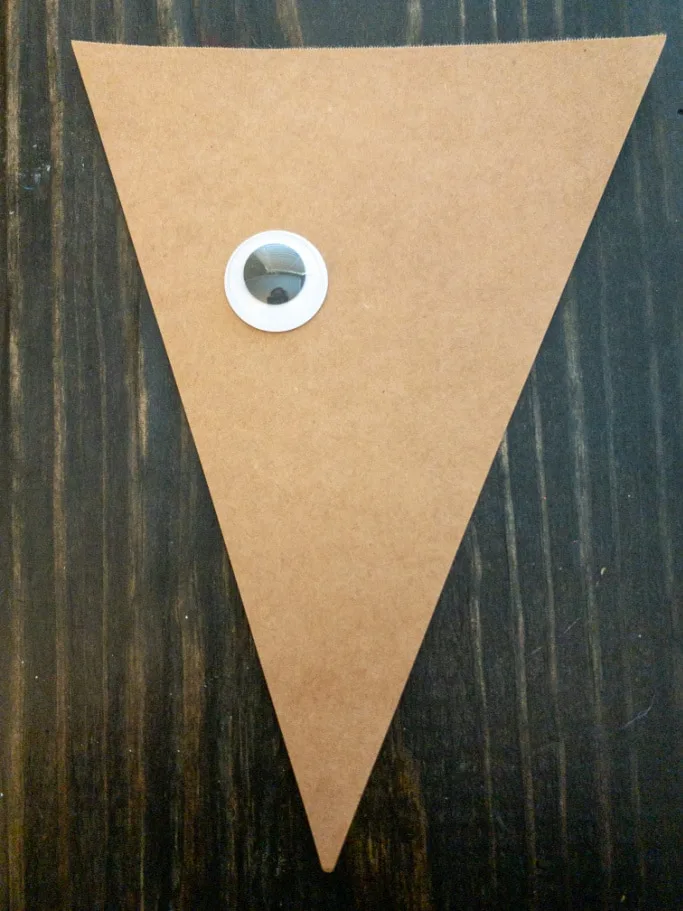 Step 3: Add the Eyes and Nose
Stick on your googly eyes about 2-3 inches from the short side of the triangle (this is the top of his head).
Glue the red jewel to the bottom point of the triangle to make the nose.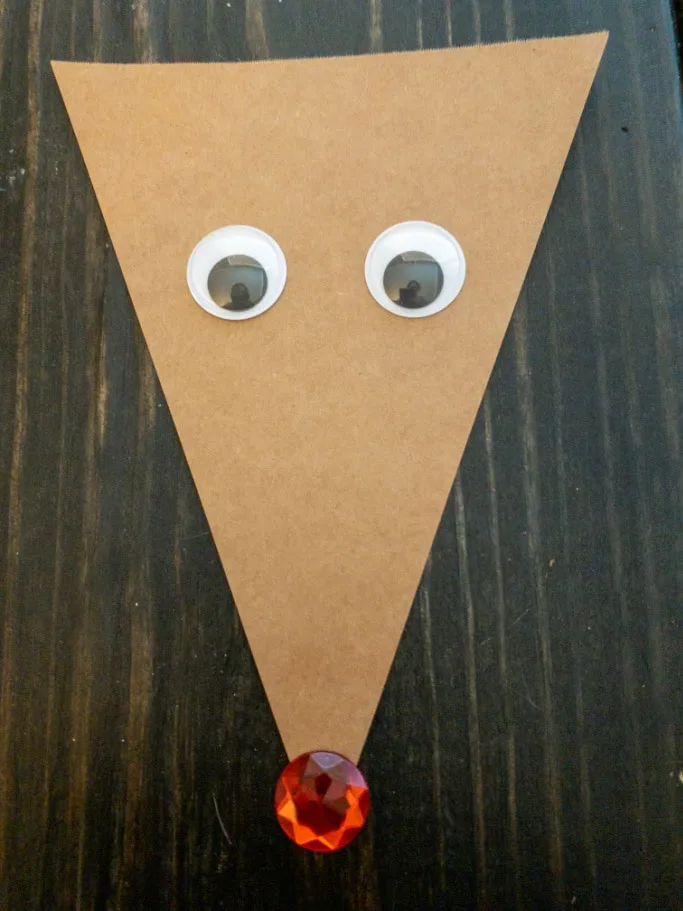 Step 4: Add the Clothespin Antlers
Once the clothespins have dried, clip them onto the triangle above the eyes. Your reindeer craft is complete!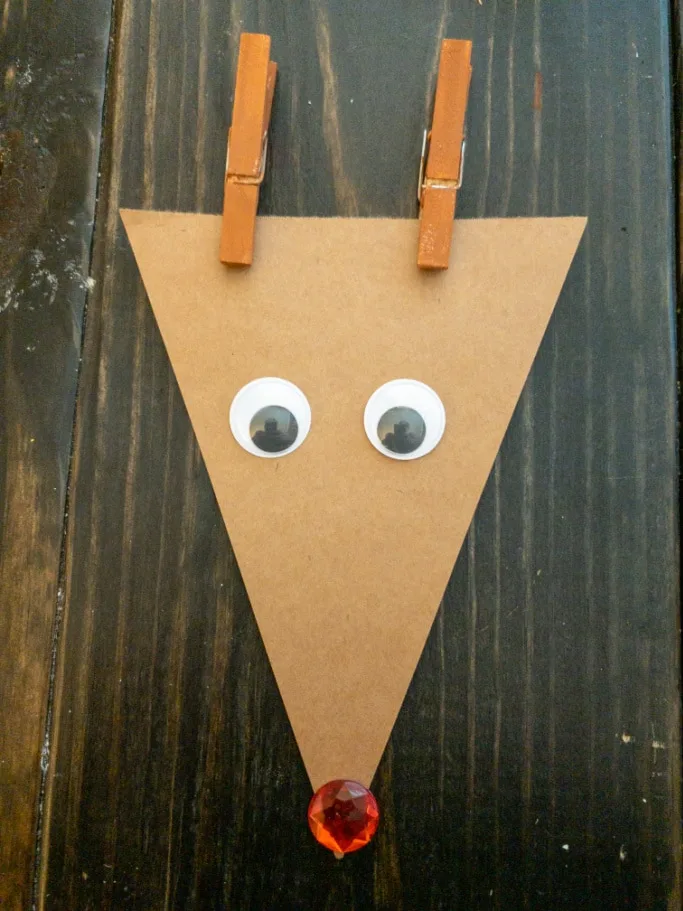 Substitutions for This Reindeer Craft
If you don't have a few of the materials above, don't sweat it. Here are some things you can substitute to avoid a trip to the crafts store: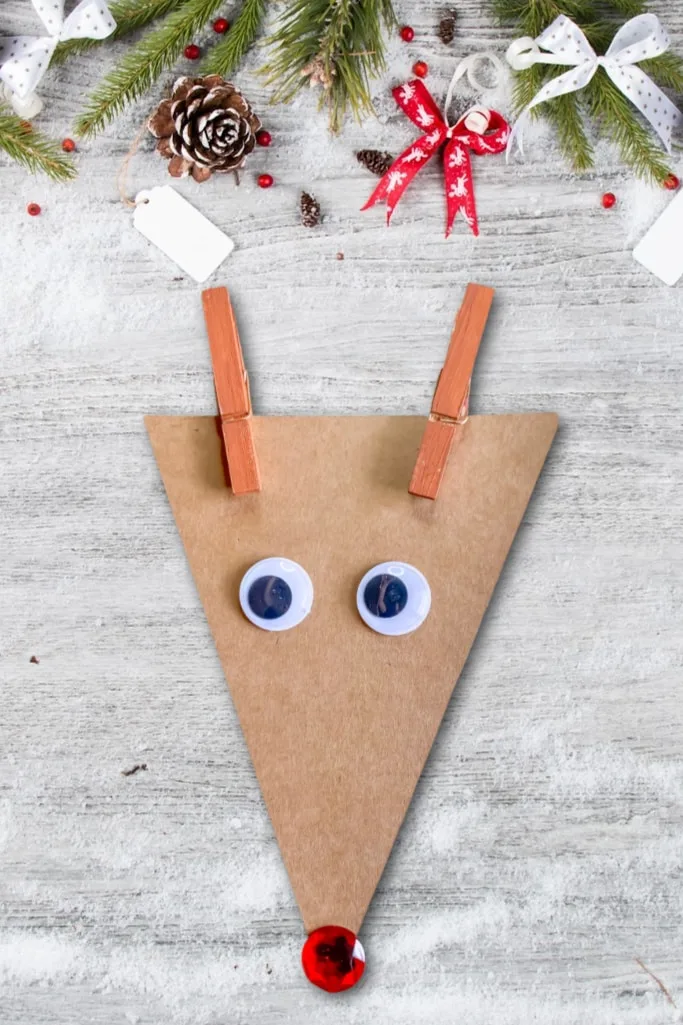 Books to Go Along with a Rudolph the Red-Nosed Reindeer Craft
We already mentioned the classic Rudolph book above, but here are some of our other favorite reindeer-themed books that go well with any of our reindeer crafts. These are affiliate links.
Other Fun Reindeer Crafts and Food You'll Love
We're so excited to share this easy Rudolph craft for kids! The best part about it is that you probably have all the supplies at home already. Get your little ones started on crafting their own version of Santa's famous reindeer with these directions below, and let us know how they turned out in the comments section! Happy Holidays from our family to yours 🙂
Yield: 1 Rudolph Craft
Easy Rudolph Craft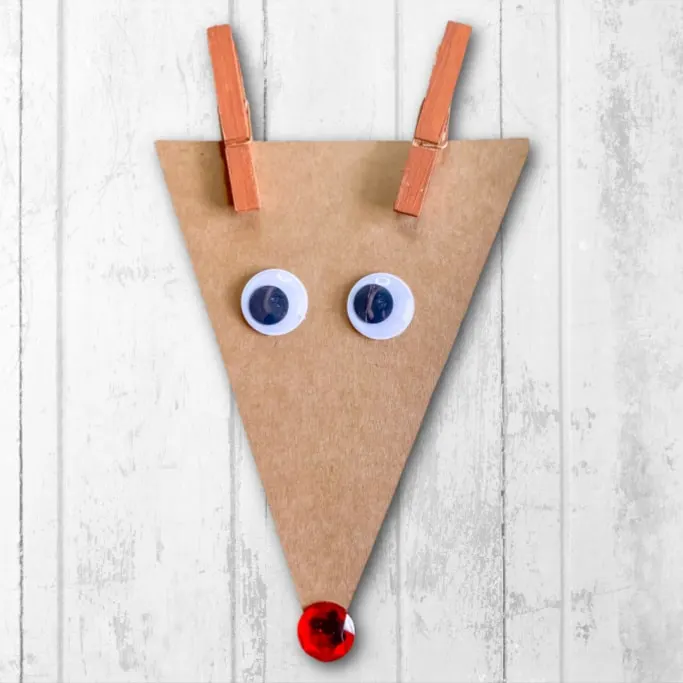 Kids can make this cute Rudolph craft in about 15 minutes or less! It's easy enough for your toddler or preschooler but fun for kids of all ages. String several together to make a cute Christmas banner!
Materials
Brown construction paper or kraft paper banner pieces
Craft glue or hot glue gun
Googly eyes
Red stick-on jewels
Clothespins
Brown paint
Small paintbrush
Scissors
Instructions
Paint the clothespins with the brown paint, and allow them to dry while you assemble the rest of the Rudolf craft.
Cut your construction paper into a large triangle or use a kraft paper banner piece for this project.
Add the googly eyes and nose to the triangle as shown in the pictures above. The eyes go near the top and the nose goes at the tip of the triangle at the bottom.
Once the clothespins are dry, clip them to the top of the triangle to complete the reindeer craft.
Notes
Pom-poms or construction paper can be substituted for the jeweled red nose.
Recommended Products
As an Amazon Associate and member of other affiliate programs, I earn from qualifying purchases.