Celebrate Thanksgiving by making some fun and easy crafts with your kids! Turkey crafts are a great way to get in the spirit of the holiday while also allowing you and your children to spend quality time together. Here are 30 fun turkey craft ideas for all ages: from toddlers to tweens, these projects are simple enough that even young children can participate.
As you know, Thanksgiving is coming up and we usually celebrate with a big family dinner. It's such an exciting time for kids because their favorite holiday food is on the table and they get to spend all day with cousins, grandparents, aunts and uncles! If your little ones can't wait until Thursday to make something special with you in honor of the turkey-day festivities, check out this list of 30 easy turkey crafts for kids of all ages. We've got everything from paper plate turkeys to handprint turkeys that will be perfect for decorating or giving as gifts!
You'll love these Thanksgiving crafts for kids!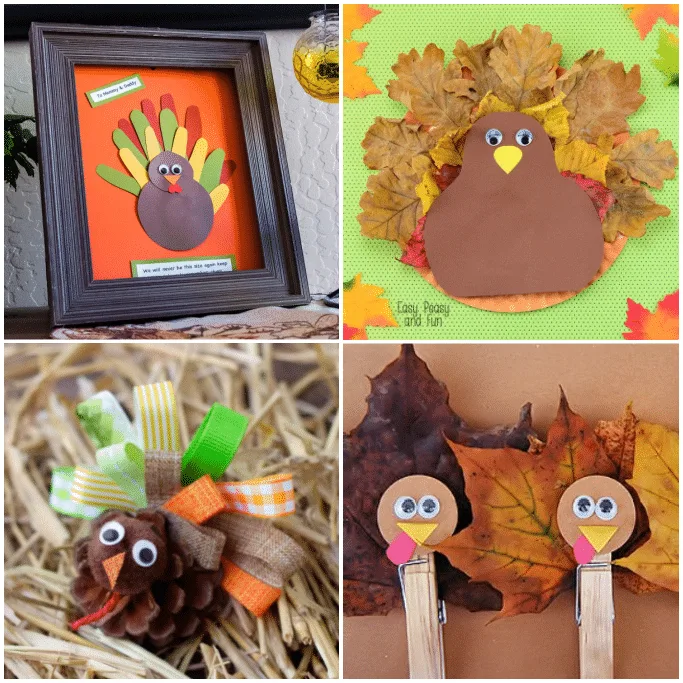 Turkey Paper Bag Puppet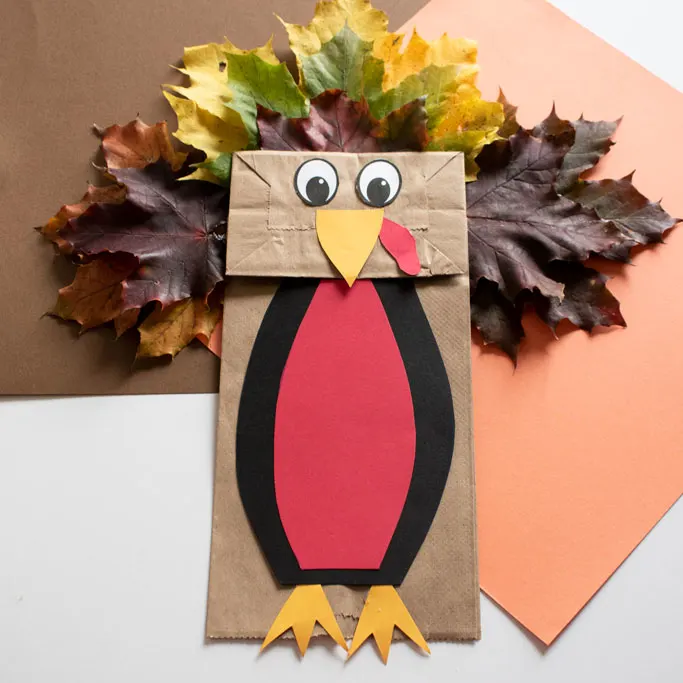 Use our turkey paper bag puppet template to make your own puppet for Thanksgiving! We used real leaves to make the feathers, but you can use construction paper or craft feathers instead if your fall leaves have already dried up and turned brown. Use paper googly eyes or the stick-on version. It's one of the easiest turkey crafts on the list, and the fact that it's made with real leaves makes it all the more fun.
Toilet Paper Roll Turkey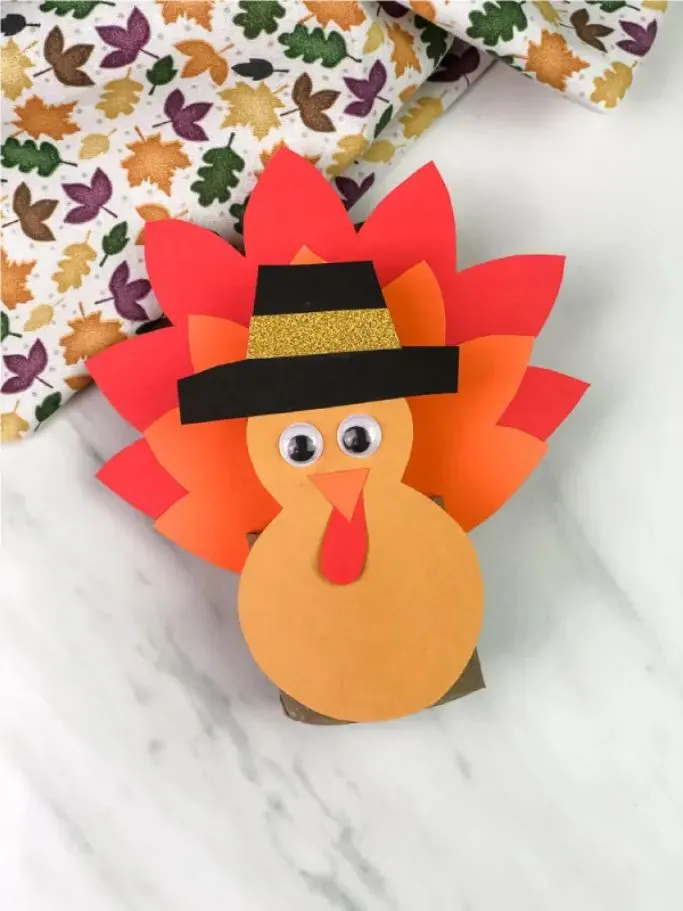 Save those empty toilet paper tubes for these adorable toilet paper roll turkeys. There are two template options, one for crafting at home with the kids and another for crafting with a larger group, such as a classroom. Since there's a good amount of cutting for this craft, it's a good opportunity for kids to strengthen their hand muscles and work on their fine motor skills.
Handprint Thankful Turkey Craft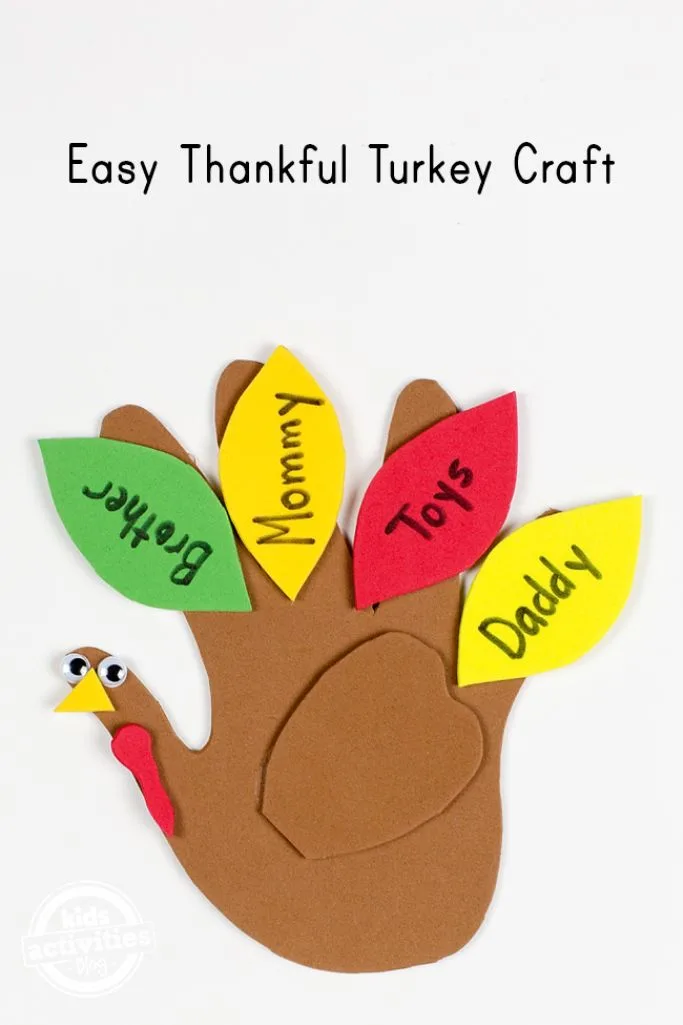 November is the perfect time to focus on what you're thankful for. Make one of these adorable handprint thankful turkeys with the kids for a quick and fun lesson in gratitude while making a Thanksgiving craft. Your child can write something that he or she is thankful for on each turkey feather. It's a cute keepsake to add to your scrapbook once Thanksgiving is over, too.
Turkey Template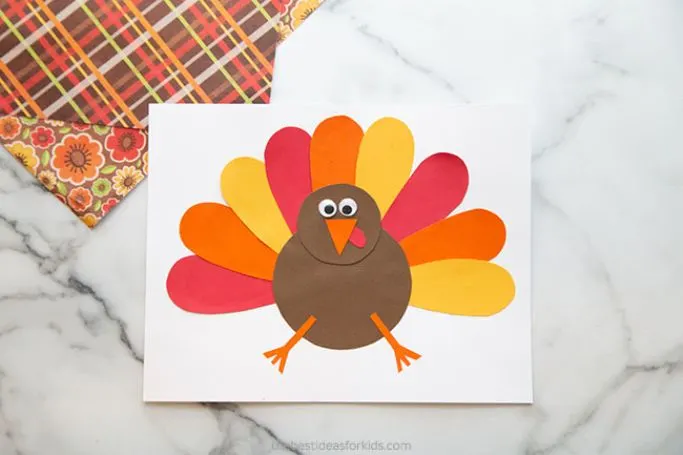 Use this simple turkey template to make your own paper turkey. Kids can color in their turkeys with markers or crayons or trace the template pieces onto colored cardstock to assemble their turkeys that way.
Folded Paper Turkey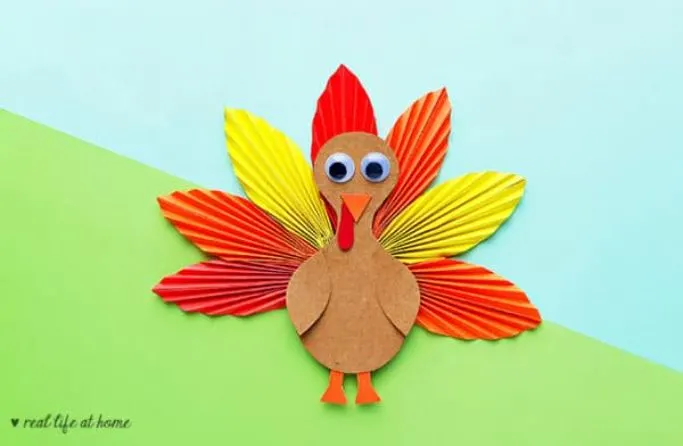 You probably have everything you need on hand to make this colorful folded paper turkey. The folded paper feathers add texture and visual interest to the craft, but it's still simple enough for your little ones to make.
Pine Cone Turkeys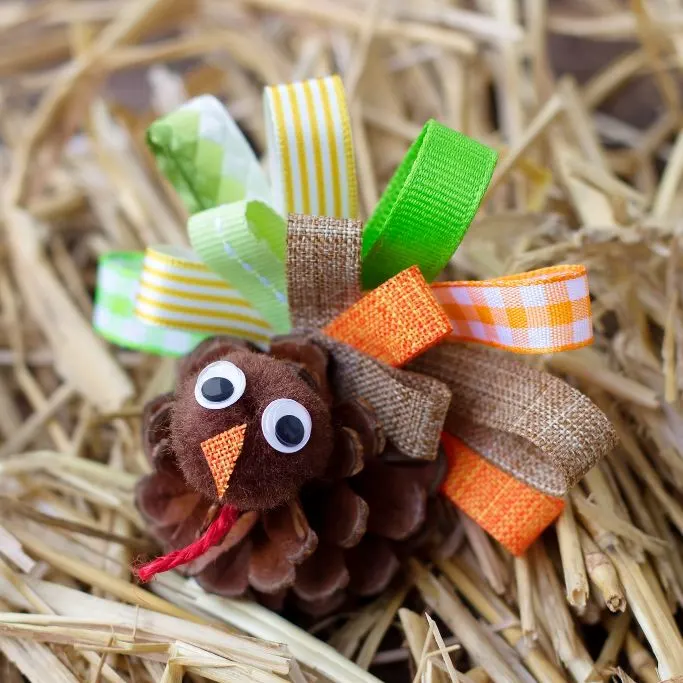 If you have scrap ribbon on hand from previous craft projects, here's a terrific way to use some. These pine cone turkeys will make beautiful decorations for your Thanksgiving table this year. Use them as placeholders with name cards inserted between the cone scales.
Paper Strips Turkey Craft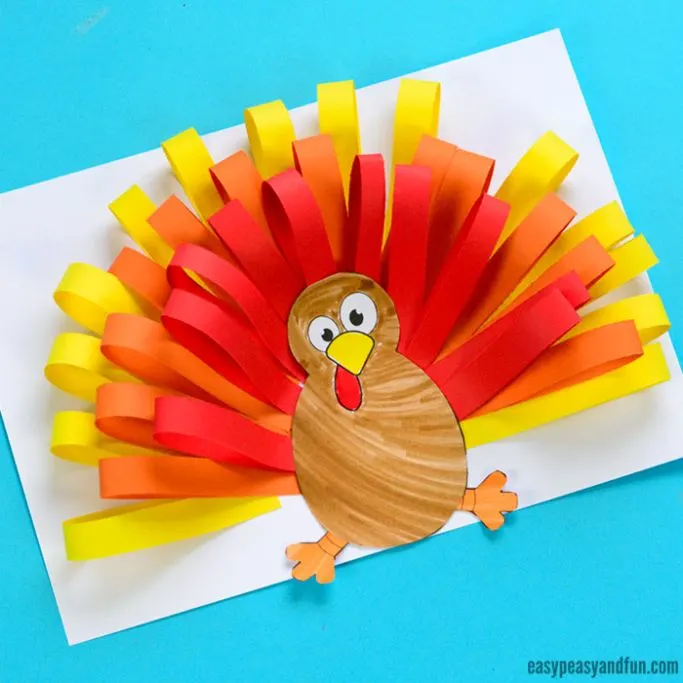 Turn colorful strips of paper into a beautiful display of feathers on a paper turkey. This lovely paper strips turkey will look beautiful decorating the classroom this November or will make a colorful wall display at home. Cutting paper strips is great for scissor practice, but if you want to speed things up, you can cut the strips using a paper trimmer.
Watercolor Turkey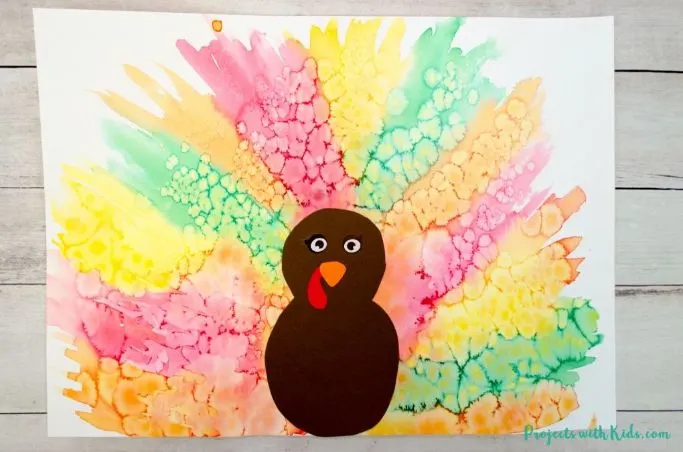 Feeling artsy? Try this watercolor turkey with the younger kids. Learn different watercolor techniques to create interesting and beautiful turkey feathers. A sprinkle of salt creates unique patterns on the tail feathers!
Turkey Headband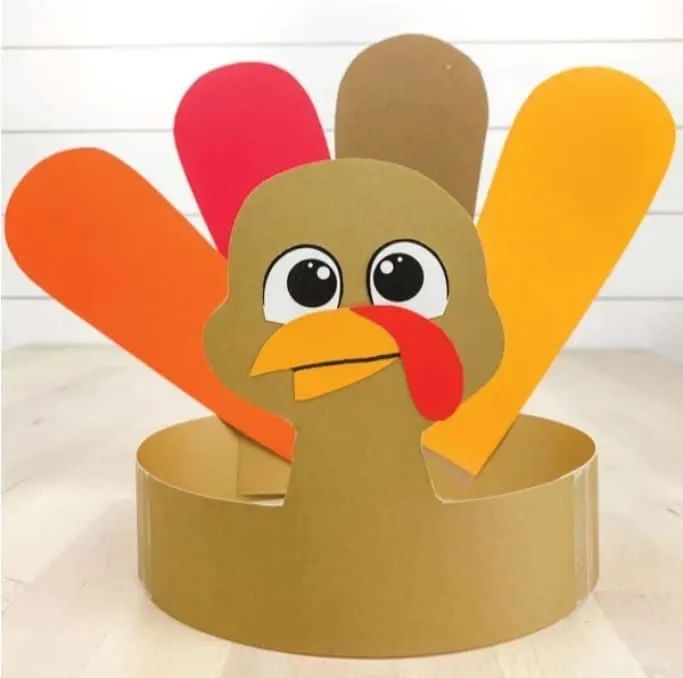 Toddlers and preschoolers will adore these cute turkey headbands. They're a fun option for an impromptu Thanksgiving play in the classroom or to wear while reading your favorite turkey-themed books. We recommend Turkey Trouble (affiliate). It's one of our favorites!
Pattern Block Turkey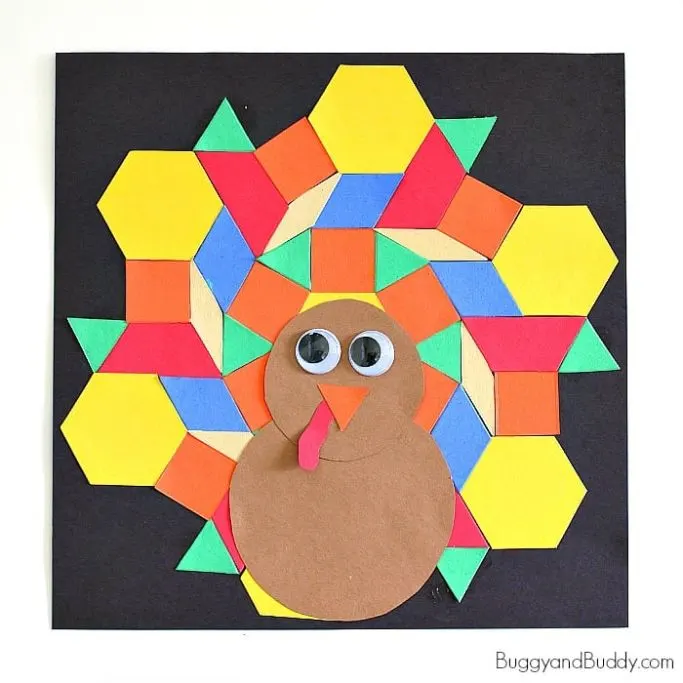 Use this pattern block turkey craft as a way to expand on math and geometry lessons! Kids can explore different shapes such as hexagons, rhombuses, triangles, and more all while learning about rotational symmetry. Plus, it's a beautiful display once finished and is one of our favorite creative turkey crafts.
Turkey Names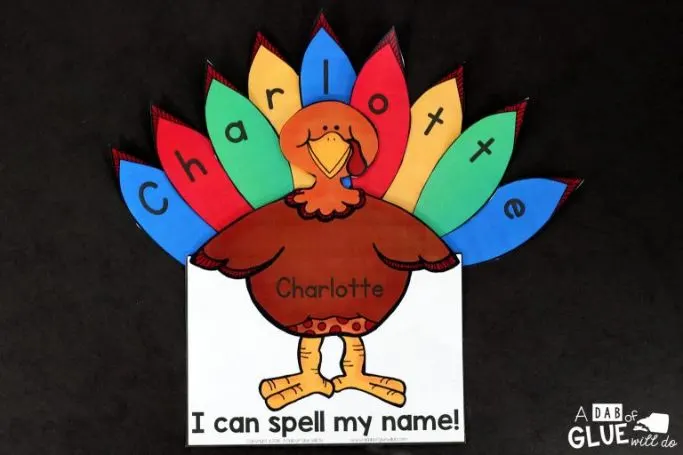 Preschoolers and kindergarteners will love this turkey name activity! The feathers are editable, and you can spell out any name you need to. Kids with short or long names can arrange their feathers any way they'd like. Adorable! They're perfect for desks, tables, or chairs in the classroom during November.
Puffy Paint Turkey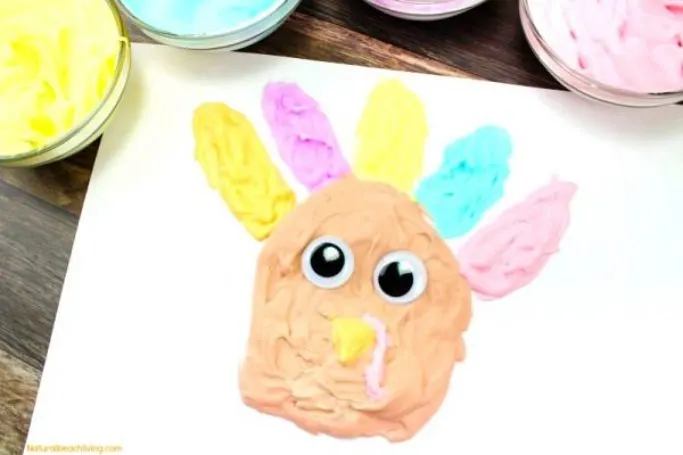 Here's a puffy paint turkey that's a blast to make. Mix up some puffy paint using shaving cream, glue, and food coloring, and get to work painting your turkeys. Make them as colorful as you'd like.
Painted Rock Turkey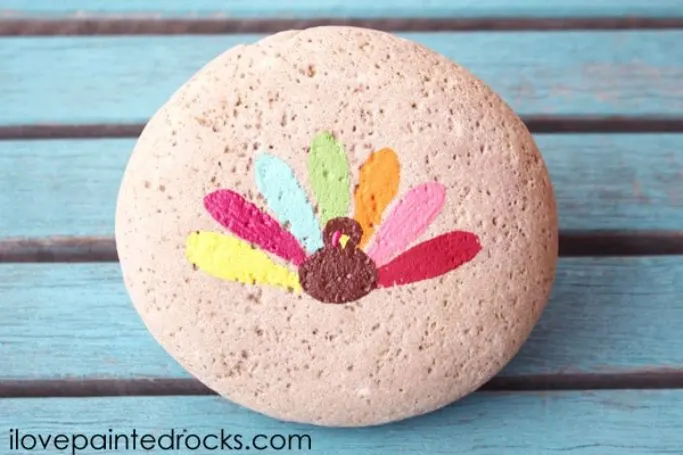 If you're looking for super simple turkey crafts, look no further than this painted rock turkey. Hide it somewhere at a local park or library for someone else to find (if that's allowed in your community). Rock hunting clubs are such fun! Plus, this rock turkey is super easy to make using the step-by-step instructions. Use traditional fall colors or go bright and bold with those turkey feathers.
Color Match Turkey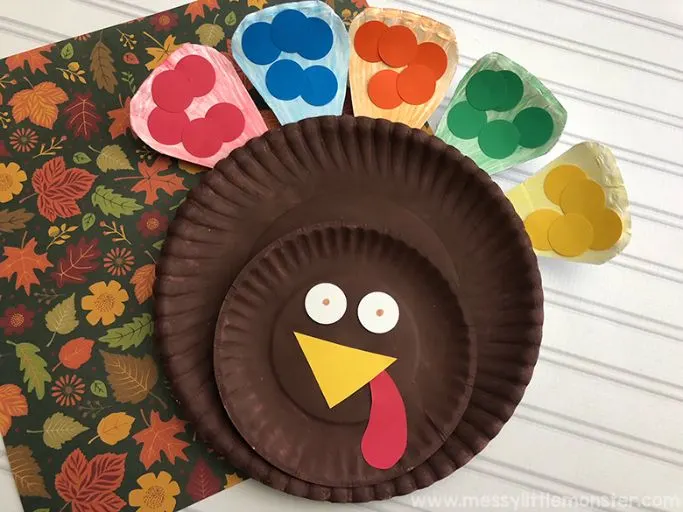 This color match turkey is perfect for toddlers and preschoolers who are working on color recognition. Match the colorful circles to the turkey's tail feathers. Kids can glue the circles on or leave them unglued so as to repeat the activity as often as they'd like.
Clothespin and Leaf Turkeys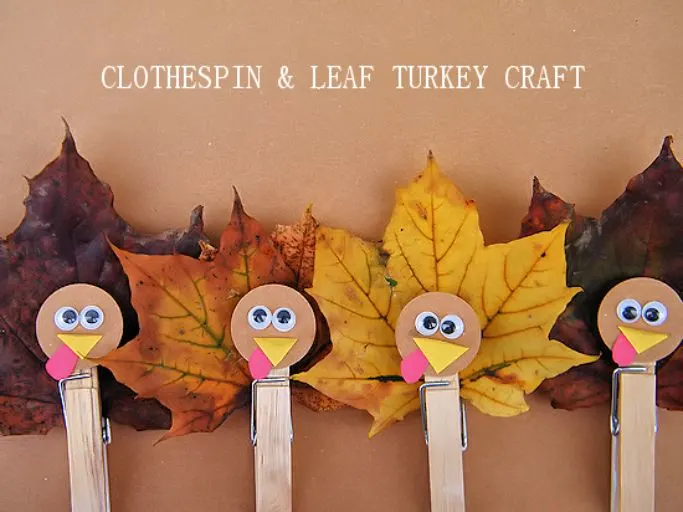 Bring some colorful fall leaves indoors to make these lovely clothespin and leaf turkeys. They'd make festive magnets if you add some magnetic tape to the back. Otherwise, you can just clip them on some string to create a little banner or garland of them to decorate your home or classroom for Thanksgiving.
Turkey Corner Bookmark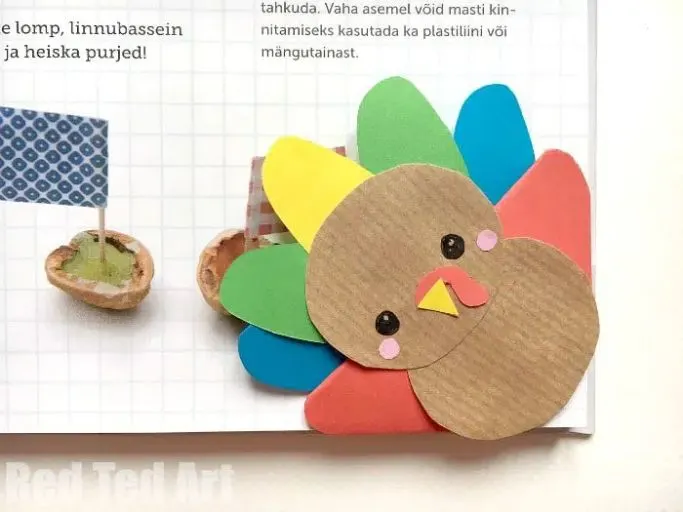 Use basic origami skills and some creative touches to make a charming turkey corner bookmark to save your place in your favorite fall reads. It'll look so cute peeking at you at the bottom corner of your pages.
Stick and Leaf Turkey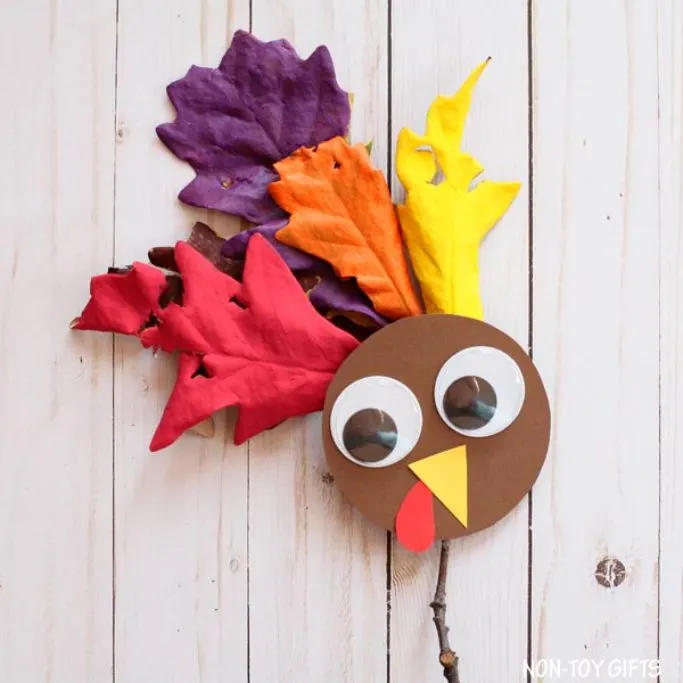 Make a fun little turkey to play with! This stick and leaf turkey makes a terrific little puppet for your favorite turkey songs and books. We love how the leaves have been painted to make them even more colorful, which is a great option if you're making these crafts after the leaves have been on the ground a while and are a bit dry and colorless.
Tissue Paper Turkey Craft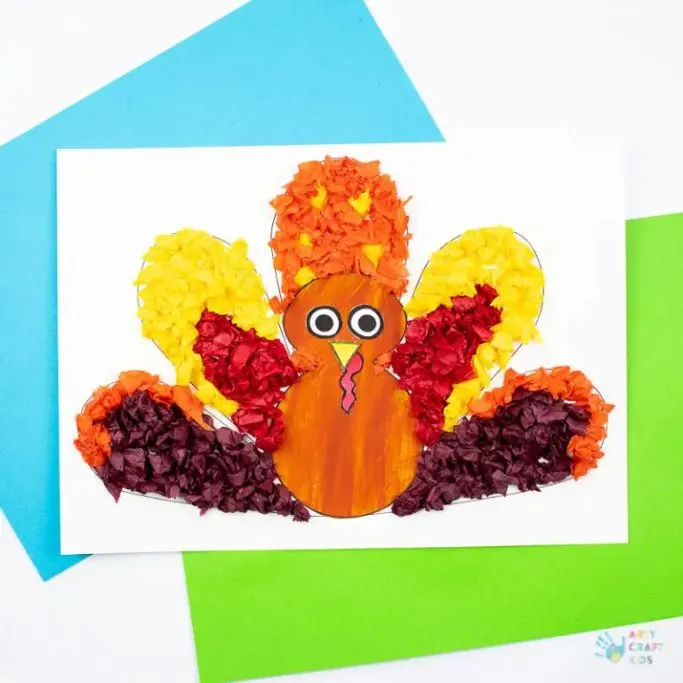 Work on fine motor skills by tearing, scrunching, and gluing crumpled tissue paper to a turkey template. This tissue paper turkey is only one option; kids can decorate it so many different ways. Paint them, use colored cereal, try dot painting, etc.
Leaf Paper Plate Turkey Craft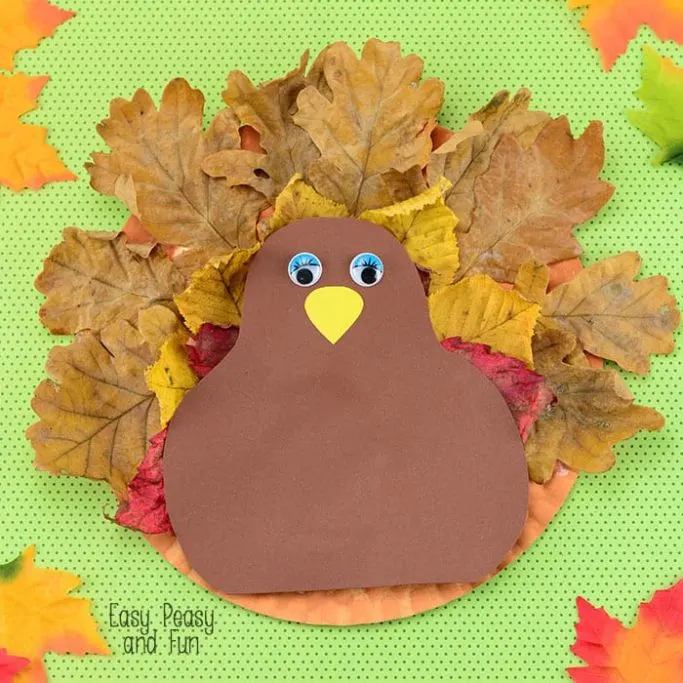 We're loving all these turkey crafts using real fall leaves! Faux leaves are a good alternative if you don't have colorful leaves in your area, though. This paper plate turkey is a simple, fun, and colorful way to add some nature to your fall artwork.
Collage Art Turkeys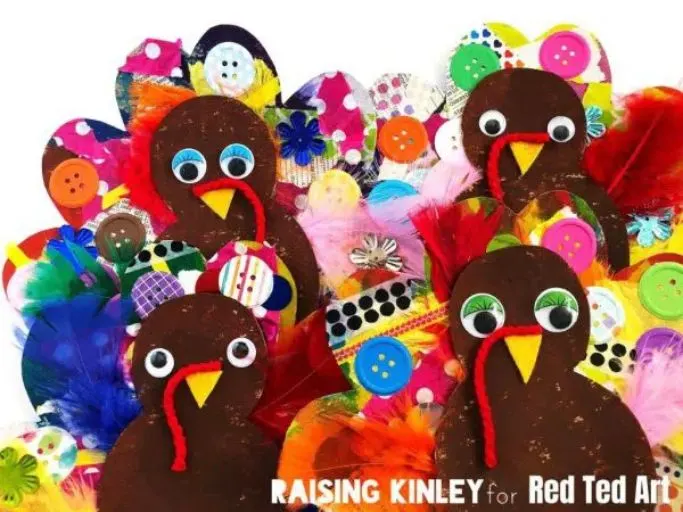 These recycled collage art turkeys make colorful Thanksgiving Day decorations, but you can also turn them into bright and fun placecards for your Thanksgiving table. Just add a name to the front of each turkey in a white paint pen.
Quilled Paper Turkey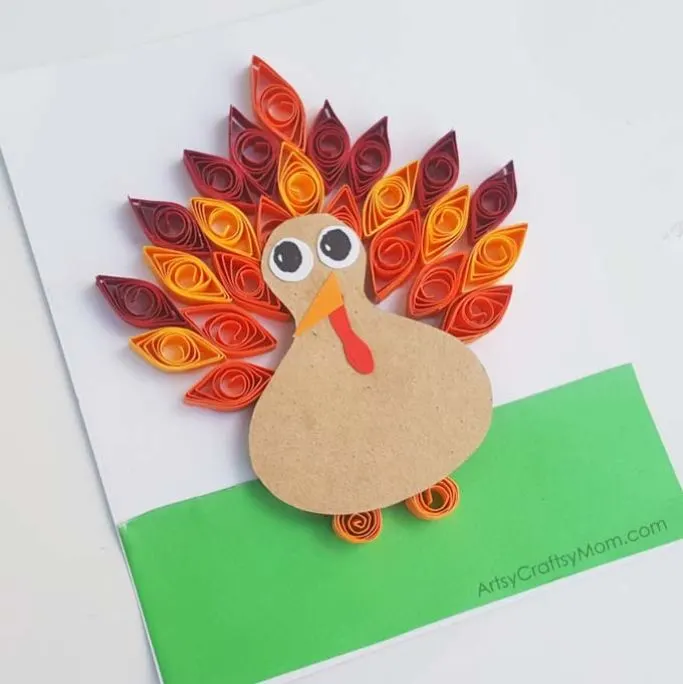 Kids who enjoy more challenging arts and crafts will like this quilled paper turkey. Paper quilling involves rolling and folding paper to create interesting shapes and then incorporating those shapes into art. As you can see, the quilled turkey feathers look amazing!
Egg Carton Turkeys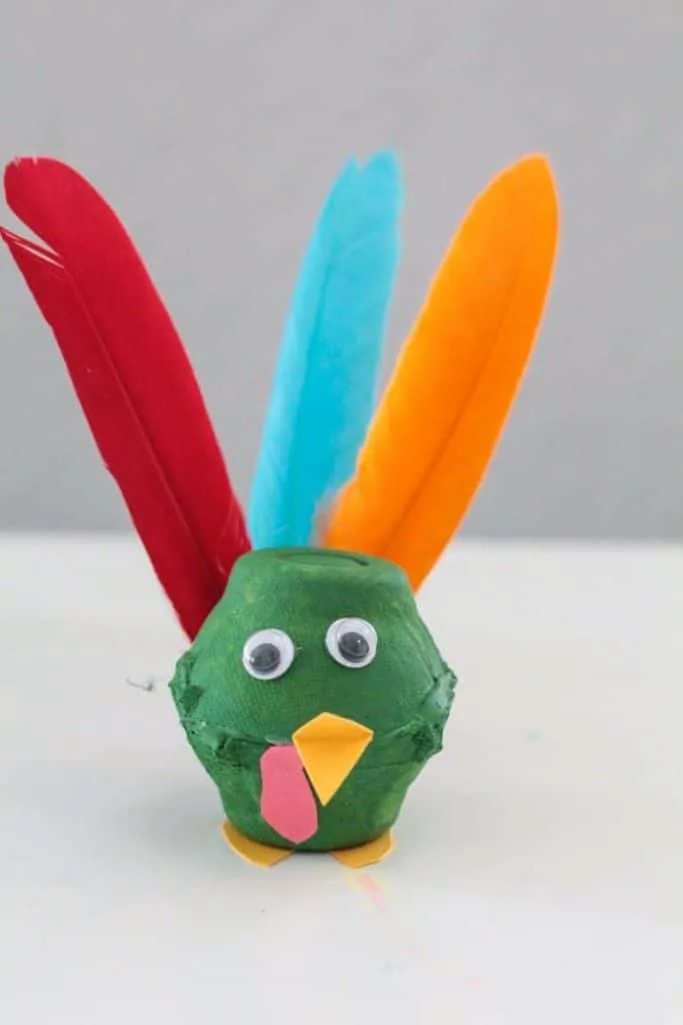 Recycle an egg carton to make colorful egg carton turkeys this Thanksgiving. If you make a hinge on the back, you could even add some wrapped candies for a little Turkey Day surprise.
Turkey Suncatchers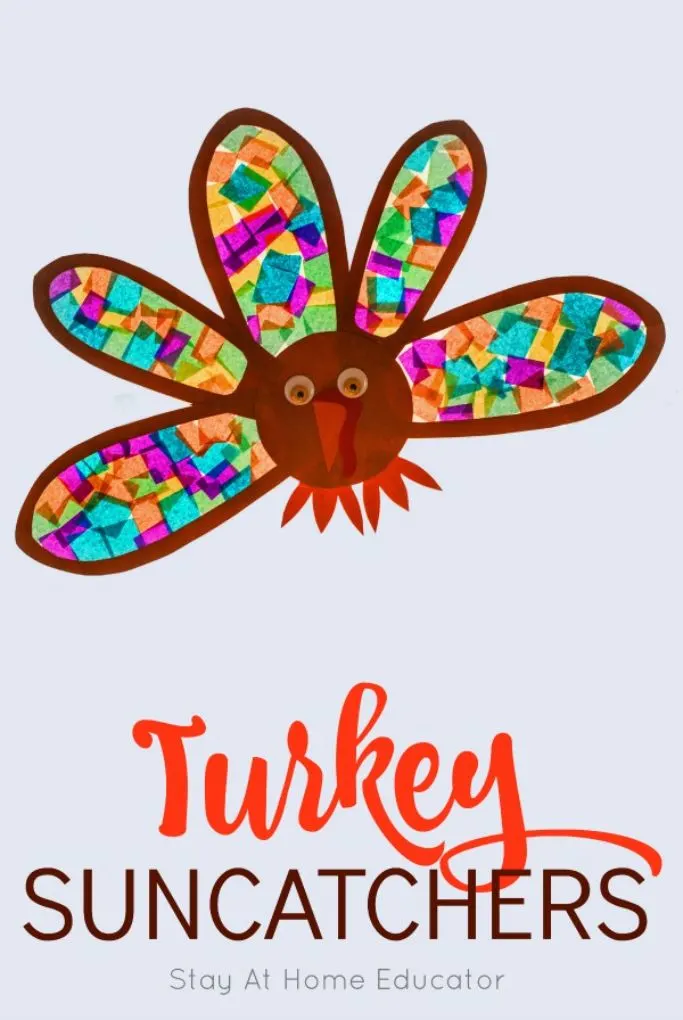 Dress up your windows with a few turkey suncatchers this November. They'll look amazing with the light streaming through the brightly colored wings. Plus, they're a fun way to decorate if you're just not ready for the Christmas decor yet.
Pilgrim Turkey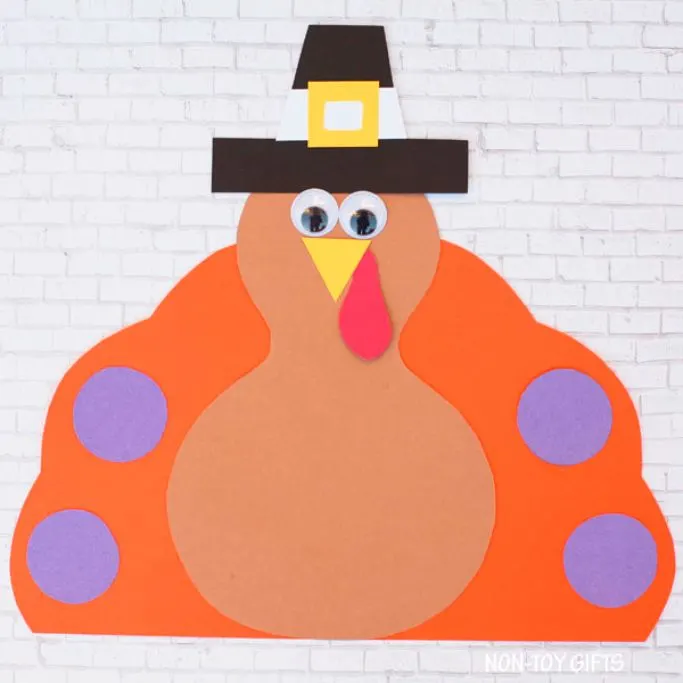 How about a pilgrim turkey to really capitalize on the Thanksgiving theme? This adorable craft can be an art lesson and history lesson in one. Put it in the window for a cute decoration your neighbors can enjoy, too.
Popsicle Stick Turkey Craft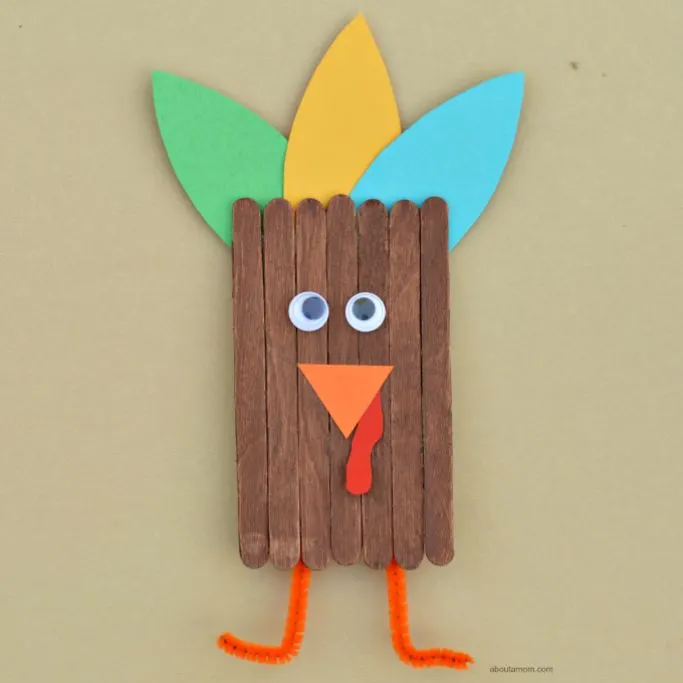 You'll love how simple this popsicle stick turkey is to make. With some popsicle sticks, paint, construction paper for the feathers, and a few other supplies, the kids can make their own in no time.
Salt Dough Turkey Keepsake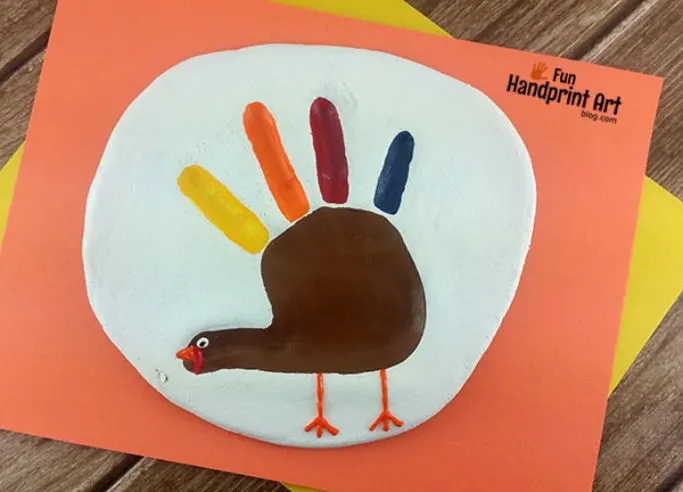 Create memories that you'll treasure for years to come. Make a salt dough turkey keepsake that you'll love pulling out to add to your fall decor year after year. It'll be a sweet reminder of how small your child's hands were!
Family Handprint Turkey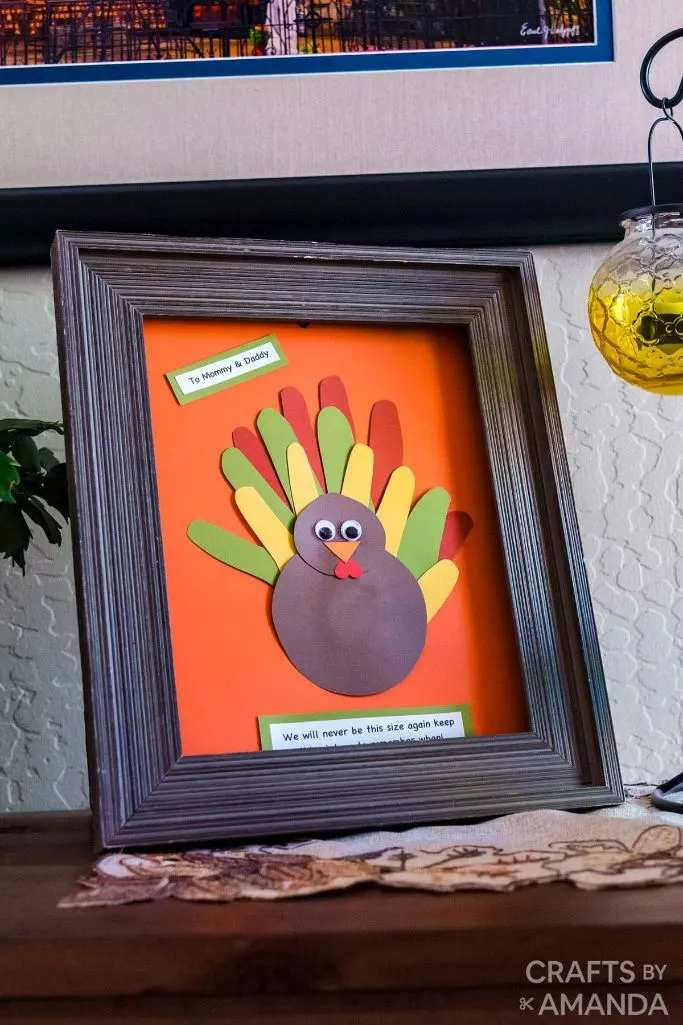 Make a family keepsake! This family handprint turkey can include handprint feathers from the parents and children or just the children. It would make a wonderful gift for grandparents, too.
Paper Roll Turkey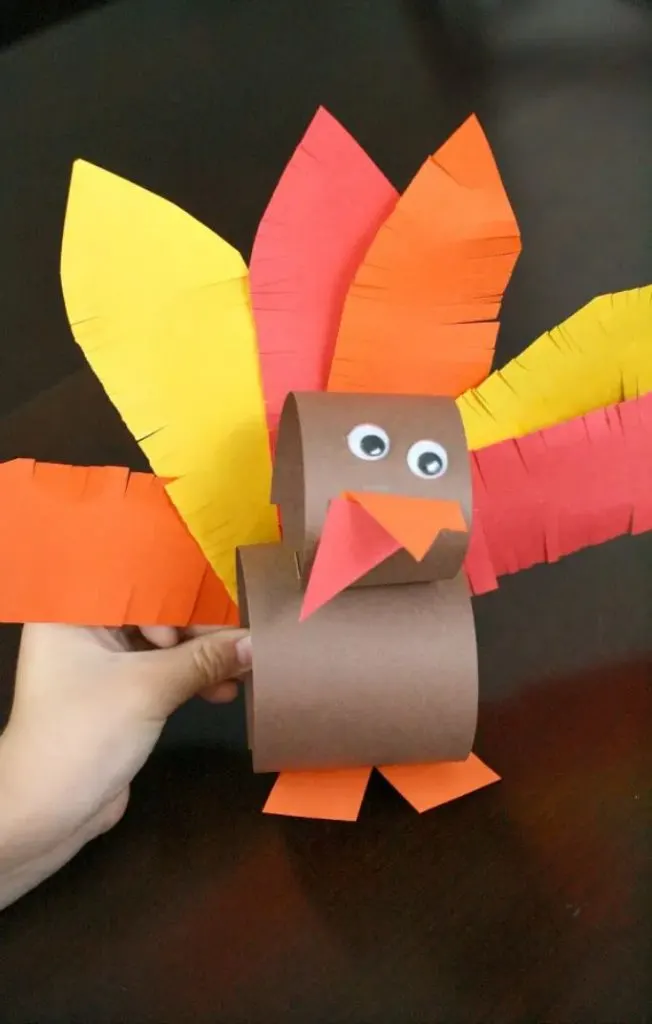 Turn simple paper loops into a fun paper roll turkey. This craft is fantastic for kids who need to get some scissor practice in, as tiny cuts are used to make the fringes of the feathers.
Turkey Windsocks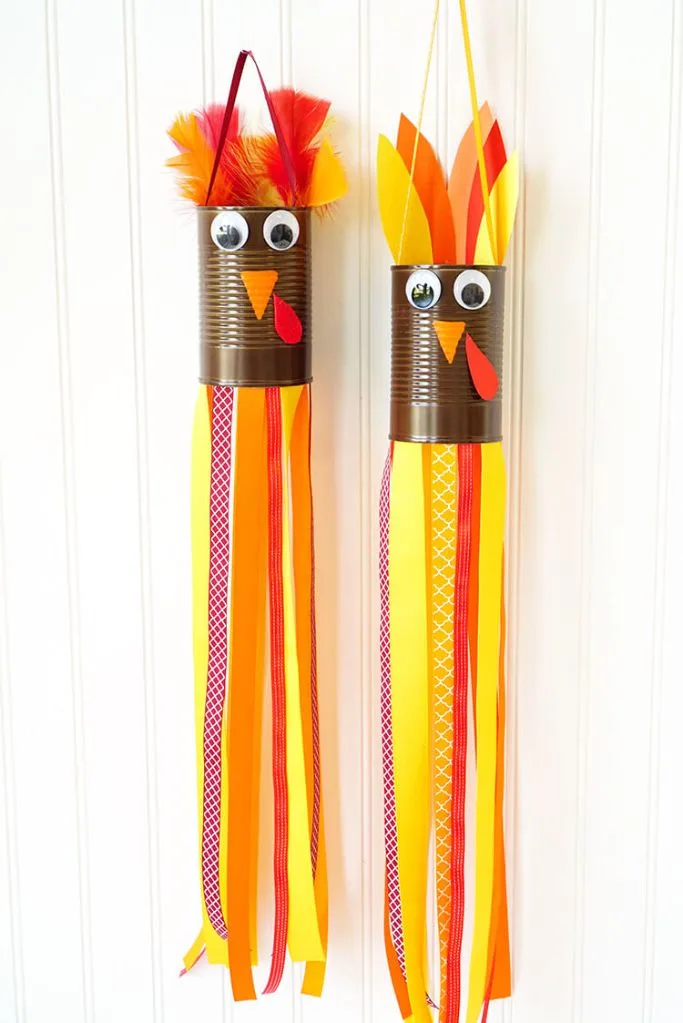 Recycle tin cans to make colorful turkey windsocks to blow in the breeze this Thanksgiving. They'll look so cute on your porch or near a window. The colorful ribbons are a pretty touch.
Turkey Finger Puppets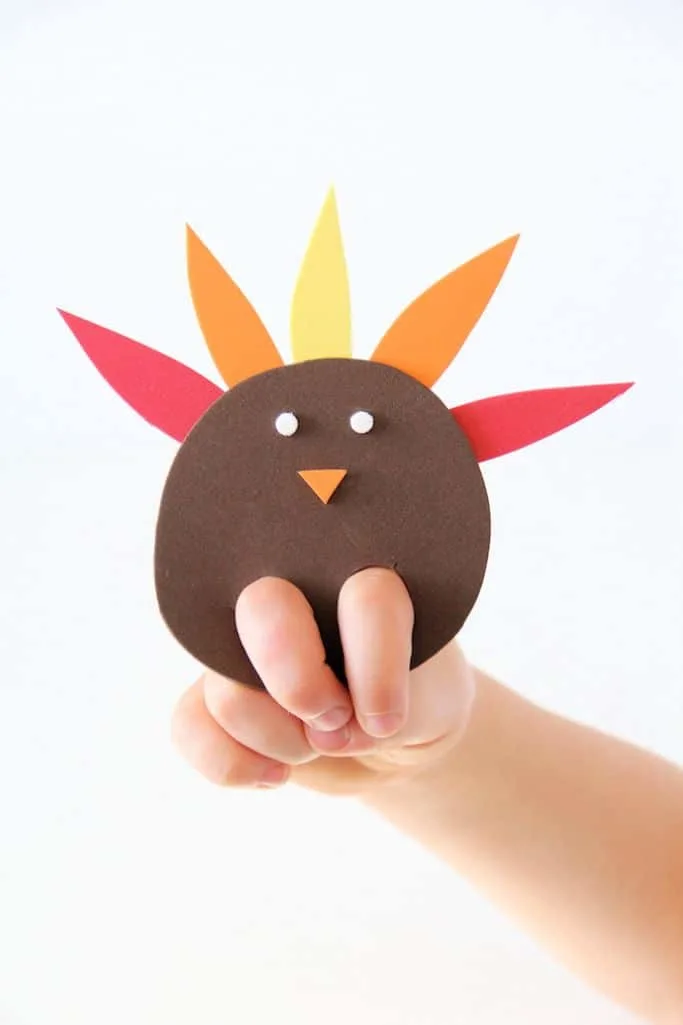 What could be more fun than some turkey finger puppets to play with on Thanksgiving Day? This is a neat craft for kids to make at the kids' table while they're waiting on dinner or after dinner. All you need are some foam sheets, glue, scissors, and a hole punch for the finger holes.
These Thanksgiving turkey crafts are so easy your kids will be making them before you can say "gobble gobble." From the traditional paper turkey to turkey windsocks made with tin cans and ribbon, these 30 easy turkey crafts for kids are sure to please any young crafter in your family this holiday season! With the help of some simple materials like construction paper and glue sticks, they're guaranteed to have fun during their Thanksgiving break.
Pin this post to save it for later!