Getting things done when you're pumped, motivated and excited is a breeze. The anticipation and excitement give you the adrenaline you need to push through even the most challenging tasks. But when you're feeling down or just don't feel like doing anything—what then? You can't just ignore your responsibilities. How do you get things done when you don't feel like it?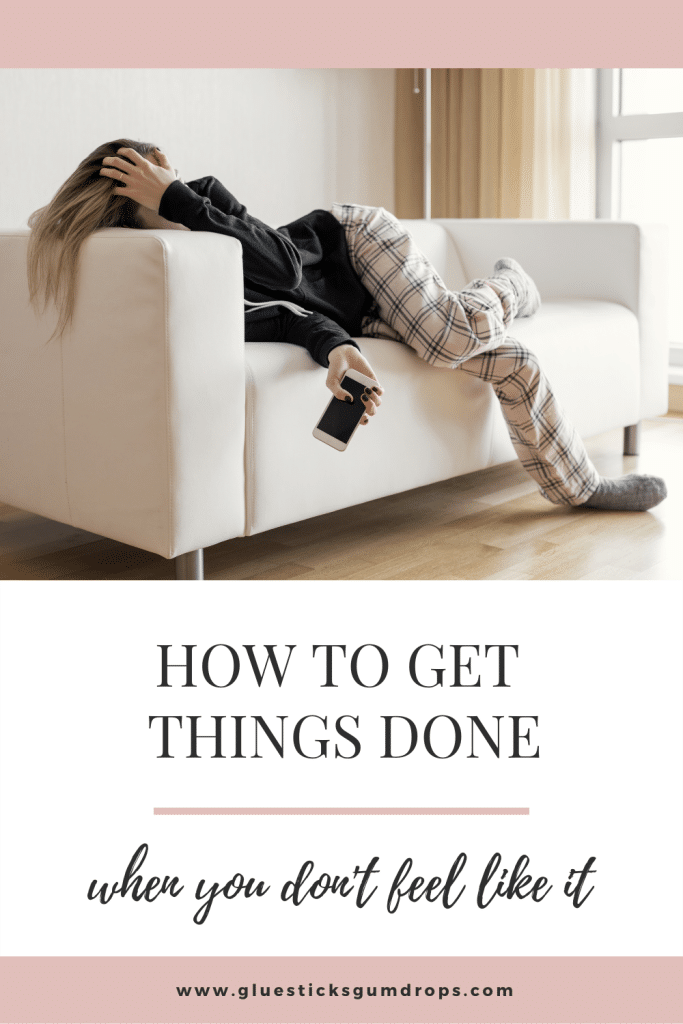 1. Don't wait until you're in the mood.
If you're waiting for inspiration or motivation to strike, you may be waiting a long time. There's no rule that says you have to enjoy what you're doing. Waiting until you feel like doing something is one of the reasons many people procrastinate.
It just isn't going to happen with everything on your to-do list. Accept your feelings of dislike for that particular chore, task, meeting or whatever, and push forward anyway. Don't let a lack of enthusiasm hold you back.
2. Start small.
That said, getting started is the hardest part. To get things moving, work on a task for a short amount of time. Set a 10-minute timer on your phone, or grab the cooking timer from the kitchen. (I prefer the latter because it makes a nice ticking noise.) Work as hard and as fast as you can for those 10 minutes. By the end of that block, you'll likely want to keep going because you've already jumped that "getting started" hurdle.
Related: 10 Tips for Taming Your To-Do List
3. Take on one thing at a time.
Many people pride themselves on multitasking, but the truth is most of us aren't good at it. In fact, only 2% of people can multitask effectively. So why do we try? The pull of the smartphone, the internet or a good television show tempts us to try to do these things while we're working. Unfortunately, that makes the unpleasant task at hand take even longer because of distractions. Say no to multitasking. Focus your efforts on one thing at a time. By improving your concentration, you'll do things better and faster.
GET OUR FREE PRINTABLE DAILY TO-DO LIST!
4. List the positive aspects of getting it done.
It's easy to focus on the negative aspects of a task, especially when you don't feel like doing anything at all. But take a minute or two to write down the positive things that you'll achieve when you get it done.
For example, freelancers have to market themselves, but many prefer to focus on creative aspects of the job like writing or designing. Marketing is just as important for career longevity, though. A freelancer who dreads marketing could write out a list of positives as follows:
Marketing helps me find new clients.
Marketing increases my name or brand recognition.
Marketing helps me learn and hone my skills as an entrepreneur.
5. Get enough sleep.
You may or may not need a full 8 hours, but it is important to establish a good sleep schedule. Fatigue worsens a lack of motivation, making it nearly impossible to get things done. Make it a goal to get at least 6 hours of sleep at night, preferably 8. If you find that you need slightly more or less sleep, adjust it from there after a few days. But don't fall into the trap of thinking that you need to sleep as long as possible—too much sleep is just as bad as too little sleep. Neither are healthy for you and cause you to feel tired all the time.
No matter how you feel, you can still get things done as long as you're willing to accept your feelings and trudge forward anyway.
What's on your plate today? Are you looking forward to it, or pushing through to get to more pleasant tasks? Share your plans in the comments.