Keto Eggplant Lasagna for an easy weeknight meal
This low-carb lasagna is made with eggplant three kinds of cheese and a delicious tomato sauce. It is SO indulgent you won't even miss the carbs.
The other great thing about this recipe is that it's freezer-friendly! You can prepare it in individual aluminum pans, freeze it before baking, then take it straight from the freezer to the oven when ready to eat. It's like having your very own homemade keto-friendly frozen dinner!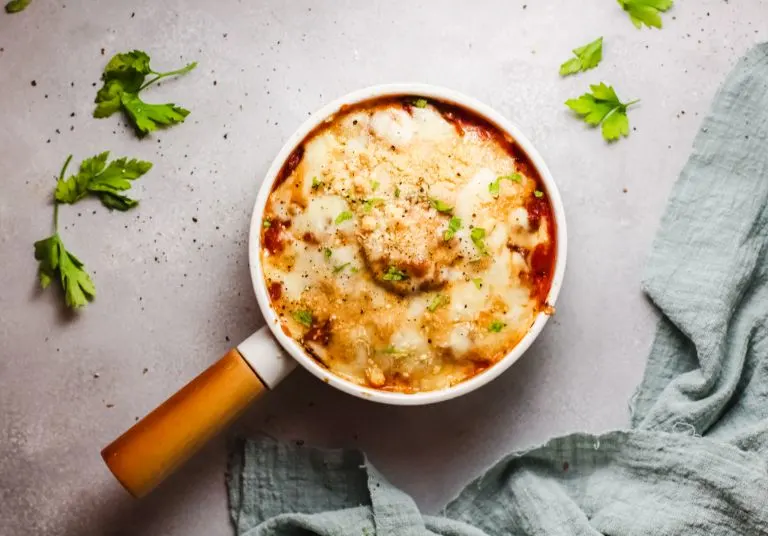 What is eggplant lasagna?
In my opinion, eggplant lasagna is one of the most decadent dishes you can make for low-carb or keto diets. Like traditional lasagna, it's a layered dish with sauce and cheese (and sometimes meat), but instead of noodles, you use thinly sliced eggplant.
A typical lasagna has the pasta as a binder to hold all of the sauce and cheese together. Eggplant acts in this same way, while also adding a hearty texture that you just can't get from zucchini or squash.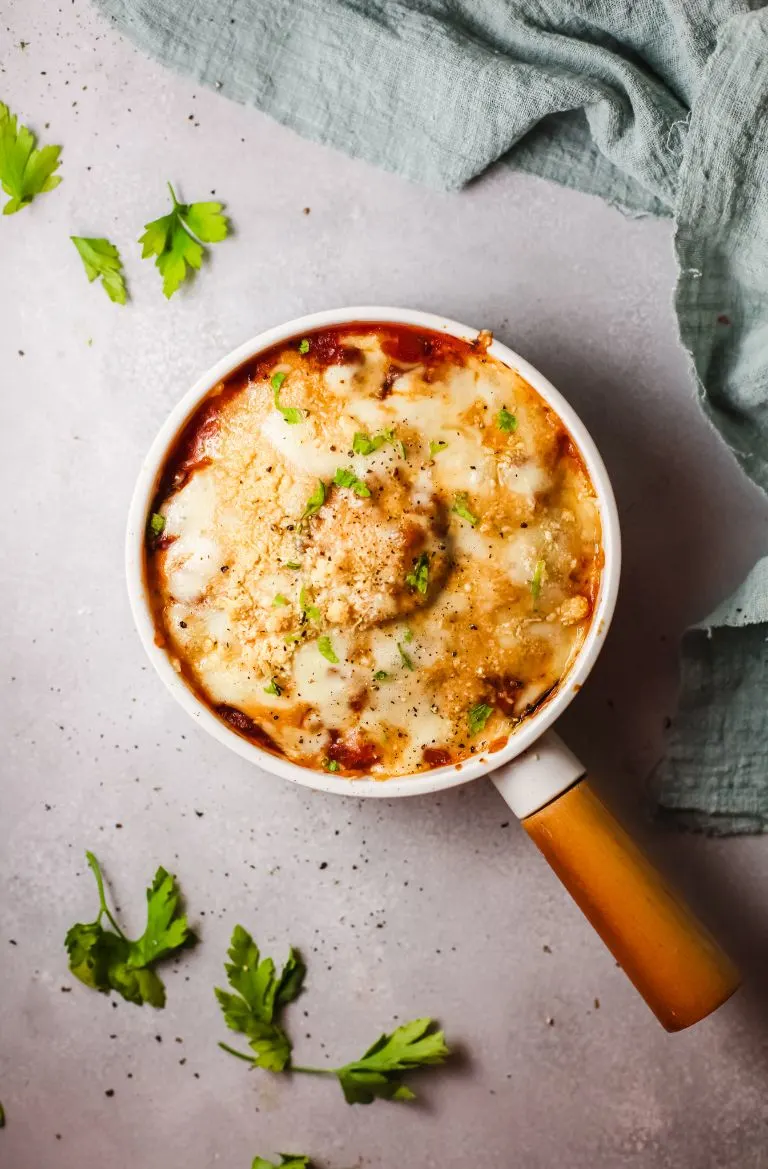 Can you eat eggplant on keto?
Yes, but it's important to keep an eye on carbohydrates per serving. Eggplants are a low-carb food and can be eaten raw or cooked with other foods that fit in your macros. They also make a great base for dishes like low-carb lasagna because they have such a mild flavor.
Is eggplant low in carbs?
Yes! One cup of cubed eggplant has 4.82 grams of carbs. So, it's great for keto dieters. Eggplant lasagna is low carb and keto-friendly!
How do you cut eggplant for lasagna?
Cutting eggplant for low-carb lasagna is easier than you think. First, remove the ends. Slice lengthwise, so that you have a long rectangle. Cut into strips and then cut those strips in half to make "noodles."
Your low-carb lasagna is now ready for assembling!
Here's an excellent and quick video tutorial on cutting the eggplant for lasagna. It takes less than a minute to watch!
Do you need to peel the eggplant?
You do not need to peel the eggplant for this low carb eggplant lasagna recipe. The peel of the eggplant is edible and gives a nice texture to the dish. However, if you're using a very large eggplant, the skin may be a little tough. In that case, you can peel it if you'd like.
Do you really need to salt eggplant?
When it comes to eggplant lasagna, salting is key. Salting the eggplant before cooking it will draw out any excess moisture and help you avoid a watery lasagna. Salt both sides of the eggplant slices and let them sit for anywhere from 10 to 30 minutes. Longer is better, but 10 minutes will suffice if you're in a pinch.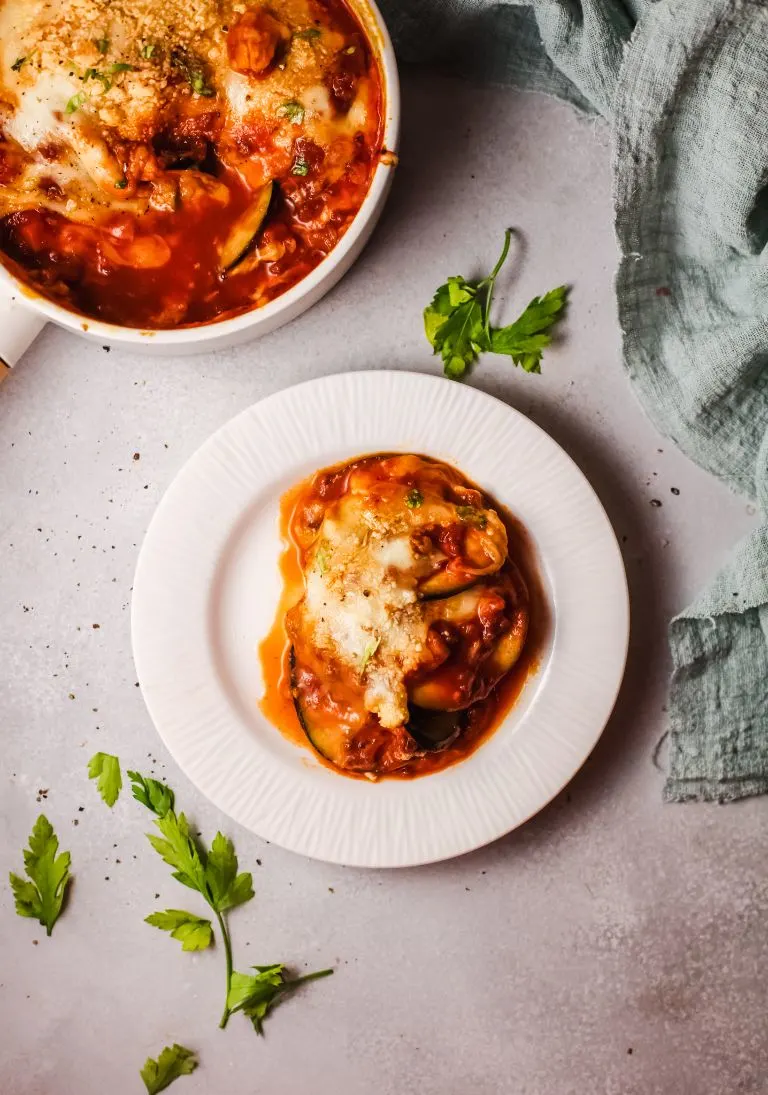 Can low carb eggplant lasagna be frozen?
This keto-friendly lasagna is a great dish to prep ahead of time. Freezing it in individual aluminum pans makes it super easy when you are ready for your next meal, just take it straight from the freezer and into the oven without any thawing!
Just assemble the ingredients as you read them in the recipe card below into aluminum pans, and then cover them tightly with plastic wrap and pop them in the freezer.
What to serve with eggplant lasagna
Looking for low carb side dish ideas to go with your keto lasagna? Here are a few things to try!
low carb bread
side salads
zucchini noodles
low carb vegetables like roasted broccoli
low carb pasta
How to make this easy eggplant lasagna
If you're ready to get started, here's the recipe for eggplant lasagna without noodles.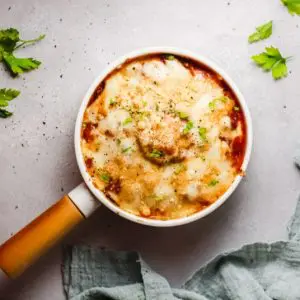 Low Carb Lasagna with Eggplant
This low-carb lasagna made with eggplant, loads of cheese, and delicious tomato sauce and is SO indulgent you won't even miss the carbs.
Ingredients
1

Eggplant

sliced

Salt to taste

2

Tbsp

olive oil

2

Garlic cloves

minced

½

Onion

chopped

1

Can crushed tomatoes

½

Tsp

oregano

½

Tsp

dried basil

1

Cup

ricotta cheese

1

Cup

mozzarella cheese

½

Cup

parmesan cheese
Instructions
Sprinkle eggplant slices with salt. Set aside for 10 minutes so it can draw out moisture. Pat dry with a paper towel and lightly brush with 1tbsp olive oil.

Place a grill over medium heat. Grill the eggplant slices for around 2 minutes per side. Remove from fire and set aside. (You can do this in a skillet if you don't want to use a grill.)

In a saucepan over medium heat, heat olive oil. Cook onions until transparent, add minced garlic and cook until fragrant. Mix in crushed tomatoes, oregano and basil. Simmer for 10 minutes and remove from heat

Preheat oven to 350 degrees.

Assemble the lasagna. Coat the bottom of a baking pan with tomato sauce, top it with eggplant slices and a mix of ricotta, mozzarella and parmesan cheese. Add more tomato sauce and another layer of eggplant. Repeat the process ending with cheese.

Take lasagna to oven and bake for 20 minutes or until bubbly.
Notes
To freeze for meal prep, assemble the ingredients in aluminum pans, wrap with saran wrap, and put in the freezer. They'll be good for several months.
Nutrition
Serving:
1
g
Calories:
349
kcal
Carbohydrates:
22
g
Protein:
19
g
Fat:
22
g
Saturated Fat:
10
g
Polyunsaturated Fat:
11
g
Cholesterol:
52
mg
Sodium:
666
mg
Fiber:
4
g
Sugar:
7
g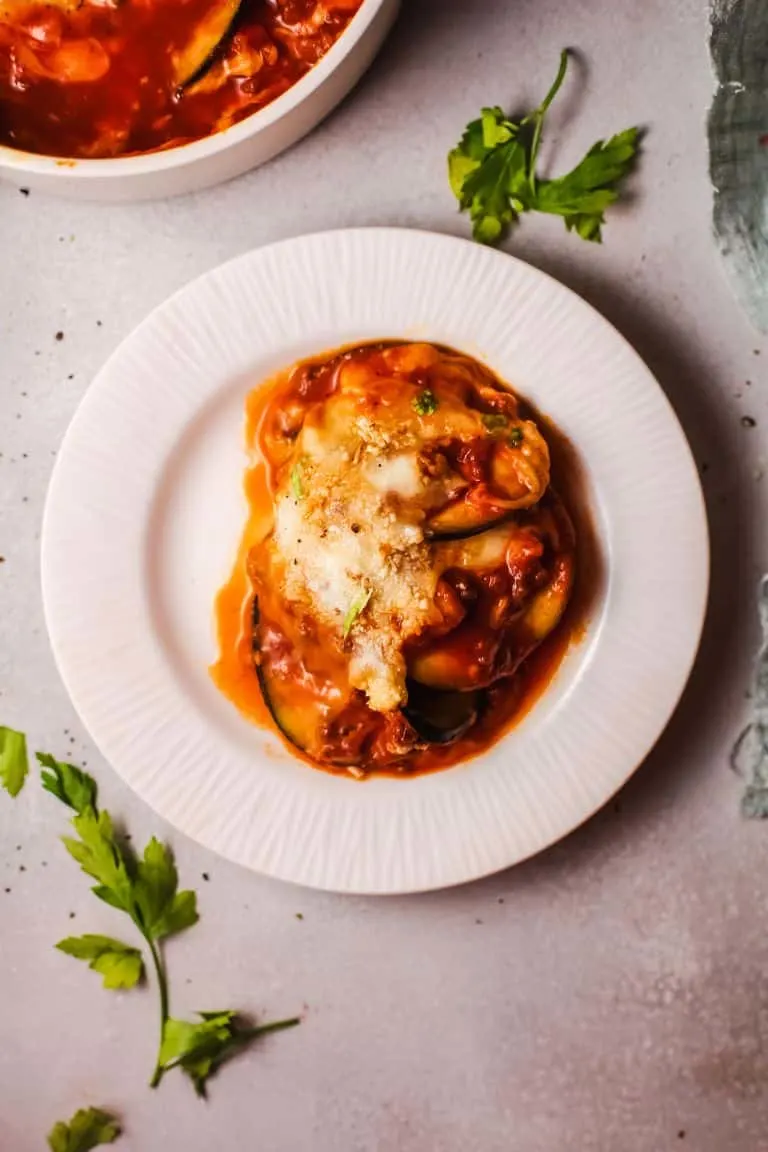 Related Low Carb Recipes:
Cheesy Low Carb Lasagna with Eggplant