My son has been in love with Minions since we let him watch Despicable Me for the first time a few days go. That was quickly followed by the second movie, Minion shorts and everything else "Minion" that we could find. And, since smoothies are one of our favorite breakfasts, I decided to turn this banana peanut butter smoothie into a fun Minion smoothie!
Let me tell you, it was difficult getting his Minion out of his hands for a few pictures.
We'll get to the recipe in a minute, but I wanted to say that if you've ever tried banana peanut butter smoothies and thought they were just "blah", try honey-flavored peanut butter instead. It's incredible… and I say that as someone who doesn't really care for peanut butter at all.
Before you make your smoothies, you'll need to make the decorations for the glass. I used a piece of black construction paper and some googly eyes. I used a hot glue gun to glue them on because the moisture from the glass will cause regular glue to fall off rather quickly.
I also wet the rim of the glasses and dipped them in blue sugar crystals. That kind of detracts from the "healthy" aspect of the drink, but it looks pretty.
One glass had googly eyes without goggles, and it came out looking a bit Ninja turtle-ish. But on the second jar, I added a piece of cardboard tube that I painted gray, and I think that one looks much more Minion-like. Don't you?
Once the glasses are prepped, put your ingredients in the blender, pulse for a minute or two, and pour into the glasses using a funnel (so as not to disturb the sugar rim).
There ya go… cute Minion smoothies that your kids will love!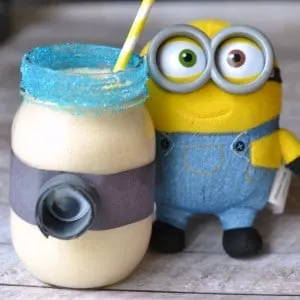 Minion Smoothie (a.k.a. Banana Peanut Butter Smoothie)
This banana peanut butter smoothie is even more fun when made into a Minion smoothie with a few simple decorations!
Ingredients
2

ripe bananas

2

cups

milk

2

cups

ice

2

tablespoons

honey-flavored peanut butter
Instructions
Add all ingredients to blender.

Pulse for 1-2 minutes, until mixture is smooth and creamy.

For a thicker drink, add more ice.

Pour into decorated glasses using a funnel.
And if you don't feel like dressing up your glasses like minions, it's just as tasty without all that jazz.
Trust me. Cold… creamy… peanut buttery goodness in a jar.