Ready for St. Patrick's Day and spring? We've put together a fun list of 17 rainbow ideas (recipes, crafts and activities) that your kids are going to love. Check them out!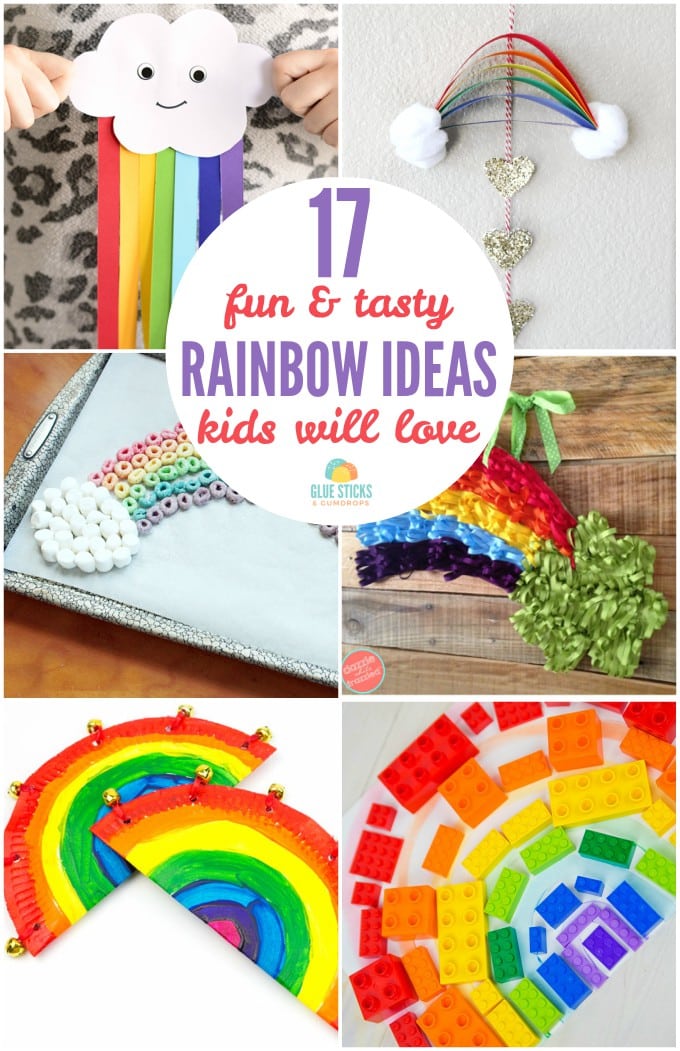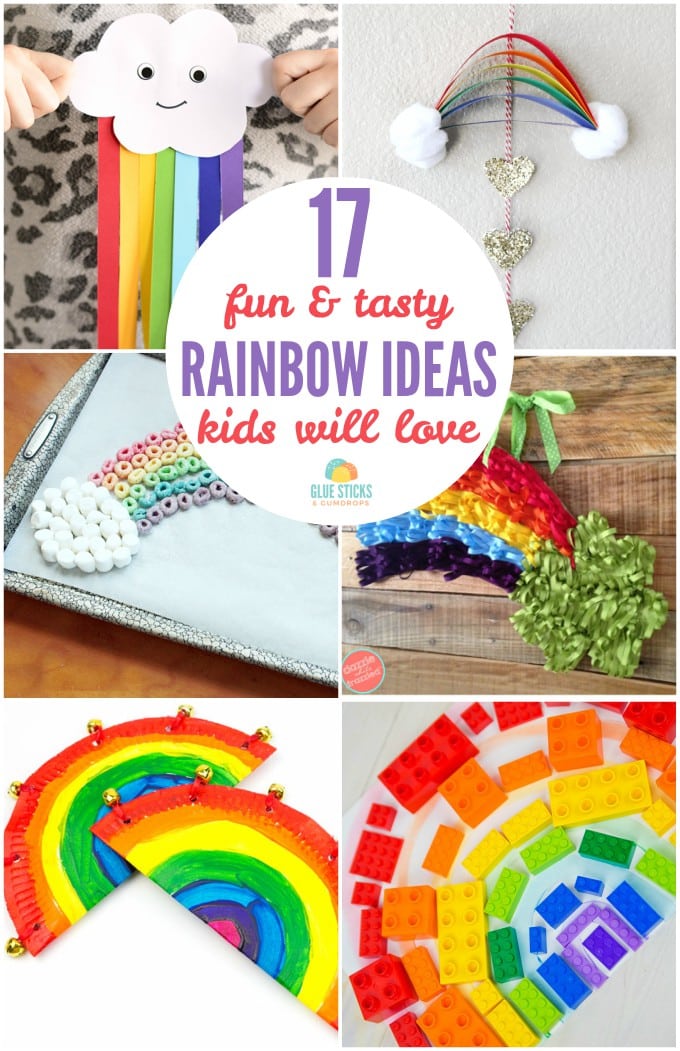 I've had rainbows on the brain ever since our storm last week that produced a couple of really huge rainbows right over our house. Do people ever get tired of seeing rainbows? I'm in my mid 30s and I still find them stunning. One in particular last year will be forever in my memory – the biggest, brightest rainbow I've ever seen in my life, and I saw it during one of the most difficult times of my life. They foster such a sense of hope, don't they?
But on a lighter note, my kiddo has a fascination with rainbows, too, so I've put together a list of fun activities and recipes we can make together in anticipation of spring and St. Patrick's Day this month. Some of them are from our Funtastic Friday link party participants (thanks so much for linking up!) and some are from my favorite bloggers around the web. Enjoy!
Fun Rainbow Ideas for Kids
This rainbow and shamrock front door decor is a fun project for adults for St. Patrick's day. She made it with cardboard, floral wire and ribbon, and it's positively gorgeous!
This cardstock rainbow with glitter hearts will look gorgeous in your window this March. I think it would also make a great addition to a rainbow-themed nursery or kid's room!
Let the kids make a lego rainbow! This is such a cute idea, and even the youngest kids can easily do it.
Plan a science experiment! This scented rainbow science and sensory play activity is super fun and smells amazing.
How adorable is this paper rainbow craft from Easy Peasy and Fun?
Make some noise with this rainbow paper plate tambourine. The kids will have hours of fun with this one.
Give each of the kids a rainbow playdough treat bag. It even contains a batch of glitter gold to make the pot of gold at the end of the rainbow. Cute!
Here's a rainbow activity your kids can make and then eat! Use fruit loops cereal, marshmallows and Rolos to create a rainbow with a cloud at one end and a pot of gold at the other.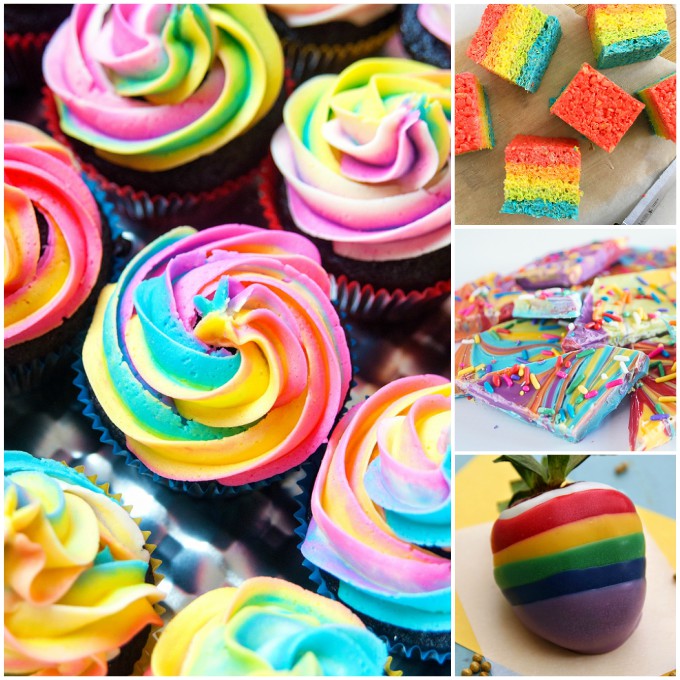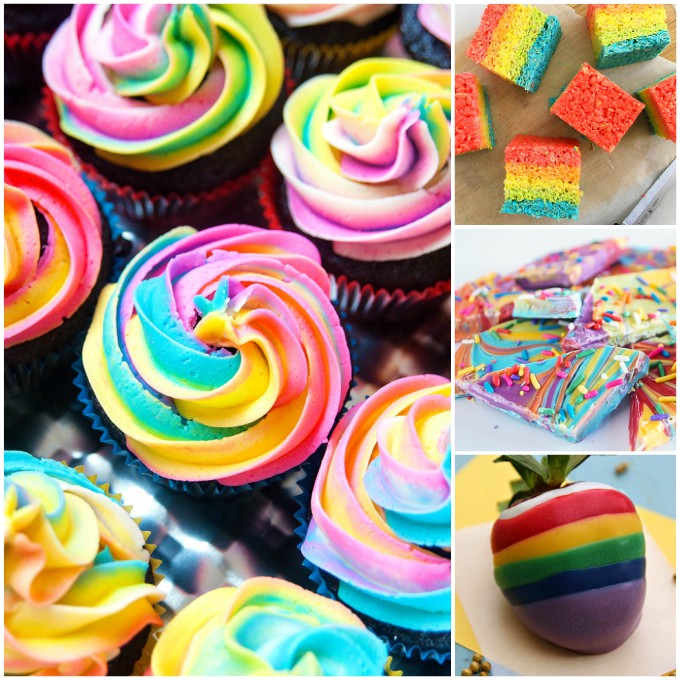 Make some rainbow chocolate bark with the kids. They'll love mixing the pretty colors of melting chocolate together!
Your cupcakes will be gorgeous with this stunning rainbow buttercream frosting.
Rainbow Jello is lots of wiggly, tasty fun.
What kid doesn't love a grilled cheese sandwich? To make them even more amazing, try these rainbow grilled cheese sandwiches. You'll be the coolest mom ever for making them!
Rainbow rice krispie treats are a colorful take on a classic kid snack.
Whip up a batch of these pretty rainbow sugar cookies for your kids on St. Patrick's Day. They'll make a fun classroom treat if your child's school allows them.
Rainbow sherbert fudge is sure to satisfy your sweet tooth.
Rainbow popsicles made with airheads and lemon lime soda are a tasty blend of sweet and sour.
Take dipped strawberries to the next level with these multi-colored rainbow strawberries. How fun!