Since everyone is sharing their favorite appetizers this week in anticipation of the Super Bowl in a little less than two weeks, I thought I'd share one of our favorites. These turkey and sausage meatballs are wonderful–savory, plump, moist…and cheesy. Yep, there's lots of cheddar packed into every bite. The best part is that they're low carb.
You'll forgive me for not having perfectly straight rows of meatballs, right? I cannot, for the life of me, make a straight line with food. It's not in my DNA. Or something.
Here they are before I popped them in the oven. You'll probably get your meatballs more uniform than I did, but they should be about 1.5 inch balls. The recipe makes 50-60 meatballs, depending on how big yours are, so they're great for simple low carb meals or as a snack.
Pop them in at 350 degrees for 20 minutes, and they're hot and ready. Yum! Honestly, I can eat these even without sauce. I do sometimes for breakfast when I'm low carbing.
So, here's the recipe. And you can find the recipe for the sauce here. Try it. You'll love me.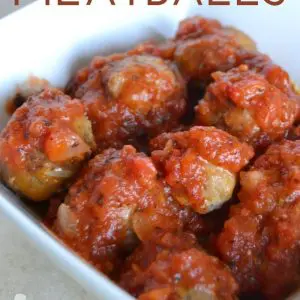 Turkey and Sausage Meatballs
These low carb turkey and sausage meatballs are a tasty appetizer whether you're on a low carb diet or not. They're savory, juicy and cheesy. What more could you want?
Ingredients
1

lb.

ground turkey

1

lb.

breakfast sausage

2

eggs

4

oz.

cheddar

1/4

medium onion

finely diced

1/4

tsp.

black pepper

2

tsp.

Chili powder

1/2

tsp.

dried parsley

1

tsp.

dried oregano

1/2

tsp.

dried basil

1/2

tsp.

dried rosemary
Instructions
Preheat oven to 350 degrees.

Mix all ingredients in a large bowl.

Roll meat mixture into 1 1/2-inch balls and place on baking sheets lined with foil.

Bake in oven for 18-20 minutes, or until juices run clear.
If you liked this meatballs recipe, you'll love this post about marinara sauce. It's great on pasta, too!