Pumpkins and apples are popular in the fall, but one of my favorite things about the season are the juicy pears! Here are 25 delicious pear recipes for fall that you have to try!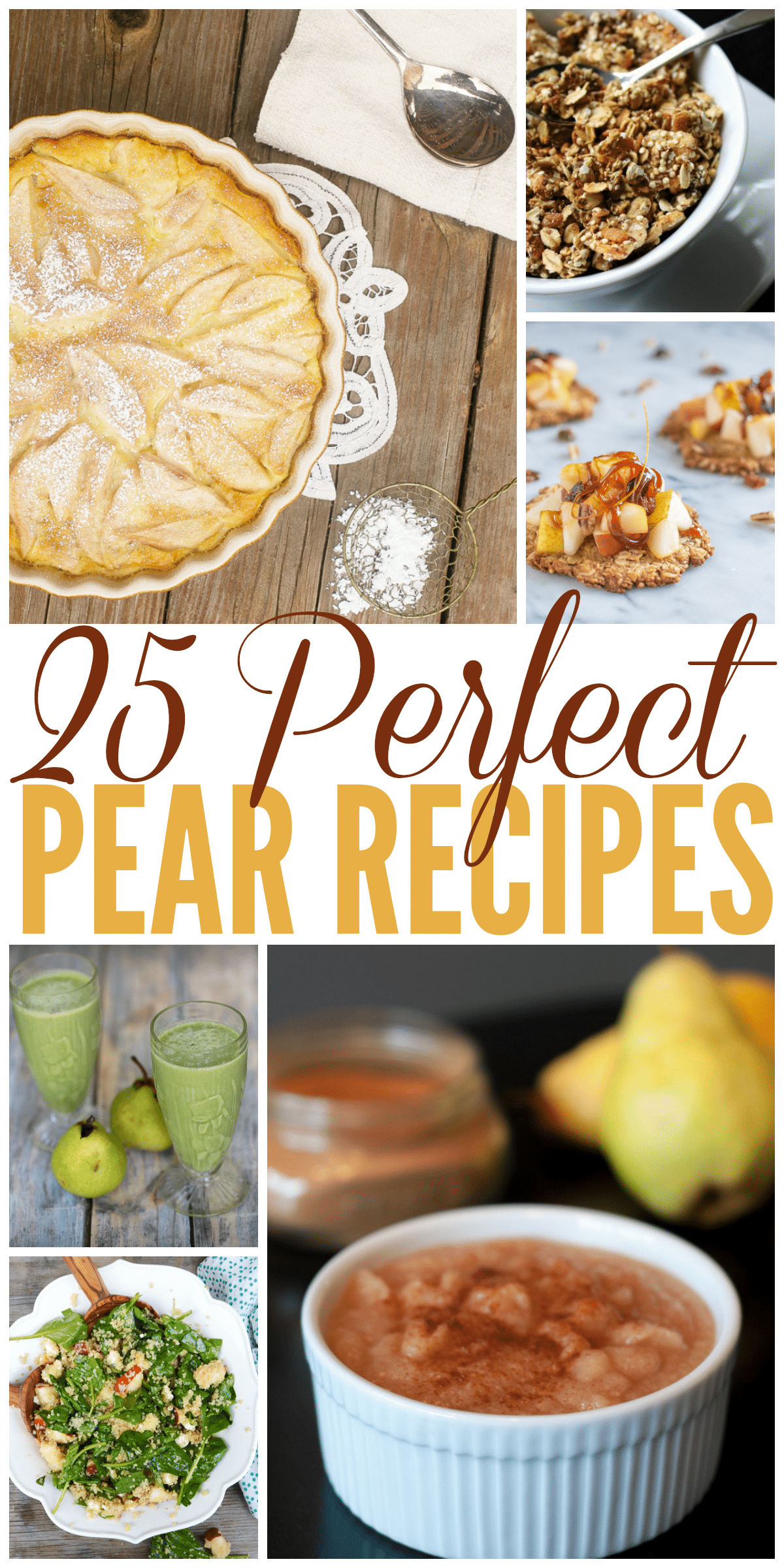 It's not that I don't like pumpkin and apple recipes. I do. But one of the most looked-over fall foods (in my opinion) is the pear. We used to have a couple of pear trees when I was a kid, and maybe it's just nostalgia, but those were the juiciest, most flavorful pears I've ever eaten. I like them just fine plain, but they're absolutely delicious in salads or as a dessert. Here are 25 yummy, creative pear recipes to try this fall.
1. Pear Custard Pie | Dinner at the Zoo
2. Pear Spinach and Quinoa Salad | Floating Kitchen
3. Pear Cookie Crisps | Healthy Nibbles and Bits
4. Pear Granola | Pancake Warriors
5. Easy Caramelized Pear Tarts | Homegrown and Healthy
6. Pear Butter | The Bewitchin' Kitchen
7. Chocolate Dipped Pear Popsicles | Around My Family Table
8. Caramel Pear Crumble Muffins | Adventures of Mel
9. Poached Pears | Dining With Alice
10. Cheddar, Pear and Prosciutto Pull-Apart Bread | It Bakes Me Happy
11. Ginger Pear Smothie | Sidewalk Shoes
12. Roasted Pear and Gorgonzola Salad | The Pinning Mama
13. Pear and Caramelized Onion Flatbread | Comfortably Domestic
14. Roasted Pear Puff Pastry | The TipToe Fairy
15. Vanilla Pear Quinoa Granola | Strength and Sunshine
16. Overnight Pear Cobbler | Comfortably Domestic
17. Ginger Pear Cupcakes | My Sweet Sanity
18. Brown Butter and Pear Blondies | Hezzi D's Books and Cooks
19. Bacon Pear Stuffing | Little Family Adventure
20. Cheddar and Pear Gluten-Free Scones | The Bewitchin' Kitchen
21. Rice Pudding With Spiced Pear | Curls N Chard
22. Frisee Salad With Spiced Poached Pears | Floating Kitchen
23. Fresh Apple and Pear Salad | Feeding Big
24. Caramelized Pear Tart | Sunday Supper
25. Cinnamon Pear Oat Pancakes | Strength and Sunshine
Hi! I'm Donella. Welcome to Glue Sticks and Gumdrops, where I blog about crafts for kids, kid-friendly recipes, and meals for families with a bit of parenting and party ideas sprinkled in. I am a mom to one amazing (and active) little boy, and I'm married to a deputy. As you can imagine, our lives are hectic, but sitting down to a family meal or making a craft together is our way of connecting with each other.
Latest posts by Donella Crigger (see all)