Looking for a lunch idea that's not a sandwich? These cheesy, crunchy apple cheddar quesadillas are just the ticket!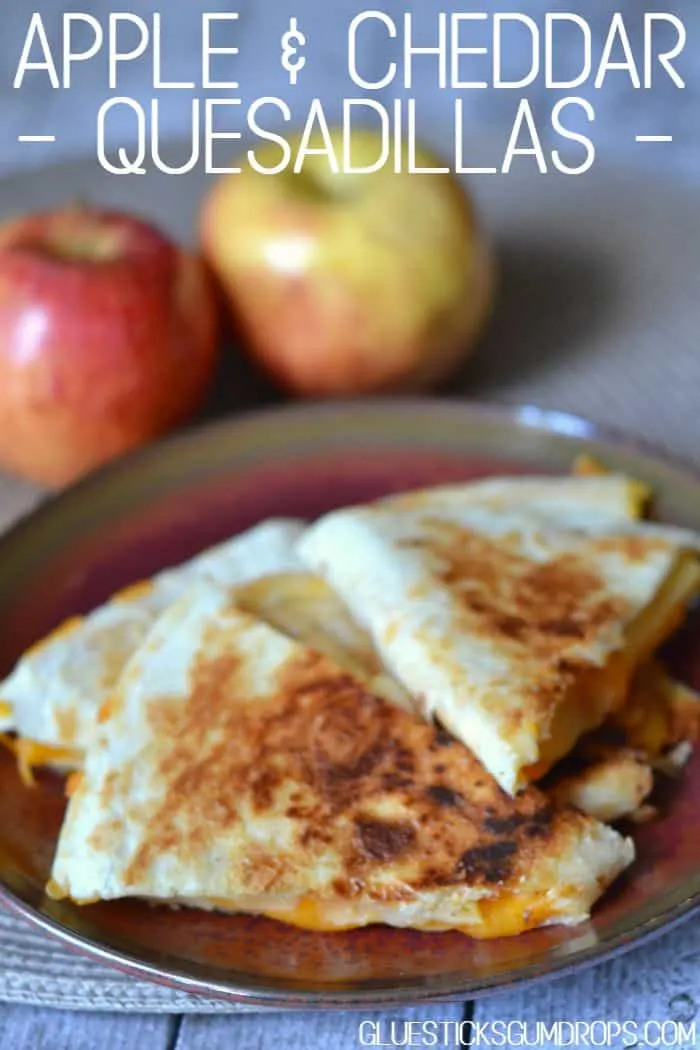 This year will be the first time that my kiddo is going to school, so I'm trying to work out some non-sandwich lunch ideas to keep his lunchbox interesting. Quesadillas are delicious and extremely portable, so I was really happy with the way these apple cheddar quesadillas turned out.
I'll be honest, though, I didn't know if I'd like the apple and cheese combination. My mother in law and my husband both eat cheese and apples together sometimes, and I thought it sounded just plain weird. I was so wrong! The flavors are great together.
For the kiddo's lunch, I used mild cheddar and sweet apples. But for myself, I'd definitely prefer sharp cheddar and a really tart, crisp apple to make the flavors pop. Use whatever you have on hand, though. It'll still be yummy!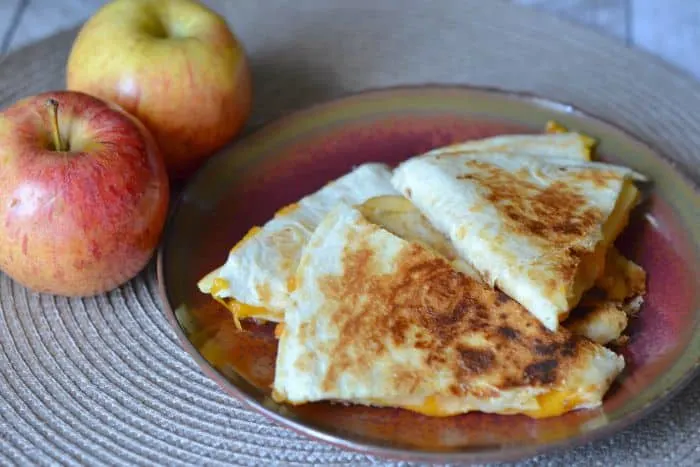 Start with some thinly sliced apples on a huge tortilla. Whole wheat tortillas would be delicious, but I didn't have any.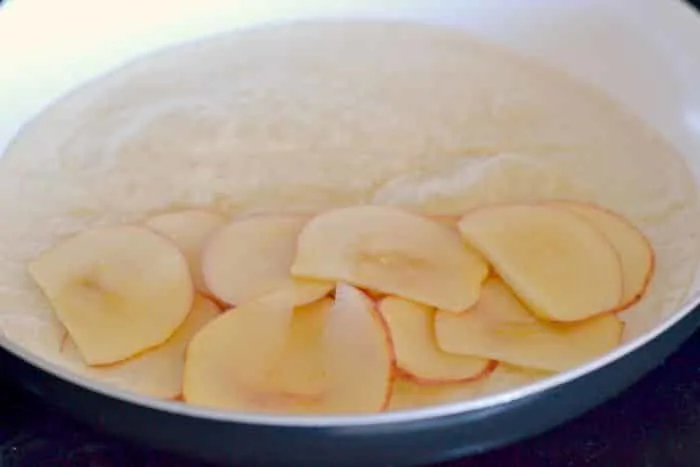 Add cheddar. Lots of it, if you're like me.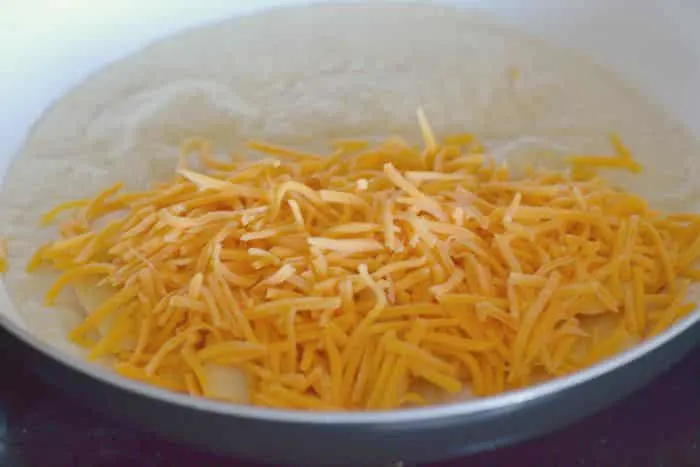 When the cheese starts to melt, fold over the tortilla, and flip it over. Heat until the cheese is totally melted, but not so long that you burn your tortillas a little. As you can see, I waited too long.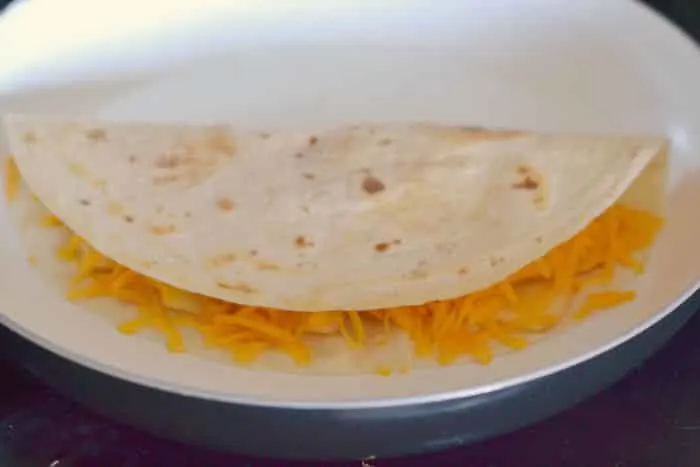 Put it on a plate, cut it into pieces, and enjoy. You could dip it in something, though I'm not sure what goes with both apples and cheddar. Any suggestions?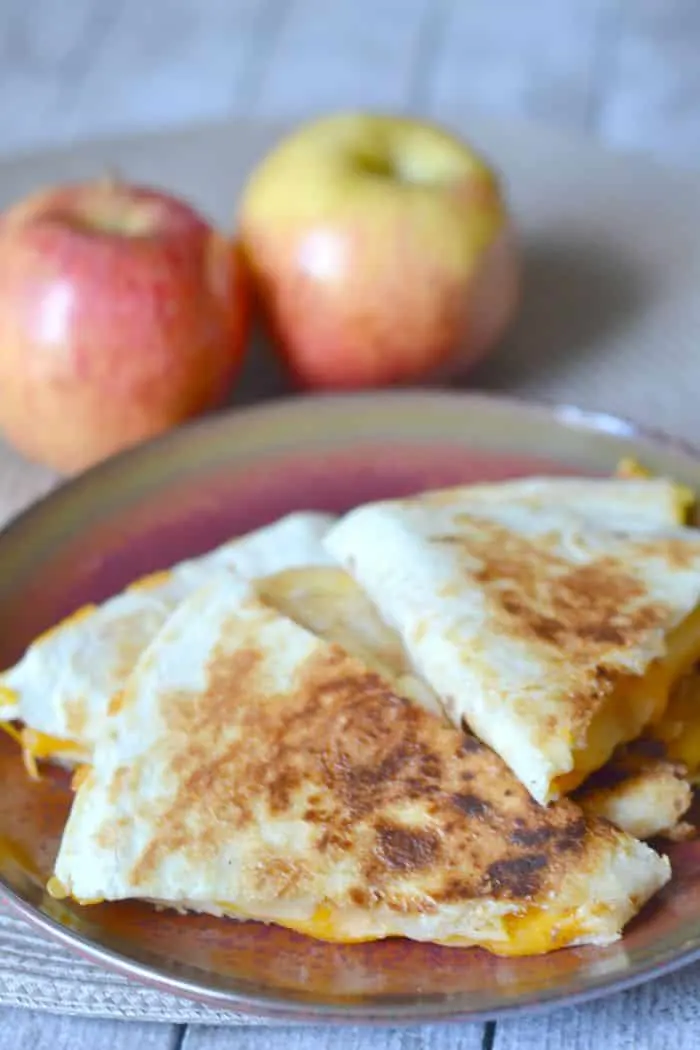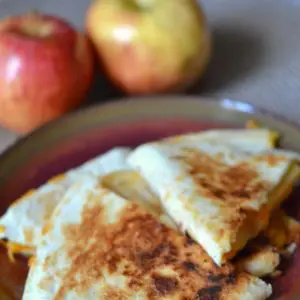 Apple and Cheddar Quesadillas
Apple and cheddar quesadillas are an easy, tasty lunch that kids and adults alike will enjoy.
Ingredients
10-

inch

tortilla

1

small apple

thinly sliced

1/2

cup

shredded cheddar cheese

cooking spray or butter
Instructions
Spray your pan with cooking oil, or melt a tablespoon of butter in your skillet before adding the tortilla.

Place apple slices on half of the tortilla in the skillet.

Sprinkle shredded cheddar over the apple slices.

Cook on medium 2-3 minutes or until cheese starts to melt.

Fold the tortilla over, and flip the quesadilla.

Cook an additional 2-3 minutes until both sides are brown and cheese is melted.
What's your favorite lunch when you're tired of sandwiches?
For more easy lunch ideas for the kids (or for yourself), check out our 4-cheese pepperoni bites by Cynthia or our pigs in a blanket.