This dinosaur bento lunch is sure to be a big hit with your kids. With cheese, veggies and fruit, it's a healthy and fun option for a lunch or snack.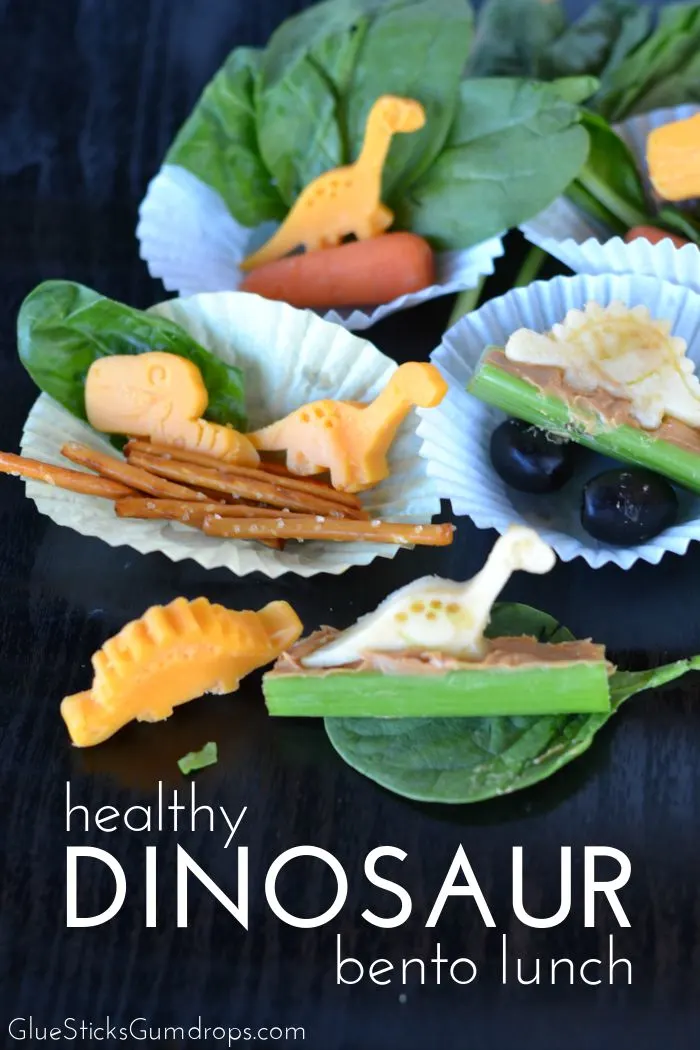 This dinosaur bento lunch comes from a contributor, Carla, and I just love it! The cheese and apple dinosaurs are just too cute. I loved dinosaurs as a kid, and my little guy seems to be following suit. Who doesn't like dinosaurs, am I right?
In addition to the cheese and apple dinosaurs, you'll find other yummy additions like celery, peanut butter, pretzels and more. Heck, this is a lunch that I'd love even as an adult. And unlike all those sugary or pre-packaged snacks, you can feel good about serving this one to your kids.
What you need to make a dinosaur bento:
Peanut butter
Celery
Apples
Cheddar cheese slices
Baby spinach leaves
Black olives (or grapes if your kid doesn't like olives)
Pretzel sticks
Baby carrots
Cupcake liners (paper or silicone)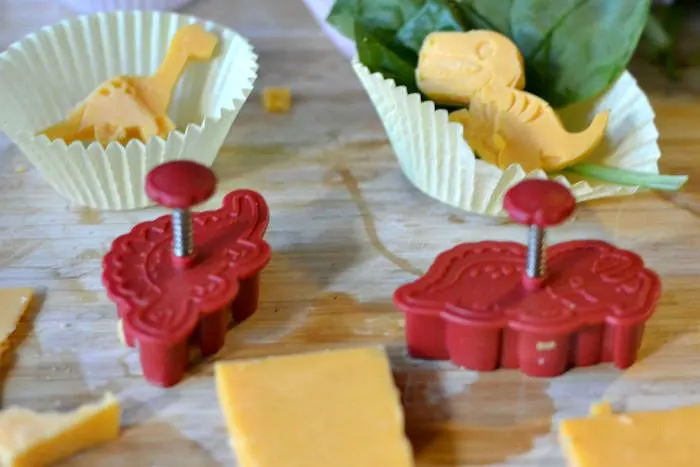 How to make a dinosaur bento lunch:
1. Use the cookie cutters to cut dinosaur shapes into the cheese and apple slices. (Tip: To keep the apple slices from turning brown, add them to a bowl of lemon juice and water for a few minutes and then pat them dry.)
2. Spread peanut butter on celery stalks, and place dinosaurs in the peanut butter.
3. Place a few spinach leaves in each cupcake holder with your cheese and apple cut outs. Broccoli would be a cute option, too. They'd look like little trees!
4. Place pretzel sticks in a cupcake liner along with carrots and olives (or grapes or blueberries).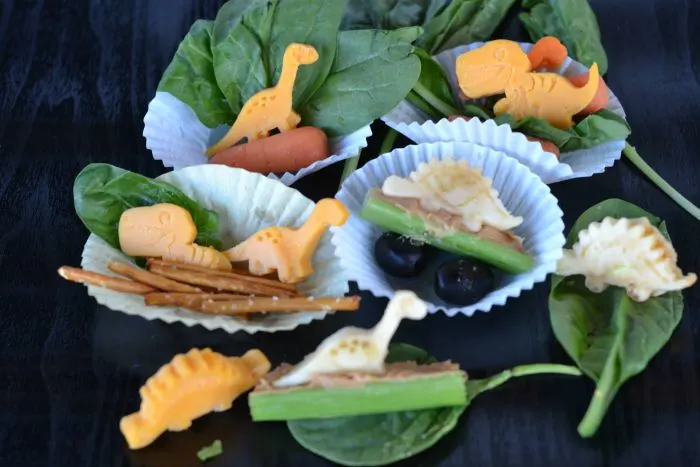 What is your child's favorite lunch for school (or at home)? For another kid-friendly lunch option, try our 4-Cheese Pepperoni Bites. Even teens will love those, and they're great for when you need a grab-and-go snack.
Homemade granola bars make a nice addition to your child's lunchbox, too.