It's time to take back summer! Tired of hearing "I'm bored!" from the kids only two weeks into summer break? Me, too! But these DIY backyard games are sure to keep them entertained all summer long. Whether you're looking for a simple DIY you can do today or a weekend project, you'll find something fun and creative to make here. Don't miss our post on Must-Have Outdoor Games for Summer!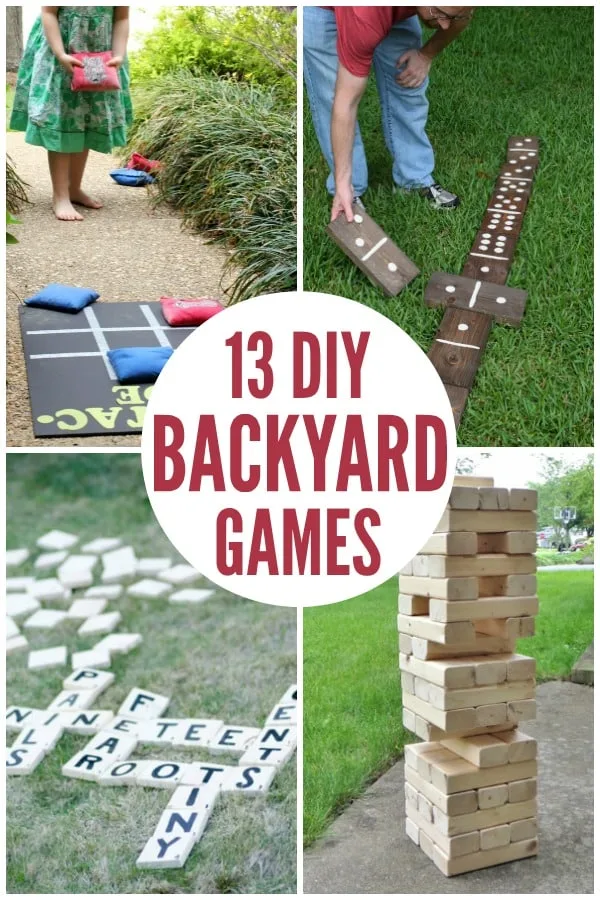 DIY Backyard Games to Make for the Kids
Tic Tac Toe Bean Bag Toss by Crafting Chicks – The classic version of tic tac toe just became a LOT more fun! Throwing bean bags on your spot makes it extra challenging for the little ones.
Giant Lawn Dominoes by Dream a Little Bigger – I've gotta be honest, I never quite learned the rules for dominoes. But this gorgeous DIY version makes me want to learn.
Yard Scrabble by Lemon Thistle – Nothing makes a word nerd like me happier than a good game of Scrabble. My husband's family loves the game, too, so I'm going to do my best to have him make this outdoor version for me. He's the crafty one. Your kids will like it, too, though they may think it's a real-life version of Words with Friends if they've never played the classic board game!
Giant Jenga by Creative Green Living – Now THIS is my kiddo's favorite game, and he'd be super pumped to see a life-size version of it. I wonder if it's difficult to pull the pieces out?
Cornhole by Create & Babble – Cornhole is one of our absolute favorite DIY backyard games at our family reunions, and the handmade cornhole boards are the absolute best. We love this patriotic version, and my hubby's uncle has a West Virginia (go, Mountaineers!) version that he made. I'll try to remember to grab a pic of it at this year's reunion to include in the post.
Giant Pick Up Sticks by Nellie Bellie – This is a fun one for little kids. Try to remove a stick without disturbing the pile!
Pool Noodle Ring Toss by Trish Sutton – Ring toss games are a must if you have a competitive family. Using pool noodles to make the game is a genius idea.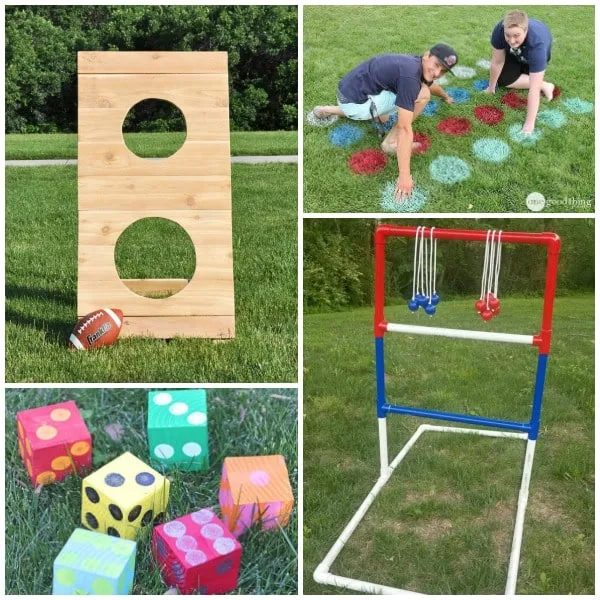 Football Toss by Cherished Bliss – Work on your aim or your spiral with this fun game. You should have prizes for the person who makes it through the smallest hole from the greatest distance!
Lawn Twister by One Good Thing by Jillee – This would be a great game for fall when it's cooler and everyone's not sticky. LOL! The best part is, once you get your circle templates and paint, you can make a game anytime, anywhere.
Yard Yahtzee by The Pinning Mama – So, I've only recently learned that scoring Yahtzee is more difficult than I thought. I never read the directions and thought you just added the die each time. Oops. Turns out that different combinations earn differently. The great thing about yard dice is that the kids can use them for other things, too, like learning to add!
Hillbilly Golf by Diva of DIY – This is also called ladder golf, and the point is to toss the bolas onto the rungs, with the top rung being 3 points, the middle 2 points, and the bottom 1 point. The first person to get 21 points wins. Seems simple enough!
Backyard Plinko by Happiness is Homemade – *Hums The Price is Right theme song to self.* Plinko is SO MUCH FUN. You don't have to be Bob Barker (or Drew Carey) to make some cool prizes for the winners of this game.
Tenzi Yard Dice by Hello Creative Family – Be the first to roll 10 of the same number! This is one of my favorite games with dice because it's fast and frenzied.
Which of these DIY backyard games is your favorite?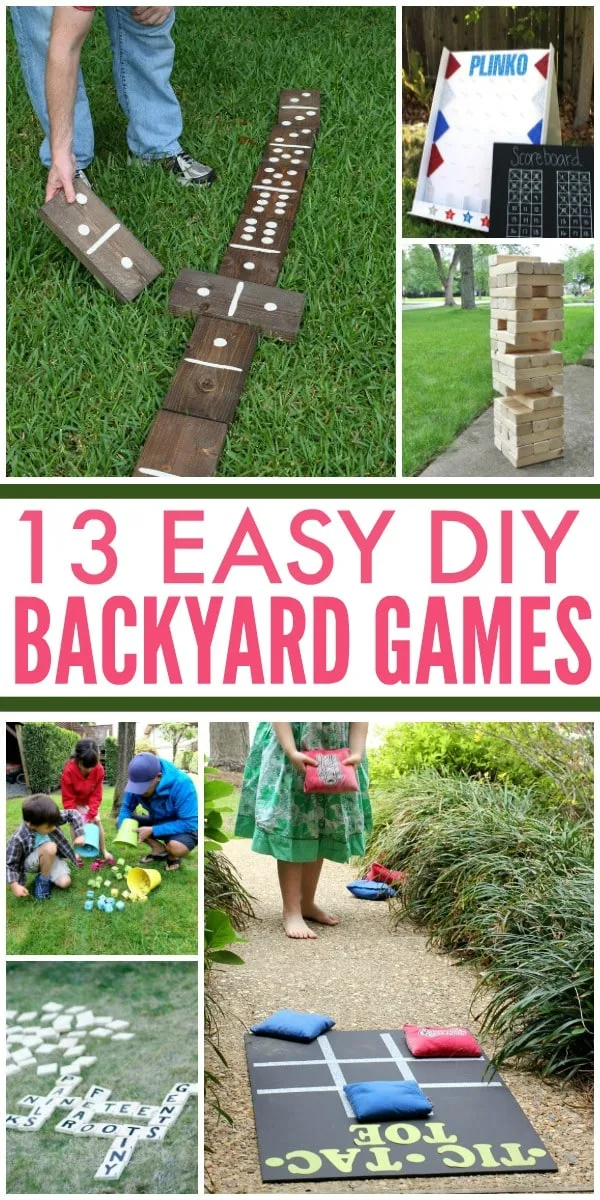 If you liked these DIY Backyard Games, you'll also love: