When you need one of those easy family meals, this Chicken, Potatoes and Peppers Skillet really hits the spot. It's one of those 30 minute chicken meals that you can prep and cook in under half an hour to feed your family in no time flat.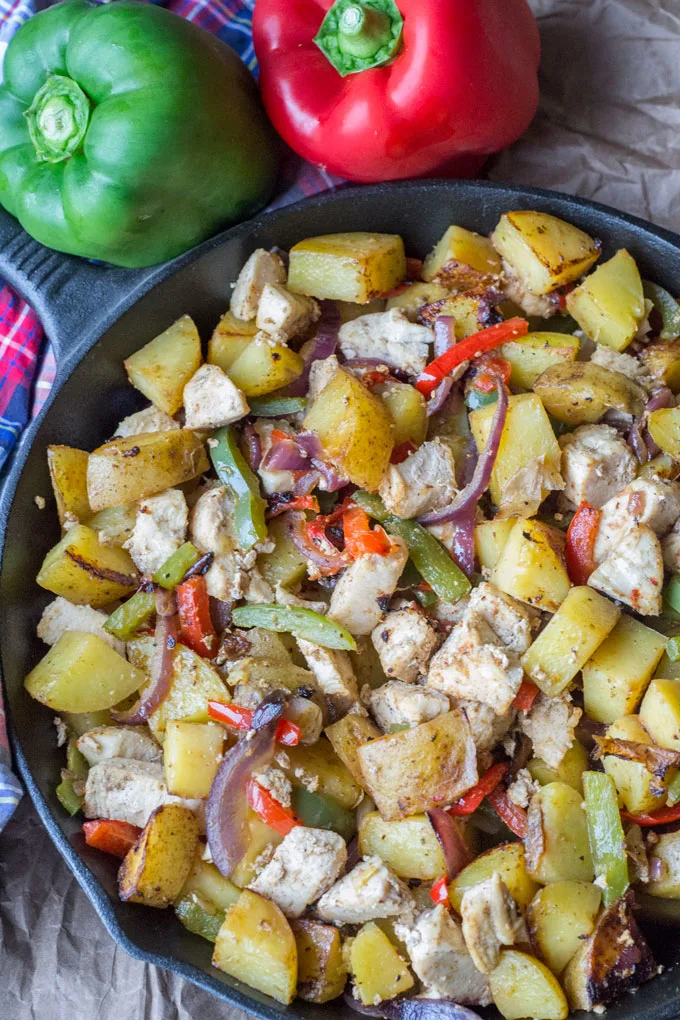 Our Favorite Easy Chicken Dinner Recipe
We buy a lot of frozen chicken breasts because when I'm in a time crunch, I know I can throw just about anything together with some chicken and it'll be delicious. It's true… add some seasonings and veggies to cubed chicken breasts, and you can rest assured that it's going to be tasty. We get our frozen chicken breasts at Sam's Club because it's $20 for a HUGE 10 lb. bag of them. We do buy from local grocery stores when they have their meat sales, too, but we can pretty much always count on them being the same price at Sam's. This is not a sponsored post for them… we're just obsessed with the store. Haha. Bulk everything!
This is definitely one of my go-to meals. Big chunks of potatoes and chicken are cooked with onions and green and red bell peppers (or orange or yellow… whatever kind I have on hand). For seasoning, I just sprinkle a little bit of this homemade taco seasoning over everything, but it's great with just salt and pepper, with lemon pepper, etc. Experiment! You can't go wrong.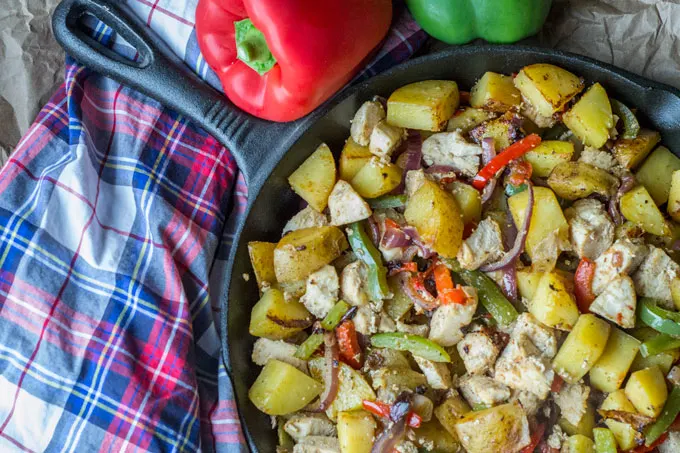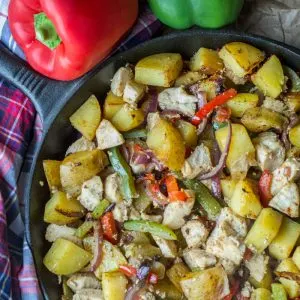 Chicken, Potatoes and Peppers Skillet
This chicken, potatoes and peppers skillet is an easy one pan meal to feed your family in under 30 minutes.
Ingredients
1.5

lbs.

potatoes

cubed

2

c.

chicken

cubed

1/2

red bell pepper

sliced

1/2

green bell pepper

sliced

1

med. onion

sliced

2-3

tsp.

homemade taco seasoning

or we like this one in stores

2

Tbsp.

olive oil

divided
Instructions
Heat 1 Tbsp. oil in skillet. Add chicken and heat about 5 minutes until the pieces are no longer pink. The chicken doesn't need to be completely done at this point.

Add remaining olive oil, potatoes, onions, peppers and taco seasoning.

Cover with a lid and cook on medium for 15-20 minutes, stirring occasionally, until veggies are tender.
Doesn't that look tasty? We love it with sweet potatoes or red potatoes just as much. Well, honestly, prefer sweet potatoes, but I had bought too many, and at this point they had gone bad. Oops! Tell me I'm not the only one with potatoes going bad (and in some cases, have roots growing out of them by the time I discover them). We get on a potato kick sometimes and then we're done with them for a while.
Anyway, I hope you enjoy this dish. It's easy and tasty and one of our family's favorites.
If you enjoyed this easy chicken dinner recipe, try our Spicy Pineapple Chicken!